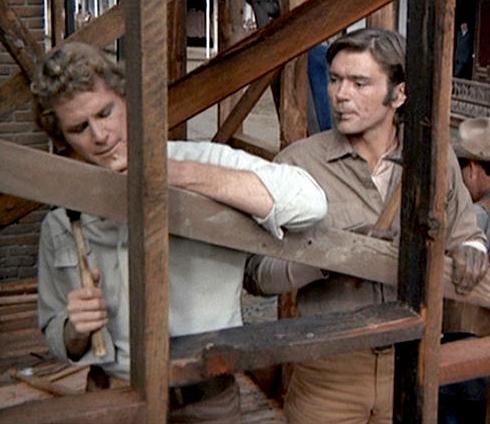 Starring
Pete Duel as Hannibal Heyes and Ben Murphy as Kid Curry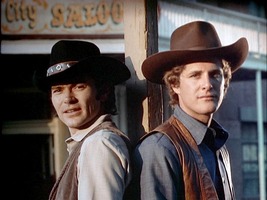 Guest Stars
(in alphabetical name)
Peter Brocco as Griffiths the Weasel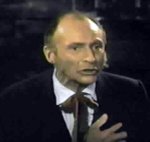 Jack Cassidy as Windle the Weasel
Joyce Jameson as Madge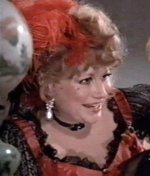 Alex Karras as Ben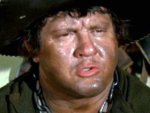 Barbara Stuart as Trixie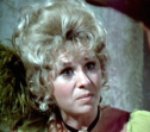 Dooley Wilson as Sam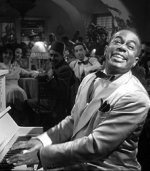 Meg Wylie as Miss Griffiths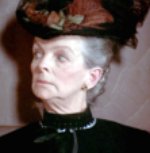 Saving the Old JoAnna
by Calico
PROLOGUE - A BOX CAR
Diagonally opposite corners of the straw-strewn car are occupied by two unkempt individuals. Hats pulled well forward obscure their faces – one black with a silver trim, the other a floppier brown number. A third corner holds a huge wooden crate, secured to the walls with leather straps and labelled This Side Up.
Silence; except for the rhythmic clickety-clack of a train on a track.
The figures sit motionless, unless you count gentle impersonation of metronomes in time with the juddering of the box car. They give every impression of having been hunkered in their respective spots for many hours.
A rumbling sound.
More uninterrupted clickety clack.
Another low gurgle reverberates.
A black hat is raised by a leather-clad finger.
Heyes: "'S'that you, Kid?"
No response.
"'Cos – if it is your stomach growling, no problem. If it isn't – we got a real proddy hound loose in the car. We oughta find him 'fore he finds us."
No response.
"You still sulking?"
Apparently – yes.
"Wasn't my fault we had to jump a train..."
No response.
"Couldn't foresee Wade Sawyer riding into town."
Nothing.
"Okay, if you wanna be picky, us being in Augury in the first place was my call. You were for staying and working those livery jobs in Benedict even if they were a touch hard on the back. But, I won that coin toss fair 'n' square..."
Somehow, waves of silent incredulity manage to emanate from the silent to the silver-tongued corner of the car.
"Your coin, Kid. I admit selling our horses for a poker stake mighta been my idea. But, be fair, that fella drawing a straight flush was practically an impossibility. The odds musta been..."
The brown hat never moves, but from beneath it Curry's voice snaps: "Heyes."
Heyes: "Uh huh?"
Curry: "Shaddup."
After a chagrined blink, Heyes tilts his hat forward over his face and folds his arms.
Clickety-clack. Clickety-clack.
---oooOOOooo---
A SMALL TOWN STATION
Goods are loaded and unloaded. Passengers alight and greet friends, or, conversely, say their farewells preparatory to embarking. In short, the usual bustle incumbent upon the arrival of a train.
Focus moves to the last goods car. A gloved hand eases open the door. Cautious dark eyes peer through the slit. A head-height higher they are joined by cautious blue eyes. Brown eyes slide left, blue eyes slide right. No one is looking. A slim ex-outlaw oozes through the gap and jumps down.
Heyes: "All clear."
A second ex-outlaw, not quite so slim – though possibly hungrier given the earlier rumbling – joins him. Hats are replaced on heads, stray straws flicked from pants. Limbs are flexed – clearly, it has been a long ride.
Curry: "Where the Sam Hill are we?"
Heyes (reading station sign): "Bountiful. Sounds hopeful." He checks out the appearance of the others on the platform. "Looks like a mining town. I reckon our luck's turned, Kid. We'll find us a poker game. I'll turn our... How much we got?"
Curry: "Five dollars sixty cents."
Heyes: "That much? I take that five dollars, turn it into a stake – enough to ride first class to 'Frisco and stay in a fancy hotel; frenchified cooking and the best champagne. How's that sound?"
Curry: "Unlikely, 'cos I plan on turnin' that five dollars into the other kinda steak an' a bed for the night." Meeting his partner's eye: "I'd settle for no one spottin' us, Heyes."
Heyes: "Relax. What're the odds of us getting recognized two towns runni...?"
Before Heyes can finish, a shrill voice rings across the length of the platform.
"HEY!! You two! Yeah – you two, down there!"
Curious heads turn. Our boys' faces freeze.
"You in the black hat and you in the sheepskin – I recognise you!"
Chagrined disbelief flickers in the brown eyes. A wary look is exchanged. Subtly, Curry pushes back his coat flap uncovering his holster. They search for the source of the high-pitched hollering.
"You're those Smith and Jones fellas..."
Modified relief. Curry's hand relaxes.
A couple of burly fellas move aside. THERE she is! A lady... Well, strictly speaking, the painted face and impressive display of daytime cleavage show quite clearly this is NOT a lady. A woman waves from the far end of the platform. Bustle waggling, she walks towards our boys.
"Don't ya know me?"
Mute conversation. Two faces register; this gal DOES look kinda familiar. The boys stride to meet her, searching for an elusive memory.
"You could hurt a gal's feelings!"
An anxious glance is exchanged.
Heyes mouths to Curry: "Did you...?"
Doubtful shrug from the blond. Silently: "Did you...?"
Their expressions hold the embarrassment of men who fear encountering some long past – er – intimate acquaintance, without recalling her name. 'Cos that's just rude, huh?
The threesome meets in the centre of the platform amidst interested spectators drawn by the woman's powerful lung capacity.
Madge: "It's Madge!"
Heyes (with triumph, not to mention relief): "From Pearlman!"
Madge: "'S'right! You were helpin' that nun. And I helped the little Irish gal dodge that snake-faced fella."
Happy smiles all round.
Heyes: "What brings you to Bountiful?"
Madge: "I got my own place here. The Bien-Venue. That's French!" Gum is shifted from left to right cheek. "Classy, huh?"
Heyes: "Real refined."
Madge: "I've been in business near two years. 'Course, Bountiful's grown real fast – wasn't far off tents and mud back then. Didn't get the railroad through 'till last fall."
During this speech the boys' eyes, discreetly, check out their company. Not in the first flush of youth – but, since when did they object to older women? Carrying a few extra pounds – but no red-blooded male could deny she carried most of 'em in the right dang places. And – from the look of the fancy rig-out – solvent.
A mute – knowing – conversation.
It would be ungenerous to imply a "Ker-ching!" caption hovers in an all-too-readable thought bubble above the boys' heads; ungenerous, but alas, not entirely untrue.
Madge: "What about you boys? What brings you to Bountiful?" Checking them out. "Down on your luck, jumping trains and looking for work?"
Chagrin on two ex-outlaw faces. Is it that dang obvious?
"If ten dollars is any use to you, I need a crate hefted back to the Bien-Venue." The gum shifts cheek again. Explanatory tone: "Ben's sleepin' one off."
Well, explanatory is pushing it since neither we nor the boys have the slightest idea who Ben is. Presumably, when not sleeping, he hefts.
Heyes: "Ten dollars apiece?"
Madge: "Nope." The blunt monosyllable conveys that under those brassy curls Madge has a shrewd business head. "But I'll throw in dinner and a coupla beers on the house."
Heyes (hands settling on hips, ready to barter): "Wel..."
Curry: "You got yourself a deal, Ma'am. Where's this crate you need movin'?" He spits on his hands in manly preparation.
Madge nods past Heyes and Curry. They turn. At the far end of the train four railway employees are easing down the huge wooden crate with which our boys shared their journey. They straighten, clutch aching backs, mop sweating brows and generally perform drama-school approved actions indicating "heavy!"
The boys eye the crate. A look is exchanged.
Madge: "It's a piano." Responding to an unspoken reproach: "A deal's a deal, boys."
Yup. She's no dumb blonde.
---oooOOOooo---
STILL ON THE RAILWAY PLATFORM
Our heroes, coats off, glowing with healthy exercise, muscles straining tautly against their shirtsleeves (I spoil you, I really do) have moved the crate – ooh – a good fifteen yards.
---oooOOOooo---
LATER STILL – STREET
A set of stairs run up from the station exit. One end of the crate has been hoisted onto the level ground above the final step. The other hovers in mid-air an inch or so above the third step.
The focus is close up on Kid Curry, his hands and chest pushing against the crate, left boot up on the third step next to the hoisted burden, right boot still on the lowest level, body quivering under the weight, perspiring face tensed with the effort, eyes screwed up, lower lip clenched between his teeth, sweat has his shirt clinging to every contour.
Heyes' voice – full of encouragement: "It's moving. One last push. Remember, bend from the legs not the back..."
Curry's eyes snap open. The focus pulls back so we see what he sees – Heyes has stepped to one side and, hands on hips, is...
Curry: "What the Sam Hill d'you think you're doin', Heyes?"
Heyes: "Supervising."
Curry: "Supervisin'?!"
Heyes: "And working out – y'know – the optimum method." Voice of sweet reason: "Someone's gotta do the planning, Kid."
Curry: "Heyes, get your shoulder back under this dang crate before I come up with a plan to flatten ya."
After an offended blink Heyes joins his partner in contributing more than brain power to the task.
Slowly, with much grunting, the crate is heaved onto street level.
Bandanas are untied to mop moist brows. Brown and blue eyes stare down the length of the town. The stares segue into squints. The point of view switches to what they see. There, the distance making it very small, a gaily painted sign announces the location of the Bien-Venue.
Heyes: "Can't be much more'n three hundred yards. Three twenty at most. And we musta already moved it..."
They look back the way they came. No need for squinting this time.
Curry (glumly): "Less'n twenty yards."
Heyes (shoulders drooping): "We need a plan B."
---oooOOOooo---
FURTHER DOWN THE STREET
Heyes (in his element, dishing out instructions): "Right, push it forward – that's right – it rolls off the back roller – you pick that one up, run it to the front..."
Curry: "I can work it out."
Curry lifts a wooden mine support stave, about six inches in diameter – not unlike a fence post – from the back of the crate, takes it forward, places it underneath the front end. Three similar staves are positioned at regular intervals. Curry strides back to the rear of the crate, pushes it forward eight inches – enough to free up the new back stave. He repeats the process.
Plan B is in action.
Another repeat. Curry throws a musing look at Heyes who is conspicuously NOT bending and pushing. Blue eyes roll, resignedly.
Curry (nodding across the street at a general store): "How much did he charge ya for the posts?"
Heyes: "Five dollars."
Curry: "Five dollars??!!"
Heyes: "Relax. He'll buy 'em back for four so long as they're undamaged."
Curry does relax. His eyes move along to the sheriff's office, the name: Sheriff Jack Ryder. Our boys exchange a glance: eyebrow lift of enquiry from Heyes, tiny headshake from the Kid inferring neither knows the name.
Curry: "Deputy's watchin'. Don't see the sheriff."
Indeed, a grizzled individual, deputy star displayed, leans on the rail, coffee mug in hand, expression of mild amusement on his face.
Heyes: "He isn't the only one enjoying the free show, huh?"
It is true the boys' antics are subject to scrutiny. Two observers – who have previously stood beside a slick fella outside an establishment bearing the legend: Silver Dollar Saloon – peel their backs off the wall and saunter down from the boardwalk into the street. Heyes and Curry note their tied-down guns and general air of being hired muscle, but – again – their attitudes suggest no immediate cause for concern.
Hireling-1: "Howdy. Looks like hot work." Civil enough.
Curry: "Wouldn't argue it builds up a thirst."
Hireling-1: "Madge Masterson has you takin' that to the Bien-Venue, huh?" The delivery makes it a friendly statement rather than a question. "What's in it?" Now THAT was a question.
Heyes (with an affable smile): "Who wants to know?"
Hireling-1: "Name's Jim Carter. This is Danny Rose."
Heyes: "Joshua Smith, Thaddeus Jones." Still smiling, Heyes' eyes indicate the slicker across the street. "And the fella who wants to know what's in the box...?"
Both Hirelings glance over their shoulders. Mute conversation. Two shrugs.
Rose (less affable than Carter): "That's Franklin Gilbert."
Hireling-1 (aka Carter): "He owns the Silver Dollar – the other saloon in town." A smile: "You can't blame a fella for natural curiosity 'bout what the competition is up to. 'Specially in a small town where anythin' happenin' is news. You aren't gonna keep us in suspense 'til the lid comes off, are ya?"
Our boys turn for mute conversation and shrugs. Put like that, holding back seems kinda dumb.
Curry: "It's a piano."
Heyes: "Upright model, shipped all the way from Chicago."
Carter: "Y'know – Danny guessed piano. Reckon I owe him a dollar!" Tipping hat: "We'll let ya get on. See you around, fellas."
Heyes and Curry watch as the hirelings go back to their boss – who appears to take the piano confirmation with nothing more than a contemplative puff on his cigar.
Heyes: "That Rose fella don't have much to say for himself."
Curry: "Prob'ly can't get a word in." Stooping to move yet another pole: "I know how he feels."
The crated piano completes another eight inches of its journey.
---oooOOOooo---
STILL LATER
Plan B is going fine. The boys can see the pink ribbons on the frothy petticoat of the gal painted on the Bien-Venue sign. But...
Chest heaving, Kid Curry stares at the run of steps up to the boardwalk leading to the saloon.
Curry: "You're gonna hafta go against your principles an' help heft, Heyes."
A frown of concentration from the dimpled one as he measures the lift needed. Shoulders are braced. Manly determination steels Heyes' face. Then his focus switches to something he has spotted inside the saloon. An idea lights those brown eyes.
Heyes: "OR – we could use Plan C."
Off he darts leaving a blond ex-outlaw, too exhausted to be proddy, slumped over the crate.
---oooOOOooo---
ONE MINUTE LATER
Close up on Curry, still sprawled, face in arms, over the crate.
Heyes' voice (out of shot): "Thaddeus, this is Ben – he's gonna give you a hand."
Curry's head comes up. We see what he sees – mostly a vast expanse of checked shirt. He straightens. STILL mostly checked shirt though, roughly on a level with Curry's nose, a few curling chest hairs peek from an open collar. The Kid tilts back his head. Shoulders that'd shame a burly ox. Even further up – an affable face beams cheerily down.
Ben: "Howdy."
Curry's blue eyes blink. That is one big fella.
---oooOOOooo---
INSIDE THE SALOON
The piano has been decanted.
Ben holds one end which he carries as if it were light as a feather. Curry, panting, has the other. The Kid's end (in both senses) is significantly nearer the floor. Heyes carries the stool. Hmmm. Madge, and a couple of saloon gals circle, skip and coo in feminine excitement.
Madge: "Try it in this corner over here..."
The piano is set down.
"No, no – more at an angle..."
The piano is hefted up – and set down.
Gal-1: "OR – would it be better over here?"
Up – and over.
Madge: "Left a bit... Right a bit..."
Up. Down.
Gal-2: "Maybe closer to the window..."
A blond ex-outlaw puffs.
Madge: "It needs to be further out – so folk can gather round."
And pants.
Gal-1: "Would it better facin' the other way?"
And sweats.
Madge: "I dunno. Could we try it...?"
And finally snaps.
Curry: "Try it how, Ma'am? Nailed upside down on the ceilin'? 'Cos it's been on every square inch of floor."
Heyes: "Hey, Thaddeus!" He sets down the stool, "You don't see me getting proddy."
Curry: "I don't see you gettin' under the end of the dang piano!" He catches Madge's eye. Remorse. "Sorry, Ma'am. Where'd you like it now?"
Madge: "It's fine right there, Thaddeus. I reckon you earned this." She counts out five dollars to him and five to Heyes. "AND you've earned those cold beers." She moves to the bar, starts to pour.
As Curry heads for the bar Ben steps in front of him, still wearing the affable beam. He holds out his hand. Curry stares at the plate sized appendage. Ah!! Smiling back, he shakes it.
Curry: "Thanks. Good job."
Ben: "A dollar."
Curry: "Huh?"
Ben: "He said you'd give me a dollar." Know what? Even the finger indicating Heyes has a bicep!
Curry to Heyes: "Why don't YOU give him a dollar?"
Heyes (innocent eyes): "Wasn't me he was helping, Thaddeus."
The look – with full intent.
With a martyr's sigh Heyes hands over a dollar. Our boys and Ben move to the bar. Three beers, chilled condensation dewing the glasses, are admired and then drained in unison. Smiling, Madge pours three more.
Madge: "Not like you to insist on getting paid to help out, Ben."
Ben: "Didn't. Joshua offered. I'da done it for nuthin'." His second beer disappears down the red lane. Happy beam: "I like heftin'!" Hmm? Ben is utterly endearing – but not the sharpest knife in the drawer, huh?
Curry shoots a wry glance at Heyes, whose expression at the revelation he laid out even a dollar for nothing is a picture. The brown eyes move to a jar of hard boiled eggs on the bar. Idea.
Heyes: "Ben..." He lays a friendly hand around the big fella's... Well, it would be shoulders, but they're outta reach – let's say upper back. The other hand reaches, surreptitiously, for the salt. "How'dya like to double that dollar...?"
---oooOOOooo---
A RESTAURANT
Heyes, Curry and Ben are wrapping themselves around a simple, but delicious looking meal. Trixie Fletcher, a hennaed redhead, blowsy, but with a warm-hearted smile, beams at them.
Trixie: "More stew? There's plenty. Or are ya ready for that pie I promised ya?"
Ben holds out his dish, eagerly. Polite "no, thanks" hand signal from Heyes.
Curry: "Maybe just a mouthful."
Taking this in the spirit it is meant Trixie doles a generous ladleful onto his plate and the same to Ben.
Trixie: "Madge says I'm to give you two a meal fit for a king – all on her."
Ben (through a mouthful of stew): "She knows 'em from Pearlman. She likes 'em." Chewing, "Joshua can balance eggs. Won a dollar off me."
Trixie: "That'll be salt on the end."
Chagrin flickers across Heyes' face.
"Any friend of Madge, is a friend of mine." Trixie pulls up a chair, sociably. "She lent me the money to open this place."
Heyes: "Uh huh?" He looks around. Gingham covered tables. Specials of the day chalked up. Decent spattering of apparent regulars – mostly miners. An elderly black fella in a snowy apron circles, quietly, filling coffee mugs and clearing plates. "Nice little business."
Trixie: "'Course – she knew I could make a go of it. She knew my cookin'."
Curry: "I'd say THIS..." Indicates his plate. "...Was one safe investment."
Trixie: "An' she knew Sam makes the best coffee West of the Mississippi."
The guy waiting tables catches his name, smiles over at Trixie.
Curry (raising mug in salute): "You sure do." Glances at Heyes, "D'ya give lessons?"
Trixie: "You wouldn't catch most bosses helpin' a gal get outta saloon life to start up on their own. An' can you see a bank lendin' to me?! No way. Even if they did – there'd be so many strings I'd be dancin' to their tune till I dropped, huh? This way, I pay back the loan, give Madge a cut of the profits for the first two years and we're clear. Win win. AND, I know me doin' well helps someone else. 'Cos Madge lent money to Mister Chang for his fancy new water heatin' system. An' to Sam's boys to get their haulage business started. An' she tided Grace Cummins over when her boardin' house had that fire. I'm not sayin' she don't turn a dollar doin' it, but... Well, y'know."
Heyes: "Bounty for Bountiful, huh?"
Trixie (frowning): "Hope there's no more trouble over at Bien-Venue tonight."
Mute conversation.
Curry: "Trouble?"
Trixie: "There was a fight last night."
Heyes: "Fellas letting off steam at a saloon, isn't that unusual, surely?"
Ben: "I hafta stop fights." Proudly: "That's my job. I'm bouncer."
Trixie: "Most times, if some fella has one over the eight an' gets proddy, Ben walkin' over is enough to quiet him down."
Heyes and Curry check out the man-mountain. Their expressions indicate they can see why.
Ben: "If'n they don't quiet down – I pick 'em up and put 'em in the street. I don't really throw 'em so they bounce..." Ben is keen to be clear on this. "Not unless they upset one of the girls. THEN I might throw 'em. Otherwise I just put 'em down, tell 'em to go home. An' usually, they go."
Curry: "An' last night was different?"
Ben: "There were these four fellas – an'... I dunno." The ox-like shoulders slump.
Trixie: "Madge says they made a fight over nuthin'." She pats Ben in a motherly fashion and pushes a slice of pie in front of him.
Ben: "They had – y'know – those metal things on their fists."
Curry: "Brass knuckles?"
The ex-outlaws exchange a glance – nasty.
Ben: "The four of 'em beatin' on me made me mad..."
Heyes: "Guess it did."
Ben: "I hit 'em."
Heyes: "Seems fair."
Ben: "Made their noses bleed."
Curry: "What, all four?"
Ben: "Uh huh. Then I knocked 'em out. Then I chucked 'em out."
Heyes: "That's what you're paid for I guess."
Ben: "Then I fainted."
Heyes: "After it was all over – THEN you fainted."
Ben: "'Cos of the blood."
Trixie: "Ben can't stand the sight of blood."
Ben: "When I came 'round, I drank whiskey – 'cos I'd hurt 'em and felt bad. That's why I was sick this mornin' an' didn't meet the train."
Trixie: "Ben's got a real soft heart. Fightin' upsets him."
Mute conversation.
Curry: "Did ya think of tellin' that to Madge before she hired ya as bouncer?"
Ben: "Yeah. But Aunt Madge said so long as I could look real mean it wouldn't matter none."
Ah. The term "Aunt" Madge removes any remaining confusion from our boys' faces.
Heyes: "I wouldn't worry. You busted their noses and knocked 'em cold – why'd they come back for more? You can go back to just lookin' mean, huh?"
---oooOOOooo---
THE STREET
Heyes, Curry and Ben exit the restaurant and turn back to the saloon. But...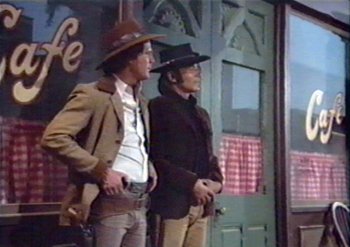 Something catches their attention. A stage has drawn up and, beside it, an altercation is in progress. At the high-pitched end is Madge. In the centre is a harassed-looking little fella clutching a grip. At the quiet end is – oh – it is Hireling-1, Jim Carter, who checked out the piano earlier. Our boys exchange a glance. They stride over. Ben brings up the rear.
Madge to the little fella (hands on hips): "Whaddya mean – you changed your mind?"
Little-Fella: "I mean I changed my mind. I'm sorry to let you down, Ma'am, but..."
He tries to dodge around Madge and mount the stage. She blocks him.
Madge: "Sorry! SORRY! You were leaving without a word to me – but, that's okay 'cos you're SORRY!"
Curry: "This fella causin' you trouble, Ma'am?"
Carter: "From where I'm standing, seems to be the other way 'round."
Heyes' expression – as a furious Madge advances on a would-be stage passenger, who backs away nervously – indicates Carter has a point.
Madge: "I hired him as my piano player, now he's ratting on me. AND..." She wheels on Carter. "DON'T think I don't know that slimy boss of your'n is behind it!"
The perspiring pianist flashes a panicked look at Carter. Our boys' eyes narrow, suspiciously. Carter, however, is a picture of injured incredulity.
Carter: "Why'd Mister Gilbert interfere with your piano player?"
Madge: "'Cos him an' that slippery banker backin' him 'ud like to see the Bien-Venue go outta business!"
Carter: "Surely there are enough thirsty miners in Bountiful for two saloon-keepers to get rich?" He's smooth – think Heyes without dimples.
Mute conversation indicating: The man has ANOTHER point.
Curry to Little-Fella: "Is this Gilbert fella – or his boys – makin' you leave town?"
Little-Fella: "No!" But his eyes flicker.
Heyes: "Or making it worth your while to go?"
Little-Fella: "N-no." Another flicker.
Heyes: "Bit of both, huh?"
Carter: "Hey, fellas, if I wasn't such a peaceable soul I might get kinda riled hearing you accuse my boss."
Madge: "YOU might get kinda riled! If this worm slithers any closer to that stage, I'LL show you riled!"
The diminutive pianist visibly quails.
Ben, who has frowningly followed the conversation, steps up.
Ben: "D'you want me to stop this guy gettin' on the stage, Aunt Madge?"
Madge: "Yes!"
Whatever the next step up from 'quails' is – partridges perhaps - the little fella does it as he is lifted, bodily, in a mighty pair of hands. His feet paddle. His hat tips over one eye.
Carter straightens up. His hand does not exactly hover over his gun – but, he looks ready. He looks like our boys when they sure don't want to start trouble – but think they might be pushed into it.
Heyes (firmly): "No!" To Madge: "The man's got a right to leave town, Ma'am. You know that."
She fumes, metaphorical steam spurts above the jangling earrings. Then...
Madge: "Sure I do. Put him down, Ben."
Ben does as he is bidden. A frown. Gently a huge finger straightens the little fella's hat. A beam – that's better.
Madge stands aside so she is no longer blocking the step up to the stage. She glowers as the departing piano player scrambles inside.
---oooOOOooo---
THAT EVENING – THE SALOON
Curry is at the bar, beer in hand. He has half an eye on Heyes, playing poker for a small – but better than nothing – pot. The rest of his attention is taken by Madge, who is bending his ear.
From the serving side of the bar, elbows on the polished wood, chin cupped in her hands, she stares at a group of hirsute miners gathered around the piano. A plunking rendition of what sounds like a dirge starts up. Guttural vocal sounds – reminiscent of a constipated cow – drift over.
Madge: "I wanted cheerful music folk could sing along to."
Curry (peaceably): "They seem to be enjoyin' it."
Madge: "It's the Selmecbányian town anthem..."
Curry: "Guess those fellas are from Selme-whaddever."
Madge: "He's playing with one dang finger."
Shrug from Curry.
"AND, he's playing it for the fifth dang time!"
Curry: "Guess it's the only tune he knows."
Madge (turns and stares at the Kid): "Ya think?!"
She spots something, stiffens.
Curry turns, see what she sees. Three fellas have walked in. Two of them Curry recognises; Carter and Rose. Or, as we better know them, Hirelings One and Two.
Curry: "Were they the ones causin' trouble yesterday, Ma'am?"
Madge: "One of them, the guy with the whiskers. He's barred."
That's the stranger. Despite a beauty of a black eye, he looks like he'd be handy in a fist-fight. Curry's eyes drop to hip level. Black-Eye is not carrying a gun. Carter and Rose, of course, are. In fact Carter carries two, a second gun-belt is slung over his arm.
Heads turn. Voice by voice the saloon goes quiet.
Ben has spotted his assailant of yesterday. Squaring his shoulders – which is kinda redundant, since they're apparently modelled on a brick outhouse – he goes over.
Ben (official voice): "I hafta ask ya to leave." Bending forward, he peers at the bruise. Unofficial voice: "Sorry 'bout your eye. Trixie'll have some steak ya could put on that."
Rose: "Are you sayin' you got a problem with him?"
Ben: "Only if he comes in here – 'cos he's barred." Then, as if the additional information might be genuinely helpful. "For fightin'."
Rose: "'Cos if you got a problem with him – you got a problem with me."
Ben: "No I don't." Helpfully: "Why don'tcha go drink at the Silver Dollar? They got a real fine stuffed grizzly – must be over 700 pounds!"
Rose: "I don't think you're hearin' me, big fella, if you try an' throw HIM out – you're gonna hafta go through me. Family honor."
Heyes has laid down his cards and pushed back his chair.
Heyes: "Family?"
In fairness, Danny Rose is a snub-nosed red-head with the kind of skin which turns from pasty to lobster if the sun so much as peeps through the clouds. Black-eye is a raven-haired, swarthy guy with a proboscis worthy of a Roman emperor.
Rose: "Yeah. We're identical twins – you got a problem with that?"
Heyes: "Me? Nope."
Rose to Ben: "You gonna let him buy a drink, or you gonna go through me?" Deliberately he pulls off his right glove.
Our boys exchange a glance. Their expressions are: Heyes – reluctant, Curry – the same, but with a side of "gonna do it anyway."
Curry: "Dunno if you an' your twin have noticed, but Ben here isn't wearin' a gun."
Carter: "Not a problem."
He tosses the gun belt hanging over his arm to Ben who catches it instinctively. Ben stares at it, brow wrinkling.
Rose: "It goes 'round your middle if you're confused."
The look on Heyes' face segues to resignation as Curry steps forward.
Curry: "The only thing confusin' him is why you don't take his advice an' go drink at the Silver Dollar." The ex-outlaw's blue eyes meet those of Danny Rose. "He asked this fella to leave real nice. Now I'M tellin' you – go drink at the Silver Dollar."
Carter: "What's it to you?"
Curry: "Ben here's my twin. You got a problem with that?"
Rose: "You got a big mouth fella. You'd better be prepared to back it up."
Rose reaches. A gunshot rings out. A scream from one of the saloon gals. Danny stares in disbelief first at his gun, still in its holster, spinning away across the floor; then at the implacable face of Kid Curry, from whose Colt wisps of smoke still rise.
Heyes spots a movement from Carter. His own hand moves to his Schofield, but he is forestalled.
Madge: "Don't even think about it!" Shotgun in hand behind the bar, she has it covered.
---oooOOOooo---
LATER
Madge: "I owe you, Thaddeus."
Gal-1 from earlier (a stunning strawberry blonde) tops up Kid Curry's glass. Gal-2 (a tawny-haired lovely) lights a cigar for him.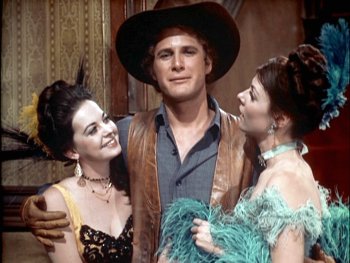 Heyes: "D'you reckon Gilbert is behind the trouble, Ma'am?" He tops up his own glass and reaches for his own cigar since no one is bothering to do this for him.
Madge: "I don't reckon, I KNOW."
Heyes: "Why? I mean I know Gilbert's the competition but that smooth-tongued Carter had a point; there's enough thirsty miners to fill two saloons."
Madge: "Sure are! The fella who used to own the Silver Dollar and me got along fine. Then he let the bank buy him out and this Gilbert creep arrived as manager..."
Heyes: "So when you talked about the banker backing him..."
Madge: "If Simon Windle – that's the slime ball of a bank manager..."
Curry: "He's a bank manager an' his name's S Windle??!"
Madge: "Couldn't make it up, huh? And it fits. If he isn't funding the heavies working for Gilbert – I'll eat my hat. And, you've SEEN my hat!" She drains her whiskey. "I know why they're starting trouble now, too. It's 'cos the sheriff's outta town. Bill Bray – that's the deputy – he's a decent enough man, but he's... Well, he's not got the smarts to deal with a weasel like Windle with half the town council in his back pocket."
Heyes: "You said when you first arrived this town was a step away from tents and mud. So – no bank?"
Madge: "The weasel arrived 'bout nine months back."
Heyes: "And you'd already made a fair few loans, huh? And dished out a few since."
Madge: "Yeah. Mostly to folk who a bank wouldn't... Oh! You mean it's not the Bien-Venue he's trying to shut down. It's the loans."
Heyes: "He musta soon found out there was something dang close to a credit union going on from here."
Madge: "But without me half the new businesses wouldn't have got their start. Leastways, not without..." She stops.
Heyes: "Not without being so deep in hock to the bank he could pull their strings."
Madge (glowering): "He makes out to be such an upright citizen. Sitting so smug on the town council. Passing dang ordinances 'gainst moral turpitude."
Curry: "'Gainst what?"
Heyes: "Y'know – wine, women 'n' song."
Curry (mulling): "What's IMmoral turpitude then?"
Heyes: "Can we leave that? The point is – Madge's troubles likely aren't over."
Madge wrinkles her brow over this. Decision.
Madge: "Thaddeus, how'd you like to come work for me?"
Heyes: "He don't hire out his gun."
Madge: "I'd offer thirty dollars a week plus board."
Heyes (wheeling smoothly): "'Course, hiring us simply to oversee operations isn't really hiring a gun. It's just employing two peaceable, law-abiding fellas who would never START any trouble, but might be able to defuse it."
Madge: "Since when has Thaddeus been TWO fellas?" To Curry: "Do we have a deal?"
Curry: "Sure do, Ma'am."
Ben (face falling): "Does this mean I'm fired?"
Madge: "'Course not! Thaddeus would be kinda – your assistant." One heavily eye-lined lid drops a fleeting wink at Curry.
Curry: "A back-up."
A beam from Ben. He likes the sound of that. But...
Ben: "What'll Joshua be?"
Madge: "Nothing. I'm not hiring Joshua."
Heyes (blinking): "You're not?"
Madge: "Ben's bouncer. Thaddeus is back-up. Me and the shotgun are back-up back-up. Where d'you come in? You're more'n welcome to stick around, but I ain't paying thirty dollars for the pleasure of your company. I may be a tart with a heart but I'm not a dang charity. No offense."
Heyes (lifting a pack of cards): "D'you need any dealers?"
Madge: "Penny and Grace are my dealers."
The stunning strawberry-blonde and tawny-haired lovely smile at him. Ah. Those two.
Curry: "If that's the Bien-Venue standard for dealers, Joshua sure ain't qualified." His eyes stray momentarily to the gals' – credentials.
Acknowledging shrug from Heyes.
Madge: "I don't have a vacancy." From the corner dirge-like plunking recommences. "Unless – can you play the piano?"
Heyes: "Can I play the piano? Can I play the piano??!!"
Curry flashes a silent "don't" signal to his partner.
"They don't call me Fingers Smith for nothing, y'know!"
Curry rolls his eyes as Fingers Smith interlaces his slim digits and stretches them back before him. Heyes heads towards the piano. The Kid follows.
Curry (sotto voce): "What the Sam Hill are you doin', Heyes? You can't play the piano."
Heyes (sotto voce): "We don't know that, Kid. Not as if I ever tried."
With a charming smile, Heyes silently requests the plunking beard to vacate the stool. He sits. More finger stretching. His face assumes a serious expression, his hands hover – fingers splayed wide – above the keys. And down... And... Stop. Hands in lap he looks over to Madge.
Heyes: "I am hired, right? Thirty dollars a week?"
Madge: "If you know how to play."
Heyes (with a snort): "IF I know how to play??!!"
Another finger flex. The left forefinger runs from one end of the keys to the other. Hey, that actually sounded good. Curry's eyes widen in suspicious surprise. The hands hover again. And... Heyes gets up, kneels beside the stool.
"Adjusting the height."
Tinkering. Heyes stands, steps back.
Whoa! What happened? One minute we had an upright ex-outlaw on a level floor. The next, we had an airborne ex-outlaw, yelling some masculine equivalent of Ooops. Now we have a dusty ex-outlaw, face down, emitting a faint moan.
Kid Curry rolls his eyes.
Madge and the lovely dealers, however, scurry over all concern.
Madge: "Are you okay, Joshua?"
The master of pratfalls is helped to his feet. He is nursing his right hand.
Heyes: "It's my wrist. Owww.w.w.w. I musta slipped on some spilled beer."
Stunning Grace: "Is it broken?"
Lovely Penny: "Should we run for the Doc?"
Heyes: "No, no." He gives his very best brave little soldier face. "I reckon it's only a sprain." Big, guilty brown eyes look up at Madge: "I won't be able to start my new job tonight after all, Ma'am."
Madge: "Don't you worry none about that. You rest it for as long as ya need."
Heyes is helped to his feet, leaning – equably – on one set of soft, obliging arms (and, incidentally, bosoms) after another.
In the background Kid Curry buries his head in his hands in disbelief.
---oooOOOooo---
BIEN-VENUE - EARLY NEXT MORNING
The place is deserted apart from Hannibal Heyes, an empty sling dangling around his neck. He sits at the piano, plunking with one finger. For two seconds it sounds kinda familiar...
Plunk, plunk, plunk... Plonk. Ouch! He winces.
Very soft Heyesian singing: "'Tis a gift to be simple..."
Plunk, plunk, plunk... Yes! Plonk. No! Another wince. Heyes' head goes forward. Deep sigh.
The batwing doors swing softly. It is Sam, the waiter from the restaurant. His eyes are on the piano, he heads for it, a smile lighting up his kindly old face. Heyes straightens up. Sam stops. He is in shadow, so Heyes – whose attention is focused on the keys – does not immediately see him.
Plunk, plunk, plunk, plunk, plunk... Yes! Yes! Plonk! Oh, for Pete's sake!
Heyes drawing a hand across his face in frustration, spots Sam. Tiny start of surprise.
Heyes (with a glance at the clock): "Sheesh, you're here early. Did you want something?"
Sam's eyes linger for a moment on the piano. He opens his mouth – changes his mind – shuts it.
Sam: "No, Sir. Just passin'. Good mornin' to ya." He turns, heads for the door.
Heyes: "Morning." Sam leaves. Confused but not terribly interested shrug from the ex-outlaw. Back to... Plunk. Plunk. Plunk... Plonk. Doh!
His eyes snap up at the sound of rapid footsteps coming downstairs. Like lightning his arm goes into the dangling sling and he moves away from the piano.
Kid Curry enters – Heyes relaxes. Adjusting his hat, Curry casts a jaded eye over his partner.
Curry: "Hey, Fingers, you got the wrong wrist in the sling."
Smooth as silk, Heyes swaps hands and beams, blandly, at the Kid.
Curry shakes his head at the deviousness of men – well, one particular man.
"C'mon, let's go get breakfast."
Heading for the batwing doors they are forestalled by a lady – definitely a lady this time – tight bun, steel-rimmed spectacles – hovering on the threshold. From behind her skirts peeps a little face framed by two tight plaits and generously dotted with freckles. Heyes and Curry touch their hats.
Curry: "Can we help you, Ma'am?"
Miss Griffiths: "I'm Emily Griffiths, the local school teacher."
The ex-outlaws expressions are polite – but blank. So?
"Is Miss Masterson available?"
Curry: "Who, Ma'am?"
Miss Griffiths: "Miss Margaret Masterson." Still blank. "Madge Masterson."
Curry: "Come in, Ma'am, I'll call her."
She peers anxiously past the two ex-outlaws.
Miss Griffiths: "There aren't any..." Low voice, as if it's an improper word. "Men..." Even lower. "...Drinking – are there?"
Heyes (semi-serious low voice): "Only us – and only coffee. And, we're just leaving." Calling: "Mizz Madge. A lady to see you."
Curry (smiling at the small freckled visitor): "Make that two ladies."
Two solemn eyes stare, shyly, up at him.
Madge emerges at the top of the stairs, yawning. Her hair is down and, though perfectly decent – in fact, more covered than usual – she is still in her robe.
Miss Griffiths (primly): "Good morning."
Madge (rubbing her eyes): "Is it? I mean..." She focuses. "Mizz Griffiths?"
Miss Griffiths: "You said – so kind – I might give young Amy here – and maybe some of the other children – lessons on your piano." To Heyes and Curry: "Amy learned piano in her last town. Then her father had to move here to find employment and there has been no instrument in town." She looks at the piano, longingly. "Until now." Anxiously: "You haven't changed your mind, have you?"
Madge: "'Course not! And don't you worry anyone'll come disturb you. You'll have the place to yourself for..." She checks the clock. A blink. HOW early? "...Hours!" To Amy: "You have a real good lesson, Honey. But – play some'n soothing, huh?" She heads back from whence she came.
The teacher and her pupil make for the piano. Our boys head for the exit. Heyes, looking thoughtful, wheels and approaches Amy. He sweeps off his hat, squats.
Heyes: "Ma'am, if you're still having your lesson when I get back from breakfast – may I listen in?"
---oooOOOooo---
TRIXIE'S RESTAURANT
One smeared breakfast plate, with every appearance of having been well polished by a hunk of bread sits in front of an empty chair. Another plate, with every appearance of having been topped up with a generous second helping sits in front of a masticating blond ex-outlaw. He spots something. The mastication slows. The blue eyes narrow.
Through the window we see what Curry sees.
Four men; the slicker we know to be Gilbert, a paunchy guy in a fancy embroidered vest, a skinny ferret of a fella and the grizzled deputy head for the Bien-Venue. The paunchy guy – who HAS to be the weasel banker, Windle, right? – leads the pack. The ferret scurries at his heels carrying a sheaf of documents in a slim folder. The deputy looks miserable.
Setting his hat on his head, Kid Curry downs a final mouthful of ham and exits.
---oooOOOooo---
CONCURRENTLY - INSIDE THE BIEN-VENUE
Heyes, full charm turned on for both teacher and pupil, watches closely as Miss Griffiths and Amy duet a few bars of: There's No Place Like Home. Miss Griffiths nods, Heyes turns the music page, mutual smiles. The batwing doors swing. The playing stops. They look over at the foursome entering the saloon. Feminine blinks of surprise. Heyes' eyes narrow, suspiciously.
Windle reacts with exaggerated shock to the sight of the schoolmarm.
Windle: "Miss Griffiths! What are you doing here?!"
Amy: "Teachin' piyanna."
Windle: "Teaching pia... In a SALOON?" Sternly, to the ferrety fella: "Unless you want your sister's attention drawn more closely to the moral turpitude clauses in her contract I suggest you insist she leave at once!"
Griffiths: "You'd better go, Emily."
The ferret frowns his disapproval at a clearly affronted schoolmarm. Emily Griffiths opens her mouth to argue – notes the fascinated expression of the listening child – changes her mind. Folding her lips tightly, she gathers her music and ushers Amy out.
---oooOOOooo---
A MINUTE LATER
Curry enters and quietly joins his partner who, brown eyes vigilant, watches the scene in progress.
Windle: "As leader of the town council I am shocked – SHOCKED – to find unlicensed gambling has been going on here." His chest puffs like a pouter pigeon. "So is Acting Sheriff Bray! Aren't you? Shocked!"
The despondent deputy wriggles, miserably.
Penny, who has come in from the back, sashays over to the deputy, presses a couple of notes into his hand.
Penny: "Your winnings, Bill."
His head hangs.
Curry to Heyes (sotto voce): "What d'ya reckon?"
Heyes (ditto): "I reckon since Plan A to bully Madge outta the Bien-Venue didn't go so well, someone's come up with a Plan B."
Madge: "Whaddya mean – unlicensed?! I paid my dang license! This is a respectable business I'm running here! Hey – Chrissie!" This last is to a buxom redhead in bloomers and gapping camisole, who has come down the stairs and is heading for the coffee pot on the bar. "Go get some clothes on! Save the show for paying customers, huh?"
Griffiths the ferret runs a finger inside his collar and drags his eyes away from Chrissie.
Griffiths: "The – er - respectability of your business is not the issue, Miss Masterson. Your license covers only the sale of alcohol. Legally, for gambling, you need to purchase a separate license."
Madge: "Sez who?!"
Windle: "Says the last town council meeting – majority vote. Griffiths has the new by-law right here."
The ferret shows Madge a paper from his file.
Gilbert (sneering): "The Silver Dollar has a gambling license." He blows a smoke ring.
Madge scans the legal document, frowningly.
Deputy (apologetically): "Griffiths IS a lawyer as well as town clerk, Madge. It's legal."
Madge: "Okay, I'll buy a dang gambling license. How much?"
Griffiths: "$100 for the year."
In the background, two ex-outlaws react. We gather they consider $100 steep. So does Madge.
Madge: "$100?!! I already pay $100 to serve alcohol and $150 in local taxes! For which I get – what?! Squat!" Deep breathing. "Okay, I'll send Ben 'round with your money before noon."
Windle: "There is also the matter of the fine."
Heyes: "What fine?"
Windle: "The fine for running an unlicensed gambling establishment." To Madge, with fake reasonableness: "Unless you prefer jail time?"
Curry: "She didn't even know you changed the dang rules."
Griffiths: "Ignorance of the law is no defence. Is it, Acting-Sheriff?"
The deputy shifts his feet, awkwardly.
Deputy: "I'm sorry, Madge. I gotta follow the law."
Madge: "You're weak as water, Bill. They wouldn't try this if the real sheriff was here!"
Windle: "Well, he isn't! Pay your fine by sundown tomorrow or it's jail for you."
Gilbert (with mock sympathy): "As a favor to a lady, I'll give you $500 for that fancy piano you're so proud of. Seriously. It'll look real fine next to the stuffed grizzly at the Silver Dollar."
Windle: "Not that $500 will cover the fine!" He cackles, classically.

_________________
Hannibal Heyes and Kid Curry, the two most successful outlaws in the history of the west. And in all the trains and banks they robbed, they never shot anyone.