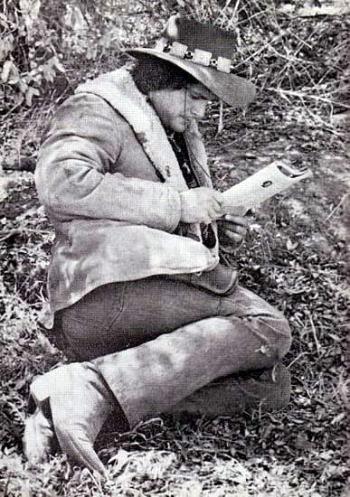 My personal favorite of Ben alone is this one, because I think
back on all the times that Heyes ribs the Kid about reading,
the jokes about books etc. and then here is this pic…
A Fan Tribute to Celebrate 40 Years -
What's in a Name?
by moonshadow

I imagine most people would say that all depends on the name and the person it belongs to. A name can mean many things to different people, depending on their relationship and interaction with the person in question. In this case, the moniker belongs to Benjamin Edward Murphy, that handsome, blue-eyed man who co-starred in my favorite Western TV show, "Alias Smith and Jones" as Jedediah "Kid" Curry. Along with Pete Duel as Hannibal Heyes, they were a mighty fine pair of outlaws.
I must digress a bit, for it wasn't "Alias Smith and Jones" where I first discovered Ben; it was "Name Of The Game," where he played a character named "Joe Sample." I was ten years old at the time, and for the life of me I can't say why or what it was that drew me to him (although I've been asked numerous times). I wish I knew, but whatever it was, he has held a special place in my heart, and life, for 42 years.
Yes, that IS a long time.
"Joe" first made his appearance a few shows into the season and as he was introduced, my Nana and Gramp later told me that all they heard me say was, "WOW...I LIKE him!" as I blocked their view of the TV set. All I can remember was that there was something about that man that made me stop and notice him...an expression or maybe the tone of his voice...or maybe the look in his eyes???
Well, Ben/Joe "disappeared" from NOTG and it wasn't until just a few years ago I discovered why, when Mr. Murphy told the story at one of our fan gatherings. According to Ben, he learned the hard way that an actor should be more careful of what he says to a show exec when asked at a party what he was doing in his spare time. Ben's response was, "Looking for work."
That reply earned Benjamin the honor of being terminated from NOTG (so that he could have all the time he wanted to look for work). He only got to be in 7 episodes, but I enjoyed every one of them! Being young, I couldn't figure out what had happened; if it was in the papers or tabloids, I didn't read about it back then. I remember I was very sad that I could no longer watch the man with the beautiful eyes and smile...
The year 1968 was a wonderful year for me for another reason besides the fact that Ben was viewable in NOTG. He also showed up with some top name stars in a movie called, "Yours, Mine and Ours." He played Larry and I can still remember every scene, the motorcycle, the fight...sigh...
However, not too long after that, while doing some household chores, I heard HIS VOICE on the television set and almost killed myself getting into the other room to see the screen. I remember standing in front of the monitor watching the commercial promoting HIM. HE was dressed in western clothing, riding a horse, talking to another dark-haired man and then came the announcement that changed my life forever.
Ben was going to co-star in a TV series! A brand new western show called, "Alias Smith and Jones." He was an outlaw named Kid Curry, alias Thaddeus Jones. Heck, I didn't care what they called him as long as he was going to be riding through my living room each and every week! By the time the pilot finally aired on January 5, 1971, I don't think there was a single person in a ten-mile radius that didn't know about it...and that was before cell phones and computers! As silly as it sounds, I remember putting an announcement in our school newspaper reminding everyone. Once upon a time I knew where that clipping was...
On a personal note, once the series began to air I became "Kid." In my group of friends there was a "Heyes" and a "James West" and "Artemus Gordon" (those two clever Secret Service Agents...I mean, Heyes and the Kid had to have someone to keep them in line, right? And West and Arte did work for the Governor).
And so, along with a few others, we role-played and acted out our adventures; to this day the nickname has stuck. Everyone who is involved with me knows who Ben Murphy and Kid Curry are. It's just the way things are. (I've discovered since the fan get-togethers and computer chats that I am not alone in the nicknames and role-playing, so it's nice to feel I was normal!!!)
And so, "Alias Smith and Jones" continued to take us along on the trail, allowing us to share the adventures as each week, Hannibal Heyes and Kid Curry strove to stay out of the law's hands and worked towards that elusive amnesty. The show managed to survive for three seasons, despite the tragic, and untimely, death of Pete Duel and being stuck in time slots against major audience winners like "The Flip Wilson Show" and "All In The Family."
Die-hard fans like me also managed to stay with it to the very end, even when the episodes began to become very irritating. It just wasn't the same without Pete, but everyone involved managed to get a third season completed before the decision was made to call it quits. Again, another majorly sad day for me. Me and my "gang" had lived and breathed ASJ for the last three years...What would we do now???
I was not to be disappointed for too long. Although my favorite outlaw hung up his spurs, he went on to do many other shows. "Alias Smith and Jones" will forever remain my favorite TV show, but I must admit I did enjoy watching him as "Wild Bill Hickok" in "This Is The West That Was" (1976), and as Lt. Danko in "The Dirty Dozen" (1988), very much. Ben's portrayal of those characters let us see another side of him.
The cancellation of "Alias Smith and Jones" was a bittersweet time for Ben. He enjoyed the story/premise of the show, the fans, his character and the celebrity status that came along with being a star. He also considers it his first "big" break, so "Alias Smith and Jones" holds a special place in his life, too.
Today, kicking back and enjoying his retirement, when asked about it, he refers to that place as "in his past" and says that he has "moved on to other things." He is more into discovering what's going on in and about the world around him at the moment. In a recent chat I had with him over dinner, he said he would always appreciate the ASJ fans and their loyalty.
"It's been forty years and they are still going strong. Those people will know who I'm talking about," he said with a wink. And indeed we do, don't we?
After leaving the western scene, Ben went on to accomplish many other things, but one thing has stayed constant in his life and that is his passion for the game of tennis. He works out faithfully, does weight training and either takes lessons or has a match every day. I remember him saying that nowadays his life revolves around tennis; his dedication and hard work seem to be paying off. You can check him out on USTA.
Anyone who knows Ben also knows there is one other thing that he is passionate about and that is his "family" of animals that surround him. A few years back he lost "Molly," his longtime canine companion and friend that he rescued along with ex-wife Jeanne while out on the Promenade in 1995. They saw a "transient" man with a dog and Ben offered to take the animal and care for her. The man said he would sell her to him for $1.00. The dollar was for his shoelace that was tied around the dog's neck as a leash. They gave him the dollar and Ben carried "Molly McMurphy" home in his arms. He said it took months for her to learn to eat and drink out of a dish, she had only had plastic bags before and didn't know how or what a dish was.
Ben acquired "Schnapps McMurphy" next in 2000, and then "Corgi Girl McMurphy," an abandoned Welsh Corgi whom he rescued while filming on the set of "McBride" in 2007. Ben has since added another new member to his home in 2010, a female Terrier named, "Missy McMurphy," whom he adopted from a "rescue mission" outside a pet store. She had been abandoned/dumped, as had many others, to fend for herself when her owners could no longer afford to care for her or possibly had lost their home.
Ben and I have remained friends and stayed in touch throughout all these years, including my moving to Arkansas to be a caregiver for his mother, Nadine, for the last two years of her life. I have enjoyed the times I've shared with this enigmatic person and hope we have several more ahead of us.
With those last few updates, I shall bring this fan tribute to an end. I leave you with a question that someone asked me recently:
"If you had two closed doors in front of you and behind Door #1 was Ben Murphy and behind Door #2 was Kid Curry...Whom would YOU choose???"
~~~~~~~~~~~
This is one of my favorite pictures because it shows the guys being themselves, a behind-the-scenes shot, enjoying the moment and makes me feel good every time I look at it, and for a final reason, it lets me know that Pete did have happy days, too.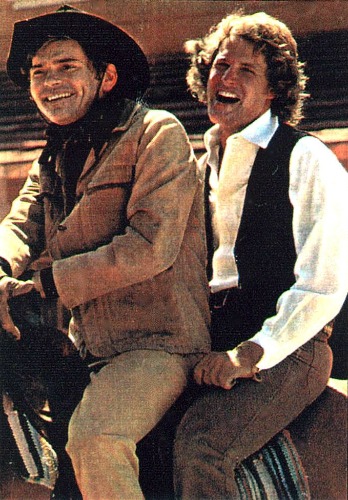 (Writers love feedback! You can tell moonshadow how you enjoyed the story with a quick comment. Just click Post Reply for the Comments for What's In A Name thread below the story.)


_________________
Hannibal Heyes and Kid Curry, the two most successful outlaws in the history of the west. And in all the trains and banks they robbed, they never shot anyone.