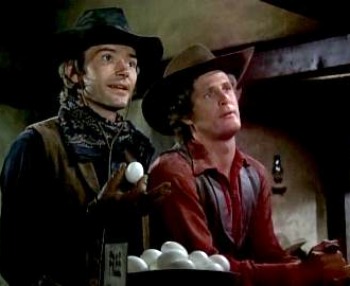 Starring Pete Duel and Ben Murphy
Guest Starring
Jack Albertson as Judge Hanley
Penn Jillette as Penn Nichols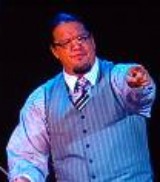 Nicole Kidman as Zara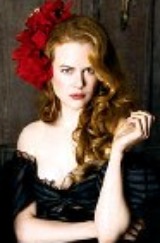 Warwick Davis as Billy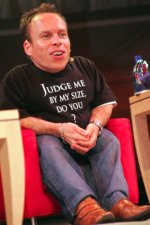 Kenneth Tobey as Sheriff Hanley

Kevin Hagen as Doc Collins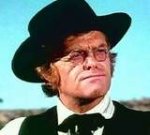 Trick Shot
by Calico
THE BAR OF A SALOON
"...Beers, huh?" The barkeep lifts two glasses, scans the figures facing him. One in a silver-trimmed black hat, the other in a brown number. Their clothes are dusty, their chins unshaven, their expressions – thirsty. His eyes narrow. "Beers are a dime apiece. You fellas got money?"
"Would we order beers if'n we didn't have any money?" Deep brown eyes radiate artless innocence.
"It's been known," grunts the barkeep. He waits. No dimes emerge. The glasses, still unfilled, are returned to the shelf. "Hey!" This exclamation is a response to Heyes' fingers reaching into a jar of hard-boiled eggs. "That notice says 'free with drink.' You ain't bought a drink."
"I'm not going to eat it," Heyes assures him, holding aloft the ovoid. "You got any money?"
"I ain't ordering any beer."
The boys award this a gentle laugh.
"No, I mean real money. I reckon you're a man who likes a wager..."
"You reckon wrong," interrupts the barkeep.
A flicker of chagrin in the brown eyes, but Heyes presses on. "I bet you I can make this egg stand on end like this – and stay there. Ten dollars says I can do it..."
"Not ten o' MY dollars, fella. My money ain't sayin' nothin'."
As the silver-tongued one is not doing too well here, Kid Curry weighs in. "Don't go thinkin' he's gonna slam it down on the counter. He can do it without crackin' the shell."
"I'll bet you five dollars he's afraid to call me," says Heyes.
"I'll bet you five dollars he's not," chimes in Kid, right on cue.
"I'll bet you – let me think..." The barkeep feigns chin-scratching pondering. "I'll bet you ZIP, that I don't give a tinker's cuss what you do with that egg."
Pause. Our boys droop, thirstily. It's not easy to convey 'thirsty' with nothing but a drooping action, but they manage it. Kid Curry redirects Heyes' gaze with an eye flick. A slick-looking customer with an impressive moustache and set of side-whiskers sipping beer at the far end of the bar has watched the interchange with mild amusement. Heyes squares his shoulders for another try.
"You, sir, if our friend behind the bar won't take my money, how 'bout you? Ten dollars says I can stand..."
"That egg on its end without breaking the shell," finishes the observer. He scoots up the bar to stand beside the boys. "Tell you what, do it with THIS egg – and maybe you have yourself a bet."
"Which egg?" asks Heyes.
"This one – the one your partner has hidden behind his ear..."
A deft hand movement and an egg appears from a point below the hat brim of a bemused Kid Curry. It is placed – upright – on the counter without so much as a wobble.
"Or maybe you'd prefer to use the one behind the other ear..."
Another perfectly balanced egg is placed down.
"Or the one he's hiding in his shirt pocket? Hey, let's stand this one on the small end, huh?"
He does.
Heyes, the Kid, and the barkeep stare at the eggs.
"That's quite a trick!" admires Heyes. He picks up one of the eggs, touches it to his tongue. His face registers surprise.
"I prefer mine without salt," says the deft one. Two sets of dark eyes meet. A smile crinkles the older man's face. "Why don't I buy you two boys a beer and a couple of Joe's beefsteak sandwiches?" A five-dollar bill materializes between the clever fingers on his left hand. His right hand is held out, "Penn Nichols. But..." An impressive mustachio is twirled. "...I also go by the name, The Great Fabuloso."
---oooOOOooo---
LATER – THE SAME SALOON
A fed and watered – and consequently more cheerful – pair of ex-outlaws sits with the man who can out-egg-balance Hannibal Heyes. The atmosphere is friendly. We gather he likes them, they like him. Why wouldn't they? He seems a real likeable fella.
"So, Penn, you're with the travelling circus?" asks Heyes. "Me and Thaddeus saw your posters as we rode in."
"It's the greatest show on earth!" Penn asserts, impressively.
Two skeptical faces.
Penn sips his beer and grins. "At any rate, it's the greatest show seen around these parts for a good few years." Another swallow of beer. "What do you two fellas do?"
Blue and brown eyes exchange a glance.
"We're kinda between jobs at the moment," says Heyes.
"Looking for work, huh?"
Two nods.
"What kind of work?"
"Well-paid work."
"Not too hard on the back."
"I reckon the whole world's looking for that kind of work."
Rueful grin from Heyes. Acknowledging shrug from the Kid.
"Now, if you'd said you were looking for work where the pay's lousy, you'll be dog-tired at the end of every day, BUT, the food is good and plentiful, you'd be sleeping in a warm, dry bed AND, you get to see the greatest show on earth for free, I might be able to help."
"What's the job?" asks Curry.
"We're looking for roustabouts."
"Roustabouts?"
"Fetching, carrying, hammering, hefting, shifting dirt, pushing ornery animals around, getting yelled at."
Two expressions register how familiar that all sounds.
"'Course, since it doesn't meet your exact job requirements, I guess you won't be interested." His eyes twinkle.
---oooOOOooo---
A FAIRGROUND – CIRCUS STYLE BIG TOP IN BACKGROUND
Heyes and Curry, the blond sweating delightfully in his Henley, are doing what fairground roustabouts do. Specifically, Heyes holds a spiked pole in a hole, while Kid Curry hammers it into the earth.
A glance from the blue eyes at the smiling, dimpled face suggests Kid Curry is not entirely happy with the division of labor.
---oooOOOooo---
His outer shirt still off (I spoil you! I really do!), Curry is pumping water into a whole row of buckets. Heyes holds the current bucket steady.
Same glance.
---oooOOOooo---
Again with the damp Henley (you can thank me later), Kid Curry is shoveling... Well, think what bears do in the woods – that's what he is shoveling. Lots of it.
"Are you gonna come help, Heyes?"
"I'm busy."
The camera pans right to show us what generated all the ordure. Heyes is feeding apples to an elephant. A second elephant tries to attract his attention with a little trunk action around the collar area. She not only tries, she succeeds.
"Don't worry, gorgeous, I got plenty for you, too."
Tug tug.
"Just wait your turn."
Tug.
"You don't like waiting?"
Tug. A shirt button pops.
"You flirting with me, Rosy? You are, huh? Know what? It worked." Rosy is rewarded with an apple. "Now, you ladies are gonna hafta get along without me for a while – I know, I know, I'll miss you, too – but, y'see that fella back there? The proddy one. He needs me to go show him how to shovel properly. Okay? Okay."
As Heyes picks up a shovel, Kid Curry gives him the 'look' which is returned with the blandest of dimpled smiles. A couple of flexes from Heyes, but he has yet to make contact with the steaming piles. He puts down the shovel, spits on his hands, picks it up again. Curry's brows snap together suspiciously. Is the wily one still stalling on breaking sweat? Another Heyes flex. Another Curry scowl. Heyes finally bends and draws back his shovel, a glint of satisfaction in the watching blue eyes, and – Heyes stops, mid-swing, drops his shovel and strides off.
The sound of a ladle beaten around a metal triangle is clanging the message: 'lunch'!
---oooOOOooo---
Long trestle tables are set up, laden with biscuits, bowls of potatoes and greens, jugs of beer. At either end, steaming stew is doled out from vast tureens. Heyes and Curry, carrying laden dishes, scan the tables, recognize someone amongst the diners and head for him. A morose-looking guy wearing a clown wig scoots up to make room. A little fella – that is, genuine three-foot six type little – sitting opposite, grins at them.
"Hi, Billy," Kid Curry greets him.
"D'you fellas get along okay with Rosy and Posy?" the little fella – who I guess has to be Billy, huh? – asks.
"Just fine," says Heyes.
"It's the workin' end of a shovel Joshua's havin' problems with," inarticulates Kid through a mouthful of biscuit and gravy. He glances sideways, reacts.
Heyes turns, sees what his partner has seen, straightens up.
Penn Nichols (aka The Great Fabuloso) is striding over. His mustachios and side whiskers are now even more impressive, being ink-black and waxed to improbable points. A gleaming top hat is set upon his head. His vest glitters with gold thread. A scarlet lined cloak billows behind him. However, the friendly smile and amiable glint in his eyes are unchanged.
"Thaddeus, Joshua! Has Billy arranged somewhere for you to stay?"
"Uh huh." Heyes nods to a cluster of canvas-covered wagons in the middle distance.
"Pretty basic I know," says Nichols, "But, I did warn you."
"Compared to the hotel we were in last week, our wagon's the San Francisco Palace," grunts Kid Curry.
"And Thaddeus is doing a pretty good imitation of a man happy with the food," chips in Billy.
"Like Thaddeus and me always say, there's nothing like a hard day's work in the fresh air to build an appetite," says Heyes.
Curry gives his partner a version of the 'look' which Heyes can interpret any way he chooses.
A shadow falls over the table from behind the boys.
A little of the cheerfulness fades from both Penn's and Billy's faces. Curious, our boys twist their heads.
It is a woman. To be specific, it is a shapely, titian-haired beauty, displaying her considerable charms in a tightly corseted low-cut bodice, frilled cut-away skirt and spangled tights. Heyes and Curry, civilly, half rise, their eyes after a split second of masculine weakness managing to avoid anything so crude as a 'gawk.'
She gestures the boys to sit back down, without so much as looking at them.
"Penn, I thought you were coming to practice the three-section cut?"
"Sure I am." His tone is conciliatory. "I was just checking on Joshua and Thaddeus – Zara, this is Joshua Smith and Thaddeus Jones. You remember, I mentioned them? Fellas, this is Zara, my lovely assis... My partner."
"Ma'am."
"Ma'am."
A pair of fine green eyes flickers over the ex-outlaws. A delightfully sculpted upper lip lifts, scornfully.
"I'm sure the foreman is capable of organizing the roustabouts."
Sheesh. Who would have thought enough disinterested disdain could be injected into the word 'roustabouts' to make it an obvious synonym for 'riff-raff'?
She walks away.
"I'd better go," says Penn. "Zara's right. The difference between adequate and amazing on a show is never skimping on practice."
Off he goes.
Awkward silence.
Billy breaks it. "I can't think why Penn puts up with her."
"Well," Kid chews thoughtfully, his eyes still fixed on the retreating hips swaying elegantly beneath the bustle-froth of costume tail, "...I can think of a coupla reasons right off."
"And a couple more if he's a leg man," deadpans Heyes.
A grunt of laughter from the glum clown beside Kid Curry, who then reapplies himself to his stew in silence.
---oooOOOooo---
LATER - BACK WITH THE ELEPHANTS
Billy is taking Rosy through the commands of their act. Concurrently, Heyes, Curry, two stiff brushes, and a barrel filled with soapy water give Posy a good scrub down.
"How long have Penn and Zara been with the show?" asks Heyes. "Hey! How am I s'posed to wash behind your ear if'n you won't stay still, huh?"
"Penn'd already been with the show a while when I joined, an' that was back in – oh – '78. Umgow, Rosy!" Rosy clambers, more daintily than you'd think, onto a gaily colored podium. "He was already top of the bill and gettin' a slice of the profits as well as a hefty salary – not that anyone grudges him a penny. I reckon it's his act gets folk comin' back to see us for a second time and doublin' the takin's. Zara was posing on a cream pony wearing nothing much – a first act filler, nothing fancy – then, all of a sudden; Penn picked her out to be his assistant. Uh-gowwah, Rosy."
"You can't deny she's easy on the eye," says Curry.
"Sure she is. She's dang good at the switches up on stage too. But that don't explain why..." A shrug. "Seems she calls all the shots and he lets her."
"Maybe she has the better head for business, and Nichols is bright enough to use it?" suggests Heyes.
"Maybe." But, Billy does not look too sure.
---oooOOOooo---
THAT EVENING
Crowds of smiling townsfolk mill in to the Big Top. Heyes and Curry, bags of popcorn in hand, boyish anticipation on their faces, watch the place fill up from a bench at the back.
A roll of drums. A blare of trumpets. White ponies ridden by scantily-clad lovelies explode from the wings and canter showily around. Applause from the crowd. Extra enthusiastic applause from our two fellas. (Hey, I did mention those costumes were scanty, huh?)
The horses part into two whickering, wavering lines and rear up in unison, revealing...
More applause for the scarlet-coated ringmaster as he booms, "Ladeeeeez and gentleMEN! Prepare to be amazed as tonight, for your delectation and delight, your entertainment and enchantment, your appreciation and amusement, we proudly present, the GREATEST show on EARTH!"
Thunderous clapping as Billy, riding an extravagantly-bejeweled Posy and leading an equally dazzling Rosy, trunks held proudly aloft, lumbers into the ring.
---oooOOOooo---
Our boys, jaws slack in disbelief, watch some fella with a death wish rest his head in a lion's jaws.
---oooOOOooo---
Shot of a blond and dark head swiveling, left, right, left, right, up, necks rolling in wide-eyed spirals left and diagonally down.
Pan to the space high under the taut swathes of the tent. A spangled acrobat finishes his looping dive and is caught by his partner swinging upside down from his crooked knees.
---oooOOOooo---
"And NOW, ladeeez and gentleMEN, the star of our show, that master of magic, that supremo of sorcery, that crown-prince of conjuring, that paragon of prestidigitation and emperor of escapology, the ONE, the ONLY, the GREAT FABULOSO..."
Crash of cymbals. Penn appears from absolutely nowhere in a puff of smoke.
Gasps and thunderous applause.
"...And his lovely assistant, the ravishing, the radiant, the resplendent ZARA."
Zara descends, cart-wheeling with long-legged grace through thin air from the darkness in the very apex of the Big Top. Okay, you can see the wires, but all the same! The woman may be a cold fish, but no one could accuse her of not living up to her own strictures on the benefits of constant practice.
---oooOOOooo---
"Sir, is this your card?" booms Penn.
"I can do this one," mutters Heyes to Curry.
"Er – nah," apologizes a bashful ranch hand.
"No?" Dramatic incredulity.
Has-it-gone-wrong style murmurings from the audience.
"Yup," nods the Kid, "I've seen ya do that one."
"Sir, forgive my curiosity, but did you escort a young lady here tonight?"
Scarlet flushing from the ranch hand. "I mighta."
Scanning the audience. "Would she do me the very great favor of raising her hand?"
A Sunday-best lace glove is raised by a gal in a Sunday-best shawl.
"Would she do me the additional, even greater, favor of checking inside her left shoe?"
The glove goes down, wriggling. An incredulous gasp.
"Hold it up where the folks can see it, ma'am, and call out what it is."
"Five of spades," she trills.
"Sir, is THAT your card?"
"Well, I'll be a plumb...!" The inference, if not the vocabulary, is clearly: 'yes.'
"Sheesh," Heyes exclaims. "How the Sam Hill...?" Evidently, good with cards as he is, he makes no claims to being able to do anything like that.
---oooOOOooo---
"This, ladies and gentlemen, is a magic gun. It can fire two bullets at the same time."
Murmurs.
"You don't believe me?"
A bullet is tossed in the air. A shot rings out. Two explosive cracks.
Impressed, but not too-impressed purse of the lips from Kid Curry as he claps. "That ain't easy," he acknowledges.
Applause, but not as wild as it has been. More murmurs.
"Oh??" Self-deprecation from the showman on the stage. "Do I gather some of you have seen that before? Well, have you seen THIS?"
Two bullets are tossed. Four cracks.
Much warmer applause.
A frown settles on Curry's brow.
"Or THIS?"
Three bullets, six cracks.
Incredulous laughter. Louder clapping.
"Or THIS?"
Six bullets. You can hardly count them, but, yeah, if your ears are sharp enough, twelve cracks.
Disgruntled arms fold across a blue-shirted chest.
"Ain't no one THAT fast!" dismisses Kid Curry. "He's hoaxin' us!"
He meets Heyes' amused glance. "You think?" teases the fella NOT just having seen his best party trick beaten.
---oooOOOooo---
"And now, ladies and gentlemen, I will not only escape from these solid steel handcuffs..."
Zara circles the ring holding aloft the said handcuffs.
"I will do so after having been bound with these sturdy ropes..."
Zara switches to tugging ropes to demonstrate their vaunted sturdiness.
"And after being suspended..."
A winch lowers from the trapeze scaffolding.
"Upside down in..."
Drum roll. A huge water tank is rolled into the ring. Hey, that's Posy – or just possibly Rosy – pushing.
"THIS! Five hundred gallons of water held within six inch thick glass and steel!!!"
Gasps.
"Now, the cynics among you will be thinking, the cuffs aren't real, the knots aren't real, and though that looks like a whole heap of water sloshing in that tank, maybe it's nothing but a bucketful and the rest is smoke'n'mirrors! SO – let's have a couple of volunteers to come verify that all these things are the genuine articles. You, sir. Yes, you in the front row, will you come help me? And the gentleman with you."
Cheerful recognition and applause from most of the audience as a sturdy, grizzle-haired gentleman joins Penn.
"Sir, my magical powers tell me you're the town sheriff."
Laughter, though the smiles on two familiar faces have become fixed. Something has told them this fella is the town sheriff, too. It's the silver star flashing in the limelight.
"Don't know him, d'you?" murmurs Heyes.
"Nope."
"And you, sir..." Penn addresses the gentleman who has followed the sheriff into the ring, his back to our two boys. "You're his uncle? That's real nice. What d'you do, sir?"
The response does not carry through the crowd to the boys. Penn's voice does.
"A judge? So, I've chosen a sheriff and a judge to check I don't cheat? I'm a fool to myself! I really am."
Two ex-outlaw faces freeze and two ex-outlaw backsides slide a little lower in their seats as Penn gently turns the more elderly fella around so he faces the audience.
Judge Hanley!
---oooOOOooo---
The lovely Zara stands before a huge target holding a watermelon above her head.
Penn is in full flow.
"...So, not only has your very own sheriff, Zach Hanley here – and, if you can't trust him, who CAN you trust? – verified that what I hold in my hand is a real Colt loaded with real bullets, on which his uncle the judge has made his own mark, I'm about to prove it to any doubters out there."
BANG!
The watermelon shatters, spraying blood red juice into the sawdust.
Gasps. Feminine squeals. It is very effective.
"...Now I aim at the lovely Zara's head!"
Drum rolls. Other scantily clad lovelies have entered the ring to hold up large hoops over which muslin has been stretched at intervals of six feet and twelve feet and eighteen feet in front of Zara.
BANG!
Again with the gasps and squeals.
The lovelies hold up hoops ripped through and showing what sure look like bullet scorch marks. Zara, daintily, pulls a bullet from between her flawless white teeth and sashays over to let a head-scratching Judge Hanley see it carries whatever mark he decided to make.
---oooOOOooo---
VERY EARLY THE NEXT MORNING
The boys are some distance from the main camp. Far enough for Kid Curry to practice his fast draw with the classic shooting cans off a fence, setting 'em back up, exercise without waking folk.
Heyes is fastening and unfastening one bracelet of a pair of handcuffs round his left wrist.
"So, you don't think we should leave?" asks Curry.
"'Cos of Judge Hanley? The show's only here a few days and we'll spend most of our time hauling ropes or toting buckets half a mile outta town, odds are he won't even see us."
"Better odds if we left."
"Yeah, but – even if he DOES see us – what's he see? Us still going straight and trying to earn an honest dollar. Might even work in our favor. Maybe he'll report back to the governor we're not too proud to shovel elephant-size piles of the steaming stuff trying to earn that amnesty."
Curry thinks about that. "Lotta truth in there, Heyes." He sets up his cans one more time and, as he does so, looks over in Heyes' direction. His brows snap together. "Where the Sam Hill did you get them?"
"You remember that real proddy sheriff in Copper Creek three weeks back?"
"Uh huh."
"We left his jail so sudden I never got a chance to give these back." Another serpentine twist of the left hand. "Nah. He can't have been doing it that way. Kid, let me put these on you."
Incredulous stare.
Mock hurt expression on the dimpled face. "Sometimes, Kid, I think you got no faith in me at all."
A pause. Heyes goes back to cuff figuring. Curry holsters his gun and relaxes his fingers above it. The Colt leaps into his hand and six cans bite the dust. He reloads, then tosses a bullet into the air and fires. Two cracks. He throws two bullets into the air. Three cracks. "Dang! How's he do it?" Another two bullets. Three cracks. "Dang!" Another two. Four cracks.
Heyes' head snaps up. "You did it?!"
Curry blinks. "I did. Wow." Rueful grin. "Dunno I could do it twice. Not twice runnin' anyhow."
Something off to the left catches their attention. Heyes shades his eyes against the early morning sun. A figure is coming toward them: Penn.
Curry holsters his gun. Heyes gets to his feet, tucking the cuffs out of sight inside his jacket. When Penn gets within speaking distance, Heyes greets him.
"Morning. You're up early."
"It seems I'm not the only one."
A pause.
"That was some pretty fancy shooting, Thaddeus."
"Nothin' to what I saw in the ring last night."
"Oh..." A self-deprecating smile. Like lightning, Penn tosses a bullet into the air, his gun leaps into his hand, a double crack. "I'm fast, sure, and I'd back my marksmanship against most comers, but remember some of what you see in the show is only illusion."
"Best magic show I've ever seen, by far," says Heyes. Penn gives an acknowledging inclination of the head. Heyesian curiosity crosses the dimpled face, "Can I ask you something?"
"Go on, Joshua."
"How d'you work the bullet catch?"
"Joshua! A magician never reveals his secrets, except to a fellow magician who swears never to tell." Pause. A twinkle. "Of course, if you were already a magician and showed ME how to do a card trick, maybe I'd return the favor."
With a grin, Heyes pulls a deck from his pocket.
---oooOOOooo---
From a crop of trees around two hundred yards from Penn and the boys, someone observes the scene. It is Zara, now clad in a sensible serge skirt and calico blouse. From her point of view, we watch what appears to be Penn teaching Heyes a card trick, all three men smiling and on friendly terms. Her eyes narrow.
---oooOOOooo---
A movement in the distant cluster of trees catches Kid Curry's eye. A flick of his head directs the gaze of both other men. They all turn.
Zara steps out coolly and walks towards them. Penn goes to meet her.
A glance is exchanged between the two ex-outlaws. A murmured conversation.
"Is she watchin' him, or was she watchin' us 'fore he showed up?"
"Dunno, but if I was laying odds, I'd say she's watching us."
"Why?"
"Beats me."
"Think she heard us talkin'?"
"Not at that distance."
She strides straight past Penn without a sideways glance; Heyes and Curry touch their hats.
"Morning, ma'am," Heyes greets her. "Seems we're all up with the lark this morning, huh?"
"Early birds indeed." To Kid Curry, "Where did you learn to do that with a gun, Mister Smith?"
"He's Smith. I'm Jones."
Her eyes rest on them one at a time, thoughtfully. "Of course. Smith," her head turns to Kid, "...And Jones." Is that a disbelieving lift of an arched eyebrow?
The boys do NOT exchange a glance, but an almost imperceptible mirror stiffening of their expressions suggests an exchanged glance moment.
"Where did you learn to do that, Mister Jones?"
"Y'know. Around."
"You are extremely skilful. I would say, extraordinarily so." Her eyes study Kid Curry's features closely. He turns his face partially away, takes a sudden interest in the horizon.
"We were telling Penn how we'd never seen a show so good as yours," says Heyes, diverting her attention. "In fact..." He changes his mind, shuts up.
"Go on, Mister Smith."
"It seems to me, ma'am, you two could make even more money and have an easier life topping the bill at some fancy 'Frisco theatre."
She glances at Penn, whose expression has taken on a frozen look.
"Penn likes moving from place to place," she says. "Some folk do." Pause. Again she scans their faces, her own face giving nothing away. "Do you?"
"Do we what, ma'am?"
"Do you two like moving from place to place?"
Another exchanged glance moment without an actual exchanged glance.
"I guess you could say we'd got itchy feet."
"Mister Smith, from where I was standing, it looked as if you were picking a lock?" An enquiring tilt of the head, "Are you another escapologist?"
Unnoticed by the boys, Penn reacts to this revelation. He studies Heyes' face, then Kid's, harder than before. Worry. He bites his lip.
Dimpled smile from Heyes, though his eyes stay wary. "I think you saw me trying to pick a lock, ma'am," he lies, "so – nope." Again curiosity gleams from him. "How do you two work the bullet catch?"
"We.e.ell," she steps closer. "Can you keep a secret, Mister Smith?"
He nods.
Another step closer.
"You're sure you can keep a secret?"
"Certain, sure."
She leans in so she can whisper in his ear. At maximum volume, so he winces, "SO CAN I!!"
Her eyes meet his. Heyes is, reluctantly, admiring. With a cool smile, she turns on her heel and strides off. With a murmur that might be taken as apologetic, Penn follows.
The boys watch the, admittedly enticing, back view of Zara's hips retreat to the camp.
---oooOOOooo---
LATER – BACK AT THE CAMP
Kid Curry totes bales of hay. Heyes helps out by sitting on one of them, a silver-trimmed, elephant-sized harness and a polishing cloth discarded at his side, a deck in his deft hands.
"Pick a card."
"Penn taught you another trick, huh? I reckon Zara won't approve if'n she finds out."
"It's nothing fancy. He won't tell me how they do the bullet catch. Pick a card."
"Jack of diamonds."
"No! Pick a card outta the deck."
"Don't you have a lion cage to go clean out?"
"I'm working up the nerve. AND, I thought you'd like to come help. Pick a card."
"For Pete's sake..." We gather Kid Curry has already picked a few cards today.
"Hello – again." It is Zara, settling a shawl around her shoulders. She smiles at the boys. Surprised at the affability, they blink. "It's turning into a beautiful day, isn't it?"
"Sure is, ma'am," agrees Heyes, after taking a moment to adjust to the civil tone.
"If you see Penn, will you tell him I had to run into town?"
"Not a problem, ma'am."
Another smile as she lifts her face to the sun. "Those clouds scudding across the hills look so pretty, don't they?"
Brown eyes check them out. "Uh huh."
"It must put you in mind of a summer's day in Wyoming."
Pause. A flicker of an exchanged glance.
"You did say you were from Wyoming, didn't you?"
"Wyoming? No, ma'am," Kid Curry shakes his head.
"Oh. I must have heard wrong. Where did you say you were from?"
"I don't think the subject came up, ma'am," says Heyes.
She waits.
It becomes apparent that continued silence will be suspicious, so Heyes adds, "We rode over from Copper Creek."
"Ah! Copper Creek. How – local. Well, good morning."
They touch their hats as she moves away. "Ma'am." "Ma'am."
Curry stares after her and scratches his head. "Sheesh. Maybe you CAN do magic. What's got her givin' us two nobodies the time of day?"
"Must be our good looks and charm," deadpans Heyes.
Another exchanged glance. Nope. Seems neither of them is buying that.
"Pick a card..."
---oooOOOooo---
MAYBE TEN MINUTES LATER
"Will you quit stalling and just pick a dang card!"
"That's right, Joshua," comes a familiar voice, "...Practice, practice, practice."
The boys look around. Penn leans on a rail, chewing a straw.
"His practice, practice, practice is kinda hard on me," protests Curry.
Acknowledging shrug from Penn.
"If I nail this trick, are you gonna tell me how you work the bullet catch?" asks Heyes.
"Maybe." Perfectly timed pause. "Maybe not."
After a moment, Heyes gives a rueful grin.
"I better go practice, practice, practice, too," smiles Penn, turning.
"Oh," Curry recalls him, "Zara said to tell you she had to run into town."
Penn's shoulders stiffen.
"Into town...?" Pause. "Don't forget you two have a lion's cage to clean out." He strides away.
Brown and blue eyes turn in the direction of a cage in the distance – complete with lions. Nope, make that lionesses – but we all know what they say about the female of the species. Two gulps.
"Y'know, Kid," starts Heyes, "I recall how well you coped when we were hired to clear that ranch of mountain lions back in..."
"Heyes."
"Uh huh?"
"Pick a different card, huh?"
---oooOOOooo---
THE TOWN
Zara, driving a smart gig, trots into Main Street, dismounts and scans the buildings. Her eyes rest on the sheriff's office. She pinches her cheeks, fluffs her hair and squares her shoulders.
---oooOOOooo---
INSIDE THE SHERIFF'S OFFICE
"Following you, ma'am?"
The sheriff, no fool by any stretch of the imagination, but not immune to the full-on feminine appeal fluttering her lashes at him, walks to the window, stares out into the street.
"Maybe I was imagining it, Sheriff – but..." Flutter.
Appreciative look from the lawman.
"I'm sure if some fella is following you, ma'am, I can understand it..."
Coy simper.
"Not that I'm excusing it..."
Flutter.
"I'll go check it out, ma'am."
"Oh, Sheriff, as soon as I saw you stride into the ring last night," admiring glance from under long, long lashes. "I knew you were a man a lady could rely on."
With something so close to a sheepish look you could shear him and start knitting winter mittens, the sheriff grabs his hat and strides into the street.
The feminine appeal act drops in a second. Zara steps over to the wall and frowns, consideringly, at the display of wanted posters.
---oooOOOooo---
The door of the sheriff's office opens. Smooth as silk, Zara slides shut the desk drawer and flashes a dazzling smile.
"I couldn't see anyone, ma'am..."
"Oh! I hope you don't think I wasted your ti..."
"Not at all. That's what I'm here for, ma'am. You have so much as a speck of trouble while you're in this town – you come see me, you hear?" Hooking of masculine thumbs into masculine belt.
---oooOOOooo---
"Now, you and your uncle MUST use those free tickets I gave you and come see the show again tonight, Sheriff. I insist."
"Wouldn't miss it, ma'am."
Zara steps down from the boardwalk and crosses to her gig, turning to give a last grateful smile to a still mildly ovine sheriff as she goes. She settles herself, and before taking hold of the reins, gives a secret smile and a satisfied pat to the bag she carries hooked over one arm.
As she drives off, a shadow stirs in the passageway beside the general store. Hey, she was telling the truth, someone IS following her. A figure steps into Main Street and, grim-faced, watches her drive away.
It is Penn.
---oooOOOooo---
LATER – BACK AT THE CIRCUS CAMP
Heyes and Curry sit beside Billy at one of the lunch trestles. They are some of the last still eating. Curry mops up the very last traces of stew with a hunk of bread. As one of the women clears the bread basket, he swiftly takes another slice. Heyes, his pants leg rolled up, is examining his right calf.
"I oughta put something on this."
"Yup," agrees Billy. "A sock an' half a yard of pant leg. It's puttin' me off my pie."
A crack of laughter makes it way past the bread distending Kid Curry's cheek.
Heyes is still studying his booboo. He glowers over to where two sleek lionesses snooze in the sun, paws draped over their noses like the loveable kitties they are under the skin. "What kinda outfit sends a fella into a lion's cage?"
Mildly, Billy protests, "I did take the lions out first, Joshua."
More brown-eyed glowering. "Yeah, but..."
"For Pete's sake," Curry swallows down his mouthful and rolls his eyes. "You tripped over your feet and hit your leg on a pail! Sheesh! It coulda happened in a – a giant canary cage!"
An offended Heyes rolls down his pants.
---oooOOOooo---
INSIDE A LUXURIOUSLY DECORATED CARAVAN
Penn, after a stealthy glance over his shoulder at the door, pulls a case from under the bed, tries it. Locked. Another glance at the door. Listening. Penn takes a lock-pick from his jacket and... What d'you know? NOT locked. Papers. More papers. Nothing of great interest to Penn as he rifles through. Frown. His fingers feel around the base. Tiny satisfied smile as he lifts out a false bottom. Focus on his expression as he reacts to what he sees. Thinking. Decision. He refits the false bottom, closes the case, relocks it, replaces it under the bed.
---oooOOOooo---
BACK AT THE LUNCH TABLE
Heyes is still glowering at two blameless felines when something catches his eye.
"Hey, isn't that Zara's caravan?"
Billy and Kid Curry turn to look.
"Uh huh," confirms Billy.
"What's Penn doing sneaking outta her place?"
Billy and Kid Curry turn back. Both stare at him with 'duh?!' expressions.
Heyes looks self-conscious as the most obvious explanation for a man being discrete about leaving a woman's sleeping quarters dawns.
Penn strides over, heading straight for their table.
"Joshua, have you nailed that last trick yet?"
"Sure." Heyes pulls out his deck, fans it at Billy, "...Pick a card, any card."
Billy does.
"Replace it in the deck."
He does.
Heyes reaches behind Billy's ear. "...Is this your card?"
"Nope."
"What about the one under your plate?"
Billy lifts his plate and... Wide grin. "Not bad, Joshua!"
"Not bad at all!" agrees Penn. He leans over. "How about I show you how to do the bullet catch now?"
Three surprised blinks. Billy looks stunned.
"Penn," he warns, "Zara ain't gonna like that."
"Last time I checked," replies Penn, with an edge to his voice, "I was still the boss, not Zara." Pause. "So, Joshua, you interested?"
"Sure," says Heyes, standing up.
"Er – I'm guessing Thaddeus is a better shot? That right?"
"That'd depend on how you're defining better..." begins Heyes.
"Nope. It'd depend on nothin'. Rosy an' Posy are better shots than him," deadpans Curry.
"In that case, both of you come along. Even with smoke and mirrors the bullet catch still needs a marksman."
---oooOOOooo---
THE CIRCUS RING
Kid Curry faces the huge target in front of which Zara stood the previous night. A watermelon is propped on a pole. The remains of shattered fruit are strewn in the sawdust.
"Ready?" asks Penn.
"Uh huh."
"And Joshua, you're ready?"
"Uh huh."
"Go."
Curry's gun leaps into his hand and... Splat! A watermelon bites the dust.
"And, while everybody is looking at the mess... Okay. And, now with the hoop."
Heyes holds up a muslin covered hoop.
Bang!
"And, Joshua – keeping that torn hoop good and high so our eyes follow it, go retrieve the bullet."
Heyes goes over to the target, deft move of the hand; a bullet lies on his palm.
"Does it have the mark?"
"Sure does," grins Heyes. His eyes sparkle. "It's easy when you know how."
"Not SO easy," says Penn. "Thaddeus has practiced sharp shooting day in day out, and, unless I'm mistaken, Joshua, you've had a misspent youth palming aces, balancing eggs and generally letting the speed of the hand deceive the eye; all that gives you two a ten-yard start on anyone else trying to do this." He takes another watermelon from a crate. "Want to do it for real?"
Questioning looks.
"With someone in front of the target." He takes up position in front of the target, holding the melon above his head.
Kid Curry exchanges a glance with Heyes. "You sure?" he demurs.
"Relax. If you do exactly what I've shown you – it can't go wrong."
"I guess not, but..."
"Thaddeus, at that distance you could shoot the dust off my buttons. All you have to hit is the melon. Joshua, you ready?"
"Uh huh."
"Go."
Bang! The melon shatters.
"And, in with the hoop... And, shot two. Careful, remember what I told you..."
Bang!
Hand past his mouth, with a flourish Penn shows a bullet cradled in his palm. "Tah dah!"
A grin of achievement passes between our boys.
Then a cold voice breaks in. "What is happening here?" Zara strides into the ring. Her eyes go from Kid to Heyes and finish on Penn. They narrow. "If you've showed them how to do the bullet catch – our best money-spinner – I'll... I'll..."
"You'll what?" Again there is an edge to Penn's voice as he repeats, "The last time I checked who was in charge around here, it was me." Civilly, but with the unmistakable tone of a boss giving orders, "Joshua, Thaddeus, I'm sure you have work to do."
"Er, sure."
With curious glances at Penn and Zara, they depart.
Zara waits until Heyes and Curry have left the Big Top. Then, icily, "If you're not keeping our secrets any more, Penn, maybe I won't either. Still feel like you're the one in charge around here?" She holds his eyes, challengingly. Penn's gaze drops first. Zara's lip curls, "That's what I figured."

_________________
Hannibal Heyes and Kid Curry, the two most successful outlaws in the history of the west. And in all the trains and banks they robbed, they never shot anyone.