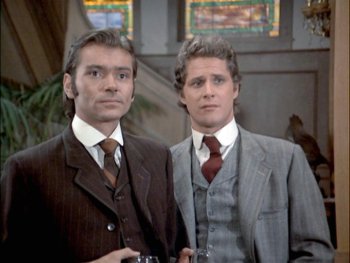 Starring Pete Duel and Ben Murphy
In order of Appearance:
Robert Shaw as Miles Trent
Vincent Beck as Black-Jack Gibbon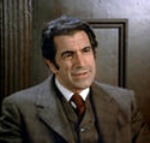 Sam Jaffe as Soapy Saunders
Peter Breck as Chuck Morgan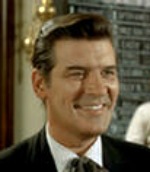 Diana Muldaur as Grace Turner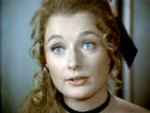 Judy Garland as the Waitress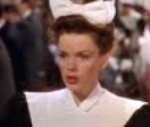 EPISODE TEASER
A plush office. On one side of a gleaming mahogany desk sits a prosperous-looking businessman, Miles Trent. Opposite him sits...
Hey, it's him. It's whatshisname. The guy who ran the Jockey Club when Soapy Saunders helped the boys run the wire swindle back in Mineral Springs! Black-Jack Gibbons!
Clearly the hook for a sting is in progress.
"Let me get this straight, you take my $20,000, you do your share dodge one more time and you bring me back $100,000?" An interrogative smoke tendril curls from Trent's fine cigar.
"Guaranteed! But, we have to be quick. If the Illinois Steel Construction Board finds we've manipulated their stock, we'll be dead in the water."
Trent reaches down and lifts a plump leather grip onto the desk. Hesitation flickers over his face.
Black-Jack's eyes rest on the grip. For a fleeting moment they gleam with a hungry look. We gather it holds the $20,000. Black-Jack is too fine a conman to show his eagerness for the money. Instead, he leans back and oozes affable credibility. "Think about it; a guaranteed minimum return of five hundred percent. No risk. No fuss."
"Sounds great."
"It is! And your competitors will be mad as hornets when they find how much money you've made on the deal."
"And, you're willing to let me in?"
"First name on my list!" assures Black-Jack.
"Whew! $100,000 in one hit!"
"No questions asked!"
Trent's brow furrows. "I have a question."
"Shoot!" smiles Black-Jack, fully confident his catch is inches from being reeled in.
"Exactly where on my forehead does it say – sucker?"
A just perceptible tightening of Black-Jack's posture. "I don't follow." Black-Jack keeps his smile, but it slowly acquires a frozen quality as Trent carries on.
"Then, let me explain." Trent's voice hardens. "You tell me about this great deal, a fella on the inside, guaranteed returns – and the rest. I give you $500; you give me $2500 back. You're with me so far?"
No response from Black-Jack.
"I'll take that as a yes. So far, I'm $2,000 up on the deal. You're $2,000 down, but you hope that's a good investment. Why? Because giving me $2,000 will convince me to give you more. Let's call it – bait."
It would be unfair to say Black-Jack blenches at this – all too accurate – summary. But, whatever his poker face does or does not show, inside, he is wincing.
"So, now I give you this bag full of money." Trent's hand slaps the grip. "Cash, of course. After all, I can trust you, can't I? You've already made me money. Only this time – you disappear." A pause. "What could go wrong?" There is now an undercurrent of threat in Trent's voice.
Black-Jack deals with the collapsing scenario as well as he can. Radiating indignation, he gets to his feet.
"Mr. Trent, the deal's off! Clearly you don't trust me!"
"Oh! But – my money's here!" Trent's tone is mocking as he opens the grip, displaying neatly bound bundles of notes. "Please, take my money!"
"No! I'll find someone who appreciates what I have to offer."
Black-Jack heads for the door, but before he reaches it two Trent henchmen step inside. Both are taller, broader, meaner-looking than our conman. Both are armed. He is not.
A gulp.
At a nod from Trent, one heavy punches Black-Jack in the gut, doubling him over. The second grabs his hair, pulls him back to a standing position. A disturbingly competent fist rises...
A very self-satisfied Trent smiles as a punch lands.
Released, Black-Jack walks back to the desk, wiping a thin trickle of blood from his lip.
"Okay, look, you're $2,000 up. Your boys have made your point, huh? Let's leave things as they are."
A pause. It lasts long enough to become menacing.
"No. Let's NOT." With a smug grin, Trent snaps his fingers. From behind a curtained alcove steps a tall, dour figure. Black-Jack's eyes rest on the ominous silver star.
---oooOOOooo---

ESTABLISHING SHOT – BUSTLING CITY STREETS
CLOSE IN ON THE IMPOSING FAÇADE OF THE CHICAGO GRAND PACIFIC HOTEL
A pair of familiar figures, one in a brown suit and regrettable derby, one in light blue and equally regrettable – what IS that Curry hat style? – mount the steps of the hotel.
"What d'you think Soapy has in mind, Kid?"
A 'search me' shrug from Kid Curry.
"I'm thinking the job hasta be legal. Soapy knows how law-abiding we are these days."
Curry pulls down the sleeve of his jacket to cover a frayed shirt cuff. "Law-abidin's fine so far as it goes, but I'm kinda stuck on hopin' for well paid."
A rueful look is exchanged. Once again, our boys are not in funds.
"Strictly speaking," muses Heyes, "the message Lom passed on didn't mention a job."
"Heyes, if all Soapy wanted was to be sociable – why Chicago? Why not 'Frisco?"
The boys enter the lobby. Immediately Curry breaks into a grin and a wide beam dimples Heyes' cheeks. The diminutive figure of Soapy Saunders scurries towards them.
"Boys! Boys!" Warm handshakes. Smiles wreathe the kindly old face as he gazes up, fondly, at the two ex-outlaws. "You remember Chuck Morgan?"
A tall, well-built – and, again, vaguely recognizable – fella steps forward.
"Sure," smiles Heyes, acknowledging the old friend with a touch of his hat. "We read what happened to Black-Jack."
"Bad business," sympathizes Curry.
"That's why I'm here," says Soapy, "...Coming out of retirement to do one of my occasional favors for an old friend. After all, I did the same for you two boys."
"That Trent fella who put Black-Jack away is one mean cuss." Chuck Morgan's brow darkens. "Okay, you get caught, you pay. Those are the rules. But the way he did it... We don't mean to let it lie."
"Is that why we're here?"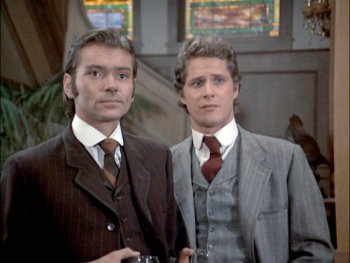 Heyes' question, and the demeanor of both boys, is wary. Are they about to be called on to repay old favors? Because, that's close to 'good deed' territory and they're going to need to think on that some!
"Black-Jack's number two – number one, with him in jail – thought of you two right off!" says Chuck.
"Black-Jack's number two...?" An enquiring Heyesian finger indicates the broad-shouldered fella in the dark suit.
"Not me," disclaims Chuck. "I'm a dang good grifter, but I'm the first to admit I'm no hand at coming up with plans – prefer to follow 'em."
From a deep wing chair, its back towards the boys, a figure emerges. An instantly recognizable – and exceedingly elegant – figure.
"Hannibal, Jedediah," a slender hand clad in immaculate white kid is extended, "...It's been far, far too long." The excellently modulated voice lowers, "How would you feel if I made you a proposition? A dangerous proposition."
The partners exchange a look.
Grace Turner.
---oooOOOooo---

A SHORT TIME LATER
ONE OF THE HOTEL'S LUXURIOUS LOUNGES
"So there I was in Mineral Springs, practically penniless..."
"No hard feelings, I hope, Grace," interjects Heyes.
"None at all! After all," a bewitching smile is directed at Kid Curry, "Jedediah has no hard feelings over the Hidalgo incident, do you, Jedediah?"
"Grudges are for folks with bad stomachs," says Curry.
"Exactly," concurs Grace, pouring coffee for the boys from a heavy silver pot. "So, I got to thinking – the crew running the Gentlemen's Jockey Club was clearly endowed with both skill and discernment. Maybe they would appreciate my..." She searches, "My talents."
"Which we sure did," chips in Chuck Morgan.
The boys nod. They can see the logic. Grace Turner would be an asset – a risky asset maybe, but an asset – to any grifting crew.
"From what I recall," says Heyes, "you admired Grace from the first time she walked into Mineral Springs."
Chuck meets Heyes' eyes squarely. "Anything wrong with that?"
"Nope. I reckon, if we include Soapy, that makes four of us." To Grace, "How did you track them down?"
"Oh, Hannibal, I think I won't answer that. After all, if I do, you may guess how I discovered you could be tracked through Sheriff Lom Trevors and," a modest lowering of fine lashes, "a lady must have some secrets."
"So," Kid Curry looks enquiringly at Chuck and Soapy, "...That wasn't either of you?"
Two shaking heads indicate – no. The boys take in the full implications of Grace Turner's tracking them unaided. They sip their coffee, thoughtfully.
"And you became Black-Jack's number two?" asks Heyes.
"Talent, like cream," Grace adds a lavish amount of the aforementioned dairy product to her coffee, "rises to the top."
"It seems to me," says Heyes, "with all that rising talent, you can handle Trent yourself. What d'you need us for?"
"Unless it's for the gettin' caught and slung in jail part of the plan," suggests Curry.
"Hannibal! Jedediah! I'm hurt! You know how I feel about..." A flutter of lashes at each ex-outlaw in turn, so each can feel he is the object of her gaze. "...You. Maybe, I simply wanted to – see – you again."
The boys try not to let all that feminine loveliness and subtle verb timing have any effect. Heyes clears his throat. Curry shifts in his seat and crosses his legs.
A silver spoon tinkles on fine china as Grace stirs her coffee. "And, I knew you'd want to help out Black-Jack..."
"After all," this is Chuck Morgan, "he did the same for you. You wouldn't turn down an old, old friend – would you?"
They might. They don't feel too good about it, but – they might.
Kid Curry's brow furrows. "The thing is, you fellas helped us out 'cos Grace landed us in a whole heap of trouble. Now you're askin' us to pay you back by lettin' her land us in a whole heap of fresh trouble."
"He has a point, my dear," says Soapy to Grace. "If Trent knows the way cons work well enough to get a real professional like Black-Jack put away, what makes you think you can take him on a second time? You have to appreciate these two boys are in a delicate position. They're not looking at a twelve-month stretch for obtaining money with deception; they're looking at twenty years."
"Besides," Heyes says, "I'm not denying I'd like to see this Trent guy bested, but revenge is for chumps. What good is that to Black-Jack?"
"Aside from making him feel pretty dang good when I visit and tell him?" Chuck asks.
"Point taken," Heyes admits. "But, aside from the warm glow."
"This is not just about getting even," says Grace. "It's about the money."
"Why don't that surprise me?" grunts Kid.
"Not money for me, Jedediah."
A cynical Heyesian eyebrow is raised.
"All right, not ONLY for me. Miles Trent walked off with $2,000 of the crew's money. Together with what we paid a fancy lawyer to try and keep the sentence down," Grace flicks a swift and wry sideways smile at Kid Curry, "...Since I thought dynamiting the wall might not prove so efficacious in the Chicago Penitentiary," Back to addressing the whole group, "...We're pretty well cleaned out."
"When Black-Jack's done his time," says Chuck, "we want him to come out to serious seed money. Y'know, get him back on his feet."
"Call me petty, but I'd like it to be Trent's money. Lots of it. And..." As Grace's lashes rise, there is a clever glint in the fine eyes, "...There's thousands there for the taking. I'd be very, very generous to any old friends who helped out." She sips her coffee. "Not that I'd suggest for a moment that filthy lucre rather than friendship would persuade you."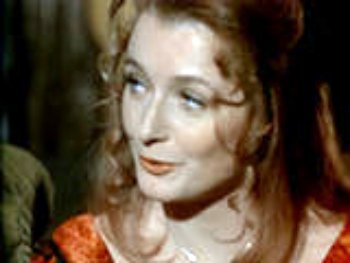 Heyes and Curry exchange a glance. It might.
"How much filthy lucre?" asks the more larcenous of the two.
Grace takes a notebook from her reticule, extracts a silver pencil from the spine, scribbles, tears out the page, folds it, hands it over.
Heyes flicks open the note. Poker face, but a hungry flicker in the brown eyes. He shows the figure to his partner. A pause.
"Each?" checks Curry.
"Dependent, of course, on a successful outcome to my plan," she purrs.
Two slightly threadbare butts shift in their luxuriously upholstered chairs.
"I can't deny that's generous, Grace," admits Heyes.
"So, you're in?"
"I didn't say that."
"Of course, if you're worried Miles Trent is just too smart for you..." She lays a comforting hand on Heyes' arm. "Mineral Springs was over a year ago. I daresay you've grown rusty..."
"I never said I COULDN'T beat Trent..."
"As a man gets older, he loses the taste for taking risks – amongst other faculties."
"I'm not..."
"His reactions slow..." Grace's smile at Heyes communicates her deep, womanly sympathy.
"Hey!" Apparently Heyes does not want Grace's deep, womanly sympathy.
Kid Curry does not like the way this is developing one little bit.
"Heyes isn't gonna fall for that, Grace!"
"Fall for what?" she radiates innocence.
"I could take Trent..."
"Shaddup, Heyes! He isn't gonna fall for that 'betcha can't' stuff."
"It seems to be working from where I'm sitting," twinkles Soapy.
"Hannibal, Jedediah," Grace assumes her most appealing face. "Surely you're not going to turn me down? I don't even want to think about where else I might find serious seed money. Say – twenty thousand dollars."
A pause.
"Was that a threat?" An edge of danger in Heyes' voice.
"A threat?" Grace remains her unruffled self. "That would hardly be ladylike."
"Wouldn't be smart neither." Kid Curry's voice is level. "Since, the last time you went up against us, you lost."
"And the time before that, Jedediah, you lost. One all. Now, I am perfectly content with the score." Grace calmly refills his cup and looks up into Curry's face. "How about you? Do you wish to take the contest to best of three?"
A glance is exchanged. Nope. The partners have no wish to go up against Grace Turner unless cornered.
"All square suits us fine, Grace," decides Heyes. "But, as for conning Trent..."
A mute conversation between Heyes and Curry. They could sure do with the money. Black-Jack is an old friend. Heyes would relish the challenge. But...
Heyes opens his mouth.
Grace's expression indicates she fears a refusal is imminent. "Don't decide yet." A dazzling smile. "We can discuss it over dinner."
Heyes shuts his mouth on what he was about to say, then, "Dinner?"
The Kid's stomach gives a loud gurgle.
A persuasive flutter from Grace, "You won't refuse to let me buy you dinner?"
"There's never any harm talking things over," a dark-haired and very hungry ex-outlaw decides.
"We don't wanna be unsociable," agrees Kid Curry.
---oooOOOooo---

THE NEXT MORNING
A HOTEL BEDROOM
Close up reveals a very tousled dark head is deeply embedded in a soft, linen-encased pillow. As sunlight creeps over the face, the closed eyes squeeze more tightly shut. The noise level outside rises: horses, carriages, voices. The dark head lifts, gingerly, a trail of drool dangling from that otherwise delightful mouth. A groan. The Heyesian head flumps back to its original position.
As the point of view pulls back we see Heyes only managed to get half undressed last night. Open rumpled shirt. Suit pants. One naked foot, one still in its boot. We also see a similarly comatose blond version of 'the morning after' sprawled over the adjacent bed.
"Kid?"
"Uhhg."
"You awake?"
"Nuhhg."
"Me neither."
Pause.
"Last night..."
"Uhhg?"
"Did we let Grace talk us into that con?"
"Uhhg."
"We gave her our word?"
"Uhhg."
"'Cos – after that second magnum of champagne, we were kinda..."
"Urrrrggggghhhh."
Pause.
"All the same, Kid, we could still skip town."
"Nuhhg."
"Why not? 'Cos we usually try and keep our word?"
"Nuhhg. 'Cos..." Curry's voice is muffled as he makes no attempt to raise his head. "Skippin' town'd mean movin'."
---oooOOOooo---

MUCH LATER THAT MORNING
GRACE'S PLACE
Heyes and Curry are mobile, if a touch heavy-eyed. They, Soapy and Chuck Morgan are listening to Grace.
"...It seems Trent was conned once before. He was taken for $20,000. He recognized the sequence." She pushes a photograph clipped from a newspaper over the table. "This is him. He made his fortune cheating folk out of their land for the railways. Now, he's a property broker finding land for development. You must have seen the new buildings going up all over Chicago?"
"Uh huh," nods Curry.
"What else do we know about him?" asks Heyes.
"He prides himself on always being one step ahead of the competition. The word is, he has files on all his opponents. He checks everything out, leaves nothing to chance."
Heyes winces. Great.
"He's mean, too," says Chuck. "When a rival company snatched a parcel of land from under his nose, he fired half his staff. Not because it was their fault – just to cheer himself up. It was the day before Christmas Eve."
The boys exchange a glance. Nasty.
"It was made worse when they uncovered a lost union payroll that had been on its way to Camp Douglas. Not only had he lost the land, he'd lost what was buried underneath." (I don't get this)
"There HAD been rumors about the payroll, but Trent dismissed them," says Grace.
"Can't say I blame him," admits Heyes, ruefully. A mute conversation. Our boys know from experience, just sometimes, those rumors can be true.
"Nor can I. But, it made him a laughing stock. At any rate, he thought it did."
A pause. Soapy picks up the picture of Miles Trent. With a half-regretful sigh he says, "You might want to think again about taking him, my dear."
Heyes nods.
Grace looks a question.
"When folks have been conned," explains Heyes, "...They do research. They learn the moves. If he knew enough to take bait money from someone as good as Black-Jack, that's what he's done. He can't be taken again."
"Everyone has a weakness," Grace argues.
An acknowledging shrug from Soapy. "Is he a gambler?"
"No," she sighs. "That's why Black-Jack wasn't playing the wire."
"Women?" suggests Kid Curry.
"I suspect," says Heyes, "...If Trent's weakness was beautiful women, Grace'd have it covered without hiring us."
"Why, thank you, Hannibal," she purrs.
Heyes leans forward, "The long con is a science. It's about planning, covering all the angles."
"Yes. But, it's also about having the courage to take a chance."
"Any chump can take a chance, Grace. A good con is about playing the odds. And, here, the odds are not on our side."
"Isn't a good con also about intuition? Resourcefulness? Daring? Thinking on your feet? Beating the odds?" She takes a deep breath, "Why do you think I'm asking you and Jedediah for this favor, Hannibal?"
Maybe this is simply one more ploy to get the boys on board. Maybe it was a burst of honesty. The partners are not sure – and neither are we.
"It would be a challenge, Heyes," admits Soapy, "...To con the unconnable mark."
A pause.
Kid Curry looks from one face to another. Disbelief in his voice, he asks, "So, we're actually gonna do this?"
Musing, then a dimpled grin from Heyes, "Looks like it, yeah."
---oooOOOooo---

MAYBE FIFTEEN MINUTES LATER
Grace is explaining her plan.
"...I'm thinking the most important thing is to keep Trent away from the law."
"Suits us," puts in Curry.
"Most marks don't report a con because they think they've done something illegal. Or, even better, because they never realize they've been conned in the first place. With Trent it's all about reputation. Maybe that's his weakness. He has to be seen as top dog. So, I'm thinking our play has to make him look stupid if he did go to the law."
"And, you have an idea that'd do that?" asks Heyes.
"I do. I got the inspiration from the story Charles researched on Trent being furious when his rivals dug up that payroll. We sell him a piece of land, but we make him believe – there's something under it."
"Such as...?"
"I read about the new collection the Chicago Historical Society is displaying over in the Scammon Building. When the granite piers for the new Home Insurance Building were sunk..."
"That's the place they're calling a sky-scraper. The one they reckon is gonna be ten stories high?" checks Heyes.
Grace nods. Kid Curry gives an impressed whistle.
"...They found traces of a woodhenge, a pre-Columbian burial site. It held copper plates – you know, historical artifacts – nearly as remarkable as those at the Koster site."
No one is impressed.
"As well as the copper plates, they found a horde of jewelry and ceremonial items." She lowers her voice. "Some of it – gold!"
Okay. That is a shade more impressive.
"I did read about that," admits Soapy.
Heyes nods, so did he. "The city officials held up the build."
But, still the keynote of the silent waves emanating from Grace's audience is 'so what?'
Grace produces a photograph of artifacts. "The official theory is that the civilization that lived in these parts before the Algonquian peoples would have traded copper and furs for the gold. BUT, as the Illinois and Michigan canal wasn't running its steamers the length of the Mississippi back then, there was some speculation the gold might have been mined locally..."
"Hold on." Kid Curry's face is a picture as he realizes where this is heading. "We're gonna sell this man a gold mine?"
"Yes."
"In Chicago?"
"Yes."
"In Illinois."
"Unless it's moved."
"A state that's never had so much as a sniff of gold."
"That," Grace beams, "is the point. The more outrageous the con, the less Trent will see it coming."
"There is a twisted logic to it, Kid," admits Heyes. "Who'd be dumb enough to try and sell a fake gold mine in the middle of Chicago?"
His partner stares at him, incredulous. "Please tell me I ain't lookin' at him!"

---oooOOOooo---

ROOM WITH A SMALL PRINTING PRESS, RACKS OF METAL LETTERS, INK, NIBS, BRUSHES, STENCILS, MAGNIFYING GLASSES
Heyes and Soapy, sleeves rolled up, are painstakingly at work with paper, press and ink.
A voice-over from Grace explains what is happening.
"Trent will have read about the collection going to the Scammon Building at the time, but let's remind him. We know he takes the Chicago Tribune, so I want a special edition just for him..."
---oooOOOooo---

NEWSTAND IN A BUSY CHICAGO STREET
Kid Curry, a brown paper parcel under one arm, strides towards the booth, overtaking Trent on the same mission. A dime is spun in the air to be caught by the vendor as Curry leans over to take a Chicago Tribune from the top of the pile.
Curry turns, walks away, as the obsequious newsvendor chirps, "Fine day, Mister Trent, sir," as Trent picks up the slickly-deposited special edition.
Without breaking stride, a grinning Kid Curry screws up the now-empty brown paper and deposits it in a trash can.
---oooOOOooo---

TRENT'S OFFICE
Trent is reading an article headed: Ten-Stories Tall – But is Chicago Gold Mine a Tall Story Too Many? He purses his lips. Speculative smoke rises from his morning cigar.
---oooOOOooo---

LESS SALUBRIOUS PARTS – ON THE CITY EDGE
Chuck Morgan opens a rickety gate within a high board fence and strides across a dusty yard. An old-timer, rough clothes, Gabby Hayes beard, emerges from a semi-derelict shack. They speak, shake hands. Chuck goes inside.
Outside the gate, hands thrust into their pockets, stand Heyes and Curry.
"This is it?" grunts Curry.
"Yup. Grace found it," says Heyes. "Fifteen thousand square feet and less than a mile from where the artifacts were found. The owner means to go join his daughter out West, so he's willing to sell. The deal is, Chuck pays him when we find a buyer. Meanwhile, we put the old-timer up somewhere fancy at our expense, so he's out of the way."
A pause. Curry inhales, then pulls out a bandana to cover his nose.
"It used to be used for penning hogs," explains Heyes. "But since the Union Stockyards took over, that's pretty much died off.
A scurrying sound. Kid Curry points to the scaly tail of a rodent disappearing beneath a pile of discarded sacks. "It may not have hogs, but seems the place still got livestock."
Both boys look glum. The scene is not enticing.
"Tell me this isn't gonna be a disaster, Heyes."
"I can't, Kid." Pause. "So, do we stick around? Or do we disappear? Let Grace and Soapy work her plan without us and maybe get caught?"
Pause.
"She did break me out of jail, Heyes. I mean, I know she put me there first, but..."
A mute conversation. Whilst definitely putting their own skins first, neither ex-outlaw exactly wants to abandon Grace and Soapy.
They watch a second furry resident scurry across the mud. Then, an idea strikes Heyes. Internal cogs turn. "'Course, Kid, if we added a little Hannibal Heyes plan magic to Grace's rough outline, THEN it couldn't fail."
"Now I'm really worried," deadpans Curry.

---oooOOOooo---
The team is back together. Grace is speaking. "I mean to sell Trent that piece of land for ten times what it's worth."
"But," Curry frowns, "...How do we convince him about the gold?"
"We don't even try." Heyes leans forward, eagerly, "...We simply plant the seed and let it grow. Just enough to make him take a soil test and get a gold expert in to give an opinion. And, he, of course will be..." He indicates Soapy, who gives a modest salute.
Grace's eyes glow as she sees Heyes' growing enthusiasm for making her plan work. "Charles, you have an office ready?"
"I will have. Kid, can you come be my runner?"
"Sure."
"And," Grace turns to Heyes, "...Hannibal, you're set to go reel Trent in?"
A dimpled smile, "It's what I do."

---oooOOOooo---

AN EXCLUSIVE RESTAURANT
THE CLIENTELE ARE MAINLY BUSINESSMEN; THE ATMOSPHERE – RESPECTABLE
In one corner Heyes, mostly obscured by a newspaper, sips coffee. He discretely observes Miles Trent, who is at a nearby table holding forth to a bevy of fawning underlings.
"So I told that bleeding heart lawyer, no deal! I want that small time-loser sent down for the maximum sentence. He played, he lost, he pays the bill."
Distaste flickers across Heyes' face. Playing to win, fine. Rubbing a loser's face in it, unnecessary. He turns a page of his paper.
Trent is still speaking. "You see what you want and you..."
"Go for it," says Underling One, hoping for approval.
"No! You don't go for it. You GET it! That site I needed on Monroe Street. Some silver-haired old widow was blocking the sale. She was worried," his voice becomes mocking, "...If she moved, her little cat might not find its way home."
"Sounds like something my Grandma might say," toadies Underling Two.
"So, I hired me a Rottweiler with a taste for calicos, there was an unfortunate leash-breaking incident – and, she signed the place over to me within the week."
Blinks from the underlings. Nervous obsequious laughter.
"You see what you want; you grab it by the horns!"
Heyes' gaze moves over Trent; curled hat brim, silk cravat, cravat pin, fancy vest, watch chain, signet ring on little finger, thumbs thrust into vest pockets, sitting with legs wide apart. The dark eyes move to the plate: ham, fried potatoes, eggs over easy.
"Speaking of horns," still Trent talking, "...Frank, are you ever going to quit puppy-eyeing that dang girl and do something?"
Underling Frank, who is trying to mold himself after his boss but cannot be much more than twenty-two years old, flushes. His eyes were indeed mooning in the direction of an extremely pretty waitress in an outfit reminiscent of the Harvey girls. He shifts in his seat, tries to look unconcerned. He mutters something indistinct in response.
Heyes has heard enough. He folds his newspaper and heads for the men's room. Once there, a yank to curl his hat brim; his ribbon tie is pocketed, the handkerchief in his pocket swiftly transformed into a cravat; he gropes at the back of his neck – a collar stud becomes a cravat pin. First taking off his jacket Heyes unbuttons his plain vest, lined with fancy silk – it is reversed; his silver ring is shifted to signet finger; finally he slips into a stall, a sound of clanking metal, as he emerges a chain is being tucked across vest pockets; the thumbs stay lodged there as he strides out confidently and takes his place, legs akimbo, at the table neighboring Trent's. A waitress bustles up.
"Ham, fried potatoes, eggs over easy. Thanks, ma'am."
Heyes meets Trent's eye, nods. Trent takes him in. The reaction is not warm, but... The mirroring has done its job. A return nod, not devoid of approval.
Heyes lets his gaze move to the pretty waitress. "The service here has its attractions, huh?" His tone is light-hearted 'man-talk' without tipping into crude.
"Frank here thinks so, but he's too yellow to make a move," says Trent.
Frank blushes again. "They're nice girls here – and she's wearing a ring. She's probably engaged."
"Only one way to find out," dimples Heyes. "Ten dollars says I get something cozier than a verbal slap in the face."
Frank does not much like this. But, under Trent's mocking eye, he holds out his hand and says, "You're on."
"Wish me luck."
Heyes heads for the waitress who is on the far side of the restaurant folding linen napkins. As his back is now turned on Trent, Frank and Underling Two, they cannot see that his expression and demeanor have utterly changed. All the bombast has gone and he wears the sweetest, shyest, most endearingly entreating smile imaginable.
"Ma'am, could I disturb you for a moment?"
"Yes, sir? Can I fetch you...?"
"No, no. I wanted to ask you something."
From under the prim 'Harvey-Girl' cap frills and a cluster of dusky curls, a pair of lovely grey eyes gives first Heyes, then the head waitress, a wary look. From her demeanor, it is evident that the nice girls employed here simply do not countenance flirtation with a customer, however handsome.
"Oh, don't worry – I'm not going to get fresh." Indeed Heyes radiates unthreatening bashfulness.
She relaxes a touch.
"I guess I'm looking for some feminine advice. You see, my fiancée is arriving back in town next week after a long visit to her married sister..."
She relaxes completely at the mention of a fiancée. Whatever he wants – it is not flirtation.
"She must be around your age. She's fair-haired though, and really pretty. Oh! Not that you're not pretty..." Heyes breaks off, feigning realization that he might have been uncomplimentary to this glowing brunette.
"You were saying, your fiancée is returning to town?" she prompts, now all encouraging smiles.
"I'd like to buy her something. Something – y'know ... I thought flowers or candy, but that's kinda..." Another stop.
"They're nice, but not real imaginative," she helps him out.
"And, I kinda saw your ring and thought... Your young man... If he was buying something, what'd make you think...? I mean..."
"You want to know, what might be romantic?"
"Uh huh."
"Does your fiancée like to read? I'd be real happy if George gave me a book of romantic poems."
"You would?"
"Sure!" she nods eagerly.
"That sounds like a fine idea. Do you have any ideas as to which...?"
In the background, Trent and company watch what, from their point of view, seems to be Heyes being a roaring success at overcoming respectable feminine reticence.
---oooOOOooo---

MEANWHILE – IN THE 'FORGING' ROOM
Soapy Saunders adds a final set of ruled grid lines to a ground plan adorned with believably technical notes. He folds it, straightens it out, then dips a sponge into what looks like cold tea and wipes over the paper, turning it from pristine white to pale sepia. It looks authentically old. The plan is held, carefully, up to a lamp to dry.
---oooOOOooo---

_________________
Hannibal Heyes and Kid Curry, the two most successful outlaws in the history of the west. And in all the trains and banks they robbed, they never shot anyone.