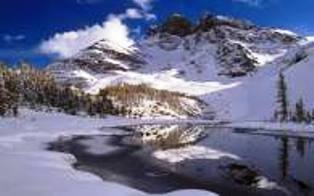 The polar vortex of 2014 had nothing on this winter of Heyes' and Curry's discontent.
Claude Akins as the railroad bull
Rory Calhoun as Micah Roberts
Clu Gulager as Bart Wisehoff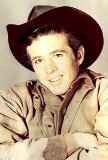 Jean Parker as Violet Roberts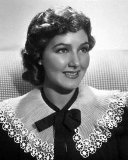 Charles Durning as Hiram J. Winston
What Goes Around Comes Around
by Inside Outlaw
The cattle car swayed and clattered with the pull of the train as it began to climb an uphill grade.  Its bovine occupants, legs splayed, steadied themselves to the motion of the car.  Occasionally, a large head would stretch down to the straw thickly strewn upon the wooden floor and gather up a small snack, munching determinedly.
The two human occupants were still settling in.  Hannibal Heyes broke open one of the bales of straw stacked alongside the far end of the car and scattered the clean bedding into a deep pile in the corner farthest from the animals.  
"There," he said, "At least we've got a place to lie down and sleep."  He dropped into the nest and rolled onto his back shoving his hands behind his head and looking up at his partner, Kid Curry, with a broad, satisfied smile.
His partner scowled back at him.  "That's all we've got.  We've got no money, no gear, no horses, and no idea where this train is headed," griped the Kid.  He fell into the straw next to his partner.
"Hey, we got away, didn't we?"
"Yeah, and it took all day and a night to do it," pointed out Curry.  
"Can you believe it?  The governor's 'good friend', Mr. Winston, turns out to be a low-down, chiseling crook?  I never would've taken that job if I'd known he was planning to stiff us."
"Yeah, not to mention claimin' we tried to rob him and havin' the sheriff chase us outta Fort Collins," the Kid sighed.  "You know, we should've known better than to trust a banker.  What are we gonna do now?"
"I can tell you what I'm not gonna do; I'm not doing anymore thinking until I get some sleep."  Heyes pulled his hat down over his eyes.  It took only a few minutes for his breathing to slow, and he began to lightly snore.
Curry rolled over onto his side, stared through the gloomy light filtering through the wooden slats of the boxcar, and watched their four-legged companions until he drifted off to sleep.
OOOOOOOOOO
The cold barrel of a sawed-off shotgun pressed against his cheek woke Curry in an instant.  His eyes flew open and he groaned.  He rolled over onto his back as Heyes stirred next to him.  Reaching over to shake his partner, he kept his attention on the pair of murky gray eyes staring down at him from above the intrusive weapon.  "Joshua, wake up!  We've got company," hissed Kid Curry to his partner.  
"Shoo 'em away, I'm trying to sleep," said Heyes.
"You're all done sleepin' on my train, mister," said the railroad bull.  Heyes opened his eyes and the shotgun swung to the center of his forehead.  "I wouldn't move too fast if'n I was you."
A throaty growl caught the attention of all three men.  Heyes and the Kid were horrified to see a huge mastiff glowering at them from behind his master.  The guard snapped, "Olly, stay!"  and the dog froze, but his hackles were up and his muzzle was disfigured by a threatening snarl.  "You two, get up nice and easy-like.  Keep your hands up and away from your guns."
The partners got to their feet slowly and the man reached out and neatly confiscated their side-arms, tucking them into his own gun belt.  "That's better; now get over by that door."  He gestured with his shotgun.  Heyes and the Kid sidled over to the door, keeping their hands up and their eyes divided evenly between the man and his large, slavering dog.
"Mister, we didn't mean any harm.  We don't have any money and…" began Heyes.
"That ain't my problem.  My problem is lousy freight-hoppers who try to bum rides on this here train and I know just how to take care of them.  Olly, hold 'em!"  The dog made a lunge at the two prisoners and snapped at the air several times, warning Heyes and the Kid to keep still as the man slid the door open and a blast of arctic air blew into the car.  "Now, jump!"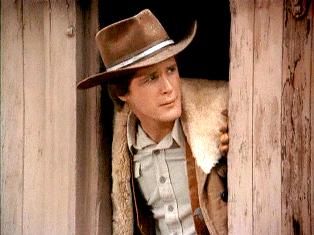 "You want us to jump while the train's goin' this fast?!"  Curry glared at his captor.
"You're a real quick learner, boy," the man chuckled evilly.  "Don't look so worried.  The fall ain't gonna kill you."
Heyes and the Kid both sidestepped to the open door and looked out.  "The man's right," said Heyes.  The snow was deep and the hillside sloped away sharply.  The train was already above the tree line and nearly to the summit of the mountain.  "We won't be killed by the fall.  We're gonna freeze to death."
"Now go!  Olly, sic 'em."  The dog rushed forward ferociously snapping and snarling and the two partners half-jumped and half-fell through the doorway.  The cold air struck them as they flew through the air only to sink into a cloud of soft snow.  Their heavy landing precipitated a small avalanche and they rolled head over heels down the steep hillside until they slid to a snow-covered stop.
Heyes poked his head up out of the snow and gasped for air.  He looked around frantically until he spotted a hand floating on top of the white expanse that spread out before him.  Wriggling quickly out of the clutches of the settling snow, he crawled across to where his partner lay buried, and dug down along the length of the exposed arm until he reached the Kid's face.  Gently clearing the snow, he patted Curry until his eyes opened and he stared wildly up at Heyes.  "Get me outta here!"
"Hold on, Kid, you're in pretty deep.  Can you breathe all right?"
"Yeah, but hurry up, it's gettin' heavier."
Heyes dug with his bare hands until he'd uncovered enough of the Kid's chest to wrap his arms around him.  Leaning back, and throwing his own weight and all his strength into it, he slowly pried Curry from the hardening snow.  Helping the Kid to his feet, Heyes brushed the snow off his partner's sheepskin coat and scooped more of it out from inside the woolly collar.
"Thanks," said the Kid.  He pulled off his coat and shook as much snow off as he could before putting the heavy fabric back on and buttoning it tightly.  The suede exterior repelled the snow nicely, but he shivered.  "Dang it, the fleece is damp.  You'd better shake off, too, Heyes, before you start to cool off."
Heyes took off his gray wool jacket and let the Kid brush the snow from the back of his shirt.  He, too, shivered as he put the coat on over his moisture-stained clothing.  The train had disappeared over the summit and all that remained of it was a dissipating wisp of sooty smoke.  "We better get off this hillside.  It's too exposed, and the wind's starting to pick up.  We'll freeze if we don't get moving," said Heyes.  
The sun was shining brightly but scattered clouds were beginning to scuttle across the sky.  They became darker and more swollen with moisture as they passed over the ragged, snow-covered peaks.
"Looks like there could be some weather comin', let's get outta here," agreed Curry.  He pulled his hat down low on his head and pulled his lightweight leather roping gloves on.  "Wish I had some better gloves."  He watched Heyes put on his own gloves and then pull up his bandana, tying it snugly over his nose.  "You gonna be all right, Heyes?  That coat of yours ain't gonna keep you warm if it gets much colder."  
"I'll be fine.  I pulled my bandana up; it'll keep my lungs warm so that'll help," said Heyes, pulling his hat down low so that only a narrow slit between brim and bandana remained exposed to see through.  
"It'll keep the glare down, too.  No sense in goin' snow-blind if we can help it," observed Curry.
Together, the two men began a direct descent toward the tree line far below.  They skirted the edges of the small slide and tried to avoid the drifts of deeper snow when they could, but it didn't take long for their feet and legs to become numb from the coldness.
"Geez, you'd think he could've waited to dump us off at the next stop," complained the Kid.
Heyes snorted.  "You'd rather be turned over to a sheriff and risk getting sent up?"
Curry stopped, put his hands on his hips, and glared at his friend.  "No, Heyes.  I'd rather be in a warm hotel room countin' the money I didn't get paid for the job we just spent two weeks doin'."
"Me, too, Kid, but right now I'll settle for some dry ground under a thick spruce," said Heyes.  He began cutting over to the right.  A scraggly conifer stood nearby, bowed by the constant wind that blew at this altitude.  The mountainside below was dotted with twisted, dwarfed trees but the forest was still a considerable distance away.
"Where do you think we are?" asked Curry.
"Don't rightly know for sure.  We hopped on just outside of Boulder and it seems like we only slept a few hours judging from the daylight.  Wherever we are, we're about eleven thousand feet up."
"Let me ask that question a different way," said the Kid.  "How far are we from that warm hotel room I was talkin' about?"
"Too far for you to be thinking about it."
The Kid groaned.  "I hate the cold and it's gettin' colder by the minute."
"We'll be all right.  Remember that time we quit each other?  You went south to Texas, and that's when I fell in with Plummer up in Montana.  Thanks to his poor planning, we were caught out in the cold more than once.  Lucky for us, we had an old mountain man riding with us.  He showed us all a thing or two about living rough in the winter."
"How come you never told me that before?"
"I don't know; guess we never had need of it before now.  I paid attention to the weather when I planned a job," Heyes said smugly.  "See that stand of spruce down there?  We'll shelter there for the night."
"Why don't we go a little further?  Seems to me like we've got plenty of daylight left."
"We do, but we're also cold and wet already.  We need to get outta these clothes and dry up."
"I ain't takin' off my clothes.  It can't be more than ten degrees out!" snapped Curry.
"You can and you will or you're gonna freeze to death right off and I ain't hauling your frozen carcass down this hill," growled Heyes.  "I'll leave you here for the bears and the coyotes come spring."
"Some partner you are," grumbled Curry, following along behind his friend.
The snow under their feet began to deepen as they neared the tree line.  The wind was scouring the snow from the open face of the mountain above them and sending it into the air in great puffs of ice crystals.  As they walked, the frozen moisture clung to the outside of their bandanas becoming thick ice crystals.  Their eyelashes and brows were soon encrusted with snow, too, and the small amount of skin still exposed had turned white with the cold.
The thick-branched spruce trees provided significant shelter from the wind and the two men trudged deeper and deeper into the forest.  Their clothes were frosted white with ice and snow and the crowns of their hats had grown significantly taller as the fluffy, white powder piled up.  As they moved, small drifts of snow fell off the brims and crept down their necks despite their bandanas' meager protection.
Heyes stumbled and went down to his knees, his lightly-gloved hands thrust into the snow.  "I can't feel my toes anymore."
The Kid reached down and grabbed his partner's arm, helping him to his feet.  "Me neither.  Hands are numb, too.  Heyes, this ain't lookin' good."
"No, it's fine.  We're fine," gasped Heyes.  "See that big spruce over there?  We'll stop there."
"Don't much matter where we stop, we're gonna freeze anyway."
"Will you shut up?  I ain't freezing and neither are you.  Help me over there," commanded Heyes.
Curry put an arm around his partner's waist and held onto him while leading him to the tree.  Heyes was stumbling badly and shivering hard.  "We gotta get you out of this wet jacket, partner."
Heyes didn't say much; he just continued pushing forward until they reached the full-branched tree.  He looked it up and down.  The branches were laden heavily with snow and the lowest ones were buried in the ground cover.  "This is perfect," he said, letting go of the Kid and dropping to his knees.  "Start digging."
Curry dropped down next to Heyes and helped him dig.  They quickly made a small opening through the snow under the lowest branches of the tree.  Heyes flopped face first into the hole and wriggled his way forward until his feet disappeared.  "Kid, come on in."
When the Kid crawled in, he found that the short tunnel led to a fairly roomy open space under the canopy of the tree.  There was a ring of bare ground all the way around the trunk and he saw Heyes scraping the snow further away from the trunk and piling it up around the outside edge of the space.  
"Kid, keep clearing out as much snow as you can.  Pack it up good and hard.  I'm going back out to pack more snow up on the outside.  We'll use the branches to build a wall."
"You're too cold, Heyes.  Stay here, I'll do the outside, too."
"No.  I've gotta keep moving.  The work'll warm me up."
With that, Heyes wriggled back out of the hole.  The two partners quickly built up snow walls that were solid enough to shelter them from the worst of the wind.  
"Heyes, looks good in here.  You better get outta the cold," shouted the Kid.  There was no answer.  "Heyes?"  He crawled part way out of the tunnel and saw his partner walking towards him.  Heyes had a huge bundle of broken branches and twigs in one arm and was towing a couple of larger, needled branches in the other.  He plodded carefully to the tree and passed the kindling to his partner, who pulled it inside the shelter.  Heyes crawled in after the Kid and pulled the bigger branches in after him.  
Curry had scraped the entire shelter clear of snow and piled the spruce needles and powdery, decayed duff to one side.  "Do you want me to build a fire?"
"Not yet.  You still got your knife?"
"Yeah," said the Kid, pulling a large hunting knife from the shaft of his boot.  "You need it?"
"No, you do," said Heyes, pulling out his own knife.  "We're going to dig down in the dirt about six inches.  Make the hole about six feet long and four feet wide."
"What for?"
"You'll see.  Just do it."  Heyes began attacking the soil, driving his blade in and out in a stabbing motion and wiggling the hilt to loosen the dirt.  He used his left hand to pull away the loose soil and pile it up, and continued to chip away at the sides of his small hole, widening it.  Seeing that the Kid was watching him, he gestured for him to dig.  Curry did.  
When they finished the shallow pit, Heyes sat back.  "All right, now you build the fires."
"Fires?" said the Kid.  "You aren't plannin' on burnin' this tree down, are you?"
"No, make them real small.  Put one there and build another one right there; two more over there," said Heyes, pointing to where he wanted them.
"Why do you want four fires?  I'll just make this one bigger," said Curry.
"We don't want it bigger.  If it's too big, it'll melt the snow on the branches or catch them on fire.  Keep them all small."  Heyes smiled at his partner.  Reaching into his pocket, he pulled out a folded sheet of paper and handed to Curry.  "Here, burn this.  It's the telegram from Lom about that job we didn't get paid for.  At least we'll get something out of it."
The Kid tore it into several pieces.  He began constructing a small fire using some of the dried spruce needles, half the crumpled paper, and duff as his tinder and piling tiny twigs over it in a tepee shape. Picking up the larger twigs, he added to his stack then sat back on his heels and looked up at Heyes.
His partner was weaving the needled branches into the boughs above them, adding another layer of insulation over their heads.  Turning his attention back to the fire, the Kid pulled out his flint and, using the back edge of the hunting knife he'd tucked back into his boot after digging, he began scraping bright sparks into the tinder and blowing gently.  The tinder caught fire and a small tendril of smoke rose from it.  Curry laughed happily.  He waited until the flame was truly established and then added some heavier twigs to feed the small fire and began building the next one.  
Heyes finished with the roof and began to break the rest of the broken branches and twigs up into smaller pieces to feed the fires.  He then plugged up the exit with snow he pulled in from the outside.  The spacing in the branches would provide enough fresh air.  The temperature inside their shelter was starting to climb and he took off his jacket and tucked it, opened, into the branches above them.  "Kid, give me your coat so I can tuck it up next to mine." he said.
The Kid looked up from his project and saw what Heyes had done.  Shrugging off his coat, he handed it to his partner and it, too, was tucked into the branches.  "Good idea, Heyes.  It'll dry fast up there and give us more insulation."  
It wasn't long before the two men were warming up nicely.  Heyes stood up as best he could and pulled off his sodden pants and boots.  Unbuttoning his shirt, he tugged that off as well.
"Uh, should I be worried you're strippin' nekkid?" asked Kid with a lopsided grin.
"Take off your clothes, too, Kid.  They're still wet and they'll keep you from warming up."  At the skeptical look on his partner's face, Heyes clarified, "You can leave your long johns on, for heaven's sake; just hang the rest of them up so they'll dry."  
Soon clothes were scattered around the shelter, steaming as they dried.  Heyes and the Kid sat in the center of the four small, hot fires in the depression they'd made.  
"You learn all this from that mountain man?" asked the Kid, holding his hands to the glowing coals.  His socked feet were nestled at the very edge of the heat.  
Heyes tossed a few more twigs onto each fire.  "Naw, my pa taught me some of it.  He taught you, too, but I guess you've forgotten it."
Curry stared into the flames.  "No. I remember some of it.  I mean I remember him telling us about snow caves and not laying on the bare ground.   How come you didn't put branches on the ground to lie on?"
"Because Old Zeke taught me something better."
"Zeke?"
"Plummer's mountain man.  He used to spend the winter up in the Tetons at the Hole there.  That's when the trapping is the best.  He knew all sorts of things about keeping alive."
"Like what?"
"Well, like what we're doing here.  Using a tree well to build a quick cave, making a warm bed," said Heyes.
"A warm bed?  I like the sound of that."
"When we're ready for bed, we'll use the coals from the fire," Heyes said.  "We're gonna spread out them out in this hole and cover them with the dirt we pulled out.  We wait thirty minutes for the ground to heat up and we lie down.  Our coats and clothing will be dry by then and we'll use them for blankets.  We'll have to sleep close together, but we'll be warm enough for the night."
"What about water?  We ain't gonna make it very far without water," said the Kid.  
"I know, but I can't figure out how to melt the snow without a mug or a pot.  Maybe we can find a flat rock or something tomorrow."
"What about using our hats?"
"I thought about that.  They work well enough to scoop up water, but we need something we can melt the snow in.  It's gonna melt slowly so the hat's no good.  It'd just soak into it," said Heyes.
The Kid stared at the fire and then looked up with a smile.  "Your oil can.  That could work."
Heyes laughed and slapped his partner on the back.  "Good thinking, Kid."  He reached up to his jacket.  From an inside pocket, he pulled out a small, copper oil can.  "I don't know why I keep carrying this thing around.  Habit, I guess.  It's not like we have to grease squeaky hinges anymore."
"I don't know; it came in kind of handy in Red Gap, Heyes."
Opening the spouted cap, Heyes poured out the oil.  He scooped up some of the dirt and duff and pushed it inside the can, using a finger to swirl it around to absorb any remaining lubricant.  He shook out the debris, and using the corner of the Kid's shirt, he wiped it out carefully.  It was small, but they had all night to melt snow into water.
"Hey, why'd you use my shirt?"
"It was your idea, Kid," said Heyes, slyly.  He grabbed a small fistful of snow and packed it inside the can.  Sitting down again, he put the small can on top of several glowing coals and sat back.
"You know, Heyes, this ain't half-bad," grinned the Kid.  "I didn't plan on being warm or dry tonight, but we are and I don't think anyone's gonna be shovin' a shotgun in our faces while we're sleepin'."
"Yeah, we've been worse off, haven't we?"
"Sure have."  The Kid reached up and pulled some spruce needles off one of the branches, popping them into his mouth and chewing them contentedly.
"You look sorta like our friends on the train," Heyes quipped.
"Hey, I'm hungry.  I reckon that pot's too small to make spruce tea in, so I'll chew some needles instead."
"You know, old Zeke told me the early Pilgrims used to make spruce beer.  Don't reckon we'll be here long enough to try," Heyes mused.
They'd had to throw away the first couple of pots of oily liquid, but soon the water was clean enough to drink and they took turns sipping from the tiny vessel.  After consuming several cans of water, and chatting idly for a while, the two partners sat in silent companionship until the Kid yawned and looked around the cozy niche before saying, "Guess we ought to get ready to turn in."  He scooped the coals out of one of the fires with the end of a branch and rolled them a few feet away to where Heyes was spreading them out over the shallow depression they had dug and then covering them with the dirt they had removed.
"Should I add more kindling to the fires?" asked the Kid.
"No, we'll let 'em go out.  Can't risk starting a fire while we're sleeping."
"Ain't we gonna get cold when the temperature starts droppin'?"
"Don't worry, we'll be warm enough."  Heyes pulled down the coats and pants from the ceiling and handed the Kid's clothes to him.  "Here, these are pretty warm now.  They'll keep us comfortable until the coals warm up the dirt we put on top of them."
The wind outside was starting to pick up and the upper limbs of the tree shook with the force of it, but the additional branches prevented any of the snow from filtering through the roof.  
"Well, I'm ready to call it a night," said Heyes, rolling his neck and shoulders to loosen them.  He crawled over to the warmed ground and pulled off his jacket.  Lying down, he spread it over his legs.
The Kid removed his sheepskin coat and stretched out on the ground next to his partner, putting the heavy material over both of their shoulders and slipping his legs under Heyes' jacket.  "Ahhh.  Goodnight, Heyes."
"Goodnight, Kid."
OOOOOOOOOO
Curry woke first the next morning.  The tree over them still shook with the wind howling through the forest, and tiny snowflakes had drifted down through the needles during the night and settled on their jackets.  "Heyes, wake up, I think it's snowing," said the Kid, shaking the snowflakes off his jacket as he sat up.  
"That's all we need," groused Heyes, rolling onto his back.  "Dang, it's cold in here."
Curry reached out and used a branch to stir the remaining coals in one of last night's fires.  Putting his hand over the coals, he shook his head.  "They're out.  Ground's cold, too.  Should I start another one?"
"Naw.  We better get going before the snow gets any deeper.  Pass me my boots, will you?"  The Kid handed over the tall, black boots.  He scooped up some of the spruce duff and poured it into his own boots.
"What're you doing?" asked Heyes.
"Your pa said to always keep something between you and the ground.  I figure it can't hurt to add a layer under my feet if we gonna be sloggin' through deep snow."
"You know, Kid, sometimes I think you might just be a genius, too."  Heyes filled his boots with duff and pulled his bandana up and tied it tightly around his face.  Grabbing his battered black hat, he put it on.  He picked up and held out his partner's brown hat.
"I reckon it takes one to know one and I definitely know you," grinned Curry, taking his hat and pulling it low.  
"Let's just hope we're both ingenious enough to get off this mountain alive.  Ready?" Heyes began clearing the snow away from their entry hole.  He leaned forward and poked his head through the short tunnel.  "Yep, it's snowing hard.  Let's go."  He disappeared out the hole.  
Emerging, Curry stood up and looked around.  A pristine layer of whiteness covered everything.  Their tracks from yesterday had disappeared and he turned around a couple of times.  The mountain hovered above them through the thickly falling flakes.  
Heyes started off downhill.  Sighing, the Kid followed in his partner's footsteps.
They took turns leading.  As one partner tired, the other would pass to break a new trail through deep snow.  By midday, the snow had grown heavier.  Despite dropping much lower in elevation, the day had cooled considerably, and both of them had to stop frequently to rub circulation back into their feet.  
Occasionally, they crossed the trail of a rabbit or fox, but they saw no signs of the creatures.  Curry's stomach began rumbling loudly.  "How far are we, Heyes?"
"From what?"
"From anything."
"How would I know?  I don't even know where we are."
"I'm hungry."
"So am I, but there's nothing we can do about it," said Heyes.
"My feet are cold."
"Kid!  Are you gonna gripe all the way out of here?  'Cause if you're planning to, lying down and freezing to death is looking pretty good to me right now."  
"Sheesh, no need to get proddy."
By late afternoon, they were nearly down the mountain and a broad expanse of meadow bisected by a stream had opened before them through the curtain of snow.  The wind was picking up again and the snow was beginning to get even heavier, but the temperature stayed cold and the dry, frozen flakes didn't cling to the two ex-outlaws.  
"I can't go any further, Kid.  Let's find a place to stop," said Heyes, stumbling tiredly through the deep snow.  It was halfway up their thighs and they were wading more than walking.  
"I can't feel my feet, can you?"
"Not for the last few hours.  I want to get these boots off and check for frostbite."  Heyes blinked several times, and reached up with an icy glove, wiping his eyes.  The trees at this elevation were mostly spindly Lodgepole pines and scattered Rocky Mountain firs.  Heyes stopped and waited for the Kid to reach him.  
"We're gonna have to build a snow cave," said the Kid.  "The trees are too mature; their branches are too far apart for a shelter."
"How do you plan to do that?  I didn't bring a shovel, did you?" snapped Heyes, sarcastically.  "It'd take all night to dig one with our bare hands.  Besides, the snow's not deep enough here and it's too fresh.  It'd cave in before we could use it.  We'll have to make our own shelter and we better do it fast.  The storm's getting worse."
"You mean like the forts we used to build as kids?" asked the Kid.  
"Yep, just like that.  See that snagged Lodgepole?  We can use that."  Heyes pointed to a tree hanging in the crook of another tree on the leeward side about two and a half feet off the ground.  "Spread out and grab anything you can find; twigs, branches, leaves; we'll use it all."
The two partners worked quickly and managed to build a reasonably solid structure.  Thicker, needled branches were wedged into the snow and the ends leaned up against the downed tree.  Smaller dry sticks and twigs were piled on top and woven within the branches.  Leaves and loose needles gathered from around the trunks of other trees were strewn over it all to fill in the gaps.  The inside of the space was lined with pine needles, small uprooted shrubs, and a layer of pine boughs.
The Kid dragged over several more pine boughs. "I'll lean some of these up over the snow when you're done.  They oughta give us some more insulation and help keep it from blowing away.  Here's two branches to cover the entrance."  He left two next to the opening and dragged the others over to Heyes who had built up the snow around the outside as best he could.  
"The snow's drier today, Kid.  It's not clinging to the branches," Heyes said, exasperation tainting his voice.   He was having difficulty getting the snow to stay where he put it.
"Let me lean these branches up.  Maybe they'll help."  They packed the snow into the branches and, finally, the two men stood back and surveyed the structure.  
"Looks good to me.  Let's go in. I'm freezing." Heyes crawled in, waited for the Kid to join him, and then pulled the branches over the doorway and sat up.  "The floor's packed deep enough with boughs to keep us from the cold ground and the whole thing is small enough it ought to heat up fast enough with our body heat," Heyes said proudly.  
"Body heat?  What do we need that for?  Ain't we buildin' a fire?"  Kid looked around at the walls that tapered along the fallen tree from two and a half feet high to just over an inch or two.
"There's not enough space to build a fire, but we'll stay dry and out of the wind.  It's not going to be as warm as last night," Heyes said, "so we're going to have to cozy up."
"Fine by me; I'm cold enough I'm even willin' to hug you."  The Kid lay down and his partner stretched out next to him.  Awkwardly, he did his best to sidle up next to Heyes without getting too near to him.
As he tentatively reached around his partner, Heyes chuckled.  "That's close enough, Kid. I said cozy up, not spoon me."  Curry jolted away and rolled over, curled up his legs and arms, and pressed his back against Heyes'.
OOOOOOOOOO
It was a cold, miserable night.  When the two partners slowly and stiffly crawled out of the shelter, they found that the storm had intensified into a blizzard during the night.  Their shelter was covered in snow and it was nearly impossible to see for any distance.
"Maybe we should stay put until the storm passes," yelled Heyes.  The wind was snatching his words away as quickly as he mouthed them.  He pulled his bandana up over his nose and ears as best he could.
"It could snow for days, Heyes.  If it gets too deep, we ain't gonna be able to walk outta here," hollered the Kid.  He pulled the stampede string on his hat up under his chin.
"I don't know; it looks like it's gonna be kind of easy to get lost."
"What difference does it make?  We're already lost.  I'd rather keep goin' if it's all the same to you," said the Kid.  "We ain't gonna last long without water, Heyes, and we can't build a fire.  Let's see if we can break through the ice in that stream we saw yesterday."
"All right, I'll follow you."
Heads down, shoulders humped, and hands tucked into their arms, the two men walked in the direction of the big meadow they'd seen last night.  The driving snow caused them to constantly wipe their eyes and the lack of visibility made them keep within a foot or two of each other.  It was brutal out in the open with nothing to break the wind except the clothes on their backs and Heyes began to shiver in his wool coat.  
"Hang on, Heyes, we're almost there," said the Kid, turning his head so that his words would reach his partner.  "I think I see the stream up ahead."  Heyes reached out and grabbed onto the hem of Curry's sheepskin coat with his left hand.  His eyes were already sealed shut by the ice clinging to his lashes and he stumbled behind his more warmly-clad friend.
Arriving at the stream, the Kid dropped to his knees and pried up a rock from the frozen ground.  Using it as a hammer, he pounded the thick ice until cracks began to form.  Water rose through the cracks and spread across the surface of the ice.  Like an animal, the Kid sucked the water up with his lips and his tongue.  Sated, he sat back and shifted to the side so that Heyes could drink.  Heyes fell down, stretched out in the snow, and drank eagerly.  He pulled off one glove, and drew the small oilcan from his pocket and carefully filled it with water by pressing down on the broken ice.  His hand was freezing from the wetness but he managed to screw the cap on again and he sat up.  Nestling the can upright in his pocket, he pulled his glove back on and struggled to his feet.  The Kid reached out and grabbed his arm as he swayed with a particularly strong gust of wind.  The snow was blowing almost horizontally to the ground and cold ice crystals settled on the backs of their necks and ears despite their upturned collars.
"We gotta get out of this wind, Kid.  I can't go much further," yelled Heyes.
The Kid nodded and kept a strong grip on Heyes' gray jacket as he began to trudge towards the trees.  Halfway across the meadow, the wind shifted directions several times and stirred up the snow at their feet, causing a whiteout.  Curry staggered in the onslaught and Heyes swung around, stumbling to the ground and pulling the Kid down with him.  Clutching each other, they wallowed in the snow for a moment before they struggled upright again.
"Sheesh, I got all turned around.  I can't see nothin'.  Which way do we go?" yelled the Kid into Heyes' ear as he clutched him to his chest.  "Heyes!"  He shook his partner several times, but there was no answer.  Heyes was no longer shivering and his lips were blue.  Curry gently wiped away the ice and snow that caked his partner's face, but Heyes didn't open his eyes.  He was still on his feet, but only semi-conscious.  Pulling Heyes' arm over his shoulder, the Kid gripped him around the waist and began half-dragging his friend blindly into the storm.
It wasn't long before Heyes sagged into the Kid.  Curry pulled his partner through the snow for another fifty yards before his own strength gave out and they fell again.  Instantly, a small drift of snow pushed up against his back.  The Kid spoke softly to a limp Heyes, resting peacefully in his arms, "I'm so cold, the snow's starting to feel warm."  He pulled Heyes against him, burying his partner's frozen face into his chest.  Tucking his chin in, he curled up tight to his best friend and began to drift off to sleep.  
A loud groan roused him from his stupor.  He let go of Heyes and rolled over, trying to peer through the snow.  A large, dark shape loomed nearby and another moan escaped from it.  A cow!  The Kid pushed himself up off the snow and grabbed the shoulders of Heyes' coat, dragging him through the snow towards the snowbound creature.  The cow had dropped to the ground and paid no attention to the approach of the two men.  The Kid knelt down on the leeward side of the large steer and tucked Heyes up against its warmth.  The cow didn't move, but continued to groan piteously.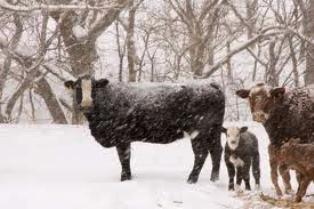 "I know, girl; we're all in real trouble here.  Maybe we can help each other out," mumbled the Kid.  He stretched himself across Heyes' inert form, pulling his partner's hands up and shoving them inside the gray jacket.  Holding Heyes between him and the cow, he tucked his head and feet up against the animal's hide.  The cow offered no resistance, but lay quietly where she had dropped.  
"Easy now, girl, we ain't gonna hurt you.  We're freezin' same as you so," said the Kid, soothingly.  "We'll warm your back if you warm ours.  Dang, you make a good windbreak."
A short time later, another dark form drifted in followed by a lighter, browner one.  The herd was gathering together for warmth.  Curry nearly dozed off again as a second cow knelt to the ground just a few feet away.  He lay awake watching as more and more cows clustered around him and his unconscious partner.  "That's it, ladies.  Gather round and warm us up."  
Finally, he closed his eyes.
OOOOOOOOOO

_________________
Hannibal Heyes and Kid Curry, the two most successful outlaws in the history of the west. And in all the trains and banks they robbed, they never shot anyone.