Question:  What do you get when you combine an old rancher and his moonshiner sons with a handful of Indians and two reforming outlaws?  Answer:  A Sleight Case of Heist - by Ty Pender.
Willard Parker as Josh
Tom Ewell and Meg Wylie as
Feldon Zeider and Abigail Zeider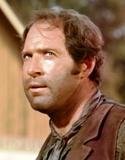 Bobby Bass as Theron Zeider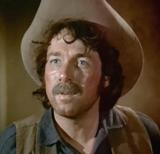 Greg Mullavey as Alva Zeider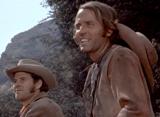 No Credit Actor and Harry E. Northrup as
the two unnamed Zeider sons
Chief Washakie as Chief Washakie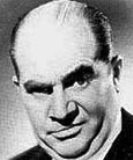 Ed Brophy as the Driver
A Sleight Case of Heist
by Ty Pender
Author's Note:
This story contains Shoshone language which is translated during the course of the dialog. It is taken from the Shoshone Online Dictionary website which the reader is welcome to visit.  
http://www.shoshonidictionary.com/shoshonidictionary.asp
Native American languages seem sparse to our ears because they lack connective parts of speech. However, the sparseness lends a certain power and beauty, almost a koan-like poetic quality. This poetic quality can be seen especially in the love song the girls sing to the tied-up braves who kidnapped them.
SCENE ONE
On the Road Again
Heyes and the Kid started down the road out of town when Curry turned to his partner. "Okay, looks like we can finally talk."
"Again," said Heyes.
"Too bad about that town," the Kid went on. "I was lookin' ta settle in for a spell, play some cards, and make some money."
"Yeah, me too; but we have to leave when they start getting too friendly," Heyes said. "Looks like that's our fate; we have to leave towns while we're still strangers, or sit in jail for the rest of our lives."
"We've got to do somethin' soon to make some money, that's for sure," said the Kid. "Some real money; I'm runnin' low on ammo."
The two men rode on silently, lost in their thoughts. The road started up a long bank, and as they reached the top a large valley opened up below. They stopped their horses and looked out. Ranch buildings, corrals, cattle and horses dotted the landscape as far as the eye could see.
"Heyes, that's about the biggest ranch I've ever seen, probably THE biggest."
"I bet that's the Zeider ranch. The livery man said it stretches from here all the way up the state line, almost to the top of northwestern Nebraska. He said it's one of the originals; been here since before Nebraska became a territory."
"Looks like a big operation; and it looks like the road splits four directions at this spot," the Kid added.
"The livery man back in town told us the road out of town went on north along the state border," Heyes recalled. "But we could get an east-west road just before the big ranch. I guess that's what he meant."
"Maybe we should go north to the ranch. An operation this big probably has some work. At least we can get somethin' off the afternoon chuck," Curry suggested.
"Yeah, maybe they do have some work."
Just as they started down the road toward the ranch, Curry stopped his horse.
"Someone's comin' up the road; can you make it out, Heyes?"
Heyes reined in his horse. "You've got better eyes than I do. Let's pull off to the side, near that big rock." The two men moved their horses beside a large rock about two hundred feet from the road.
After a while a small, stocky rider approached, on an equally small, stocky mount. He stopped in the middle of the road, right where the men had turned off, and called out toward the rock, "Hello, hello! No harm, no foul play."
Heyes and Curry turned to each other with a stunned look. "I can tell from his boots he's a ranch hand," whispered the Kid. "He's got a single holster on his waist and a rifle over his saddlebag."
"How did he know we were here?" Heyes hissed before calling out. "How did you know we were here?"
"I saw two riders go off the road right at this spot; figured they was you. I respect your caution, 'specially in these parts."
The Kid led his horse out from around the rock. "You spooked us. You're good, real good."
"Don't think nothin' of it," the cowboy replied. "You just don't want me fer an enemy, that's all."
Heyes followed the Kid out to the road. "That's pretty impressive tracking. What kind of iron you carrying?"
"I carry a Colt single action, but I don't need many shots generally. I pack a Remington rolling block, which I like 'cause the cartridges are interchangeable."
"That's a good match for this country," said the Kid. "I carry two Colt Peacemakers. I could use a good rifle, though. My partner here," he looked over at Heyes, who was casting an evil eye his way, "well, I won't say."
Heyes rode up alongside the ranch hand and the three started back down the road. "So I guess you work at the ranch. Are they looking for some help?"
"Yeah, we need some scouts."
"So if we said we were interested what would we be gettin' into?" the Kid asked. "Is this goin' to be an easy job?"
"Should be, for trail rabbits like you," came the reply.
"No, not that way. I mean, is there going to be any shooting?" Heyes asked.
"Mostly wolves; sometimes a bear."
The three men started down the long slope to the ranch. "So you two good shots?" the ranch hand asked. "You'll need to be. And how about your horses – they spook?"
The Kid stopped his horse and pointed to a shrub about thirty yards off the road. "See that branch on top of the shrub out there?" Within two seconds Curry had his gun out, and the branch was flying down the hill." He turned to the cowboy. "I see that your horse didn't move. Are you a scout, too?"
"I'm near everything for Mr. Zeider and his ranch. But I'm not as good a shot as you, that's for dern sure. What's your name, mister?"
"Jones; pleased to meet you."
"Pleased to meet you as well. I'm Josh. What about your partner? Is he a hot shot, too?"
Curry looked over at Heyes, who gave him another evil eye.
"My partner here is Smith. He's not as good a shot, but he is a fine tracker. With him spottin' and me snipin', I think we'll be a good match for those wolves. We just need to get our hands on some good rifles, again, and we'll be good to go."
"Mr. Zeider will probably go for it. He's a bit crusty, but he pays good once a month. Plus you get chuck and bunks and time off. As for rifles and ammo, I think you'll find somethin' suitable."
The men continued down toward the ranch until they reached a second summit. The three men stopped for a moment and looked out over the valley below. Off in the distance, a large gate post came into view. A substantial house stood just beyond the gate. Many buildings stretched out into the distance. "This is an impressive ranch," Heyes said. "We heard that it's been here for some time."
"It's one of the first." Josh added, "It's been here since the territory opened, maybe a little before. It's still keeps us busy, but not like it used to."
The cowboy's eyes locked onto something in the distance, away from the road. "We got trouble."
The boys looked in the same direction, but they could only see a dust cloud. As they watched, four riders came into view. They seemed to be making a beeline for a building way in the back.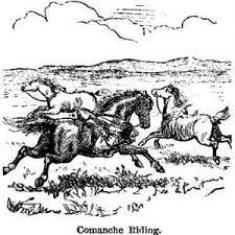 As the riders got closer, the Kid did a double-take. "Whoa, what happened? One of the riders disappeared, and then he popped back up again on the back of the horse!"
"Yeah, now I see it," said Heyes. "There goes another one; he's gone, and then he pops back up! How're they staying on their horses?"
"They're ridin' Comanche style," Josh answered. "They're just playin' with each other. They hang on with one foot on the back of the horse."
"I've heard of that, but never seen it," the Kid said.
"My uncle taught me how to do it," Josh said. "He learned it when he was a Texas Ranger. You got to have the right horse; otherwise you'll be goin' in a circle." He grinned at Heyes and Curry like he'd let them in on a private joke.
"Now you fellas go on down to the big house and talk to Mr. Zeider. Tell him Josh met you up the road and told you about the scout job. These braves may be up to no good, or they may be just horsin' around."
Curry's eyes squinted against the sun; "Looks to me like they're in a hustle for someplace at the back of the ranch buildings."
"They may be headed toward the old mud house where Zeider's sons hang out. Four braves brought some kidnapped Indian girls to his sons thinkin' they could trick them out to us cowpokes."
"Really," said Heyes, "and I suppose they've come to collect their money."
"That may be," Josh said, "but none of us have anything to do with Zeider's sons, unless there's money in it for us. They're pretty scummy fellows, if you ask me. They've been sellin' hooch to them braves, too."
"What the…" Curry said.
"On the other hand, it could be nothin'," Josh continued. "We're up against the Wyoming reservation so we get Indians over here all the time. You go on and talk to Mr. Zeider; I'll keep an eye out." That said, he took off at full gallop down a right fork in the road.
The boys looked at each other, jaws agape.
SCENE TWO
The Crusty Old Man
Heyes and Curry tied their horses near the water trough and stepped over to the porch. The Kid rang a bell that hung near the door. The large, double-bolted oak door opened and an older man appeared; probably in his mid-seventies. He looked carefully at their faces; then his eyes moved slowly down to their boots, back up to their guns, and finally back at their faces.
"Good afternoon sir," Heyes began. "I am Joshua Smith and this is my partner Thaddeus Jones. We met Josh up the road and he told us about the scout job."
"I am Feldon Zeider," the old man replied in an abrasive tone. He eyed the two somewhat suspiciously. "Have you ever shot a wolf or bear?"
"Yes, sir," the Kid replied. "Tracked 'em too."
"Very well then, Mr. Jones and Mr. Smith, if you've come with Josh's introduction, I'll let you in." The two men were ushered into a large enclosed portico, and then into a larger great room with an open, gabled plank ceiling. The middle of the room was dominated by an enormous ornate cast iron pot-bellied stove. Large chairs upholstered in bison hide surrounded the stove. The plank walls were covered with heads of elk, bison, antelope, mountain lions and bears. Stuffed whole bobcats, foxes, cranes, and perched eagles stood on the honed slate floor.
The boys looked around slack-jawed. Zeider gestured for them to be seated. "Did you shoot all this game, Mr. Zeider?" the Kid asked.
Zeider leaned back in his chair, and kept his eyes on the men. "Yes, right here on this ranch. In the early days one of our great pleasures was hunting and there was plenty of game in Cheyenne County. 'Course we just called it the Panhandle when it was Nebraska Territory. Everything you see on the walls was here, plus game birds such as plovers, prairie hen, ducks, geese, and cranes. There were plenty of jack rabbits too – still are for that matter."
"I tasted buffalo," Heyes said. "It's good eating."
"Oh yes, the meat was very good, always tender and of fine flavor," Zeider said, clearly relishing the memory. "Angie," he called out to his wife, "bring these men some coffee."
"Well, sir," the Kid ventured. "Now we have to settle for cattle steaks."
"Yes, lots has changed, and not for the better. This ranch was here long before there were any towns." Zeider began to warm to the subject at hand. "We had a meat market for folks in the area. The hands would hunt bison, mainly for hides, and butcher the meat here. We'd salt or smoke most of that and sell it off for trail food. We made a lot of money that way. There was a big market for it; lots of people were on the trail headed west for gold and such. Now we breed and graze cattle and drive them down to the Union Pacific. We save some for ourselves at the ranch, but town folks pay a pretty penny for the choice cuts."
Zeider's wife came out of the kitchen. She was a tiny, elderly woman, but her back was as straight as an arrow. Without a word, she placed a platter of coffee mugs and cookies on a rough-sawn catalpa timber that served as a coffee table. Then she brought out a pot of coffee and retreated back into the kitchen. The lighted candelabra above the men made the plank of catalpa iridescent as it changed colors under the flickering oil lamps.
"We do enjoy the company of these small towns, they're usually a nice bunch of folks," Heyes ventured as he reached for some coffee and a cookie.
"Yes, most folks in the far West are good company, but the towns are changing that. Before towns came in we had barn dances down here. All the men and womenfolk would come from miles around and have a great time every week, sometimes twice a week. But now the men sit over at the saloon and gamble their money away, and the women sit over at the church and pray for their husbands, or pray that they could get a husband. That ain't right. I think folks were better off before towns."
Heyes nodded. "You got a point there, Mr. Zeider."
Zeider took a sip of coffee and continued his oration. "Before towns came in, we didn't have a church house. But we had a lot of religious discussions. Now you attend 'divine worship' and sit with your mouth shut while some pastor goes on and on with whatever pops into his educated mind. Well, I don't think much of preachers' education. I think people did better when they figured things out on their own; 'work out your own salvation' – that's what the good book says."
"Yes, sir," the Kid agreed, "I think that's right. Me and my partner here are working out our own salvation; ain't that so, Smith?"
Heyes looked at the Kid with his jaw agape.
"Well that's good boys. I admire men that take a personal responsibility for their standing before God."
"Yes, sir," Heyes responded with an innocent smile. "That's the way we've decided to live."
And speaking of salvation and such," Zeider continued. "I think folks were better off before the law came in. Before sheriffs, folks had to maintain a level of respect and reserve." Now if someone does something wrong, folks feel like they have to go off and find the sheriff. Half the time the no-gooder escapes. In any case, there aren't enough sheriffs to keep up with crime, which is fine by me anyhow."
The old man placed his coffee cup on the catalpa table and then pushed his right fist into his open left hand for emphasis. "We were better off before there were states, governors and sheriffs, at least out here in the far west. We don't need all the Easterner's trappings on the frontier. The dern Easterners are going to take over the whole country and there won't be any room for ranchers, farmers, and common sense folk." Zeider's face grew redder and redder as he ticked off his list of indictments against the Easterners. The old man got more and more worked up as he spoke. Toward the end he no longer concealed his anger and sputtered out each word.
"Yes sir," Heyes tried to calm him down. "We like the West just like it is. The roads are already getting too crowded."
"Yeah," Curry rushed in to support Heyes' effort, "we like things quiet and peaceful."
"When I came to this part of the territory," Zeider began again, "there was nothing here. I built this ranch up. After other people came in, for years I was the postmaster, the blacksmith, the wagon maker, and the butcher for the folks around here. It was a good life; but I gradually realized that folks would move in. So I wish them well, even the ones who started the towns."
"What about the Indians, sir, now that they're on the reservations?" Heyes asked.
"We never had any trouble with Indians. We treated them right, we gave them what they needed. Then the government pushed them on the reservation, took away their livelihood, and put them on charity. And now corrupt Indian agents pocket the taxpayers' charity money. That's not right." The old man ended his declamation with a flourish, his fist up in the air, his face as red as beet. Then he turned to Heyes and Curry and looked them straight in their faces. "They have every right to be disgusted with the government, as much as I am, probably more. What do you think, boys?"
Heyes and Curry looked at each other and then back at the old man with wide open mouths.  The old man looked at them expectantly.
A female voice came out of the kitchen, breaking the silence. "Feldon, you need to quiet down, else you'll have one of your spells."
"You're right, Angie, you're right."  
The three men leaned back in their chairs. They sat quietly, enjoying the heat of the enormous ornate wood stove before them and listening to the hushed sound of wood burning inside it. The sound seemed to have a calming effect on the old man and his face became less flushed.
The muted sound of the crackling fire in the stove was interrupted by the front door opening. Zeider stood up and Heyes and Curry reached for their guns. "It's just me, Josh," a voice called out from the portico. "Mr. Zeider, you need to come to the old mud house," he said as he stepped into the great room. "Some Shoshone braves have your sons tied to a tree down there."
Zeider's face suddenly turned white as a sheet. "Those derned sons of mine, what have they done now?" The old man began to reel. "I feel like I'm going to faint," he said, and began to pitch back and forth between Heyes and Curry. They grabbed his arms and eased him back down into his chair.  
Josh rushed over to the kitchen. "Abigail, Mr. Zeider is gettin' on one of his spells; better bring out those salts."
Zeider's wife came out with a small dark blue vial in her right hand and moved it back and forth under her husband's nose. She held her left hand under his temples and felt his pulse.
The boys watched as the color came back into Zeider's face. "Enough, Angie, enough," he said. After a moment, he slowly got out of the chair and walked over to his desk. He opened a drawer and pulled out a gun holster with two pistols. He then reached behind the desk, grabbed his jacket, hat and a rifle. "Okay, you fellas grab what you need and let's get down there."
SCENE THREE
At the Old Mud House
The four men rode into a large barn, jumped off their horses and ran to the back barn doors.  Through the slats in the doors they saw four disheveled middle-aged men in red long johns sitting in the dirt in front of an old adobe house. They had been tied together around a tree. Four young braves were laughing, and forcing bottles into their mouths.
"You say this good hooch, but you spit it," one of them said.
A farm wagon was standing nearby with a team already hitched. Four young Indian girls were sitting in the wagon. The four warriors' horses were tied to the back of the wagon.
"Keep your guns on them," Josh said. "I'm going to ask them what they want. I saw some rifles stowed in the wagon. We're lucky; they're only carrying knives and bows. But those arrows can reach four hundred feet, so don't let 'em closer. Smith, keep an eye on the front door, in case there's a loose scout."
Heyes moved off to the other side of the barn and looked back at the men. He saw Zeider with his rifle and two Colts, Josh with his Colt and rifle, and Curry with his two Colt Peacemakers. He looked around outside, positioned a shot, and mumbled to himself, "I have to play patrol and I've only got this old, darn pistol."  
Josh opened the door a crack, faced the braves, and cupped his hands over his mouth. "Himman suwai?" he called out. "Himman suwai?"
The four braves looked at each other. Three of them moved behind the wagon and a fourth put a knife to the throat of one of the men. Zeider turned to the Kid. "He's got a knife on Theron, my oldest," he said under his breath. "How did he know he's my oldest?" he asked weakly.
"Wintuantupe," one of the braves called out from behind the wagon; all the braves laughed.
"He just called me bucket mouth," Josh said with a dry smile.
"Naibi paneputlie tosa tasboo, not waipu," the same warrior continued. "Paitsi kwaitoah."
"He said that the girls are turning into white men and they will be useless as Indian women. They are going to take them away now."
"Now they're trying to insult us," Zeider said dryly. "Tell them 'Go ahead,' but no funny stuff, we have guns on them."
"I'll say that if you want, but they won't like the guns part," Josh offered.
"Say it," Zeider told him. "I don't want them to get the idea they can just walk over here to the barn."
"We have to make sure they don't get their hands on those rifles in the wagon," the Kid said, as he positioned a shot. "If they do, and split up fast, we got trouble."
"Except for the one holding a knife to Theron's," Zeider said with a thin, weak voice. "It looks like he's not going anywhere until he slits my son's throat.
The Kid and Josh exchanged glances. "Uh, Josh and I will let you handle him."
"Maiku, maiku," Josh called out. "Kai demayahnee, aiti namandu; aiti namandu." Josh turned to Zeider. "I told him Okay, Okay, but no clowning around, we have guns on you."
All four braves broke up laughing. "Tsahiiga patekkutsa kahni; kwai hooch oo'yonde," the warrior yelled out from behind the wagon.
"They want to enter the adobe house, take all the hooch and then go," Josh said.
"Let 'em," Zeider said.
"Maiku, maiku," Josh yelled back.
Two of the braves came out from behind the wagon and went into the house. They came out with armloads of bottles, and started loading the wagon. With each trip, Zeider's jaw dropped a little more. "Where did they find all that hooch?" he asked. "What's going on here?"
"Well, Mr. Zeider," the Kid started to say, "it seems pretty clear that…"
Zeider turned to him quickly. "Clear that what?"
The Kid looked at Zeider's face. It was getting a little too white, like he might faint again. "Nothing, Mr. Zeider. Let's keep our eyes on those braves."
After about fifteen trips, the two braves seemed satisfied with their haul. They went over to Zeider's sons and untied Theron from his brothers. They tied the brothers together and Theron separately. The fourth warrior with the knife led Theron over to the wagon and gestured for him to get in with the girls.
One of the braves yelled back to the barn. "Wakaree kuhma weto aipe. Kai demayahnee noondia mupitsee nehwe."
Josh turned to Curry and Zieder. "He said turtle man go with us and puke. Don't clown around with us or he'll drink from a straw knife."
The fourth warrior sat up in the wagon and put Theron's head between his legs. He held a bottle on Theron's mouth, and his knife on the side of Theron's throat, as the wagon left.
"We better let them leave," Josh said. "Theron will stand a better chance if we don't follow them close. They'll probably drop him after a couple hours."
"Dang the lawmen," Zeider cussed. "Since the government's been pushing the Indians onto reservations, they've turned into beggars. How can they have any respect for the law? Hypocrites, that's what lawmen and do-goody government people are, hypocrites."  
He started to push the barn door open, but Curry pulled him back. "Wait, if you go out there now they might see you. Wait until they're out of sight."
"Heck with that," the old man objected. "I've never had any trouble with these Shoshones. Like I said, they're good people."
"Well, there may be one or two lurkin' in the house," said the Kid. "If you go down there we'll cover you, but if we have to shoot, the ones that just left will hear."
"Maybe you're right," he answered. "But I sure would like to know what's been going on."
The Kid attempted another answer. "Those boys are sittin' around that tree in their pajamas in broad daylight, and the braves just took four girls and a heap of whiskey out of that house. If you put two and two together…" The Kid's eyes caught Heyes staring at him across the barn and shaking his head.
"Now, stop right there," Zeider interrupted. "Are you suggesting that my boys broke the law? This looks like a case of robbery in broad daylight to me."
"You could be right," the Kid said. "It does look like a raid."
"Well, you can jibber-jabber all day. I'm going down there." Zeider turned around and walked out of the barn.
The three disheveled sons tried to look as dignified as they could as their old man approached. "What the heck is going on here? How did you get yourselves in this fix?"
One of the men spoke up. "We're awfully sorry, Pa. We're sel.."
"Now don't you sorry me, Alva," Feldon interrupted. "You boys should be awake by this time of day and see those braves coming. Where are your guns? Did they take them too?" He went over and starting working the knots around Alva's hands.
"Pa, we're …" Alva tried to continue.
"Don't try to make excuses," Feldon interrupted again. "This is embarrassing." He reached for his knife and started cutting the rope. "There are two new men with me, and Josh, too. We saw the whole thing, raid and all. Where did those girls come from anyhow?"
"Well, Pa, we were trying to tell ya' that, but you…"
Feldon interrupted again. "I don't see why you boys aren't married by now. When I was your age, you four boys were running around here like a bunch of jack rabbits. Abigail and I could never keep track of any of you. Look at you now, sitting in the dirt in your long johns, tied-up to a tree by a few Shoshone bucks. It's pitiful, just pitiful. They took all the whiskey out of the house, judging by how much they piled up in that wagon. How much did you have in there anyway?"
Feldon finished untying two of his sons and moved over to the third son. While his father was untying him, the son looked around at his two brothers; they were standing up and shaking the dirt and leaves out of their pajamas. They signaled him to keep his mouth shut.
Heyes and Curry came out of the adobe house and walked over to where Feldon was kneeling.
"We checked the house," Heyes said. "There are no more Indians around. There's a still in the house, looks like it's been there awhile. We also found this saddle bag full of mo…"
"That's right," Feldon shot back. "Like I said, we make our own whiskey here, always have. We were making whiskey before there was a town."
"There sure are a lot of empty bottles in there," the Kid commented.
Feldon finished cutting the rope and stood up. "Sure, we were supplying the whole country. Everyone liked our whiskey."
The three sons gave the Kid and Heyes a smirk.
The Kid looked at Heyes holding the saddlebag and gave him a shrug. Then he looked at Zeider and his sons. "Any of you know where they might be headin'?"
Alva spoke up. "They came here with their women. I suppose the're headin' back to the reservation. 'Course they stole all that whiskey. They'll probably claim we sold it to them if they get caught."
"Well, maybe they won't get very far if we can help it," Heyes said. "Which one of you boys wants to go with us and point out the route?"
Feldon interrupted. "We all better head back to the house and make sure Abigail is safe." That said, he turned around and headed toward the barn to get his horse.
"You go on," Alva said. "I'll catch up with you after I change outta these wooleys." He shuffled toward the house and joined his brothers who were walking back to the house. They hiked up their red pajama bottoms as they walked, to keep them from dragging in the dirt.
The Kid and Heyes watched them leave. "Short of jail birds, that's the sorriest bunch of losers I've ever seen," the Kid commented.
Heyes just shook his head. "They sure didn't want us to talk about the empty bottles or this saddlebag full of money."
SCENE FOUR
Tracking the Loot
The boys kept their horses at a slow gait; their eyes were peeled on a small cloud of dust off in the distance. The Kid turned to Heyes. "I hope Mr. Zeider appreciates us tracking his son. If he doesn't, at least our good deed will be a reward in heaven."
Heyes answered, "And a reward on earth too. It looks like no one wants any part of the money in this saddlebag. I figure it's the money those four got from selling whiskey to the Indians, and maybe the girl's services to the ranch hands."
The Kid laughed. "It's incriminatin' evidence. The Zeider brothers don't want anyone to know about it, 'specially their pa, and he's convinced himself it was a raid."
"Theron will feel the same way," Heyes said, "if he's still alive."
"So how much is in there, anyway?"
"I figure three to four hundred. I say we ditch this saddlebag and pocket the money."
Curry laughed. "Good idea. It's funny how these things work out. Tell me, Heyes; are we good bad-guys, or bad good-guys?"
Heyes laughed. "I figure we're bad good-guys. Otherwise we wouldn't be so lucky." He handed Curry a wad of bills, and pocketed the rest. "Now, if this saddlebag disappears, no one will even remember this money." Heyes gave the Kid a wink and threw the empty saddlebag into the brush.
The two rode on with their eyes on the wagon. Heyes turned to Curry. "I think that wagon may have stopped, do you see any dust?"
"Nope."
"You're really good at sneaking up on wagons; why don't you go up there and see what's going on," Heyes suggested.
"Oh no you don't; you're not goin' to trick me into that," said the Kid.
"Got a better suggestion?" asked Heyes.
The Kid thought for a while. "Yeah, I got one. I'm goin' to keep my eye out for a good rifle with a scope. It would be a good investment to keep us alive while we're playin' scout."
Heyes pointed to a spot down the road. "Tell you what. It looks like the road doubles back around that ledge. Let's go up there and see what's going on."
When the boys neared the top of the ledge, they saw Josh on his horse. He had a big smile on his face as he watched the two join him. "This is the best entertainment I've had for a long spell. Take a look down there. This is a good spot, you can see and hear them real well, but they can't hear or see you."
They looked down on the road below.  
The wagon was sitting dead still and the four braves were sitting in it, dead drunk.  Dead drunk and tied up, while the girls laughed.  Theron, in the driver's seat wearing nothing more than his red long johns, looked at the hind end of the wagon's horses with his head between his hands.
The girls laughed at the braves and poked them with their bows, and the rifles they'd stolen from Zeider's sons.  After the poking stopped, their laughter changed to singing.
The Kid turned to Josh. "Do you know what they're singin'?
Josh laughed. "It's a Shoshone love song. It's only got three verses and they've been singin' them now for a while, so I got them pretty clear in my head. Those girls have an accent, though; I think they're Arapaho." He repeated the words to Heyes and Curry as the girls sang each verse.
'Fair is the white star of twilight,
and the sky clearer at the day's end;
But she is fairer, and she is dearer.
She, my heart's friend!

'Far stars and fair in the skies bending,
Low stars of hearth fires and wood smoke ascending,
The meadow-lark's nested,
The night hawk is winging;
Home through the star-shine the hunter comes singing.

'Fair is the white star of twilight,
And the moon roving
To the sky's end;
But she is fairer, better worth loving,
She, my heart's friend.
Heyes tipped his hat up on his forehead. "So the point of the song is that the moon, sun, stars, birds, smoke, and such are all free, but the man is bound to the girl because she's his closest friend."
Josh laughed. "That's the gist of it."
"Looks like those braves got their tables turned real good," said the Kid. "They sure ain't free now."
Josh turned to the two. "It gets better, look what's comin' up the road."
The two looked down the road and saw eleven or twelve braves were coming on horseback. There was a single rider in the front leading and one of the followers held a United States flag.
"I see it, but I don't believe it," said Curry.
"It's an Indian posse," commented Heyes. "I hear that some chiefs keep their own lawmen now that they're on reservations. They must be coming to get those four."
"You got that exactly right, Mr. Smith," Josh said with another big smile. "They haven't seen the wagon yet, but we've got front row seats."
Theron was the first to see them. He sat up straight, and quickly took the wagon team's reins, like he'd been driving. He waved at the posse as they approached. "These men came to the ranch with these women and tied-up my brothers. Then they stole our rifles and whiskey. They got so drunk on the whiskey, me and the women tied them up."
Heyes, Curry and Josh looked at each other. Big smiles crossed their faces as they clucked their tongues.
When the posse got to the wagon, they laughed at the tied-up braves. The girls joined in the laughing and started poking the drunk, helpless braves with the rifles and bows. This brought on another wave of laughter from the posse.
The Kid turned to Heyes and Josh. "Looks like those braves aren't exactly the town heroes."
"Pahaimpite," the old man in the front said.
Immediately, four of the posse came alongside the wagon, untied the four horses on the back, and gestured for the girls to join them. Each girl grabbed a bottle of whiskey, their confiscated guns and bows, and jumped on the horses. The four girls and the four braves then turned around and headed back down the road.
"What did the old man say?" asked the Kid.
"Go home," Josh replied. "And my hunch was right. Those four braves in the posse that left with the girls were Arapaho. Those girls must have been kidnapped by those four Shoshone braves and traded to Zeider's sons for hooch."
"Mia Zeider," the old man called out.
Two of the braves in the posse jumped off their horses, grabbed the wagon team's bridles, and turned the wagon around so it was headed back to the ranch.
"What did he say now?" asked Heyes.
"Go to Zeider's," Josh answered.
The old man rode up front of the wagon and the rest of the posse.
"Looks like they're not intending to go to the reservation with all that whiskey," said Heyes. "We may as well meet that posse now; we'll have to meet them sooner or later. Who's that fella in the lead, Josh?"
"That's Chief Washakie. He's a good man; he was even a scout for the U.S. Army. Look at his saddle; it was a gift from President Grant. His tribe moved on the reservation about ten years ago, but it was land they chose, so they're pretty happy with the situation, I guess. There's still a lot of buffalo there."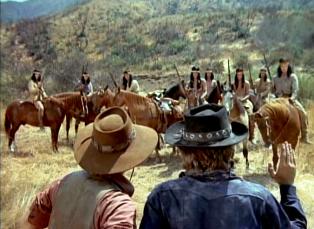 The three men made their way down the ledge and onto the road. In a few minutes the posse approached. Josh waved at the man in front and approached him. "Behne, behne," Josh called out. "My friends are Smith and Jones. We've been tracking the wagon."
"Good, good," the man called out and gestured for the three men to come to his side. "We'll go on to the sheriff in town. We are law-abiding. We want white man justice for these bad men."
Heyes and the Kid looked at each other stunned.
The chief looked at the two speechless men, and continued. "They bring shame on us for stealing your guns and whiskey and stealing girls."
"Oh, I see," said Heyes. He continued a moment later. "But the reservation is in Wyoming and the sheriff in Nebraska probably won't take them."
The chief, who seemed to be about the same age as the old man Zeider, looked straight into Heyes eyes. He had a kindly face, but his eyes were very penetrating. "No, the reservation agent taught us the law. The crime was in Nebraska. The sheriff will decide where to hold the trial. We have our own jail, but we want a trial. Me, or Zeider, will bring charges."
Heyes turned around and looked at Curry. The Kid shrugged. "Looks like that sheriff has four prisoners; he's not going to like it though."
The riders started out slow until the wagon got up to speed. Soon, Heyes and Curry took the lead, with Josh and Chief Washakie behind them. The six remaining posse riders came up in front of the wagon behind their chief. This left Theron eating dust in his red long johns, while driving the wagon at near top speed. The whiskey bottles clanged and the tied-up braves moaned as the wagon swayed and jumped on its spring bars.
"Are we goin' all the way to Zeider's like this?" the Kid asked Heyes. "I don't think he's goin' to be too thrilled when his oldest son shows up with four drunk Indians and a wagon full of hooch."
"It'll be real interesting," replied Heyes.
"Let's just hope these four still have all their sheets to the wind when we pull into Zeider's," Curry added.
"You got a point," agreed Heyes. "We've got to convince the chief to take these four back to the reservation. Any ideas, Thaddeus?"
The Kid snorted. "I don't see that happenin'; seems to me he's just tryin' to wash his hands of them."
"Yeah, I have the horrible feeling that Zeider is going to tell us to take them to the town sheriff."
"He won't be happy when he sees us with four drunk Indians in town." The Kid sighed. "The sheriff's going to start investigating and we'll probably lose this money – incriminatin' evidence."
"Yeah, and probably end up losing our amnesty. I'm going to have to come up with plan."
The Kid rolled his eyes. "Not another one of your plans!"
"Keep your ears peeled; if you hear anything auspicious, let me know."
"Auspicious – what's that?"
"If you hear anything we can use to keep our money, and avoid the sheriff, let me know."  
As they entered the main ranch area and approached Zeider's ranch house, Josh rode up beside the boys. "The chief wants to stop and have Zeider write a statement to the effect that the four stole guns, whiskey, the farm wagon, and kidnapped Theron. He says they want to make an example 'cause they don't want anymore kidnappings or stealing."
"Well, that's mighty noble of the chief," responded the Kid. "But we think the sheriff won't be exactly overjoyed with four drunk Indians.
Josh nodded. "The chief and Zeider are old buddies – they go way back to the frontier days. I'm sure Zeider will come through with somethin' to smooth things."

_________________
Hannibal Heyes and Kid Curry, the two most successful outlaws in the history of the west. And in all the trains and banks they robbed, they never shot anyone.