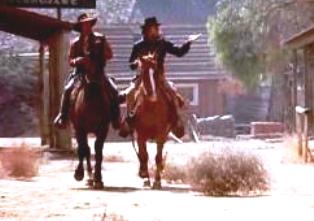 Short on cash as usual, Heyes and Curry jump at the opportunity to accept what promises to be a well-paying and uncomplicated job offer from their old friend, Sheriff Lom Trevors. However, the pair soon has reason to regret their haste when they discover that the job proves to be anything but simple.
Hugh Laurie as Sheriff Micah Mason
Laurie Holden as Cora Mason, Sheriff's Wife
Emily Kinney as Sarah Mason, Sheriff's Daughter
Peter Breck as Harrison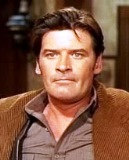 Anson Mount as Bo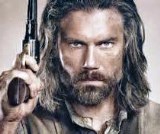 Hunter Heyes as Danny
Wallace Maynard Cox as Jonathan Whitmore
A Town Called Dustbowl
by moonshadow
and Ty Pender
Kid Curry sat near the hotel room window cleaning his gun. He mumbled under his breath at a knock on the door. "Who's there?" 
"It's me – Smith." Hannibal Heyes entered and locked the door. He sat on the bed and pulled a brown envelope out of his jacket.
"Whatya readin'?" Curry asked without looking up.
"A telegram from Lom."
"You mean he finally answered the one you sent last week askin' if he had any jobs?"
Heyes opened the envelope and began to read silently.
"Hope he's got somethin' 'cos we're runnin' low on cash."
"Yeah," Heyes agreed dryly and then his eyes lit up. "Listen to this, Kid: 
Joshua Smith, Thaddeus Jones
  Gov needs safecracker vault Dustbowl AZ.
  500 wired to Pinal County Treasurer's office.
  500 when job complete.
  Lom Trevors, Sheriff, Porterville, WY."
Curry grinned. "Hey, that sounds perfect."
"No kidding. Start packing, I'll wire Lom. Meet me at the telegraph office with the horses."
0000000
The man looked over his horn-rimmed glasses at Heyes and Curry as they entered the Pinal County Treasurer's office. "Good morning gentlemen, how can I be of assistance?"
Heyes stepped forward and handed him the telegram.
The man looked at the telegram and then back up at Heyes and Curry. "Thaddeus Jones and Joshua Smith; pleased to meet you. How do you happen to know the sheriff at Porterville?"
"Lom's an old friend," Heyes replied as he and Curry seated themselves in front of his oak desk.
"Well then, I'm Jonathan Whitmore, County Treasurer. You're going out to a town called Dustbowl. It used to be known by another name, but that's of no consequence. It's completely deserted now, except for the sheriff. The county had to keep some law there until everyone had left. We need to retrieve the documents in the bank vault before he's transferred. That's where you come in."
"What kind of vault is it?" asked Heyes.
"I'll get the report." Whitmore stood and went over to a cabinet.
Curry turned to Heyes. "Does he expect us to bring those documents back? That wasn't part of the deal."
"Yeah, I know; I'll bring that up," Heyes whispered.
Whitmore returned and handed a page to Heyes. "Here's the contractor's report made when the vault was installed. It's big; built into an old mineshaft. It was paid for mostly by the silver mining interest. They were expecting to hold quite a lot of bullion in it. Once you have the vault open, be careful. At one point, the mineshaft takes a steep drop; that part is closed off with a steel door, I believe."
Heyes glanced down the page and looked up. "It has a Yale dual-combination lock. The combination to the secondary lock is here, but the combination to the primary is missing."
"That's right," Whitmore replied. "It was sent in a separate report to the bank, for security purposes. Unfortunately, it's lost.  We check with Yale. They would charge a fortune to send someone out from Connecticut."
"It will take a while to crack this one, even with the secondary combination," Heyes said. "On these big vaults, the action's deep inside the door and hard to detect."
"I understand, but you can't blast it. That would destroy the documents."
"What happened to the town?" Curry asked.
"The silver mines dried up suddenly and unexpectedly. The mining operations went bankrupt, then into receivership, and finally were handed to the state. They're full of water and it would take a fortune to bring them back into operation. There's no silver left, apparently. The deeds and survey maps to all the mines and to most of the real estate in the town are in the vault, as well as all the town records."
"Arizona owns everything?" asked Heyes.
"Yes. In some cases the co-owners or partners haven't stepped forward to claim the property, or we haven't been able to find them." He shrugged and continued, "You will be staying with the sheriff and his family. They live in the town's saloon – or what used to be the saloon. If you get there in the evening it will have the only lights in town, so…"
"Did you say saloon?" Curry interrupted. "The sheriff lives in a saloon?"
Whitmore gave Curry a deadpan look.
"You have to admit, it is odd," Heyes agreed.
"I don't deny that, but it's the nicest place in town. Sheriff Micah Mason has a family and his office and its jail is right across the street from the saloon."
The two partners shared a relieved look at the lawman's name.
"So how'd the Arizona end up owning a saloon?" Curry asked.
"That's a sad story; typical of what happened to the town. The gentleman who bought the saloon and hotel made a big mistake. He bought it just as the silver was drying up. He came into town and, within a day, made an offer. Of course the owner was happy to sell. Within a year after the new owner bought it, the town was nearly empty. But he died before that happened and the property passed into county hands because it was unclaimed." He paused. "Getting back to the sheriff, Mason will be very happy to see you; he's ready to get out. He can open the bank for you and help you load the documents."
"Retrieving the documents wasn't part of the original deal," Heyes said. "At least we didn't know about it and we're not prepared to do it."
"Oh?" Whitmore took a second look at the telegram. "I see what you mean, that part has been…conveniently…left out."
"We're expectin' to get $1000 for this job," Curry stated.  
"Five hundred in advance to scope the job," Heyes added. "If we can't do it, we'll report back. But if we can, we'll return and collect the other five hundred. You'll have an open vault, but you'll have to get the documents yourself. That would be an added expense."
"I understand, but the sheriff has a wagon ready, with horses and feed."
"That's fine," Heyes shrugged. "But a wagon is going to slow us down. We have other jobs waiting. That's our time."
"Well, in that case, I can offer you…"
Heyes didn't give Whitmore a chance to finish. "Five hundred in advance, and one thousand to complete – and you supply the wagon."
"Assumin' everything can fit in a wagon," Curry added, "an' two men can lift the load."
The treasurer looked alarmed as he struggled to form a response.
"How many documents are there?" Heyes asked.
Whitmore pointed behind him "There are four cabinets, that size."
"Okay, draw up the contract."
The treasurer examined their faces; stony resolution stared back at him. He reached toward the inkwell in front of him and mumbled under his breath as he started writing, "Fifteen hundred dollars…the whole town isn't worth fifty cents! These specialists don't come cheap!"
0000000
It was dusk when Heyes and Curry drew their horses up on the outskirts of the small town and eyed their surroundings.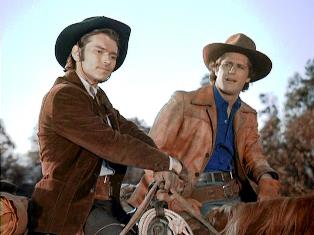 "Don't tell me we rode all the way out here for nothin'," Curry groused. "You really think this is it?"
"Hmm?"
"Don't tell me this is what I think it is."
"Well," Heyes turned to face Kid, "guess that would all depend on what you think it is."
"Heyes, there's somethin' about this place that makes me think this job is a big mistake. Somethin's not right, but I jus' can't put my finger on it. I have a strange feelin' about this town."
"You mean like it's familiar?"
"Yeah, that's it, familiar. It's gettin' too dark for me to see much of anythin' more than a few feet in front of me. And with the wind and dust, that just makes it even harder. I'd sure like to see it in the daylight."
"Well, when you get it figured out, let me know. Meanwhile, sorry to disappoint you, but we're right where we're supposed to be. That sign we passed said ten miles in this direction."
"How can you be so sure?" Curry challenged. "That sign just said ten miles and the town's name was painted out. So what makes you think you're right?"
"I don't think," Heyes countered smugly, "I know."
"Funny, Heyes, real funny; you know what I mean. Look around."
Heyes obliged the request. His eyes swept the area in all directions and he arched a brow in his partner's direction.
"Well?" asked Curry.
"You told me not to tell you," Heyes reminded him with a flash of a dimpled smile and a lift of his shoulders as he finished surveying the street.
"Hmph," Curry snorted. "That's never stopped you before."
The men rode further into town. As if on cue, a sudden gust of wind kicked up a thick cloud of dust, and propelled a tumbleweed across their path. The pair turned to watch it roll down the deserted street until it disappeared from view.
Heyes' horse shied. "Easy, girl," he soothed, "it's just the wind."
"Heyes, Whitmore said we'd be stayin' at the saloon with the sheriff, but I don't see any lights anywhere. Do you see any lights?"
Heyes looked around. "No, but…"
"Well," Curry interrupted, "that settles it. I think we should turn around an' head back. If we leave now, we won't havta spend another night sleepin' on the cold, hard ground."
"We can't, Kid. Are you forgetting that we have a job to do? A job, which I shouldn't have to remind you, we've already been paid half the money up front to do and…"
"Yeah, I know," Curry cut him off and waved his hand in a wide arc. "An' you still haven't proved how you know this is Dustbowl."
"I'll bet you a dollar I'm right." Heyes pulled a coin out of his vest.
"A whole dollar?" Curry sighed. "Okay, I'll call."
"The answer's right behind you."
Curry twisted around and looked over his shoulder. A lopsided, weather-beaten sign dangled by a corner from a rickety signpost. The wind caught it and the wooden placard began to spin around in a wild dance. He edged his horse closer and reached out to halt it. He had to tilt his head sideways to see the faded lettering. "Welcome to …" he read aloud and released the piece of wood. It swung back and forth a few times before it dropped back into place. "Looks like the rest has been painted over."
"Probably just faded away. It used to say, 'Welcome to Dustbowl'," Heyes grinned.
"Uh huh, great."
The wind continued to whistle and howl as it weaved its way around the wooden skeletons of what was once a lively town. The sound of distant thunder enhanced the eeriness of the ghost town.
Another whirlwind of dust engulfed them. Curry coughed and wiped at his eyes. "I think I'm beginnin' to understand how the town got its name," he muttered. "If you ask me, we ain't gonna find nothin' but ghosts out here."
The clicks of two guns being cocked behind them made Heyes and Curry swivel around in their saddles like a pair of whip snakes. All they could see were two long, dark shadows.  
"You won't find any ghosts here," said a gruff voice.
"Don't try it, Curry!" another voice warned as the Kid went for his weapon. "You got two guns on you. Now, both of you, raise your hands high in the air, nice 'n easy."
Heyes and Curry exchanged a tense look and did as ordered.
"Well, well, well…if it ain't Hannibal Heyes and Kid Curry right here in Dustbowl. Who'dve ever thought the two of you would end up here in my town?"
"Your town?" Curry snorted with derision. "Not much to claim if you ask me!"
"You'll have to excuse my friend here," said Heyes, "he's a bit testy. We've been traveling long and hard to get to our destination, only we seem to have got ourselves lost and…"
"You can skip the con job, Heyes! I know all about why you're here and it's not because you're 'lost.' You boys knew this town was empty and so you figured you'd try crackin' the bank vault, right?"
"Our names are Smith and Jones," Heyes persisted, "Joshua Smith and Thaddeus Jones. We are definitely not Hannibal Heyes and whats-his-name…"
A laugh emerged from the shadow. "Nice try. You must figure me for some kinda idiot, Heyes. But as they say, it takes one to know one..." his glance slid over to include Curry, "or two. Both you and the Kid have been callin' each other by your real names the whole time you've been sitting there jawing and I've been listenin' real careful-like to every bit of it. You two ain't usin' Smith and Jones when you think you're alone, so you might as well quit trying to talk your way outta trouble; it ain't gonna work with me. Heyes, this is the best luck I've had for a while. You're going to crack that vault for me."
Heyes and Curry shared a sideways glance.
"I gotta say, I had you two pegged for bein' more cautious, and a heck of a lot smarter - 'specially you, Heyes. And now, here you are - my prisoners. Alrighty, boys, that's enough dilly-dallyin'. I'm sure you're familiar with the drill; one at a time, toss your guns over my way, then get down off your horses and we're all gonna go for a little walk. You first, Curry."
With a look of resignation, the Kid did as told, followed by Heyes.
Once both men stood on the ground, the second stranger spoke up. "Harrison, I think we oughta' shoot these two now – they're too dangerous!"
"Shut up, Bo! Heyes is goin; to open that safe for us. He can do it, so just calm down."
Heyes squinted as he peered into the shadows. His curiosity increased as the two men stepped out.
Curry, who had been paying extra special attention to the newcomers and the weapons they held in their hands, transferred his gaze to where his own gun had landed.
"Uh, uh, uh...wouldn't try it, Curry," Bo warned and trained his weapon on Heyes. "'Less'n ya wanna watch your partner take a bullet for your stupidity."
The Kid raised his eyes to stare into those of the stranger. The cold, calculating expression he saw convinced him the man spoke the truth.
"Thought ya'd see things my way, Curry." Bo flashed a self-satisfied smirk at the outlaw.
The Kid's clenched jaw and glacial glare were his only response.
"Danny, go over and cuff 'em," Harrison ordered.
A young kid, no older than fifteen or sixteen, took two sets of cuffs from Harrison, went behind Heyes and Curry, and handcuffed each one behind their backs.
"Okay, boys, start walkin' to the bank."
0000000
Harrison led the way, followed by Heyes and Curry. Bo and Danny were close behind, guarding the two. Harrison lit a kerosene lamp before he and Heyes stepped through the open door. Danny entered next. Harrison's lamp sent long shadows across the inside of the bank.
Curry stopped to look around until Bo gave him a hard shove. The Kid stumbled, but quickly caught his balance and turned to glare at the other man.
Bo smirked and motioned with his gun. "Get movin'," he ordered, 'less'n ya want more of the same!"
The look Curry sent Bo spoke volumes, but he remained silent as he turned away and entered the building.
Heyes and Curry looked around the bank. It was obvious the place had been pretty well ransacked. Chairs were overturned, deposit boxes were tossed to the floor, and it looked like someone had already made a weak attempt to crack the vault.
"You two do all this, or was it like this when you got here?" Curry asked.
Bo poked Curry in his back with his gun. "Shut up."
"Someone," Harrison's eyes shifted in Bo's direction, "thought it would be easy to crack using dynamite."
"How much did he use?" Curry smirked.
"I only had one stick!" Bo protested.
"That's not just an ordinary vault." Heyes smiled. "Dynamite won't work; neither will nitro."
"Right." Harrison gave him a speculative look. "That's why you're here. You know how to do this kind of work and it should be a piece of cake for someone with your experience. That's all you have to do, just open the vault an' everyone will be happy, especially Bo and me."
"An' me!" Danny added quickly.
"Uh, right. The three of us will just ride outta here and everyone will go on and do whatever it is that they do. Nice and simple."
"You're expecting me to be able to do this, Harrison. What if I can't get the vault open? What if this is the one combination I can't crack?"
"I already thought of that possibility, Heyes. Guess now's as good a time as any to show you what will happen if you don't succeed." He looked straight into Heyes' eyes. "I was really hopin' I wouldn't have to take up everyone's valuable time to do it."
"I wasn't aware we were wasting anyone's time," Heyes replied and pierced Harrison with a steady look of his own.
"Better watch your mouth, Heyes," Bo snarled. "Show the boss some respect or I'll be more'n happy to shut it for you!"
Harrison held up a hand. "I'll take care of this, Bo," he said and took a step towards Heyes.
Curry made a move as if to go his partner's aid, but winced when Bo grabbed his handcuffs behind his back and twisted them.
Harrison stared Heyes down for a full minute before he spoke. "I respect a man with guts, Heyes, but just so we understand each other right off from the start, there's only one leader here and that's me. You'll do what I say, when I say and not ask questions -- is that clear?"
"That my only choice?"
Harrison's fist connected with Heyes' face and a split-second later Heyes found himself flat out on the floor, staring up at the bank's dimly lit ceiling. He ran the tip of his tongue over blood that trickled from his bottom lip.
Harrison took the few steps necessary to tower over Heyes. "That was a question." His eyes narrowed and a calculated expression appeared on his face as he fingered his chin. "You know," he mused aloud, "I'd heard tell that Curry was the stubborn one; maybe I was mistaken. I might be goin' about this the wrong way. Could be there's another way to help you understand how things work around here, Heyes." He pulled a bandana from his hip pocket and tossed it towards Danny. "Gag Curry and bring him over here to me," he ordered and then looked down at Heyes. "You'll wanna be on your feet for this."
Heyes rose awkwardly as Danny shoved Curry, handcuffed and now gagged, before Harrison.
Heyes took a step forward, but was brought to an abrupt standstill when Bo grabbed his handcuffs and wrenched his arms behind his back, testing his muscles to their limit.
"It's really very simple, Heyes," Harrison drawled and began to encircle the Kid. "Here's how it works. I only need you for the job, so Curry is dispensable. Your partner's got two arms, two legs, two shoulders...and, last but not least, there's his head." As the final two words left his mouth Harrison approached the Kid, raised the gun and pressed the cold metal of the muzzle against Curry's temple. "I believe it's your call, Heyes."
Heyes continued to stare straight ahead, but his hands balled into fists behind his back. Without turning his head, his glance slid in his partner's direction.
"Right -- you are a stubborn cuss, ain't you? Have it your way then!" Harrison drew back the hammer. As it clicked into place, Heyes spoke up.
"That vault has a double combination lock. If I'm going to open it, I need my partner alive to work the secondary dial."
"Why didn't you tell me that to begin with?" Harrison pulled his gun away from Curry's head and released the hammer. "There's no way I'd let you both work in here together; I'm not stupid," he snorted. "You can use Bo."
"You don't understand! I need his help…"
"No, Heyes, it's you who doesn't understand. It's not negotiable."
"He's done the job before and knows…"
"You might as well save your breath; I don't care what he knows. It ain't gonna happen no matter what you claim. Curry's my leverage and he's gonna stay locked up until that vault is open."
"The second person has to remain perfectly still," Heyes persisted. "One cough, one sneeze, or a door slam and I'll miss the click in the primary and we'll have to start all over again. It could take up to four hours under the best of circumstances."
"Four hours!" Bo protested. "I ain't gonna stand around for no four hours - I've got more important things to do!"
"I give the orders around here!" Harrison snapped,
"Sorry, Boss," Bo answered, not looking the least bit contrite.
"Danny," Harrison said, "you go keep an eye on our female prisoners while Bo and I get these two over to the jail, and then he and I are gonna go have us a little talk and settle things."
0000000
Bo and Harrison locked Heyes and Curry in a jail cell, leaving Curry gagged.
"Turn around. I'll take those handcuffs; we're gonna need 'em for our other prisoners," Bo said with a leering laugh.
Heyes and Curry turned their backs to the bars and stuck their hands through openings in the cell as Bo removed the handcuffs.
"Make sure everything's locked up nice and tight, then you can come over to the saloon and we'll talk," Harrison said and stepped out.
Bo lit a kerosene lamp.
As the flame flickered to life, Heyes and Curry were able to see that the cell next to them was occupied. The man who sat on the cot had a sullen, vacant look in his eyes that seemed to pierce right through them. A silver badge on his chest flashed in the light.
As Bo walked out of the cellblock, he glanced back to watch in smug silence as Curry struggled to undo the tight knots of his gag. Satisfied, Bo turned to leave, but after only a few steps he pivoted around.
"Oh, yeah, lawman, I almost forgot; I was s'posed to deliver a message to ya. Guess it must've been all the excitement that drove it plumb outta my head until just now. Let's see, it was something real important, too..." He frowned in mock concentration and scratched his head. "Oh yeah, now I remember. The boss said for me to tell ya that Cora's bearin' up pretty good...under the circumstances. She says you're not to worry none 'bout her - or Sarah - an' for ya not to do anything stupid."
Bo holstered his gun with a flourish and then hooked his thumbs into his waistband. "Guess she knows her husband pretty well, huh?" Receiving only a heated glare from the sheriff, he shrugged. "Well, anyways, now that I gave ya your message, guess I'd better be on my way. I've got a few loose ends to tie up." He dangled the handcuffs in the air and then, with a calculated deliberateness, Bo raised his eyes to stare straight into those of the sheriff.
"I'll be heading on over to pay a little social visit to the womenfolk. I just wanna make sure they're okay. I think those poor, lonely ladies deserve a little extra special personal attention - ya know what I mean? Ya got any messages ya want me to deliver to Cora when I see her, lawman? Maybe I'll give Cora a great big hug an' kisses from her lovin' husband? An' how 'bout sweet Sarah? She must miss ya something awful…Why, I bet she'd be real happy to have my arms wrapped around her, huggin' her tight, whisperin' in her ear..."
Bo's taunting words caused the already livid lawman's skin to turn a mottled shade of purplish-red hues and the veins to pop out on his neck as he rose to his feet. The sounds that issued forth from the sheriff's mouth made a wounded grizzly sound tame in comparison. With a look of intense loathing on his face he hissed, "This time you've gone too far, Bo!"
Undaunted, Bo's smirk grew even broader.
"If you lay a hand…" the sheriff sputtered, "if you dare to touch even one hair on either of those ladies' heads, I'll…"
"You'll what?" Bo gave a snort of unconcerned laughter. "Ya wouldn't dare - ya don't scare me, lawman - you've got too much at stake. 'Sides that, ya don't have the guts!" With a final smirk, Bo turned and swaggered away, locking the outer cell bars behind him. A few seconds later, the door to the sheriff's office closed. The three men could hear Bo's taunting laughter as he continued down the street.
The sheriff's ruddy complexion had begun to recede at the last of Bo's thinly veiled threats; he was now as pale as one of the apparitions that might lay claim to citizenship in the deserted town. The lawman swallowed the bile that had risen to his throat and made a determined effort to clamp down on his emotions as he dropped back down on his bunk. "I'm sorry you two had to see all that," he apologized. "Maybe I'd better introduce myself; I'm Sheriff Micah Mason."
"Sheriff," Heyes nodded, "I'm Joshua Smith."
"I'm Thaddeus Jones, sir."
"You're the two Lom wired me about. Well, I expect you're both curious," the lawman went on, "wondering what this is all about."
"You got that right, sir," Heyes and Curry answered in unison.
"Well, this ghost of a town was once home to a whole bunch of good, decent, law-abidin' folks until…"
"Let me guess," offered Heyes, "until those two showed up and scared everybody off?"
"No, this town was empty before they got here. Those two wandered into town just two days ago. They thought that since the town was empty they'd blow up the bank vault and see what was inside. They tried yesterday, but it's too strong. If you ever see it, you'll know why – it's massive."
"Yes, it is," Heyes nodded. "We just came from the bank."
"Why so big?" inquired Curry.
"This used to be a silver-mining town. The mining companies thought they had some rich mines so they invested heavily; lots of equipment. That vault was built to hold large amounts of bullion and cash. But the mines went flat early. The companies went bankrupt and stopped operations and then the shafts filled up with water."
"And you're the last man standing, huh?" Heyes grinned.
"My salary's on contract with Pinal County. They wanted to keep some law here until the town was empty. It took a while; there were some stalwart souls that hung on even though the telegraph wires were removed about six months ago. I've been reassigned to a county courthouse desk job. We were all packed up to leave when these animals showed up two days ago." Mason sighed and gave them a dry smile. "Well, gentlemen, it's a bit late, but welcome to Dustbowl. You know, this would've been a smooth job for you if you'd gotten here two days ago. I'm sure the three of us could've taken care of these guys."
"Thanks," said Heyes, "but I'm not so sure about that. Bo and Harrison caught us by surprise. They disarmed us when we came into town and marched us in here. We told him we were hired by the county to crack the safe; that was a big mistake. Harrison accused us of bluffing. Now he wants us to crack the safe for him. If you ask me, I think he's kinda crazy." Heyes shook his head. He's even got us mixed up with Hannibal Heyes and Kid Curry."
"Harrison says a lot of things, none of which I believe are true," Mason snorted derisively. "In the short time I've known the man, I've learned to take what he says with a grain of salt. He can call you Heyes and Curry all he wants. As far as I'm concerned, it's just talk; he doesn't have any proof." The sheriff gave the boys a weary smile. "Look, fellas, Lom is my friend, as well as a good lawman. He wouldn't have sent you if he didn't trust you, and I trust him.
"And another thing," the lawman continued, "I agree with you about Harrison - he is crazy. The way he sees it, only criminals would come into town to crack a safe; that makes the most sense. Now that you have two showed up, he's convinced there's something really valuable in that vault. He and Bo want it real bad."
"They sure do," Curry nodded.
"There's actually three of them. There's also a young kid named Danny. He looks innocent and out of place. He spends most of his time with my wife, Cora, and my daughter, Sarah, over at the saloon. I think he feels more at ease with them."
"Yeah, we met him," Heyes said.
"He's the one that handcuffed us," Curry added.
"Oh," replied the sheriff. "Well, I don't think he's committed a crime yet. He brags a lot though; he seems to have a chip on shoulder about something, but he keeps it to himself. Anyway, it looks like the county didn't waste any time finding someone to crack that bank vault. I've never been inside, but I doubt it has anything of monetary value. I've been told that it has all of the surveys and titles to the mines, along with some deeds to property in the old town."
"That's what we were told, too," Heyes nodded.
"Once you unlock that vault, they'll probably move the papers over to the state capital. That is," the sheriff continued, "if we survive. I doubt that any of us will make it outta here alive."
"Well," Curry replied, "for a town we thought was deserted, Dustbowl's sure provin' to be full of surprises."
"We don't have much time to come up with a plan," Heyes said. "They may take me over to crack that vault tonight. Sheriff, what can you tell us?"
"Well, there's a second key to these cells stashed in…"
0000000
The three men could hear Bo and Harrison talking outside the jail. Soon afterwards, they came through the door to the cells. Danny was with them. He was packing a pistol that looked oddly oversized in his hands.
"Keep your gun on these two until we get back. The ladies are fixin' supper for us."
"I'd be glad to, sir." His face filled with anger, Danny glared at Curry.
"Okay, Heyes," said Harrison, "here's the deal. You open the safe for us and we'll bring you back here. No one gets hurt. We'll bring Mason's wife and girl back to the jail and lock them up with him. Then we'll ride out of town. In a few days, we'll wire someone to let you out. But if there's any funny stuff, we'll shoot you three and take the ladies with us, got that?"
"Can't argue with a deal like that, Harrison," Heyes replied dryly. "I'm going to need some food though; it's going to take about four hours to crack that safe and I can't concentrate on an empty stomach. My buddy here, too; we haven't eaten since this morning."
"Yeah, sure," Harrison replied indifferently. "The ladies gave us two baskets to bring over. You can find something in there. Bo, bring 'em in."
Bo set the baskets down. "You got two real nice ladies, Sheriff," Bo leered. "Too bad they're stuck with the likes of us." Bo laughed and Harrison joined in.
"You got that right, Bo!" Heyes grinned.
Bo scowled and reached through the bars, but Heyes had already taken a step back.
"Back off, Bo," Harrison said calmly, "leave him alone."
Once Bo had retreated, Curry and Heyes reached through the bars and started emptying their basket. The sheriff did likewise.
"Okay, Curry, you got enough food. Move to the back of the cell until we get Heyes outta here," Harrison commanded. "Then you can have a little conversation with Danny. He has something to tell you." Bo and Harrison laughed as they locked the cell and marched Heyes away.

_________________
Hannibal Heyes and Kid Curry, the two most successful outlaws in the history of the west. And in all the trains and banks they robbed, they never shot anyone.