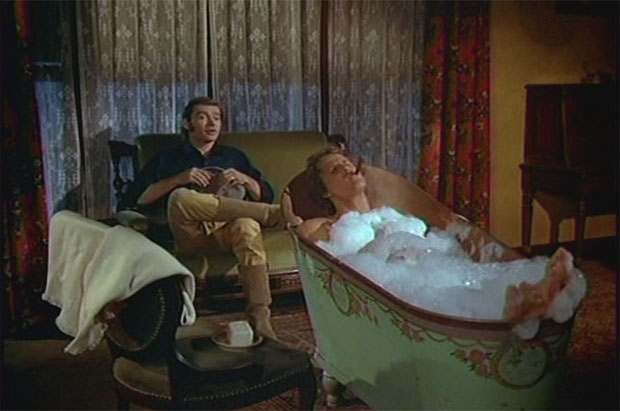 Heyes and Kid find themselves stuck in a town in the middle of a blizzard and broke. Forced to take the only jobs available, the pair soon find themselves embroiled in a battle between the townspeople and the Chinese.
Andy Lau as Jay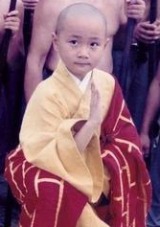 Cao Jun as young boy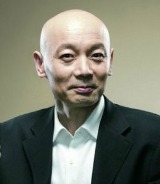 Ge You as Zhang Yong
Pat Morita as Mr. Lin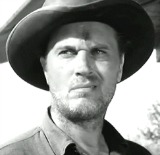 Robert J. Wilke as Wilson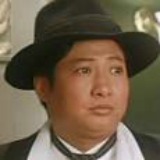 Sammo Hung as Wang Chao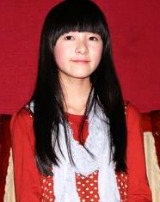 Xu Jiao as the girl
The Cold Hard Truth
by Inside Outlaw
Kid Curry stood just inside the door of the Capitol saloon on Truckee's Main Street dusting snow from his shoulders.  The howling blizzard outside forced a gust of icy crystals through the cracks in the plank door and caused him to visibly shiver.  He looked down as he stomped the white powder from his boots causing an avalanche of snow to fall from the brim of his brown Stetson.  When he looked up, the bar swamper was standing before him with a scowl on his face and a broom in his hand.
"You 'bout done?" snapped the wiry, homely man.
"Sorry," mumbled Curry, easing past the irritated employee to the long oak bar.  A huge mirror ran the length of the back bar giving him an excellent view of the other patrons.  There were several poker games going on in an alcove at the rear of the building, but the players were so engrossed in their cards that they failed to lift their eyes to the newcomer.  The tables set up directly behind the Kid were empty save for a daytime drunk too far gone to care about anything.  No one, besides the swamper, had noticed he'd arrived.  Gesturing to the bartender at the far end of the counter, he held up two fingers and mimed drinking a mug of beer.  With a nod, the aproned man poured the drinks and carried them to where he waited.
"That'll be two bits."
Sliding a coin across the scarred wood, the Kid picked up his mug and took a long pull on the frothy liquid.  Sputtering, he slammed the mug down and coughed.  "Sheesh, that's cold."
"Yessir, folks in Truckee like the weather cold and the beer colder. You just a two-fisted drinker or is someone joinin' you?"
"My partner's over at the rail depot.  He'll be here shortly."
"That'll stay cold enough then," said the man, nodding to the second mug.  "You come in on the three o'clock from Reno?"
"Yep.  Why?" asked the Kid tersely.
"You got lucky, mister.  The folks on the eastbound train are spendin' the night on the summit.  Call went out for volunteer shovelers a coupla hours ago.  Avalanche'd be my guess."  No sooner had the words left the man's lips than Hannibal Heyes blew into the saloon.  He, too, left a small drift of snow at the door and caused the cursing swamper to reappear.
"Don't mind him.  He's an ornery cuss.  Ain't you, Dickie?  That there's job security, man, so shut your trap and get on with it.  Mister, I do believe this beer has your name on it."  The talkative bartender beckoned Heyes over.  The ex-outlaw took a drink, raising his eyebrows as the slushy brew hit his lips.  With a chuckle, the bartender walked to the other end of the bar leaving the two frigid men standing side by side.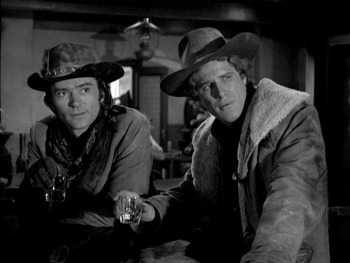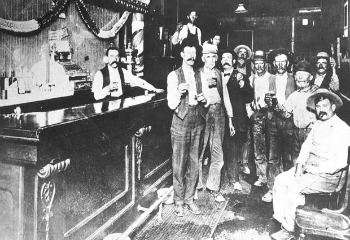 "Train's delayed," said Heyes.
"I heard.  How long?"
"Could be hours; could be days.  Nobody's saying until they hear back from the work crews."
"We're gonna miss our deadline," said the Kid.
"I know.  I already wired ahead that we were delayed."
"Get a reply?"
"Sure did.  'Unacceptable:  get here yesterday.'"
"Good old Silky.  The man don't waste words."
Heyes turned around and leaned his back against the bar letting his eyes roam across the room.  Spotting the poker players, he grinned.  "Well, looks like we're stuck here for a while.  Guess I'll go make us some legal money.  You coming?"
"Naw.  You go on ahead," said the Kid.  "Think I'll head over to Jibboom Street and find some company of the female persuasion.  You gonna be all right on your own?"
"I'll be fine.  Let's meet up for dinner at the hotel.  Steaks'll be on me," answered Heyes.  He swaggered his way to the poker tables while his partner headed for the door.  Pausing, the Kid pulled up his collar and tugged down his hat brim before he swung open the door and went out into the storm.
oooOOOooo
The Kid found Heyes waiting in the lobby of the hotel a few hours later.  Heyes was seated in an upholstered side chair by the huge stone fireplace radiating warmth and was reading the local newspaper.  He looked up as his friend sat down across from him.
"You get us a room?" asked Curry.  "I'm ready to call it a night after dinner.  The afternoon's activities tired me out."
"Not yet."
"How come?"
"Well," Heyes paused, "I had a bad turn of luck at the tables."
"How bad?" asked the Kid, tightly.
"Pretty bad.  Did you see that fellow with the derby and his back to the wall?"
"How bad?"
Heyes shook his head ruefully and ignored the question.  "I didn't know it, but that was Pete Alvertson."
"The 'Poker Pete' Alvertson?!"
"The same."
"You lost all your money, didn't you?"
Heyes grinned sheepishly.  "Hey, it ain't often I get to play with someone as good as me."
"Sounds like you were playin' with someone better'n you."
"No, I've got his number now.  If you spot me a loan, I can win it all back."
"Well, that may just be a problem.  I've only got enough left to cover dinner and a room for a night or two."
The grin disappeared and was replaced with a scowl.  "I thought you were still flush from that last job."
"I was flush, it don't last forever."
"You spent it all?"
"Just 'bout."
"On what?!!"  Heyes stood up and towered over his partner.
Curry stared up at him, completely unrepentant.  "That ain't none of your business."
"Oh, let me guess, you spent it on the shady ladies in Laramie, and in Ely, Winnemucca, Reno and…"
"I said, it ain't none of your business."
"Well, it is now!  We're outta money and stuck here for who knows how long."
"You shouldn't have gambled your stake away.  What were you thinkin'?"
"I was thinking you'd cover me."
"You thought wrong.  What're we gonna do?"
Slumping, Heyes mumbled something unintelligible.
"What'd you say?" asked Curry.
"I said, we're gonna have to find a job."
Curry stood up until he was face to face with his partner.  "Did you say, get a job?"
Lowering his voice to a whisper, Heyes replied, "Well, it ain't like we can just rob the bank, can we?  Even if we were still in that line of work, the town's snowed in.  There's no place to go and if we tried going anywhere we'd leave tracks a baby could follow."
"I wasn't suggestin' robbery, but what the heck are we gonna do in the middle of a dang blizzard?  And don't say shovelin' or I'll flatten you."
Heyes picked up the discarded newspaper and scanned the advertisements.  "Listen to this:  Ice Company looking to hire men to harvest ice.  No skill required.  Pays three dollars a day with room and board."
"Sounds cold."
"Everything's cold in Truckee."
"Find me an indoor job," said the Kid with all the menace he could muster.
"Ain't any other ads for jobs.  Besides, this time of the year, all the indoor work is probably long gone."
"All right, we'll answer the ad tomorrow, but we're eatin' now and gettin' a warm night's sleep."  His decision made, Curry started for the dining room.  "Harvestin' ice, huh, how hard could it be?"
oooOOOooo
"This is the place, Kid," said Heyes, double-checking the address in the newspaper advertisement he held.  The tall warehouse was a sturdy structure built of stone with thick walls giving it a somewhat prison-like appearance.  The noon sun cast a forbidding shadow over the two partners.
As the two men walked toward the heavy, double doors one swung open and a tall, burly man stepped out onto the ramp leading to the entrance.  He turned and pulled a chain through the door handles and fastened a heavy lock on it.  Turning, he spotted the partners.  "You here about the jobs?"
Heyes gave the man his best smile.  "Yes sir, we…"
"You're hired.  Be here at sun-up tomorrow and I'll set you up on a crew," said the big man.
"Uh, we're hired?  Don't you want to know who we are?" asked Heyes.
"Don't care who you are.  Every other able-bodied man in town is up on the summit digging out.  You've got your arms and legs and you both look healthy enough."  The man smiled and held out his hand.  "I'm Burt Caffrey, foreman of the Truckee Ice Company.  You'll report to me."
Heyes grasped the offered hand, but the Kid frowned.  "Sun-up?"
"Yep, we're short-handed so we'll work extra hours; six a.m. to six p.m. with a half hour lunch.  I'm closing up for my noon meal right now and heading home.  If you got any more questions, they'll keep 'til tomorrow."
Curry's frown deepened, "That's a twelve-hour day."
"You can count, too.  That'll be a help."  Burt walked off leaving Heyes and the Kid shivering in the cold shadows.
"I'm gettin' a feelin' this job ain't gonna be as easy as we thought, Heyes."
"Look, we'll work until the tracks open up and then we'll hop the westbound."
"I'll do this on one condition.  No more poker games for you until we get to Silky's."
"All right.  Then no more women for you."
The Kid was quiet for several heartbeats before he laughed, "Who're we kiddin'?  I've still got a few bucks left; let's go find a game and a couple of friendly ladies."
"Now you're talking!"
oooOOOooo
"You boys come and see us again soon, y'hear?"  The madam, standing by the front door, smiled at her handsome patrons.  "I love good-looking men especially ones with money in their pockets."
"We will, Miss Carrie," answered the Kid solemnly.  
"Yes, ma'am, you run a real fine place here," added Heyes, tucking in his shirt tail.
"I wish the folks here saw it that way, but Carrie Pryor's a dirty name 'round this town," bemoaned the madam.  "Heck, between fightin' off the other cathouses and the vigilante raids, it's a wonder I've got time for clients."
"Vigilantes?" Heyes questioned.  "I don't much like the sound of that.  Vigilantes can mean unexpected necktie parties."
"Yeah, the 601's have been raidin' Jibboom Street for a coupla years now.  You'd think they'd have figured out when one house closes, two more jump up in its place."  The small, tough woman laughed raucously.  "Bunch of hypocrites; spendin' every Saturday night on Jibboom, and Sunday morning preachin' and railin' against our sinful business."
"What does 601 stand for?" asked Curry.
"Six feet under, zero trials, one rope."
Gulping, Heyes ran a finger around his shirt collar.  "Yes, well, thanks for the evening, ma'am."
Carrie pulled the door open for the men and held it as they stepped outside.  "Careful out there.  Truckee ain't the safest place after midnight."  The door closed firmly behind them as the snow fell heavily to the white-carpeted ground, softening the world around them and muffling sound on Jibboom Street.  The two men saw plenty of tracks crisscrossing the roadway from the bordellos that lined either side of the road.
"Business, despite what Miss Carrie said, appears to be booming," Heyes quipped, stepping off the sidewalk.  He and the Kid followed a well-trodden path down a side alley towards Main Street.
"Argh, it's cold," the Kid put one gloved hand over his chin to warm his face.  "A body could freeze to death just drawin' breath."  Heyes stopped suddenly causing his partner to collide with him.  Curry followed the direction of his gaze and saw a small figure deep in the shadows ahead rummaging through a trash bin.  "Who's that?"
The person stood up and faced them defiantly, an armful of apples clutched in his hand.  A torrent of Chinese curses broke the stillness of the night and rotten fruit was deftly thrown at them.  Ducking, Heyes watched the small man run around the far corner of the alley as a light came on in a window above the alley.  The sash slid up and a sleepy man in a nightcap leaned out.  "What's going on down there?"
The Kid stepped forward with a smile.  "Someone was rootin' through your trash.  Guess we surprised him."
"Chinese pig!  He don't dare show his face in town during daylight, but he digs through my garbage dang near every night.  One of these nights, I'll catch the…"
"I think he was just looking for food," said Heyes.
"Ya feed one and pretty soon there's a dozen beggin' at your doorstep.  A plague, that's what they are!"  The window closed with a bang.
Heyes shook his head and smirked, "Friendly sort, ain't he?"
"If he's that upset about his garbage, I wonder what he'd do to two ex-thieves?" observed the Kid as he began trudging through the powder.
"Shhh!  He might hear you."
oooOOOooo
The next morning dawned clear and very cold, but Heyes and the Kid arrived on time at the warehouse to find it bustling with activity.  Wagons and sleighs were being loaded with tools and men milled around drinking coffee.  One of them turned towards them.  "You the new guys?"
Heyes smiled.  "Yep.  I'm Smith, he's Jones."
"Smith and Jones?" the man chuckled.  "Couldn't you come up with better names than that?"
"They're our pappys' names," answered Heyes tersely, his smile disappearing.
"Well, at least they're American.  Smith is American, ain't it?  You don't go spellin' it funny like those Brits do, do you?"
"Pappy fought and bled for the North, so it's Yankee enough for me."  Heyes stared the man down until he nodded.
"I'm Wilson.  I'll be your crew chief.  Get some coffee and climb onto that wagon," he said, gesturing over his shoulder.  "I'll be along in a second."
Heyes and the Kid walked over to a line of men holding tin cups and waiting patiently as a small Chinese man leaned out of the warehouse window and poured steaming cups of dark liquid from a large coffee pot.  They each took a mug from a small, rickety table set up adjacent to the line and waited their turn, listening to the soft rumblings of the other men.  Snatches of conversation drifted through the air, but one man's voice rose above the others.
"Why the hell'd Caffrey hire him?  It ain't like a white man can't make coffee.  Damn Chinese are always taking money from our babies' mouths."
The diminutive man serving coffee looked up at his critic and then shifted his gaze to the two men at the end of the line before quickly looking down.
"Hey…Joshua, ain't that the same fella who was lobbin' apples at us?"
"Shh.  Don't get him in trouble.  Sounds like he's already got enough," cautioned Heyes.  When they reached the front of the line, the man scowled at them.  Holding out his cup, Heyes gave him his friendliest smile.  He inhaled the delicious aroma and sighed happily.  "Nothing better than a fine cup of coffee in the morning.  Thank you, sir."
Almond eyes looked up in surprise.  "You're welcome, mister," said a very quiet voice as the man filled the Kid's mug and replaced the pot on a small, blazing woodstove.  There were no more men in line so he started to slide the window closed but hesitated when the Kid spoke.
"Much obliged, I'm Thaddeus Jones, this here's Joshua Smith."
"Zhang Jie."
"Dr-ah-ng Gee-eh?" said the Kid, trying to duplicate the sound.
"White men call me Jay…or filthy dog…or worse."
"We noticed folks ain't too friendly to foreigners 'round here," said Heyes.
"They don't like the Chinese.  They want us to go home, but this is our home."
Looking puzzled, the Kid said, "Jay's a first name."
"Yes, in China the surname is followed by the given name."
"So your first name's Jay?"
"Correct."
"You speak pretty good English.  I'd guess this has been your home for a spell," said Heyes.
"I am an American.  I was born here.  My father came to New York City in 1842; he worked making clothes in the garment district.  I grew up and took a job with the railroad and moved west."  Looking past the two ex-outlaws, Jay noticed the other white men grumbling and staring at the three conversationalists.  "You better go.  It won't help you to be nice to me."
"I'm not in the habit of letting other folks choose who I can and can't talk to," growled Heyes.
"Please go, for my sake and for yours."  Jay slid the window shut with finality.
"C'mon, Joshua," said Curry, tugging at his partner's arm.  "Wilson's waitin' on us."
oooOOOooo
The two men riding in the bed of the overfilled ice wagon lurched as it bounced around on the rutted road cutting through the tall ponderosa forest that populated the floor of the canyon.  Snow fell heavily from the sky, adding to the grayness of the afternoon and the grayness of the men who'd worked all day in the inclement weather.  The primitive path followed the railroad tracks descending the western wall of the valley.  Heyes craned his head up to follow the steep rise of the parallel rails but they disappeared in a fog of snow.  He whistled softly.  "I'd sure hate to be the brakeman coming down that grade blind."  He glanced at his partner, who sat unspeaking on top of the chilly cargo.  "You ain't talking now?"
Curry glared at him with unconcealed disgust.  "I'm too dang cold to talk."
"We're the new men on the job.  We're bound to get the worst seats."
"That don't help my cold a…"
"Hey, look!"  Heyes pointed past his best friend to a clearing through the forest.  The tall pines were blocking the worst of the storm and he could just make out several canvas tents erected on the far side of the frozen-over stream that divided the canyon.  There were no signs of inhabitants and the camp had an air of abandonment.  He turned to the driver of the wagon.
"Hey Eli, who's camping out here this time of the year?"
"That's the China camp.  Stupid devils don't know what's good for 'em.  We chase 'em outta one place and they just turn up in 'nother.  You'd think they'd get sick of freezin' to death and move somewhere warm.  Coldstream Canyon ain't no place to be in the winter," said Eli, without taking his eyes off the team pulling the laden wagon.
Heyes stared back at the tents as they disappeared behind the curtain of snow.  A bright flash of color and movement caught his eyes and he squinted to see two small children, hand and hand, trudging through the deep powder before, they too, faded from sight.  "There're kids out there!"
"Yeah, so?" answered Eli.  "What'd you expect?  They breed like rabbits."
Curry rolled his eyes at his best friend.  Both partners fell silent for the rest of the trip.
oooOOOooo
Steam rose from the copper tub and a curly-blond hair exploded out of the hot water scattering droplets across the old carpet of the hotel room.  "Aaahhh," intoned the Kid as he lounged against the high-back curve of the bath.  "I got aches where I didn't even know I had muscles."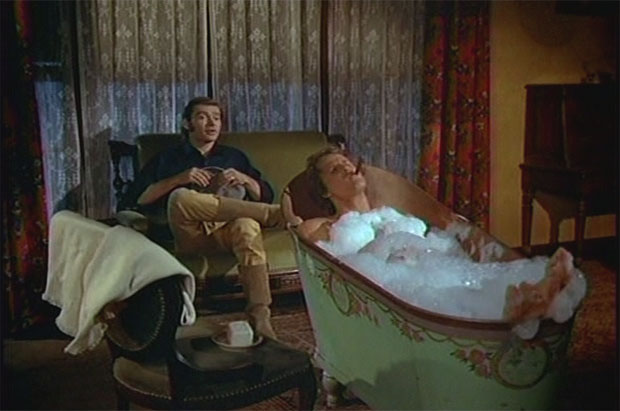 "Hurry up, will ya?  I'd like to soak before the water goes cold," said Heyes.  He sat in an upholstered chair with the down comforter from the double bed wrapped tightly around him.
"You lost the coin toss, friend.  I'll be done when I'm done."
Dark eyes bore into the back of the blond head before a sly grin split into twin dimples.  "Dining room starts serving in ten minutes, Kid."
"Geez, why didn't you say so sooner?" said Curry, springing to his feet and grabbing up the towel tossed carelessly across the edge of tub, wrapping it about his waist as water sluiced from his naked shoulders.  He had barely climbed out when Heyes plunged into the still sudsy bath and sighed happily.  "Ain't you comin' to dinner?"
"You go on without me.  I'll join you after I drive the chill from my bones."
"Suit yourself."  The Kid quickly pulled on his clothes and hurried out the door.  The dining room was filling up at this hour, but he was able to get a corner table with a view of both the front of the hotel and the kitchen door.  No sooner had he sat down than the latter opened and a lovely, smiling young lady came to take his order.  He grinned up at her admiringly as she rattled off the daily specials.  "I'll have the pot roast and some extra potatoes, please, ma'am."
"Yes sir, Mr.?" she prompted blushingly, letting her deep green eyes linger on the handsome face for just a moment longer than was proper.
"Er, Jones, ma'am."
"You're new in town, aren't you, Mr. Jones?"  She closed her pad and dropped it into a pocket, but made no move towards placing the order.
"Yes, ma'am."
"Staying long?"
"No, ma'am.  Me and my partner are leavin' soon as the summit's cleared."
Disappointment blossomed across her face and she flounced away as Heyes entered the room and joined the Kid, pulling out a chair and saying, "I see you're making friends with the locals."
The Kid shrugged.  "She had that look in her eye.  You know the one that screams trouble.  Your bath didn't last long."
"Yeah, wasn't much point in lingering in cold water."
The waitress returned with the Kid's order and slipped it in front of him.
"I'll have what he's having," said Heyes, smiling up at her.  "Have you heard anything from the summit today?"
"Yes, it's an avalanche; a big one, twenty feet deep I hear.  Fellas say it'll be days before the tracks are cleared.  Guess you're stuck here like the rest of us until it is," she said grumpily.
Heyes watched her march away to take orders from another table near the front of the room.  "What's eating her?"
"Same thing that's eatin' me, we both want outta here."  Curry picked up his knife and fork and began tucking into his meal.
"Hey, it's better than being stuck on a train with a bunch of strangers and nowhere to go.  At least we're making money."
"That is the least of it.  I ain't been this cold in a long time and I don't like cuttin' ice."
"It could be worse.  Think about those Chinese folks.  They're living out in the dead of winter and scrounging for food."
Curry nodded his agreement, his mouth full.
Heyes' filled fork stopped just short of his mouth.  "Don't seem right the Chinese are treated the way they are.  They helped build this town from nothing."
"Folks around town keep sayin' as how the able-bodied townsfolk are all workin' the summit.  You'd think they'd be hirin' anyone willin' to work to fill in for 'em."
"You haven't been here long, have you?" asked an older man seated directly behind Heyes.  "Forgive me, but I couldn't help overhearing your conversation."  He stood and picked up his dinner plate.  "May I join you?"  Without waiting for an answer, he pulled out a vacant chair and made himself comfortable.  "I'm Wally Prescott."
Raised eyebrows silently assessed the newcomer before Heyes said, "Joshua Smith," and the Kid added, "Thaddeus Jones."
"So you're from around here, Wally?" asked Heyes.
"Yes, I've been here since the gold rush.  Made my strike on the Feather back in '52 and never left."
"That right?"  Curry looked at the man with new interest studying the cut of his well-tailored garments.  "Looks like you did well for yourself."
"I did.  Unfortunately, my three ex-wives benefited more heavily from my excellent fortune than I have.  I'm afraid they left me with only the clothes on my back and a small income from my remaining investments," Wally chuckled good-naturedly despite his sobering assessment, "but they each showed me a fine time while it lasted.  But, gentlemen, I didn't interrupt you to talk about myself.  You were discussing the plight of our former railroad and lumber workers."
"We were just saying Truckee doesn't seem too friendly a place if you're Chinese."
Wally appeared unoffended by Heyes' comment.  "Truckee's got a long and colorful history but there are folks who would rather pretend that the Chinese have no part in it."
"Why is that?" mumbled Curry around a forkful of potatoes.
"Human nature, I suppose."  Wally shook his head ruefully.  "The Chinese arrived when the gold rush began, but they've never really assimilated, instead living separately from the rest of us in their own Chinatown.  Despite working for our businesses, they don't frequent them.  They shop in their own stores and grow their own vegetables, raise their own livestock, and see only their Chinese doctors.  Why, they even have their own judges and lawyers enforcing their laws.  Makes folks nervous."
"So they kinda have their own country right here in Truckee?" questioned Heyes.
"That's right, and it doesn't sit well with most folk.  Still, white folks hire them on the cheap and they work hard doing the sorts of jobs you and I won't if we don't have to.  But things have changed in recent years.  When the rush petered out and things got tight, jobs got scarce.  Those low-paying wages started looking better and better all the time.  Regular folk were having a hard time feeding their families and they began noticing that the Chinese were still doing fine.  Prejudice began to grow stronger as times got rougher.  People fear what they don't understand and it all came to a head back in '75.  There were some mysterious fires in Chinatown that nearly took down our own downtown. Folks began to get skittish about them being so close to town and one thing led to another.  Chinese fella, a wood cutter by trade, was murdered out by Trout Creek in '76 and things went from bad to worse."
"What happened?"  Heyes was leaning forward, his dinner forgotten.
"An all-white jury acquitted the men who did it and Truckee became known as a violent place to be.  Wasn't long before the Chinese started getting pushed out of their jobs and Chinatown got burned to the ground."
"That sounds kinda harsh considerin' it was the killers that got off," grumbled Curry.
"Don't get me wrong, Thaddeus, I agree with you.  Live and let live I always say, but there are folks who take a harder line and they began forcing out the Chinese.  But they didn't want to go, so they rebuilt their town on the other side of the river and tried to settle in again, but some folks were having none of it.  They started themselves a Caucasian League and White Labor Club.  Now there aren't many business owners willing to hire the Chinese and the ones that do get boycotted.  Those Chinese who have jobs keep their heads down and their eyes closed.  The others have gone into hiding and depend on their friends and families to keep them fed.  It's a sad state of affairs and I'm ashamed of it, if I say so myself."
"We saw their camp up Coldstream," said Curry.  "Didn't look like a place to raise a family."
"There's nowhere else for them to go," said Wally.  "Some of them go back to China, some to the coast, but nobody wants them.  Haven't you heard of the anti-Chinese movement in California?"
"Yeah, we have."  Heyes then pointedly asked, "So what're you doing to help the Chinese who are still here?"
"Well, I…I" began Wally.
"Let me guess, you live and let live and you don't do nothin' at all."  Icy blues eyes narrowed in disgust.
"There's nothing I can do," snapped Wally, jumping to his feet, red-faced and angry, "not if I want to stay in Truckee in one piece.  Best you remember that."
"Not likely to forget," said Heyes, dismissively.  He waited until their uninvited guest had left before turning to his partner.  The Kid pushed his half-eaten plate away.  "I've lost my appetite."
oooOOOooo

_________________
Hannibal Heyes and Kid Curry, the two most successful outlaws in the history of the west. And in all the trains and banks they robbed, they never shot anyone.