Starring

Pete Duel and Ben Murphy as
Hannibal Heyes and Kid Curry
Co-Starring
Bradford Dillman as Reverend Spencer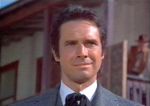 Ron Howard as Jack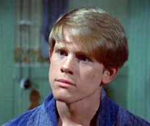 Jeffrey Jones as Bert Mulliner
Wyatt McClure as Harold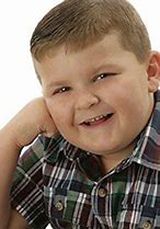 Glen Close as Mrs. Emily Watling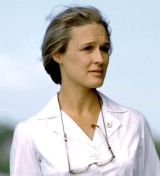 Hayley Mills as Alice
Juliet Mills as Mabel
John McGiver as Mayor Watling
Ramon Bieri as Sheriff George Harnsworth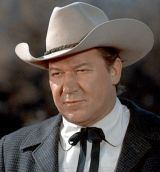 Meg Wylie as Miss Steggles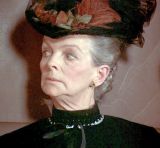 The Sure Thing
by Calico
PROLOGUE
TUESDAY 27TH JUNE
An establishing shot shows a bustling scene – large tents, sideshow booths, milling crowds, mostly men but a few respectably dressed women and family groups among them.  A fair few horses are being led by their reins.
Zooming in, we see two familiar figures emerge from one of the larger marquees obligingly signposted:  Refreshments; Whiskey, Beer, Finest Liquors.
Through the open flap comes the jingling music of a saloon pianola.  At a card strewn table, disgruntled-looking poker players watch our boys walk away.
A beaming Heyes, watched by an equally beaming Kid Curry, counts his winnings.
As they walk, the sounds of the pianola are gradually replaced by those of robust hymn singing.  The boys' gaze lifts from the slim bundle of notes in Heyes' hand.  They see another large tent where a revivalist meeting is taking place.  A placard outside urges:  Sinner – Repent!  Blue and brown eyes contemplate this for a moment, then hold a mute conversation.  In unison the ex-outlaws execute a ninety-degree heel turn and head away.  The Kid points at something in the distance.  Two smiles and the boys quicken their pace.
For a moment the camera lingers.  From the revivalist tent slips a youthful, freckle-faced figure.  Glancing, guiltily, over his shoulder, he trots in the same direction as Heyes and Curry.
---oooOOOooo---
A sign announces:  Yuma – Annual Horse Race.
The camera pans left to show Heyes and Curry, popcorn in hand, leaning on the rail bordering the runners' enclosure.  They assess first a lively paint, then a glossy bay, then a frisky grey.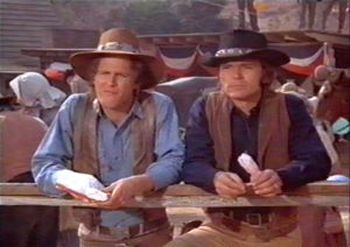 The Kid shoots his partner a questioning look.
An answering 'not sure' purse of the lips from Heyes.
Their attention drawn by movements behind, the ex-outlaws turn their heads.  A well-dressed young man is leading a handsome chestnut filly, her lines sleeker than those of the colts.
"If I were a gambling man – I'd put a bet on that one," says Heyes.
A trace of concern flickers across the blue eyes.  "Heyes, whaddya call that feelin' – when somethin' has happened before?"
"Y'mean, déjà vu?"  
"I'm gettin' it," grunts the Kid.  
---oooOOOooo---

A MINUTE LATER
Heyes and Curry walk up to the well-dressed fella.  They touch their hats.  The gesture is returned, with a friendly smile.
Freckles, who we saw slip from the prayer meeting, is in the near background also looking at the filly.  His expression suggests that, like our boys, he admires the horse.
"Good-looking filly you have there," says Heyes.  "She yours?"
"Myrtle here?"  The owner pats a gleaming flank, affectionately.  "She sure is."
"She's a thoroughbred, isn't she?"
"Yup.  She's got a better pedigree than me.  Not that I reckon that's saying much."  
Heyes takes another look at Myrtle.  "I think we may place a bet on her."
The owner laughs.  "So would I if it were a beauty contest."  
The two ex-outlaws exchange a surprised glance.
"You do know this race is over three furlongs?" checks Heyes.
"Sure.  But…" He is interrupted by a nicker.  "Easy girl.  She's…"
He breaks off as a booming voice both enhanced and blurred by a megaphone announces; "Any remaining runners and riders to the enclosure…"
"Just friendly advice," smiles Myrtle's owner as he leads the filly away.  "I'd save your money."
Both boys look contemplative.  Then…
"$100 to win?" says Heyes.
The Kid's hands go to his hips.  "A hundred?  Heyes!  That's all we got in the world.  And – didn't you hear the man…?"
"It's like you said, Kid – déjà vu.  Remember last time…"
"Yeah, I ended up in jail."
"We won big 'cos a thoroughbred is bound to win over three furlongs."
"Last time Rolf Hanley didn't warn us not to waste our money."  The Kid nods in Myrtle's direction.  "Why'd he do that?"
Heyes' brow furrows.  "He must want to keep the starting price down.  So, he wins bigger himself."
"Heyes, not everyone is as larcenous as you are."
"No, some folks got it real bad."
Kid Curry looks over to where the genial horse owner is laughing at something a race official is saying to him.  "Yeah, he looks a real sharpie!"
"We got took in by Crazy Lorraine's butter wouldn't melt act, Kid."
Kid Curry opens his mouth to protest, evidently decides it's not worth it.  He takes another look at the filly's owner.  
"Bet twenty, Heyes.  Okay?"
"Okay."  Heyes hastens off in the direction of a betting booth.

---oooOOOooo---

A BETTING BOOTH – A MINUTE LATER
NO DIALOGUE – JAUNTY MUSIC ONLY
Heyes waits his turn.  The customer in front moves aside, it is – Freckles.  He gives Heyes a grin and, holding up his hand, crosses his fingers.  Heyes returns the smile in friendly fashion.
---oooOOOooo---

TEN MINUTES LATER
The horse race is in progress.  
The colts, led by the frisky grey, gallop along the uneven track, kicking up dust and skirting scrubby bushes.  Myrtle is trailing, but her stride is steady.
---oooOOOooo---
Our boys' faces are full of hope as they watch.  
---oooOOOooo---
One by one the tiring colts are overtaken by Myrtle.  Only the grey to go.
---oooOOOooo---
Ex-outlaw fists clench in support.  Encouraging 'come ons' emerge between clenched teeth.

---oooOOOooo---
Myrtle passes the grey in a seemingly effortless fashion.
---oooOOOooo---
Groans and cusses from many of the watching crowd.  By contrast, grins of triumph wreath the faces of Heyes and Curry.
--
-oooOOOooo---
Once out in front Myrtle slackens her pace and looks over her shoulder.  She tosses her silky mane.  Her gallop is now more of a canter.  Indeed, as she continues to glance coyly back, her highly raised knees and daintily placed hooves give the faint impression of a dressage display.
---oooOOOooo---
The triumphant grins freeze.

---oooOOOooo---

To the resounding cheers of the crowd – with two, no make that three, obvious exceptions – first the grey, then the bay, then several other colts overtake the frisking Myrtle.  Finding herself, once again, with something to chase, she abandons her dance career and regains her pace, but… Too late.  She finishes an inglorious nowhere.
---oooOOOooo---
Heyes and Curry exchange a glance.  Ruefully Heyes produces a betting slip from his vest, tears it and lets the pieces fall to the ground.  In the mid-distance we see an echoing action from Freckles.
A slight nod from the Kid indicates that they are being approached.  Heyes turns.  Sure enough, a cheerful owner is striding towards them, leading Myrtle.
"You can see why I told you not to bet on her, huh?"
"We sure can," says the Kid.  He indicates his glum-faced partner.  "Joshua was just sayin' how grateful he was for the warnin'."
"She's got the pace alright, but no race sense yet.  Her mother was just the same – no use at all until she was about four years old – then, a real winner.  That's why I brought Myrtle with me.  A small race like this is perfect.  She needs the experience."  
"Uh huh."  The glance Heyes throws at Myrtle as she is led away is distinctly – and unjustifiably – frosty.  The ex-outlaws stroll away from the race course back towards the tents.
"Guess we knew horse races are always a gamble," says Curry.
Nothing from Heyes.
"Leastways, we only lost $20."  
Still nothing from Heyes.
"You did only wager twenty?"  
Heyes' Adam's apple bobs.  
"You bet the full hundred, didn't ya?"
"No!  No, no.  I bet twenty.  Like we agreed."  He meets the Kid's eyes.  "I mighta made what you'd call a calculated decision on what I bet that twenty on.  Since any wager has two outcomes – and by backing one outcome, you are – by default – betting the other outcome won't come to pass…"
Kid Curry's face is a picture of incredulity in the face of this convoluted eloquence.
"Think of it like a coin toss, Kid.  If you call heads – you're also, by the laws of probability, calling 'not tails'.  So, by betting twenty on Myrtle either winning or not winning the race – I'd also be betting eighty outta our $100 on her not winning – or winning.  The flipside – d'you see?"
Curry takes a moment to work it out.  "You bet $20 on the flipside – that Myrtle'd lose."
"Uh huh."
"So – you lost us $80."
More reluctantly, "Uh huh."
"And – $20 is gonna keep us in beds and hot meals for less'n a week, so, come Saturday we'll be breakin' our backs fixin' fences or herdin' cattle?"
Acknowledging, semi-apologetic shrug from Heyes.
The camera pulls back.  Their walk and talk discussing the follies of fillies has brought Heyes and Curry once again to the revivalist tent.  
"You two!"
Heyes and Curry stiffen at hearing a call of recognition.
"Thaddeus!  Joshua!"
They partially relax at hearing their aliases.  Turning they recognise…
"Reverend Spencer!"
Warm handshakes are exchanged.
"I'm so glad to see you," says Spencer.  "Especially – here."
The boys glance back at the now distant race course and look confused.  
Spencer nods towards the sign outside the revivalist tent.  "Forgive me for saying so, Joshua, but – it seemed the words spoke to you?"  
Heyes reads the large letters advising sinners to repent.  His eyes continue to the smaller – though more specific – warning below:  Gambler beware!  Dishonest money dwindles away, but he who gathers money little by little makes it grow.
Once more brown eyes meet blue in a mute conversation.  
"I guess we can't argue the dwindlin'," says Kid Curry.
The ex-outlaws study Spencer.  The same kindly, intelligent face, but…  New well-tailored suit.  Crisp white linen.  Fresh barber shave and haircut.  Silver watch chain.
A thoughtful glance is exchanged.
"Our problem with money – comes with the gathering in," says Heyes.
"And – then there's the dwindlin'," adds Kid.  
Another mutual glance.  Heyes clears his throat.  "Looks like you're doing well, Spencer."
"I have been fortunate indeed since we last met.  But, I'm sorry to hear the same is not true for you."  Spencer looks sympathetic.  "Are you not working?"
"We're lookin' for work," says the Kid.  
"Do you know anyone hiring here in Yuma?" asks Heyes.
"Somethin' not too hard on the back."
"Oh, I don't live here."  Spencer nods towards the tent.  "I was just here for the meeting.  One of my old college friends was preaching.  I leave today – back to my church, Heyes."
A pause.  Two ex-outlaw faces freeze momentarily at the name.  Heyes, eyes innocently wide, asks, "Heyes?"
"Hays," repeats Spencer.  "That's where I was posted."
"Hays – Kansas?" checks the Kid.  
"That's right."  Then, "If you wanted to travel back with me several members of my congregation are hiring.  I'd be pleased to speak for you.  After all, I can never repay what I owe you, Thaddeus.
"Ranch work?" asks Heyes, unenthusiastically.
"Some, sure.  Or – there's plenty of construction jobs.  Have you ever done any carpentry?"
"Ever done any...?"  Heyes' arm goes around Spencer's shoulder.  "Did you ever see the meeting hall in Wickenburg?"
Spencer shakes his head.
"We built that."  Heyes receives a look from the Kid.  "We had help," he acknowledges.
Spencer's expression reacts to something behind the boys.  "Jack!"  
Heyes and Curry turn.  Jack is – Freckles.  An edge of panic flickers across a youthful face.
"Jack, I want you to meet Joshua Smith and Thaddeus Jones.  This is Jack Watling.  Jack, you've heard me talk about these two gentlemen."
"Sure have."  Jack shakes hands.  His expression as he meets Heyes' eyes is still wary.
"I lost sight of you in the crowd," Spencer says.  "What did you think of the sermon?"
"I – er – it moved me," says Jack.  He throws a beseeching glance at Heyes.
Heyes dimples and bends his head to hide a smile.  
The foursome begin to stroll away, their backs toward us.  We continue to hear the conversation in voice over.
"Jack's my future brother-in-law."  Spencer's tone is sheepish.
"You're getting married?" says Heyes.
"Congratulations," from Curry.  
"He's marrying my big sister, Mabel.  About time someone did.  Most fellas get scared off what with our Pa being the mayor and all."
"You're engaged to the mayor's daughter?  You haven't got any other sisters have you, Jack?  'Cos Thaddeus here kinda has a weakness in that direction…"
---oooOOOooo---

WEDNESDAY 28TH JUNE
HAYS
NO AUDIBLE DIALOGUE – ACTION WITH JAUNTY BACKGROUND MUSIC ONLY
Wide angle establishing shot of a prosperous town.
Medium zoom to a building under construction.
Closer zoom on the front of the timber skeleton building to focus in on Spencer earnestly addressing a plump, bowler-hatted older gentleman, whose thumbs are hooked into his vest pocket.  Genially, he regards the two ex-outlaws, who, hats in hand and the picture of respectful reliability stand before him.  Nodding as Spencer continues to talk, Bowler-Hat shakes hands first with Heyes, then Curry.
---oooOOOooo---
In a shot reminiscent of Wickenburg, Heyes and Curry sit astride timber beams hammering.  Curry mistimes a stroke.  He sucks his thumb.  
---oooOOOooo---
The plump gentleman checks his pocket watch.  Unhooking the baton next to a large metal triangle, he sets it to jangling.  The camera pans up to our boys, who are now delightfully sweaty.  Their faces light up.  Laying their hammers aside, they descend.  
Heyes and Curry take a moment to stretch out their backs.  Then, Kid Curry points at a saloon.  Smiles are exchanged.  Hats are reset on a dark and a blond head; they stride in the direction of refreshment.  
---oooOOOooo---

THE SALOON.  FADE DOWN OF MUSIC.  FADE UP OF DIALOGUE.
Heyes and Curry enter.  
"…Think of the thirst we've worked up."
"I don't hafta work to do that."  Kid Curry signals the barkeep.  "Two beers, please."
"Strictly speakin', we don't serve beer."
Heyes checks over his shoulder that they walked in through the traditional swing doors.  He indicates the glass behind the barkeep.  "Says saloon on your mirror."
"Sure does.  But we ain't served beer for nigh on a year.  This is Kansas."
The boys blink.  Then, Heyes snaps his fingers.  "You voted to ban liquor."
"You didn't think to recall that before we came?" says the Kid.  He nods at a group playing cards.  "Seems those fellas have beer."
"I can serve you what they have…"  The barkeep works a tap.
Two foaming glasses are placed before two thirsty ex-outlaws.  
Kid Curry takes a cautious sip.  "Beer."
"Nope.  Beer's illegal.  This here is cereal malt beverage.  Delicious, nutritious, under four percent alcohol and …"  A grin under the handle-bar moustache.  "Law-abidin'."
Both boys take a pull on their – beverage.  Heyes moves over to watch the card players.  Curry stays at the bar.
"What do we hafta ask for to get law-abidin' whiskey?" asks the Kid, leaning in and speaking low.  
The barkeep leans in too.  "Are you two the fellas the reverend brought to town?"
"Uh huh."
"The one's he reckons brought him back to the ministry?"
A deprecating shrug.
"The one's likely to be spending time with the mayor – seein' as how the reverend is marryin' into the family?"
"Some, I guess," admits the Kid.  
"The mayor's wife being real set a'gin liquor – and liable to set sheriff on anyone servin' – let's call it, rye extract – private like, in a back room?"
Curry mulls for a moment.  "Beer's fine."  He walks over to join Heyes.
"I reckon I won't hafta listen to you grousing every time you hit your thumb much longer, Kid," murmurs Heyes.  "These fellas stay on any pair, they draw on inside straights and looks like they sweat when they bluff.  I should be able to win us room, board – and a stake to move on."
The boys' attention is caught by a figure entering the swing doors.  Young Jack Watling gives them a friendly wave then goes to the bar.
The ex-outlaws watch the poker for a few more moments.  Law-abiding beverage is sipped, thoughtfully.
"Poker will hafta wait, Heyes.  Y'know we're invited to dinner tonight."
"I guess."  Heyes' eyes rest on Player One who checks his cards, then mops his brow with a spotted bandana.
"Spencer wants us to meet Mabel.  We'd better go freshen up."
"I guess."  Player Two fans his hand.  His left eye twitches like a rabbit sniffing carrots.
"These fellas'll still be here tomorrow, Heyes."
"Hmm?  Maybe."
"Hey."  The Kid is addressing Player Three.  "Do you fellas play most nights?"
"'Cept Sunday, sure."
"Y'see.  Not maybe.  C'mon."
With a final yearning glance from Heyes, the two ex-outlaws turn away from the poker table.
Jack is deep in quiet conversation with the barkeep, but, at the approach of his new friends he turns and greets them.
---oooOOOooo---

THE STREET
Heyes and Curry are heading down the boardwalk with Jack.
"I want to thank you, Joshua, for not giving me away the other day."
"Not a problem," says Heyes.
"Y'see, if Spencer knew I'd been betting, he wouldn't snitch, but… If my folks asked it might be kind of awkward for him.  What with him being a minister and not liking to…"  Jack pauses.
"Tell lies?" suggests Heyes.  
"That's it.  Though – Ma found out anyhow.  'Cos she asked me where that money had gone and I'm not too good at…"  Another pause.
"Telling lies?  It gets easier."  
Curry throws his partner a reproving look.
The threesome pass the school house and its neighbour, the church.  In the middle distance some older boys are hanging bunting.  A makeshift platform is being hammered.
"Getting' ready for the Fourth, huh?" says Curry.
"Yup.  There'll be games, coconut shies, tea in a tent.  Lemonade for the children.  Pie making contests.  And – sports.  If you were interested, Joshua…"  Jack leans in.  "I reckon we could win some money.  If you were interested."
From the expression on his face, Heyes is not UNinterested.  
"You know Bert Mulliner?"  
"No."
"Sure, you do.  We were just talking to him."
Blank looks.  Then…
"The barkeep at the saloon?" hazards Curry.
"He's running a book on it…"
"It…?"
"The sports.  The competitions.  Y'know.  He's accommodating ante-post* odds or starting price, according to preference..."  
The Kid looks from Jack, still talking odds, to his thoughtfully nodding partner.  He rolls his eyes.
"And…"  Jack leans in to Heyes, speaking lower.  "I might have some inside information on the girls' under-sixteen sack race…OW!"  Jack claps a hand to his cheek.
"Gotcha!" pipes a new voice.
"OW!"  "@!!@!"  In quick succession it is the Kid and Heyes' turn to be stung.
"Got you two, too!"  
"Harold!" yells Jack.  "Stop it – or I'll tan you!"
A shorter and distinctly plumper version of Jack emerges from behind a water-butt.  A pea-shooter is clutched in a grubby hand.  
"This is my cousin, Harold.  He came over from Sweetwater last week.  He's staying with us while his parents visit New York.  Harold, this is Mr. Smith and Mr. Jones."
"Smith an' Jones?  Yeah, right."
The ex-outlaws exchange a glance.  
Harold looks at Heyes; "You cussed."  Admiringly.  "You cussed good!"  Pause.  "Gimme a dime an' I won't tell."
"Nice try," says Heyes.  "Who you gonna tell?"
Harold sticks out his tongue.
"If the wind changes – you'll stick like that," warns Heyes.
"Is that what happened to you?"
Heyes blinks.  The Kid hides a smile.
Heyes, Curry, Jack – and now Harold continue along the boardwalk, walking away from the camera.  
"Are you Spencer's friends?  The ones comin' to dinner?"
"Uh huh."
"Aunt Emily says I gotta mind my manners with you."
"You might want to work on that."
"Nah.  I reckon you don't count as visitors till we reach home."
"It's a theory," admits Heyes.  
"I'm real glad you're coming…"  The two ex-outlaws exchange a mildly gratified glance.  "'Cos Aunt Em's serving cake AND pie AND ice-cream."
"You're hungry, huh?" asks Kid Curry, eyeing Harold's girth.
---oooOOOooo---

EVENING
An establishing shot shows a fine brick built house on a quiet street.  The windows spill lamplight into the dusk of the evening.
The suited figures of Spencer, Heyes and Kid Curry pass through the garden gates, walk up to the door and knock.
---oooOOOooo----

THE WATLINGS DRAWING ROOM
A spruced up Heyes sits across from Jack over a chequers board.  
The Kid, equally spruced, sits with Spencer and two pretty gals.  Both share Jack's strawberry blond hair and freckles.  One has her hair up and skirts to the floor.  She sits close next to Spencer and their fingers are touching.
The other young lady still wears her hair down and her skirts skim the tops of her trim boots.  She looks eighteen or nineteen years old.  She smiles, shyly, at Kid Curry, then drops her lashes.  
Harold sits by himself buried in a dime novel:  Pipped at the Post.  Its front-piece depicts a racehorse ridden by a windswept and slightly underdressed girl who appears to be flinging aside a snake.  Occasionally he cracks and consumes a nut from a cut-glass bowl.
The very picture of a respectable paterfamilias, gold watch chain stretched across an embroidered vest, stands before the hearth.  
However, all eyes – except Harold's – are on a tall, handsome woman in her late forties.  On her respectably covered bosom rests a gleaming gold cross.  Her expression is stern as she faces the man standing at the fireplace.  
"Well?  I'm waiting, John."
"Mother, please," pleads the younger of the two girls.
"I simply want an answer from your father, Alice."
"Just a run of bad luck, my dear.  I had three kings…"  Mayor Watling trails off under the basilisk stare of his wife.
"I bitterly regret that I have been so kind and forgiving in the past.  Is there any wonder that our son has turned to gambling when this is the example you set him?"
Jack hangs his head.
"Even giving the slip to dear Spencer, to whose care I had entrusted him…"
Spencer hangs his head.
"…To mingle with the disreputable crowd at some low horse race."
The eyes of two members of that disreputable crowd meet for a fraction of a second.  They do NOT hang their heads.
"We have guests, Mother," pleads the older girl.
"I am sorry if I am embarrassing the guests, Mabel, but what I have to say is important.  There will be no more betting of any sort in this family – nor in this house."
"Emily," protests her husband.  "A man has a right…"
"No."
"But…"
"No."
The mayor's shoulders slump in submission.
Mrs. Watling walks over to the chequer board.  She picks up two quarters from it, and looks, expectantly at Heyes.  Sheepishly, he holds out his hand.  She clicks the coins back into the waiting palm.
"I have said all I intend to say on the matter."  A pause.  The stern expression softens into a welcoming smile.  "Mr. Smith, Mr. Jones – dear Spencer has told us so much about you.  I am delighted to welcome you to our home.  We are just waiting for my brother to join us – then we can start dinner."
"You'll like Uncle George," says Spencer.
"Look forward to meeting him," says the Kid.
There is the sound of footsteps in the hallway.  The door opens.
"Hey, Uncle George."
The two ex-outlaws rise, politely, to their feet to greet the new arrival.  Then, they freeze.
Uncle George wears a sheriff's badge.
"This is Thaddeus Jones," introduces Spencer.  "And Joshua Smith."
"Smith and Jones, huh?"
"I said that," calls Harold from his chair.
"Mabel, Alice," says Mrs. Watling, "please take our guests through to the dining room.  George, John – I want a word with you both about a municipal matter."
As Jack leaves the room he takes the dime novel from Harold, checks the cover, clips Harold lightly around the head with it and puts it in his own pocket.
---oooOOOooo---

THE DINING ROOM
Fine china and silver cutlery glint in candlelight.
"What is your opinion of the temperance movement, Mr. Smith?" says Mrs. Watling.  "I myself am a great admirer of Mrs. Carrie A. Nation."
"There's no arguing liquored up men can cause a heap of trouble," says Heyes.
"Sure can," agrees the sheriff.
"To themselves as much as to others," says Spencer.  "I have cause to know that."
"Spencer does not quite share my opinion on the subject," says Mrs. Watling.  "We have agreed to differ."
"I think, so far as drink goes, self-restraint is preferable to restraint by the law.  But – given my weakness – I asked my church for a posting to Kansas.  I wanted to remove myself from as much temptation as possible.  And the way it's worked out…"  He takes Mabel's hand and they gaze at each other fondly.  "…I have good reason to be grateful to Mrs. Nation."
Both Heyes and Curry smile at their old friend.  Kid Curry raises his glass of – it looks like lemonade – in a mute toast.
A short pause.
"I'm so looking forward to the Fourth of July, Thaddeus," says Alice.
"Me too," says Mabel.  "I love all those races.  My favourite is the couples' animal potato race."
"The what?"  Kid Curry is clearly enjoying both the food and the company of Mabel and Alice.
"The entrants get into couples…"
"Boy, girl," clarifies Mabel.  To Spencer, "We could enter.  You will, won't you?"
"Er…"
"Each couple is given an animal noise to make and a potato…" says Alice.
"The girl stands in a fixed spot holding the potato and making the animal noise…"
"Grunting like a pig or mewing like a cat…"
"Mabel already grunts like a pig when she laughs," comments Harold through a mouthful of mashed potato.  "Like this.  Hoooooiiiink.  Hooooiiiink."
"Harold!" reproves his aunt.
"I love the way you snort when you laugh," says Spencer.
"I don't snor…  Anyhow.  The man has a bag over his head and has to try and find his partner.  You will enter with me, won't you, darling?"
"Er…"
"Spencer may think it wouldn't be dignified for a Minister of the Gospel," says Mrs. Watling.
"Oh, mother.  He's not so stuffy even though he is a minister," says Alice.  "Are you?"
"Er…"
"I've forgotten what the potato is for," says Mabel.
"Thaddeus – will you enter with me?" asks Alice.  "Jack won't.  He wants to ask Mary Whittaker."
"Hey!" protests a blushing older brother.
"Sounds kinda complicated," says Kid Curry.  
"Sounds dumb," says Harold.
"Harold!"
Heyes, who has listened attentively to the two girls looks thoughtful.  "It beats me how you'd calculate the odds on a race like that."
He receives a dark look from Mrs. Watling and a contemplative one from the sheriff.  Clearing his throat, Heyes reapplies himself to his dinner.
---oooOOOooo---

THURSDAY 29TH JUNE
A SUCCESSION OF FIVE SECOND SCENES SHOW THE PROGRESS OF THE DAY
MUSIC ONLY
Heyes and Curry sit astride timber beams hammering.
---oooOOOooo---
The boss sets the triangle jangling.
---oooOOOooo---
Our boys smile, descend and stride towards the saloon.
---oooOOOooo---
They collect their cereal malt beverage from Bert Mulliner, blow the froth from it and turn to the poker table.  The same five fellas as yesterday are deep in a game.
A mute conversation.  A wide smile dimples Heyes' cheeks.
---oooOOOooo---

THE POKER TABLE
"Room for two more, fellas?"
"Sure."  One booted foot pushes a chair in Heyes' direction.  A second provides the same service for Kid Curry.
The boys take their seats.
"Has anyone declared if straights are being played?" asks Heyes.
"Huh?"
"Ain't never heard that."
"We always play straights, don't we, Hank?"
"Sure.  We play straights."
"I reckon, with you sitting right of Hank, it's your deal, Mr. – er??"
"Smith – but it's just Joshua.  And this is my partner, Thaddeus."
"Good to meet you boys.  Reckon it's your deal, Joshua.  If you'd just ante up first."
"Surely.  What's the buy in?"
"Two."
"Only two dollars?  Perfect.  Nice and friendly – just the way me and Thaddeus like it."
A beaming Heyes is unfolding two rather crumpled dollar bills when a large, hairy hand stops him.
"Nah.  Not two dollars.  Two matches."
"Matches?"  Heyes blinks first at Hairy Hand then at the pot.  For the first time he realises it is different from yesterday.  No money just – matches.
"Ain't you heard?  As of this morning gamblin' is banned in Hays."
"Mayor Watling called a council – he'd found a bye-law already on the books.  Sheriff posted it."
"No poker?" Heyes' plaintive expression would wring pity from Herod.
"Sure, we can still play poker."
"Just not for money."
"Don't bother us much."
"Not as if any of us ever win or lose much anyhow."
"We're lousy players all of us."
"Mostly play for the company."
"We're with you, Joshua – keep it friendly."
Heyes faces five genial smiles.  He tries to smile back.  One dimpled cheek twitches.  His partner throws him a sympathising look.
A shadow falls over the table.  Two ex-outlaws turn to see the sheriff.  Or, as we now know him – Uncle George.
"No gambling for money going on here, I hope?"
"Sure isn't, Sheriff."
"Just matches."
"All legal."
"Good.  Mr. Smith, Mr. Jones – can I have a word?  Outside?"
Heyes still looks stunned.  It is Kid Curry who answers, "Sure."  He collects four matches from the pot.  "I guess we're cashing in early, fellas."
He stands and, after a moment, so does Heyes.  The sheriff pauses at the bar to speak to Mulliner.  "I see you got the message on sticking to the letter of the bye-law, Bert."
"Sure did.  No gambling for money on the premises.  Y'know me, Sheriff, I like to keep things real law-abiding.  Course – it don't help when the laws keep shifting like sand."
"That'd be no gambling on or OFF the premises," the sheriff corrects.  "Nowhere inside the town limits.  Got it?"
A beat.  "Got it."
"I'll be watching."
"Wouldn't expect anything less, Sheriff.  And…"  The saloon keeper's moustache twitches.  "You'll be sure to give your sister…"  He spits expressively on the glass he is polishing.  "My very best compliments."
The sheriff stares, coolly, at the barkeep for a moment.  Mulliner's eyes drop.
Followed by the two ex-outlaws the lawman heads out of the batwing doors.
---oooOOOooo---

THE STREET
The sheriff, hands on hips, looks both the Kid and a visibly distracted Heyes up and down.
Kid Curry shifts his feet.  "You asked for a word, Sheriff.  How can we help?"
"Seems Spencer thinks real highly of you two.  Not that he ever expected to see you here in Hays.  Smith and Jones, huh?"
"There's lots of fellas called Smith and Jones," says Curry.  "We just happen to be two of them."
"Spencer told Mabel a lot about you.  Both of 'em told me a lot, too.  Like – you're real good with that tied down gun of yours.  Mabel tells me Spencer's never seen anyone as fast."  A pause.  "Having a fella who is that fast in his town might make a sheriff nervous."
"I got lucky – that's all."
"Spencer also told Mabel how hard you tried NOT to use your gun.  He seems to think it brought him back to his senses watching you turn the other cheek.  Naturally, that makes me less nervous."  A pause.  "You'll be trying real hard NOT to use your gun in my town?"
A nod.
"You and him won't be causing any trouble at all?"
"That's the plan," agrees Curry.
"Good.  Oh!  One other thing.  My niece, Alice – you met her last night."
Kid Curry blinks.
"She seemed to like you.  You know she's too young for you?  If you…"
The Kid cuts him short.  "Couldn't agree more."  
"And – you're too…"
"I'm too everything for her.  Got it."
"No offense meant."
"None taken.  If I had a niece pretty as her…  Couldn't agree more."
The sheriff turns to leave, but jerks a thumb at Heyes.  "I don't reckon I can rely on everything Spencer told me anyhow.  He told me HE was the one did most of the talking."
Off he strides.  Kid Curry watches him go.
"He's gonna be watching us, Heyes.  Not that I blame him."
Nothing.
"Heyes.  It's only a card game.  Get over it."
"Only a…  It's poker."
"You got a gamblin' problem, d'you know that?"
"I got one now!"
Brown eyes turn to the preparations for the Fourth of July.  They narrow, thoughtfully.
---oooOOOooo---

EVENING
The camera pans across the front of the Watling House.  Through the drawing room window, we see Mrs. Watling talking hard at Mayor Watling
A further pan takes us around the side of the house and to the stables.
A shadowy, youthful figure slips inside.
---oooOOOooo---

INSIDE THE STABLES
The stable is lit by an oil lamp.  Heyes and Curry are seated on hay bales as Jack enters.  He bars the door behind himself.
"Have you got the race card?" Jack asks.
Heyes produces a list from his vest pocket.
"First off, the girls under 12 egg and spoon race," Heyes reads.  "Any thoughts?"
"Last year's winner Sarah Mills is the favourite – she carries a beautiful egg."
A sound outside attracts their attention.  Footsteps.  Heyes covers the lamp with a bucket.  He touches a slim finger to his lips.  Silence.
"Jack," hisses a feminine voice.  The door rattles.  "Jack!"
Heyes uncovers the lamp and admits a furtive Alice and Mabel.
"I thought you were Mother," says Jack.
"No, she's got Pa shut up with her in the study."  Alice looks eagerly at Curry, "Are you forming a syndicate?"
"No!" from Heyes.
"No!" from Jack, in unison.
"Can we join?" asks Alice.  
"Please," adds Mabel.
The Kid and Heyes are faced with two dazzling smiles, and four pleading blue eyes.
"No problem," says Curry.
"We both have money left from our dress allowances," says Mabel.
She and Alice produce two ten-dollar bills and a crumpled five from their pockets.
"Take a seat," says Heyes.
"You won't tell Spencer?"  Mabel looks sheepish.  "Not unless he asks precisely the right question?  It's not that he'd mind so much himself – not just a bit of fun on the Fourth of July races – but he'd not like having to keep it secret from Mother."
"No problem," repeats the Kid.
"We were just going through the card," says Heyes.  "Girls' under sixteen sack race…"
"Now, Mabel knows something about this."  Jack turns to his older sister.
"It's a shoe-in for Elsie Penworthy to win.  Her mother owns the dress store.  I was buying some lace to trim my…  Well, I was buying lace – and, Elsie told me she'd won the sack race two years running back in Osbourne County."
"Mrs. Penworthy only moved here a couple of months ago," puts in Alice.  "So, no one has seen Elsie race."
"Risk five dollars each way?" asks Jack.
"I think so," agrees Heyes.  He reads on.  "The bonnet trimming contest.  "Nah.  Too risky. Jam making?"
A pause.  Two ex-outlaws wait for the local knowledge.
"Mrs. Hartley is bound to win," says Alice.  "But, everyone knows that."
"Greased pig contest for boys over fifteen?"
---oooOOOooo---

FRIDAY 30TH JUNE
A QUIET SPOT – JUST OUTSIDE TOWN
Curry sets cans on a rail.  Heyes watches.  The Kid walks back to his partner, faces the rail.  His Colt leaps into his hand.  He fires, fanning the hammer.  Six cans hit the dirt.
"D'you really need to do that?" asks Heyes.
"Y'want me to miss?"
"Didn't you hear the sheriff tell you he didn't want to see you using that gun?"
The cans are reset.
"I've come out here so he won't see."
A repeat of the six for six display.
"You want someone else telling him how good you are with that thing?"
"Who someone else?  We're two miles outta town."
The six much abused cans are punished once more.
"WOW!!"  There is applause.  Both ex-outlaws turn.
"Maybe that someone else," says Heyes.
He receives the look.
Jack runs up to them.  "I've never seen anyone that fast!  And accurate too."
"Just lucky," says Heyes.  "Most days he can't hit a barn door."
"I've been looking for you everywhere.  I've something to tell you about the Sunday school boys' two hundred yards dash.  I know who'll win.  He's right under our noses."
A pause for effect.
A 'go on' expression from Heyes.
"Harold."
"Harold?"  Kid Curry is unconvinced.  "Is he even in Sunday school?"
"Mother didn't give him much choice.  Besides, once he heard about the Sunday school picnic…"
"I don't see it," says Heyes.  "He's practically circular."
Jack grins.  "He's a flyer.  I was chasing him this morning – wanting to give him a clip 'round the head…"
Questioning look.
"He'd made a remark about me and Miss Whittaker…"
"What'd he say?"
"He said…  That don't matter.  The point is – he outran me by yards."
Heyes and Curry both check out Jack – specifically the length of his legs.  A mute conversation.
"He's a visitor," say Jack.  "No one except us will know."
"We are sure, are we?" asks Heyes.  "It wasn't some kinda fluke?"
---oooOOOooo---

LATER – BACK IN TOWN
Curry and Heyes lean on a hitching rail watching Jack stroll with a pretty young girl in the middle distance.
Jack claps a hand to his neck.  He looks around angrily.  The girl claps a hand to her – well, her bustle area.
A plump figure emerges from behind a water butt and thumbs his nose.
"Harold!" yells Jack.
"That sounds like the off," grins Heyes.
They watch Harold scamper away, short plump legs working like pistons, out-pacing Jack easily despite the variance in length of limb.
The boys exchange a smile.
In the distance, Jack gives up the chase.  He turns, scans for his friends, and gives a cheery thumbs up.
---oooOOOooo---

THE SALOON
The place is close to empty.  Heyes approaches the bar.  He checks no one is listening and leans in to Bert Mulliner.
"The Sunday school boys' two hundred yards dash…"
"Uh huh?"  Mulliner produces a book from under the counter.
"I'd like to place a bet on Harold Harnsworth."
"Harold…?  Oh, the one staying with the Watlings?  He's kinda a plump one, ain't he?"
"I guess you could say he likes his food, yeah."
Mulliner flicks a page of his book and runs a finger down a column.
"The current odds are 18 to 1."
"Twenty dollars to win."  The money is handed over.  A note is made.  Casually Heyes adds, "Ante post."
Bert Mulliner looks up sharply.  "Ante post?  Do you know something?"
"Know something?"  Heyes adopts an expression of wide-eyed innocence.  "No.  I just like the name.  It has kinda an alliterative ring to it.  Harold Harnsworth. Harrrrrroooold Har…"
"Alright, keep it down." Mulliner completes a double entry note and, after a cautious glance over to the saloon doors, hands Heyes a betting slip.
---oooOOOooo---

LATER
A white-aproned Bert Mulliner is sweeping the boardwalk in front of his establishment.  He claps a hand to his neck as if stung.  He looks around.  There is a sharp crack at his feet.  For a moment he dances as firecrackers explode about his boots and peas sting his neck.  Angry eyes search for…
"You!"
Laughing, Harold appears from hiding and takes to his heels with Mulliner in hot pursuit.  Harold outdistances him and races around the street corner out of sight.
Panting, Mulliner gives up the chase and turns back to the saloon.  Coming in the opposite direction he sees…
Heyes and Curry have witnessed the whole thing.  Mulliner glowers back over his shoulder at Harold's direction of travel.  He meets Heyes' bland, innocent smile.  His moustache twitches.  His hands go to his hips.
---oooOOOooo---

SATURDAY 1st JULY
THE STABLE
Kid Curry is cleaning his gun.  Heyes and Jack are in conversation.
"I don't see why you're so worried, Jack.  I got us on at ante post odds for this very reason.  So, we wouldn't lose if news of Harold's speed got round.  It don't matter what the starting price is – we still get odds of 18 to 1."
"It affects us if he doesn't start at all.  Suppose Mulliner tries to nobble him before the race begins."
"Nobble?" checks Kid Curry.  
"Fix him someway so he don't race."  Darkly, "There's lots of ways of nobbling favourites.  In 'Pipped at the Post' the evil Jake Maleverer outs Bonny Bess by bribing the livery-hand to put a rattlesnake in her stall."
Heyes purses his lips in a 'not sure' expression.
"I know it seems unlikely," admits Jack.  "But – there are snakes up by Big Creek."  Reluctantly, "I guess I could stand guard outside Harold's room.  Thaddeus d'you fancy guarding outside?"
The expression on Curry's face says it all.  Specifically, it says 'nope'.
"You don't think Harold is likely to be bitten?" asks Heyes.
"From the look of Harold, it'd be the snake I'd worry about."

---oooOOOooo—

SOMEWHERE BY BIG CREEK
Bert Mulliner is carrying a long pole with a loop on the end and a small empty canvas bag.  His eyes search the ground, the end of his pole poking at the undergrowth.
A grin raises the bushy moustache.  He has found something.  He turns the pole around, loop end downwards.  
---oooOOOooo—

A MINUTE LATER
Mulliner mounts his horse.  The small canvas bag is no longer empty.  It is - wriggling.

_________________
Hannibal Heyes and Kid Curry, the two most successful outlaws in the history of the west. And in all the trains and banks they robbed, they never shot anyone.