Starring

Ben Murphy and Pete Duel as
Kid Curry and Hannibal Heyes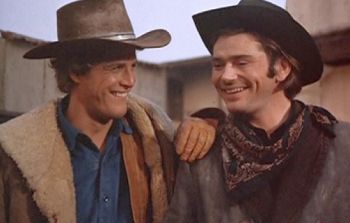 Co-Starring Burl Ives as Patrick "Big Mac" McCreedy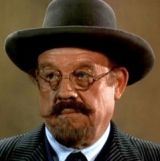 Katy Jurado as Carlotta McCreedy




Jonathan Scarfe as Griff Carson




Arthur Hunnicutt as Pike, a member of Griff's Gang




The rest of Griff's Gang
Sean Sullivan, Christopher Wynne, Thomas F. Wilson




Edward Andrews as Ralph Peterson, Banker of Red Rock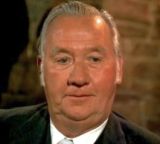 Duane Grey as Sheriff of Red Rock




Dulé Hill as James Johnson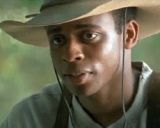 Alias Angel
by Little Bluestem
Two familiar riders walked their horses through a wide-open landscape dotted with sagebrush and scattered with large boulders into a spectacular sunset.  The blazing orange disk of the sun sank slowly behind a distant bluff, the western sky painted with pink and ochre clouds.  The former outlaws, although dusty and trail-worn, slouched comfortably in their saddles, posture relaxed, their contented faces bathed in the soft rose-gold light.
"Ya know, Heyes," commented Kid Curry with a lazy drawl.  "Sometimes I think we ain't never gonna get our amnesty.  But seein' somethin' like this," he waved his gloved hand at the western horizon, "makes me almost not mind."
"That's the spirit, Kid!" replied Hannibal Heyes with a grin.  "Why, if we hadn't been chased outta the last three towns we were in, we might not be riding along right here and right now to witness this glorious sight."
"Yeah, that was a good idea to telegraph Big Mac to see if he has any jobs for us.  I just hope it don't have anything to do with that doggone Caesar head."
"The Caesar head is ancient history," Heyes answered, then chuckled at his own joke.  He changed the subject to more practical matters.  "It's gonna be dark soon and we still have a full day's ride to Red Rock.  How about we find a good place to camp?  Looks like a stream over along that line of trees."  Heyes raised his arm and pointed to an area of vegetation about a mile in the distance, off to their right.  Curry, however, was not listening.  Instead, his attention was riveted on the horizon ahead, just off to the left.
"Kid?  Kid?" Heyes tried to get his partner's attention.  He looked in the direction Curry was staring and asked, "What is it?"
"Do you see that?" asked Curry, eyes still glued to the horizon.
Heyes squinted.  "No… Yeah, now I do.  Smoke."
The Kid nodded, then steered his horse toward the faint column of smoke, black against the crimson clouds.
"Whoa – hold up there, Kid!  That smoke is someone else's problem.  Not our problem."
"C'mon Heyes, let's just get a little closer -- see what it is."  Curry urged his mount into a trot.
Heyes rolled his eyes and slapped his mare's rump to follow.
~ * ~ * ~ * ~
Heyes and Curry rode up to the smoldering remnants of a wagon and pile of charred household goods issuing thick curls of black smoke.  A man was sprawled on the ground nearby, unmoving.  His head was bare, his blond hair ruffling slightly in the breeze.
As the partners dismounted, both drew their pistols and approached the wreckage cautiously, casting their eyes around the area warily.  As they neared the inert man, their gaze met.  The Kid nodded his head ever so slightly at Heyes, who holstered his Schofield and knelt on one knee next to the body.  Curry kept his Colt drawn, scanning their surroundings alertly as his partner rested his hand on the man's chest, then bent over to place his ear to his heart.  At last Heyes looked up and shook his head, his expression grim.
Curry turned his head away, but as he did so, something caught his eye.  It was another figure, this one a woman, judging by the full skirts.  She was lying face-down, also still as a stone.  He jogged over to her, sliding his gun into its holster.  Crouching, he gently rolled her onto her back.  The mixture of confusion and fury on his face made it clear that she, too, was beyond help.
Meanwhile, Heyes rose to his feet and walked aimlessly around the scattered debris, speculating aloud, "Who would do this?  Couldn't be Indians.  Not in these parts."
"Heyes!  Come here!" barked Curry.  "Maybe this is why."  
Heyes hastened to join his partner next to the woman's body.  The Kid lifted a limp arm gently.  The gingham sleeve ended with a border of eyelet lace just below the elbow, revealing a forearm with skin a rich, dark brown.  Tight-lipped, Curry returned the limb to its resting place, almost tenderly.
Heyes crouched next to his partner and placed his hand on Curry's shoulder.
"Joe Sims all over again," the Kid said, his tone heavy with resignation.
"Maybe," his partner shrugged.  "We don't know for sure.  Maybe they had something someone wanted or maybe someone had a grudge against them."
"What's wrong with people, Heyes?" Curry demanded, his voice sounding slightly strangled.  He turned his head away quickly.
Heyes tightened his grip on Curry's shoulder and shook his head sadly.
Neither man moved nor spoke for a long moment.  Abruptly, Curry rose to his feet and strode away from the tragic scene, kicking at a rock violently.  After several paces he stopped, then peered at the ground.  He knelt, examining it more closely.
Heyes stood as well and approached the forlorn remains of the young couple's worldly possessions purposefully.  He searched through the still-smoking pile, tossing various items aside until he found what he was looking for – a shovel, slightly blackened, but still usable.  He returned to the man's body and began to dig next to it.
After several moments, Curry came over to where Heyes was hard at work, already knee-deep in the hole.
"I'd say there were five on horseback.  They took their team -- two heavy draft horses.  Left about two hours ago, headed south."  He pointed.
Heyes paused from his efforts and straightened.  He stared at Curry incredulously and demanded, "You're not suggesting we follow them?"  He thrust the shovel toward his partner, who took it automatically, then pulled his bandana from around his neck and wiped the sweat from his face.
Curry shook his head and began to dig methodically at the hole Heyes had begun, his jaw clenched tightly.
Heyes gestured wildly as he practically shouted, "And what would we do if we caught them?  We have no proof they did this!  Say we did catch them – without getting shot up ourselves, which ain't likely.  We bring them to the sheriff – then what?"
Curry didn't answer.  He shook his head and kept on digging, putting more muscle into his thrusts and tossing the dirt away harder and more emphatically than before.
"You know I'm right," Heyes persisted, arms folded over his chest.
Without breaking his rhythm, Curry answered, "I know you're right.  But we both know it ain't right."
~ * ~ * ~ * ~
Dusk had settled in, with only a few lingering remnants of gold and rose indicating the recent sunset.  It was not fully dark yet; the sky overhead was slowly turning a cobalt blue and one or two stars were just beginning to poke through.  Hannibal Heyes and Kid Curry, one dark and one light head bowed, stood next to two fresh mounds of dirt, each with a roughly made wooden cross jutting from one end.  Hats in hands, the former outlaws stared down at the newly turned earth.  Both men were sweat-stained and dirt-smudged with slumped shoulders and downcast eyes.
Heyes finally broke the silence.  "C'mon.  Let's get outta here and find a place to camp before it's pitch black."
Simultaneously, the men placed their hats on their heads and turned to leave.
Suddenly a soft mewling sound pierced the gathering darkness.
"Wait," said Curry, stopping dead in his tracks.  "You hear that?"
There was another mewling sound, this time a little louder.
"Sounds like a kitten," said Curry tentatively.
"Don't worry about it, Kid.  A cat'll do fine on its own," consoled Heyes.
A much louder noise pierced the air -- not feline at all, but the unmistakable wail of a human infant.
Both boys looked at each other and said in unison, "That's not a cat!"  
They dashed in the direction of the sound and began to search frantically among the sage brush and piles of boulders on the periphery of the scene of the attack.
"Here!" Curry yelled.  Heyes raced to his side, just in time to see him reach into a crevice within a rock pile and withdraw a blanket-encased bundle, wiggling and bawling.
Curry cradled the bundle in his arms as Heyes reached over to pull the blankets away, revealing the face of a baby of about six months of age.  It was a beautiful baby: chubby cherubic cheeks, skin the color of coffee mixed with cream, flaxen hair in tight, tight curls close to the scalp, eyes squeezed shut as it wailed inconsolably.  Kid jiggled it gently, soothing it.  "There, there, it's okay.  There, there, little guy," he crooned softly.
Little by little, the baby settled down, its steady bawling supplanted by intermittent whimpers, which soon died away and finally ceased all together.  Soothed at last, the infant opened its eyes, lashes starred with teardrops, and smiled tentatively at its rescuers, two tiny white bottom teeth punctuating an otherwise gummy smile.  The baby's eyes against the café au lait skin were a startlingly bright cerulean blue.
The two men gaped at the angelic little face, then met each other's eyes.  His eyebrows tilted skywards, Curry searched his partner's eyes for answers.
Heyes said, "They must have hidden him here when the raiders came."
"What are we gonna do with him?" the Kid asked.  
"We take him to the nearest town – Bensonville – it's just a little out of the way," Heyes answered pragmatically.
"But what about tonight?  How are we gonna feed him?"
"Remember I bought some powdered milk last time we got supplies?  You said it was a waste of money, but it's gonna come in real handy after all."
~ * ~ * ~ * ~
The boys sat near a small campfire.  Curry dipped his fingers into a tin pan of milk, offering them one at a time to the child in his lap, who sucked hungrily, but became fussy and frustrated every time a finger was removed.  Heyes was kneeling nearby, industriously fashioning some contraption.
"Heyes, hurry up!  This ain't workin' too good," groused Curry.
"Almost done," Heyes answered, preoccupied with his efforts.
At last, he brought his creation to the fireside and showed it proudly to his partner.
"What is it?" asked Curry skeptically.  "And what did ya do to my glove?"
"Relax.  It's one of your old ones."  Heyes held up an empty tomato tin with a leather riding glove attached to it.  All the fingers but one had been tied off with thin strips of rawhide.  
"See," Heyes explained as he loosened the tie attaching the glove to the can, "I wetted the leather and tied it off real tight to make a seal."
He picked up the pan from next to the fire, and poured milk from the pan into the tomato can as he continued, "I tied off all the fingers but one, and poked a small hole in that one so that the milk..."
As he spoke, he re-tied the rawhide and upended the can.  A few small beads of milk leaked from a tiny hole in the tip of the glove's one remaining finger onto his wrist.  Heyes grinned happily, and said, "…the milk comes out here, just like a real baby bottle!"
He proudly handed the "bottle" to Curry.
"Not bad, Heyes," the Kid said, impressed.  He placed the glove-nipple into the baby's mouth, who immediately latched on and nursed greedily.  Heyes and Curry gazed at the feeding infant, clearly entranced by the sight.
When the child finally released the nipple, a contented expression on the chubby little face, Curry wrinkled up his nose and said, "I think he needs a new diaper."
"Well, then, change him," Heyes commanded.
"Change his diaper?  I don't know how to change a diaper!  You're the genius -- you do it.  Here."  He pushed the baby into Heyes' hands, who held it under the armpits, feet dangling.  Face to face, they gazed into each other's eyes.  The baby blew a tiny bubble, burped very, very softly, then gave Heyes a gummy, milky smile.  A goofy expression on his face, the former leader of the Devil's Hole gang grinned back, his dimples dimpling.
Curry rose, grabbed a horse blanket, and spread it on the ground next to the fire.  "Here – put him down on this," he suggested.
Heyes laid the baby down, lifted up the little dress, and began fumbling with the pins.  The Kid half-crouched just at his shoulder, watching the progress somewhat worriedly.  "What are we gonna use for a clean diaper?" he asked.
Heyes managed to undo both pins and started to pull off the soggy diaper.  His words somewhat obscured by the pins held between his teeth, he asked, "What's the softest thing we have?"
As Heyes wiped the baby with a clean cloth moistened with water from his canteen, Curry rummaged through his saddle bags, rejecting item after item.  At last he pulled out a white shirt and exclaimed triumphantly, "My old white shirt is soft!"  He pulled out his knife, then hesitated and asked, "How big should I make it?"
"About the size of a bandana, looks like," replied Heyes.
The Kid made a small cut in the fabric with his knife, then ripped it the rest of the way.  He repeated the process, then tossed the rectangle of fabric to his partner, saying, "Here – try this on him."
"Thanks, Kid, but he's not a him," Heyes answered, snagging the thrown cloth with one hand.  
"Huh?" Curry said dumbly.  After a beat, realization hit him.  "Ohhh!"
Heyes fumbled with the makeshift diaper.  The Kid watched over his shoulder earnestly, then reached in to help.  It was a clumsy, four-handed process and took a rather long time, with at least one outlaw finger getting jabbed with the pointy end of a pin.  Finally, the partners got the diaper fastened.  Their eyes met, both smiling with satisfaction.
"There ya go, Angel," the Kid said, grinning.
"She's almost asleep," observed Heyes in a whisper.  The baby stirred and fussed again.  The partners looked at each other with mute "Now what?" expressions.  Then Heyes' face brightened and he began to softly sing, "As I walked out in the streets of Laredo, as I walked out in Laredo one day."
The baby immediately began to settle down, her eyelids drooping slowly.  The Kid joined in the song, adding his clear tenor to Heyes' rumbling baritone, "I spied a young cowboy wrapped up in white linen, wrapped in white linen as cold as the clay."
As the scene ends, the camera pulls back to reveal a cozy sight:  The dark silhouettes of the two former outlaws crouched over the sleeping babe, the warm glow of the campfire behind them and the wide velvet sky spangled with stars stretched out above.  We hear their low voices harmonizing the melancholy tune.
~ * ~ * ~ * ~
The figures of the Kid and Heyes on horseback cast long shadows in the golden afternoon sunlight as they reached the outskirts of a small town.  They passed a hand-painted sign proclaiming it Bensonville, Texas, pop. 348.  As they rode into Bensonville, Heyes cradled the baby in the crook of his right arm, handling the reins with his left.  A scattering of townspeople went about their business, no one paying the two strangers any mind.  As they arrived at the sheriff's office, Curry read the sign aloud, "Sheriff Buford P. Antelman."
"Never heard of him," Heyes said, with obvious relief.
"Me neither," replied his partner happily, hopping down from his horse and tying his reins to the hitching rail.  He walked over to his partner, reaching up for the baby, which Heyes carefully handed down to him.  "Come to Thaddeus, Angel," Curry crooned, smiling a slightly crooked smile as she grabbed a fistful of his curls in her tiny fingers.
A few curious passersby did quick double-takes as they realized the two dusty cowboys had a small baby with them.  More than one leaned in close to whisper something to a companion about the somewhat incongruous sight.
Heyes dismounted and tied his horse next to Curry's, then fell into step alongside his partner.  The two former outlaws strode side by side up the steps and into the sheriff's office without a trace of hesitation.
As they pushed open the door, the local lawman rose from his desk.  Heyes spoke first, smiling genially, "Sheriff Antelman, my name is Joshua Smith and this is my partner, Thaddeus Jones.  We're here to report a crime."
"Go on," was the terse response.
"About 20 miles east of here, we came across some homesteaders that had been bushwhacked.  A young couple.  They were both dead – shot – wagon burned, team stolen.  But… there was also a little baby," Heyes explained.
As he mentioned the infant, Curry helpfully held out the child toward the lawman.
Antelman took one look and pronounced in apparent disgust, "That's a mulatto baby."
Curry hugged the baby close to his chest protectively.
"Yessir," answered Heyes.  "We think maybe that's why the parents were killed – the father was white and the mother was…
Sheriff Antelman interrupted rudely, "Ya don't havta tell me what she was!"  He frowned and twisted his mouth into a sneer.  He took a step forward and peered closely at the infant, then at Curry, and then back at the child.  He turned to Heyes and stated flatly, "That brat is the very spit of your partner."
"Well, she does resemble him somewhat," Heyes commented reasonably.  "Her pa had the same coloring as Thaddeus."  
The sheriff turned to aim a stream of tobacco juice toward the spittoon in the corner of the office, most of which landed on the floor with a splat.  "What the hell do you expect me to do about it?" he demanded irritably.
The Kid scowled at Antelman's unhelpful reaction to their news, but Heyes continued doggedly, "Well, you are the law.  And this is the nearest town."
"Ain't my jurisdiction," Antelman snapped, sitting down in the chair at his desk.  He picked up a sheaf of papers and leafed through them, occasionally making a note with a pencil stub, pointedly ignoring the two cowboys and their small burden.  The partners exchanged glances.
"What about the baby?" asked Curry, speaking for the first time since they'd entered the jailhouse.
Antelman stared at Curry and answered the question with one of his own.  "How do I know you didn't make up that story just to get rid of your own … mistake?"
Curry's face clearly showed his anger, but when he opened his mouth to speak, his partner shot him a sharp look and quickly suggested, "You could ride out yourself and see the graves, Sheriff."
"Ain't got time for that," Antelman said dismissively, continuing his paperwork.
"So, you're saying you won't take charge of this baby?" asked Curry, belligerently.
Antelman looked up and scowled.  "What do I look like?" he demanded.  "The Mother Superior of a home for foundlings?  There's an orphanage in Sand Creek.  Take it there," he retorted and resumed his work, pointedly ignoring his visitors.
Curry opened his mouth again, but Heyes shut him down with a glare and said sarcastically, "Thanks, Sheriff, you've been a big help."
~ * ~ * ~ * ~
A heavily made-up, blowsy woman, somewhat north of 40, leaned against the frame of an open door.  Her floral print silk kimono hung loosely about her shoulders, revealing a glimpse of lacy corset and ample cleavage beneath.  Several younger women of the soiled dove variety crowded behind her, in various states of undress.  The women peered curiously at the two cowboys standing in the alley among the trash bins and an old wooden crate with a faded whiskey label.  Both men were young and handsome, one fair-haired, one dark.  The dark-haired man, battered black hat held in his hand politely, stood just in front of the other, who was holding a blanket-wrapped bundle in his arms, jiggling it gently.
"Well, hello, boys.  What can we do for you fine gentleman?" the older woman asked.
"Howdy Ma'am," Heyes began persuasively.  "We could sure use your help.  It seems we've found ourselves an orphaned baby.  Being, well, being bachelors and all, we obviously aren't fit to take care of her.  So, uh… we were… uh... hoping maybe you fine ladies would see fit to take her in…"
Curry stepped forward, helpfully adjusting the blankets to reveal a glimpse of the child.
The woman's expression grew cold.  "A baby?" she repeated.  "What would we want with a baby?  You say she's a girl child?  Bring her back when she's grown and I'll give her a job."  She laughed harshly and slammed the door shut.
~ * ~ * ~ * ~
The back porch of a white-washed frame church:  A thin, balding man in preacher's black stood awkwardly in the doorway, holding the door slightly ajar.  Once again, the two cowboys stood listening, this time Heyes holding the child, who had fallen asleep against his shoulder.
"I'm real sorry, fellas, I'd help you if I could, I really would.  But the people in this town…you see… well, I just wouldn't be able to find anyone to take her.  Really, I wouldn't.  Your best option is St. Rita's Orphanage down in Sand Creek."
"Reverend, we can't leave her in an orphanage.  We've had – er – some experience with orphanages and they're no fit place for children," Heyes persisted.
"Like I said, I'm real sorry.  But no family in this congregation will take a mixed-race baby into their home."
"Sounds real charitable," muttered Curry.
The men turned to leave, but before they'd taken more than a step or two, the minister called out, "Wait – there's a settlement --"
They stopped and turned back to listen as he continued.
"About 30 miles west of Red Rock.  It's called Haven.  It was settled by freed slaves after the War.  The folks there just might take in that baby."
The boys nodded their acknowledgment, if not quite appreciation, for the small help offered and walked back through the town, ignoring the stares and murmurs of passersby.
~ * ~ * ~ * ~
Heyes and Curry stood in front of the counter of the local mercantile.  Curry rang the silver bell on the counter as Heyes said brightly, "Don't worry, Thaddeus, we'll stop in Red Rock, explain to Big Mac we'll be a little late to do his job, then we'll take Angel on to the Haven settlement, find a nice family there who would be happy to adopt her."  Heyes handed the sleeping child carefully to his partner who took her just as gingerly, then reached into his vest pocket for some money.
The storekeeper, a tall, aproned man with steel-rimmed spectacles and a thick grey mustache, entered from a back room, saying, "Good afternoon, gentlemen.  What can I get for you?"
Heyes replied, "We need baby things.  Um, let' see… a baby bottle, some milk, diapers.  We just need enough for a couple of days…"
"Sure boys.  Let's see here.  You'll need some of these.  And this."  He placed baby-care items on the counter as he spoke, a glass bottle, two lids with attached nipples, canned milk, a stack of folded diapers.  "So how old's the little tyke?" he asked, smiling.
"Er…uh… we don't really know," answered Heyes.
"Lemme take a look at the little feller," said the storekeeper, still genially smiling and craning his neck to peek at the blanket-wrapped bundle against Curry's shoulder.  He reached over to pull the blanket aside, revealing dark skin and light, kinky hair.  The smile slid from his face.  He looked suspiciously from the baby to the blond man holding her.  Just then, two middle-aged women walked into the store.  "Take it outside," the storekeeper snapped.
The women looked on with pursed lips and crossed arms.
The Kid narrowed his eyes, treating the clerk to the glacial stare he usually reserved for an opponent in a fast draw face-off.
"It's okay, Thaddeus," Heyes said, resting his hand on the Kid's arm.  "I'll get what we need and meet you out front."
"Come on, Angel," Curry said to the baby as he carried her out into the street.
~ * ~ * ~ * ~
The partners rode along in silence through the southwest Texas landscape, Curry still holding the baby in his arms, his expression unsettled.
Heyes looked over at him with sympathy, then said, "Don't let it eat at you.  We'll find her a family in Haven."
"Heyes, those people back there – they acted like -- like she was something dirty, something bad."  
"I know, Kid."
Curry went on, "But this baby is a person.  Someone's daughter.  And she was loved.  Her ma's dyin' act was to hide her to try to keep her safe.  Her ma and pa were tryin' to take her someplace where they would be accepted.  Where they could raise her up."  He paused, an anguished look on his face.  "She had a name, Heyes.  Heyes, no one will ever even know her real name."
"I know, Kid.  I know."
~ * ~ * ~ * ~
The boys rode up to the now familiar McCreedy ranch house.  A middle-aged Hispanic woman clad in a severe black dress and a crisp white apron stepped onto the veranda.  "Julio!" she hollered.  "Venir y hacerse cargo de esos caballos!"  She turned to greet the visitors with a heavy Hispanic accent, "Buenas tardes, Señor Smith, Señor Jones.  Señor McCreedy has been awaiting your arrival most anxiously.  Julio will see to your animals."
"Howdy, Teresa," they answered.
Curry was holding the baby.  Heyes got down from his horse first and took her into his arms, crooning, "Come here, Angel.  Time to meet your Great Uncle Mac."  
After the Kid dismounted, he pulled the saddle bags and bedrolls from both horses.  A boy of about twelve ran up, took the horses' reins and led them off toward the stable.  He grinned as the fair-haired man thanked him in Spanish, "Gracias, Julio."
As soon as Teresa saw the baby, she reached out and took her from Heyes and carried her into the rancho, speaking rapid Spanish to her in a tone of voice used by mothers the world over, regardless of their native tongue.
Heyes and Curry followed, the latter burdened down by saddle bags, bedrolls, and carpetbags.  
Patrick McCreedy walked into the room, the stub of a cigar clenched in the side of his mouth.  "Boys!" he greeted them, then began to scold, "You're late!  I was almost starting to get worried about you."
Two servants, a middle-aged man and a girl, young and pretty, entered and relieved the Kid of the saddlebags and bedrolls and carried them up the wide staircase, the girl giggling shyly when Curry winked at her.
"Sorry Big Mac, we were unavoidably delayed.  And we have an errand to do before we start the job," explained Heyes.
"No, no, no.  This job can't wait.  I've got some important papers for you boys to deliver to Cranford and they've got to be there by Tuesday.  You need to get them signed and notarized, then delivered to the bank in Red Rock.  Whatever this errand is, it'll have to wait 'til you do the job."
Teresa handed the baby to Heyes, saying "Con permiso, I will tell the señora that Señor McCreedy's nephew and his friend are here – and they have brought with them a bebé!"  She bustled out of the room calling out to her mistress in Spanish.
Heyes held the child up for McCreedy to see.  "This is the errand.  We came across some settlers on the way here.  A young couple.  They'd been killed.  This is their baby girl."
"We're taking her to the Haven settlement, hoping the folks there'll take her in," finished Curry.
Big Mac barely glanced at the child and said, "There isn't time.  You'll just have to leave the baby here.  Teresa can take care of it.  I need you to do the job first, then you can deliver the kid."
At that moment, Carlotta McCreedy swept into the room, followed by Teresa and yet another woman servant, this one carrying a tray of drinks, which she placed on the table.
"Señor Smith, Señor Jones, what a pleasure to see you.  What is this I am hearing about a bebé?" Carlotta asked in heavily accented English.
Heyes held the infant out to Carlotta, who started to reach for it, but at the last minute, balked and looked uncomfortable.  "Teresa will take it," she commanded.
Teresa asked in Spanish, "¿Cuál es su nombre?"
Carlotta translated, "Teresa wants to know what is the bebé's name."
"We don't rightly know," replied Curry.  "We've been callin' her Angel."
"Ven conmigo, pequena Angelina," cooed the housekeeper, scooping up the child with practiced skill.  "I will get the little niña some nice warm milk," she added, addressing the men.
As Teresa left with Angel, Carlotta's gaze followed them out, almost wistfully.  Heyes' intelligent brown eyes watched her watch the baby.  He caught Curry's eye.
Pat McCreedy, however, barely glanced up, taking no notice of the child nor his wife's reaction.  He seated himself at the table, all business, and began to organize the papers strewn across its surface.  "Okay, now let's get these papers in order…" he began.
~ * ~ * ~ * ~
Curry and Heyes tied their horses to the hitching rail directly in front of a dove-gray clapboard building.  Turned white wooden posts framed a large, glass-paned window.  Painted upon its surface were ornate black letters, trimmed in metallic gold, proclaiming:
Samuel T. Redling,Esq.
Attorney at Law.
"Heyes, look," Curry hissed.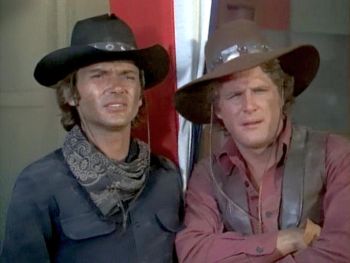 Heyes followed his partner's line of sight to observe a group of unsavory-looking men on horseback, five to be precise, riding down the main street, leading two huge and powerful fawn-colored Belgian draft horses.
"Lotsa people have draft horses," answered Heyes blandly.
"There's five of 'em," Curry said emphatically.
"C'mon, Kid, we've got a job to do," Heyes insisted as he turned toward the office.
Curry lagged behind his partner and scowled at the leader of the group as they rode past, his right hand resting close to the butt of his Colt.
"Whadda YOU lookin' at?" sneered the horseman, a fellow in his mid-thirties, broad of shoulder and chest, nattily dressed in a tooled leather vest and long, black duster, albeit unshaven and unwashed.  His long, blond hair was tied back with a piece of rawhide and, despite the ugly expression and several days' worth of reddish-blond whiskers obscuring his face, he was nevertheless a handsome man.  He reined in his mount.  The small party followed his lead.  A short, scrawny man with a grizzled salt-and-pepper beard and tobacco-stained teeth whined, "Whaddawe stoppin' for, Griff?"
"Just admirin' your Belgians," Curry replied innocently.
"Beauts, ain't they?" bragged Griff.  Curry reached up to pat one of the huge animals on its broad, well-muscled neck.
Heyes, who had stopped on the boardwalk in front of the lawyer's office, watched the unfolding confrontation warily.
"Where'd ya pick 'em up?" inquired the Kid, nonchalantly.
"Why would ya wanna know that?" Griff asked suspiciously.
"Maybe I was thinking of gettin' one myself."
"Come on, Thaddeus," interrupted Heyes.  "We're late for our appointment."
Griff squinted down at Curry from his superior position on his mount, letting his eyes crawl over him from head to toe, lingering a moment on the gun strapped to his hip, then looked him straight in the eye.
"Maybe you shouldn't go pokin' yer nose into other people's business," he muttered, resting his hand on the butt of his own gun.
Heyes, still standing on the boardwalk, called out, "Thaddeus" with a note of warning in his tone.
Curry stared back at the mounted man, his face expressionless and his clear cornflower-blue eyes boring into the horseman's grey-blue ones.  The man stared back; the other riders behind him shifted uncomfortably.  After a tense moment, Griff broke off his gaze first and said abruptly, "Come on, boys.  We ain't got time to waste."
Curry stood in the street, arms folded over his chest, watching them as they rode away.  Griff twisted around in his saddle to stare back at him.
"What are you thinking?" hissed Heyes.
Curry shrugged.
Heyes rolled his eyes and answered his own question, "You're not thinking, that's the problem.  Now come on."
As the partners entered the lawyer's office, doffing their hats, a short, thin, elderly woman with white hair pulled back severely and knotted at the nape of her neck smiled at them brightly from her seat behind the reception desk.  "May I help you gentlemen?" she chirped politely.
"Yes ma'am," answered Heyes.  "I'm Joshua Smith and this is Thaddeus Jones.  We're here on behalf of Patrick McCreedy."
"Oh yes, Mr. Redling is expecting you.  If you could just wait in here, please."  The petite woman bustled up from her desk and ushered her visitors into an adjoining office with a large polished mahogany desk in the center.  Rows of bookshelves crammed with thick law books lined the walls.  They sat in the two leather wingback chairs facing the desk.  As soon as the receptionist exited the office, Heyes again turned to his partner and asked, sotto voce, "What were you thinking asking about those horses?"
"It's them, Heyes.  I know it."
"You don't know it because you can't know it.  And even if it was, you couldn't prove it!  You're just asking for trouble.  And you almost got it."
Curry scowled; just then the lawyer entered the office through an interior door, trailed by a second man.
"Mr. Smith?  Mr. Jones?  I'm Sam Redling and this is my assistant, Will Hackleman.  He'll be witnessing my signature."
The four men shook hands and exchanged greetings all around.
"You have the papers?" asked Redling, seating himself behind the desk.  Heyes pulled the folded papers from his breast pocket and handed them to Hackleman who passed them to Redling.  The lawyer produced a pair of wire-rimmed spectacles and placed them on his nose.  He began to read the papers, mumbling to himself as he did so.  "Mmmm hmmmm.  Yes.  Uh Huh.  Mmph.  Very good.  All in order."
He extracted a fountain pen from an inkstand on his desk and signed the papers on two separate pages with a flourish.  Hackleman opened a small wooden box from which he extracted an embossing seal.  He applied the raised seal to the two pages with Redling's signature, then signed his own name as well.  He sprinkled blotting powder on both pages, shook them gently for a few seconds, and blew the powder off them.  Redling then took one of the signed pages, and handed it to Hackleman who placed it in a file.  Redling refolded the remaining papers, stuffed them back in the envelope and handed it to Heyes, who returned the bundle to his vest pocket.
"Thank you very much, gentlemen," said the lawyer.  "Give Big Mac my regards.  And Mrs. McCreedy as well."
All four men rose to their feet, shook hands again, and Heyes and Curry exited the office.
Once they were standing on the boardwalk, Heyes remarked, "Well, that was efficient.  How about I take care of the horses while you check into the hotel?  Then we'll go grab some dinner."
Curry grunted in agreement and began to untie the reins.
~ * ~ * ~ * ~

_________________
Hannibal Heyes and Kid Curry, the two most successful outlaws in the history of the west. And in all the trains and banks they robbed, they never shot anyone.