Starring

Pete Duel as Hannibal Heyes
and Ben Murphy as Kid Curry




Guest Starring
Kevin Kline as Sheriff Martin Rhitt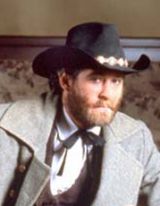 Glenn Campbell as Deputy Steve
Michael Landon as Deputy Dan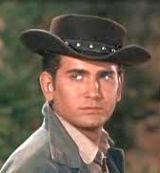 Rod Steiger as Clive, the blacksmith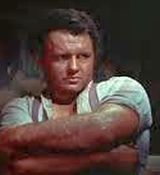 Locked
by Nell McKeon
The sheriff exited his office to go about his late afternoon rounds.  He nodded to the family passing by in a fully loaded wagon.  He waved to the schoolmarm leaving the busy mercantile across the street with an armload of school supplies.
"Hiya, Sheriff Rhitt," called a man hammering a joist in place on a building being constructed down the street as the lawman strolled down the boardwalk, receiving a friendly nod in return.
The clerk at the stage depot and post was updating the slate hung on the building's wall with the stage coaches' arrival and departure times when he noticed the sheriff striding down the boardwalk across the street.  He called out, "Sheriff!  Hey, Marty!"
Sheriff Rhitt paused and looked over to where the shout came from.
"Marty, I've got a package for you.  It just arrived on the last stage.  Do you want it now?"
"Thanks, I'll pick it up on my way back."  The lawman continued down the busy main street.
The Sheriff arrived at the blacksmith's.  He casually leaned against a post and watched the large man work for a few minutes.
"Hey Clive, I see you're working hard."
Clive, the blacksmith, looked up, wiping the sweat from his grubby brow.  "That I am.  With more people moving into the area, I have more work than time.  I might have to take an apprentice."
"Well that's a good problem to have, isn't it?  Don't look so glum."
The blacksmith stared at the sheriff for a moment before a grin broke out.  "You know what, Marty?  You're right.  Anything I can do for you or are you just here passing time on your rounds."
The sheriff straightened up.  "You know I like to keep up with the goings on around town.  No way to do that unless I talk to people, now is there?"
"Whatever you say, Marty."  Clive's grin grew into a teasing smile.
"But in this case, I do have a message from bank manager.  He wants you to stop by at the end of the day to discuss putting up bigger or better bars on the windows.  He's nervous about the bank getting robbed now that the town is growing and more people are putting money into the bank.  He wants additional security measures."
"Okay, sheriff.  Thanks for the message.  I'll be sure go see him later," Clive assured the man before resuming his work.
Along the way back into the center of town, Sheriff Marty Rhitt picked up his package addressed to him at the stagecoach depot and post, muttering to himself as he studied the parcel, "I was expecting a letter, Herta.  What's this?"
Stepping off the boardwalk into the street to avoid the ladders and scaffolding of a new building going up, the sheriff stepped back up to enter the saloon.  He collided with the first of two men, pushing through the batwing doors just as Sheriff Rhitt was reaching for them, and rocked back unsteadily.
The blond's blue eyes widened and fixated for just a moment on the shiny tin star before he tipped his hat in apology as he righted himself.  The emerging dark-haired friend steadied the sheriff by the shoulders before letting go and moving off down the boardwalk.
"Thanks," Marty acknowledged the help that kept him from falling on his backside.
"No problem, sheriff.  Have a nice afternoon," the black-hatted fellow replied as he followed the blond.
"Hiya Henry, let me have a small beer?  How's business?" Marty inquired as he carefully placed his package on the polished wood of the bar.  He leaned forward, watching Henry, the bar owner, cleaning and polishing glasses.
"Here ya go.  Pretty good, Marty, pretty good.  I'm doing well enough.  I'm thinkin' of hiring a full-time bartender during the day to add to the two I have at night.  You know, it's funny you should stop by just now.  I thought I might need you a little while ago.  There was a lunch time poker game, only broke up a few minutes past.  The sore losers are still sitting there in the corner."  The bartender pointed with his towel wrapped hand.
Marty sipped at his beer.  "Was there trouble?  Someone cheating?"
"No one was cheating, although one guy was accused of it.  Did ya see the two guys who just left?"
Marty nodded affirmatively.  "Yeah, one walked right into me, by accident.  Almost knocked me over."
Henry picked up the story where he left off.  "Well there was that dark-haired guy who was winnin' big and his fair friend was the second biggest winner at the table.  The black-haired guy with the mustache, I think he's a foreman at one of the mines, accused the dark-haired guy of cheating.  Nobody else agreed though.  From what I could see or tell, the guy was just a good poker player.  His friend was no slouch either.  Anyway, the black mustache man gets all hot under the collar and the big winner is talking him down but then Tom, you know Tom over there from the saddle makers?  Well, Tom is a bit of an instigator and likes a fight, as long as it's not him fighting."  Henry took a breath.  The sheriff's eyes were focused on the corner table and moving from spot to spot as the bar owner related his story.
"Well, Tom gets Black Mustache all riled up again.  So Black Mustache pulls back his chair and threatens to pull his gun.  I'm thinkin', who can I send to get you but the big winner isn't interested in any gunfight.  Black Mustache gets egged on by Tom and he stands up.  Before you know it, the fair friend stands up and takes over, tryin' to avoid any shootin', which I can appreciate.  No luck and the guns are gonna come out.  Faster than you can blink your eyes, the fair-haired fella drew but didn't fire.  He just stood there pointing his pistol straight at Black Mustache before the poor guy could even get the gun out of his holster.  I swear Marty, I've never seen anything like the speed of that guy.  It could have been real nasty but the two friends remained calm.  They gathered their money and left.  Then you walked in."
Marty finished his beer, put the mug back on the bar, and wiped his mouth, all the while watching the conversation between the remaining poker players in the back.  "I guess I better go talk some sense into Tom about instigating fights and find out a little more about Black Mustache Man."
"Sheriff!  Sheriff!  It's Heyes and Curry!  I saw Heyes and Curry right out there in our town!  Hurry Sheriff!" panted the thin, middle-aged bank manager, who appeared and hung onto the batwing doors.
The lawman's and Henry's eyes met as Henry whispered, "You don't think?"
"It could be.  A blond fast draw and a dark-haired, slim poker player, both in their mid to late 20's about six feet tall."
Marty quickly crossed to the panting, wheezing bank manager and pulled him along as they exited the saloon.
"Hey, Marty you forgot your package!" shouted Henry after the departing sheriff.
"Drop it off at the jail on your way home, will ya?" Marty shouted over his shoulder before turning back towards the bank manager.  "How do you know they were Heyes and Curry?"
"I used to live in Wyoming.  Worked in the banks up there before moving down here to New Mexico Territory for my breathing.  I've been robbed twice by the Devil's Hole Gang."
Marty sped up, then stopped and pulled the bank manager to a halt.  "They're robbing the bank now?"
The thin man was shaking in anger and frustration.  "No, I've been robbed twice up in Wyoming, in two different towns and two different banks.  They're not robbin' the bank here, they're going to the livery!"  He turned and pointed to the other end of town.  The manager's face flushed bright red and his voice rose an octave as he shouted at the top of his lungs, "They're right there!  Heyes and Curry are getting away!"
Marty Rhitt ran as fast as he could to the sheriff's office and jail, shouting, "Dan, Steve, get out here!  We need to ready a posse to go after Hannibal Heyes and Kid Curry!  Now!"
~~~~~~~~~~*~~~~~~~~~~
Heyes scanned the countryside, searching for the slightest bit of cover amidst miles of flat savanna and scrub, anything to provide places to disappear or hide in.  The experienced outlaw kept heading east as he spotted the western slopes of the mountains, the reddish-pink hues of the steep sides were visible in the distance.  He kicked his chestnut into a gallop, having reached the beginnings of the foothills and chanced a glance back to check on his partner.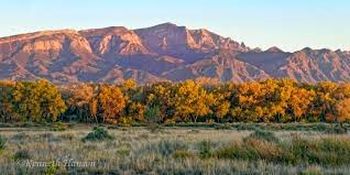 The Kid had kept pace with Heyes, following a few yards behind and to the right, trying to keep out of his partner's gelding's dust trail.  Curry divided his attention equally between watching where he was going and keeping a wary and worried eye on their back trail.  "The posse is far too close for comfort.  You got a plan?"
"Kid, this way!  If I remember right, the foothills around here climb into a series of steep rocky canyons, before we can get to the pinon and junipers.  Harder to track over rock and we can lose them in the canyons or if not in the forest of Sandia Crest."
"I hope you're right, Heyes, 'cause they're gainin' and we ain't exactly hard to miss."
"At least they're not shooting at us yet."
"They will as soon as they come within range."
"Come on, we've got to reach the canyons before then."
The Kid suddenly ducked down flat against his black's neck instinctively at the sound of a gunshot.  A split second later he righted himself.  His glance shot forward.  "Heyes?  Heyes are you okay?"
"Jeez, they are in range!  I'm okay," Heyes shouted above the pounding of the horse's hooves.  "For now, at least," he added under his breath.
Curry's thighs tightened against his horse's sweaty flank.  He drew while simultaneously twisting in the saddle.
~~~~~~~~~~*~~~~~~~~~~
Sheriff Rhitt glared over at the overeager posse member who wasted a shot.  "Men, save your ammo, we're barely in range with a revolver.  Even if we were standing still, any one of us would be lucky to hit anything this far out.  Wait for my orders and we're not shooting to kill, unless we have to."
Clive holstered his six-gun with reluctance and spurred his mount faster, but pulled back as his tall brown Stetson went flying backwards off his head and the sound of returning fire rang in his ears.
A flurry of bullets went flying from the riled posse's revolvers as the group as a whole slowed to take aim.  Horses swerved, reared, and panicked as lead thudded in front of hooves and dirt shot into the horses' eyes.
Marty Rhitt scanned his 10-man posse and all appeared intact, but two were missing hats.  Deputy Dan kept his eyes front, squinted to see better and focused on the blond gunman in the distance.
"Marty, Steve, get a load of that."  Deputy Dan pointed with his chin as he walked his horse to give him time to reload.  He continued, half in amazement, "Well, I believe they're Curry and Heyes alright.  And even if they're not, whoever he is, he's experienced and dang good.  I can't hit anything, not at this range, and never mind reloading at a full gallop."
"Well no one's in range now, because Curry just bought them time and distance.  Come on, men, put the darn hats back on your heads and get back on your horses.  That's $20,000 worth of outlaws gettin' away!"
~~~~~~~~~~*~~~~~~~~~~
The partners were keeping ahead of the posse but it was a temporary advantage at best.
"We're still ahead of them," the Kid noted, giving his partner a small measure of reassurance.
"Yeah, but our horses can't keep up this pace much longer."
"If we could just get out of this flat landscape."
"I'm detouring through every gully or copse of trees I can.  Kid!  Kid, this way!  We made it to the Sandia Crest.  Look, the ground's getting rockier and it's starting to rise," Heyes shouted as his partner pounded past him on the right.
Curry snapped his attention from the following dust cloud back to focus on where he was going.  He pulled hard left on the reins and the black only just managed to swerve into the canyon opening Heyes' chestnut disappeared into.
The partners slowed the horses as the animals began to climb the boulder strewn lower slopes of the crest.  Savanna grassland gave way to more and more junipers.
Curry twisted and unbuckled his right saddle bag.  Leaning back, he felt around until his hand closed around two small cardboard boxes, which he pulled out.
"Heyes, you got any spare cartridges on you?  I mean besides what I can see on your gun belt?"
"No, I'm all out and, as you know, we didn't get a chance to stop at the mercantile before we had to hightail it out of that town."
"Here, take these."  The Kid tossed a box of .45's, which Heyes caught easily.  "Keep them on you, just in case we have to lose the horses."  Curry stuffed his remaining box of cartridges in his shirt pocket.
"Kid…"
"I know, Heyes, I'm not plannin' a shoot-out, but we might have to do more convincin' than we like to do.  And havin' a gun without anything to put in it is almost as bad as going completely nekkid.  These guys followin' have a right big incentive to be keepin' up with us.  And we're on the wrong side for an easy way up; too many sheer drop offs, pinnacles, cliffs, and little water."
"Well, we have a bigger incentive to get up and over the crest and lose them."
"Don't I know it, partner.  Lead on.  There's still hours of light left until the sun sets."
~~~~~~~~~~*~~~~~~~~~~
The sheriff kept a tight hold on his roan as he bent down to examine the ground.  
"Sheriff, stop lookin'.  Them outlaws went right.  It's the trail that leads to the easiest ways over the Sandia Crest," stated one of the posse members.
Five of the men nodded in agreement.
Deputy Dan watched the sheriff and Deputy Steve closely as they scanned the trail leading right and examined the entrance to the canyon on the left.
Marty Rhitt looked up.  "No, they're not known for doing things the easy way.  It looks like they moved off the trail and are gonna try the steeper slopes."
Deputy Steve spoke up in agreement, "We'll have them for sure if they went right.  We know the shortcuts.  It's just our luck they went left.  But I have to agree with Marty, look here, you can see where one of them pulled his horse hard left.  The animal skidded a bit; musta turned suddenly and fast."
"Men, don't give up now.  The sun doesn't go down for hours yet.  And unless they've got horses with wings, Heyes and Curry are more likely to wind up with their backs to a sheer rock wall; there are just too many dead-end canyons on this side of the crest.  A man has to be very familiar with the area to get over the crest that way."
The posse's faces turned from gloomy to hopeful.  Clive fingered his pistol, smiled, and prepared to get started again.  "What are we waitin' for?  I can sure use my share of the reward money and the sooner we pull them in, the sooner we get our money."  The sheriff gave the town's blacksmith a sideways glance.
The posse members were regaining their enthusiasm.  The lawmen mounted and the sheriff addressed the group, "I want each of you to remember that these are cunning men.  They haven't been killers up to now, but if we do manage to corner them, remember that desperate men are doubly dangerous.  The situation can change as well, keep an eye out for an ambush.  And wait for my orders before any shooting occurs."  He kicked the roan into a trot entering the canyon left of the trail; the posse following somewhat more soberly.
~~~~~~~~~~*~~~~~~~~~~
Heyes drove his horse higher up the steep slope of the narrowing canyon.  He kept glancing up at the ridge face.  "Come on, if we follow the green we should be able find a way up and over."
Curry hung back, listening hard.  "I hope you're right 'cause I don't like what I'm hearing."  Curry dismounted, broke a branch of a puny pinon pine and started to sweep the tracks away.  He moved quickly but did a thorough assessment of the surroundings.
"You're hearing things, Kid.  I don't hear anything unusual.  Those local guys know the way over the crest was in the other direction," informed the confident leader of the gang of two.
Curry glanced up at his partner before jumping back on his gelding.  "You hear what you trained yourself to hear.  Things up close and quiet.  Trust me, they're comin' and they're not far away."
Heyes' brows furrowed and worried frown passed quickly over his face.  "I do trust you, partner.  I'm just not sure if I trust myself to get us out of here."
Curry's blue eyes found honest browns and the Kid offered a tight smile.  "Well if anyone can, you can Heyes.  Lead on.  One way or another you'll figure something out.  You've never let the gang or me down yet and you never will."
Heyes flashed the Kid a confident grin then slapped the reins on the chestnut's hindquarters to get him going again.
The partners followed a game trail until it petered out and was no longer discernible, all the while picking their way through trees, around boulders, and pushing their reluctant scrambling horses ever higher.  They came to a rocky outcrop that towered up, obscuring their long-range view.  
"Whaddya think?  The right seems to head towards that cliff from what I can see through the trees, but I can't tell where the left heads at all," panted Heyes after a particularly hard climb.  He grabbed for his canteen and sipped at the warm water, then held up the container and shook it.  "This reminds me, the horses have got to be as thirsty as us.  We'll need to find water at some point; sooner rather than later."
The Kid nodded towards the left.  "We'll have to take the unknown unless we want to leave the horses and play targets if we try climbing that cliff to the right."
"Left it is, then."
They continued up through the narrow twisting canyon.  The steep slopes were increasingly peppered with pinion pines mixing with scrubby junipers providing an illusion of cover.  They passed through a narrow opening partially blocked by rock falls on either side.  Suddenly the canyon opened up into a roughly square shape and the partners reached a dead end.
Curry muttered an oath as he pulled his mount up short.  "Where now?  The sides of this canyon are too steep to climb with horses and I'm not sure we could do it without the horses, either."
Heyes studied the canyon walls for a moment.  "We could, you know.  We could climb the ridge on the one side on foot if we could get on the other side of this canyon wall."
The Kid swung his horse around and started back down the trail only to stop a couple of hundred yards away.  He held up his left hand in a silent signal for Heyes to stop and be quiet.  He needed to listen.  A faint rumble became detectable.
Both men's eyes widened for a scant moment before lips tightened and bodies stiffened in resolve.
"It's a dead end back there."
"It's an end, but it won't be dead, if I have anything to do about it.  BACK!  NOW!  GO BACK!" Curry insisted.
The partners sped through the boulders at the base of the canyon entrance and jumped off the horses.  The animals immediately headed off towards the back, left wall of the clearing.  Heyes and the Kid scrambled up the right side of the opening.  The Kid flattened himself along a ledge, ignoring the sharp stones that dug into his legs and stomach and took a good long look.  Raising up on his hands and knees, Curry backed down the sharp incline.  He stood for a moment with his head down, blew his cheeks out in frustration, and looked up to meet the watching steady gaze of his longtime partner, who had scrambled down before him.  He nodded and both men completed a swift but thorough survey of their immediate surroundings.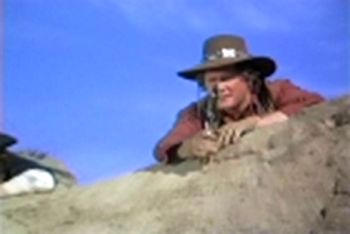 The Kid trained his eyes over Heyes' shoulder and remarked matter-of-factly, "The horses found water, that's good."
Heyes glanced over his shoulder, and sure enough both animals had their heads down along the left, back side of the canyon.  They appeared to be drinking. His eyes traveled upwards and noticed the darkened wet looking rocks.
"Seems to be coming from those rocks up there."
Heyes' attention snapped back to the front as the Kid started to speak with quiet determination.  "Okay, they're not far off.  This is how we're handling it.  It's most likely gonna end up being a siege and will be a question of who can out last who.  We have a water supply, they don't, but that's the only thing in our favor."
Heyes frowned.  "I don't like those odds one bit."
"Neither do I, but unless you want us to throw up our hands and surrender, I don't see another option."
"I'm not partial to surrender.  You buy me some time to think and maybe I'll come up with something.  We might have to cut our losses and give up then try for an escape, but for now what do you have in mind?"
Curry started moving left as he explained, "We'll have to make them think twice about stormin' in here.  I want you on the right side of the entrance.  I'll be on the left; it has the wider field of vision from cover, and we'll set up a cross fire pattern."
Heyes nodded his agreement and moved off to position himself among the boulders on the right.  He stopped and looked backed when he heard the Kid continue.
"Heyes, you're about as far away from trigger happy as an armed robber can be and since we're short on bullets and may have to make every one count, maybe we should just shoot over their heads so they know if they come in they'll be in a cross fire.  We can't afford to spray the lead around so that should be enough to give them pause.  Be careful and don't take too many chances."
"Sound like a plan, Kid.  You be careful, too."
"I will.  Oh, one other thing.  See up on the top edge behind me, behind that clump of pine next to the two big boulders?"
Heyes squinted up, over, and behind the Kid to where he indicated and asked, "Yeah, so?"
"I'm gonna be payin' attention to the danger in front.  Well, from what we could tell, I think you were right, a man could probably climb the canyon edge on that side.  If he had a rifle, and was a good shot, he might be able to aim where I need to be and possibly hit me.  I'm gonna need you to watch my back, partner."
"Always Kid, always," Heyes affirmed solemnly as he once again moved to get into position.  
~~~*~~~
~~~~~~~~~~*~~~~~~~~~~
The posse followed the twists and turns of the outlaws' trail.  The sheriff slowed as the group approached the narrowed section of the canyon with the two rising broad pinnacles on either side.  He raised his hand and called a halt.  "This looks like a good place for an ambush.  I'm gonna check it out.  I want you all to hang back a bit."
Sheriff Rhitt rode forth cautiously, his gun drawn and his eyes scanning from side to side.  He was almost through before he realized his peril, the canyon dead ended.  He ducked at the sound of two gunshots, one right after the other, then two bullets came whizzing by over his head from different directions.  He pulled his horse to a hard stop and backed up a bit.
"Stop right there!" Heyes shouted.  "Who are you and why are you following us?"
I'm Sheriff Rhitt," the lawman called out.  "Hannibal Heyes and Kid Curry, come out with your hands up.  You are under arrest.  We have you trapped.  Come out before anyone gets hurt."
Heyes took a deep breath and rose up slightly so his voice would carry.  "Who did you say we are?  And how do I know you're really a sheriff and not a bunch of robbers?"
The Kid, his gun trained on the sheriff, took a peek around his stone hiding place to check with Heyes.  He lifted an eyebrow when their eyes met.  Heyes shrugged.
Deputy Dan and Deputy Steve advanced to just behind the sheriff, one pointing his revolver left, the other right.
"You've been identified as Hannibal Heyes and Kid Curry by an eyewitness to two of your bank robberies."
The Kid, hidden from the sheriff's view, hung his head before once again sighting the sheriff.
"You're mistaken.  I'm Joshua Smith and my friend is Thaddeus Jones.  And we're not those notorious bank robbers, just drifters looking for work."
"You did run…"
"We've been mistaken for those miscreants before and it takes a lot of time and effort to clear our names.  Besides, we didn't know who was chasing us.  You could have been a gang of outlaws for all we knew."
"Like I said before, I'm Sheriff Martin Rhitt and I have a ten-man posse with me."  The lawman grabbed his vest and held the portion with the star far out from his body in display.  Simultaneously, Deputy Steve spotted the top of a dark head and took his shot.  Heyes ducked as stone splintered around him.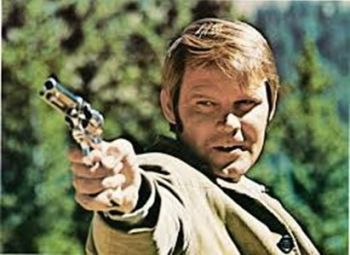 A return shot echoed and the sheriff felt a fleeting sharp tug as the vest sprung free from his hand to fall flat against his chest.  He looked down and spotted a neat round hole right in the middle of the sheriff's tin star.  All three posse members paled slightly and retreated hastily.
Heyes rolled his eyes skyward and shook his head as he turned towards Curry and mouthed, "Really?" at the showmanship.  The Kid's smirk dissolved into a half-hearted shrug of sheepishness before snapping his attention back to the area in front of the gap.  
~~~~~~~~~~*~~~~~~~~~~
The posse retreated out of easy shooting distance and sought cover behind a rocky outcrop.
"Okay men," Sheriff Rhitt began, "There's only two of them…"
"Yeah, but one of them is Kid Curry, and he can outshoot all of us, all by his lonesome."
"Fellas, he's just one man, against eleven of us.  And Heyes can't plan his way out of a dead end box canyon.  We'll outlast them, we just have to sit tight and get them to see reason.  Although, I'd prefer if we end this and have them in custody before it gets dark 'cause I sure don't want them to somehow get by us.  They're slippery ones.  We're gonna have to make them waste ammunition."
The men surrounded the lawman in a tight circle as he outlined where he wanted each man to take position and what they were supposed to do.  They moved off into their assigned positions, surrounding the entrance on both sides.
Deputy Steve and Clive climbed the rocks over-looking the shooter on the left.  They separated but kept a short distance between them as each man cautiously peered around.
"Can you see anyone?" whispered Clive.
Deputy Steve turned to the side and shook his head.  "No, but he's gotta be down there in those rocks somewhere."
They kept an eye on the sheriff, positioned in the center, behind a large rock outcrop pushing up from the dirt.  The sheriff raised his arm then dropped it down rapidly.  A fusillade poured through the canyon entrance and down on either side, the sounds echoing around the space, making the effort sound more fearsome than its effectiveness warranted.  The posse members ducked back under cover as an answering retort skimmed close over their heads.
"My gun!"  Clive gave a sudden cry as his right hand flew up.  He quickly cradled the appendage close to his chest.  He slid down the back slope with Deputy Steve scrabbling down beside him.
"Let me see.  Are you hurt?  Bleeding?"  Deputy Steve grabbed Clive's hand to examine it.  They both looked in relief at the reddened but intact hand.  
The injured posse member snatched back his hand and shook it vigorously.  "It stings, a lot" he announced as he spotted his revolver, with a bent barrel, further down the slope and set off to retrieve the damaged firearm.
Sometime later, the shadows were lengthening and the sky was turning pink, lavender, and orange.  There was a break in the ongoing standoff of trading shots between the outlaws within and the posse on the outside of the canyon.  The sheriff gathered his men around him from the relative safety of the copse of trees.  He studied each posse member.  "Anyone hurt?"
Clive waved his red stinging hand.
"Well, Marty, you can see I'm bleeding from this cut on my forehead."
"My hat's got a hole in it and my gun's ruined.  The barrel's bent."
"So's mine."
"My hat has a hole in it, too.  And I just bought it last week.  It cost me ten dollars."
"If I unwrap my bandana from my wrist, you can see a big bloody graze.  It huts like the dickens, burns some."
"Yeah and my shiny tin star has a neat, round hole through the center of it," snapped the lawman.  "I mean is anyone seriously injured not just little cuts, scratches, and ruined hats and guns."  He paused but no one spoke up.  "No one hurt then.  That's good and bad.  Good, because it tells me that even though Heyes and Curry are cornered, they're not desperate and Curry is using his skills to only hold us off.  Bad, because that means they think they have options and Heyes must be working on some sort of plan.  It also probably means that we haven't touched them with our bullets."
Deputy Steve spoke up, trying not to sound too angry and defensive, "We should have hit one of them with all that lead flying their way.  I know we're not all bad shots."
"Don't worry about it Steve.  Those two have had a lot of experience in this sort of thing.  They picked their positions really well.  Time and ammunition is on our side, though."  Marty Rhitt sought to sooth his riled deputy and flagging posse members.
One of the townsmen spoke up.  "Marty, the sun's gonna set in an hour or so.  I don't fancy being this close to Hannibal Heyes and Kid Curry in the dark.  Who knows what they're gonna do."  Several others nodded their agreement.
Sheriff Marty Rhitt rubbed his jaw.  His eyes narrowed in thought as he bowed his head.  The posse leader's head came up and his gaze traveled along the left, lower, broader pinnacle.
"Dan?"
"Yes, Marty."
"You've got your rifle with you, dontcha?"
"I do."
"You're the best shot in town with a rifle.  Do you think you could climb that left ridge?  See those two big boulders and the clump of pine over there?"
"Yeah. I could probably get there."
"Come over here for a minute.  I've got an idea."
The deputy and the sheriff huddled together, speaking quietly before Dan nodded his agreement and moved off towards his horse to get his rifle.
~~~~~~~~~~*~~~~~~~~~~
"Can you see anything?" hissed Heyes when the quiet seemed to go on and on.
The Kid crept up and darted his head higher to get a look.  "Not much; it seems as if the posse is havin' a pow wow down by the trees.  There's too much shadow to see any detail."  He ducked back down and laid flat along the incline.  The gunman rolled over onto his back, checked the canyon rims one more time, stared hard for a few moments at a spot on the left edge before shaking his head and then set about taking count of his meager remaining ammunition.
"How're you doin', Heyes?"
"What do you mean how am I doing?  I'm just dandy."  Heyes slid down a little, glanced towards the back to check on the horses.  "The horses are doing okay, nice and rested."  He laid his head back and stared at the beginnings of a spectacular sunset.
Curry rolled back onto his front and inched up the incline once again.  "Whoa, they're gettin' into position again.  One last hurrah before night comes, maybe?  Sure is gonna be a long, cold night.  Got any ideas yet?"
"Not a one, but I do my best thinking in the night.  I'll bet the posse doesn't, though."
"Probably not.  I wonder how many they'll keep on watch?  Get ready Heyes; we only have a few cartridges left."
Heyes sat up a little in preparation for getting back into his shooting position.  He flicked his eyes upward to the clump of pine and the big boulders on the canyon rim.  Brown eyes suddenly widened in consternation.  There was a flash of golden light that shouldn't be there.  "KID, MOVE, NOW!"
Curry immediately slid down, popped up to a crouch and aiming though the gap started shooting while running over to Heyes' side.  A rifle retort echoed in the canyon.  The Kid's left leg started to buckle and he stumbled and slid to land at the bottom of the rock-strewn steep slope Heyes was positioned behind.  He lay there, clenching his jaw, as the burning pain shot through his thigh, down his leg and up to his hip.  The left hand he had clamped to the back, outer part of his thigh became warm and slick with blood welling up from the wound.
Heyes rapidly aimed upwards at the clump of boulders on the left rim and let loose a few shots.
"Save it Heyes.  He's out of range with a pistol.  Watch the gap!" panted the Kid.
Heyes slid down to where his wounded partner was lying.  He knelt where he could attend to Curry while still keeping an eye out for any attempt to enter the canyon by the posse.  The waning light of the day and the shadows of the pinnacles made it difficult to see clearly.  Curry grabbed his bandana from his pocket and handed it to Heyes who folded it in a square and placed it on the torn bleeding flesh under the ripped trousers.
"The bullet's still in there, Kid."
"Thought so.  Terrific.  This is gonna put a crimp in any escape plans for later tonight.  Good thing the horses are rested 'cause I ain't gonna be walkin' or climbin'.  Help me get my belt off to use as a tourniquet to slow the bleedin'."
The shooting had stopped as the light died away with the setting sun.  Most of the posse members were lounging around a roaring camp fire, sitting on several fallen logs.  Two men stood just outside the ring of light, standing guard and keeping watch on the canyon's entrance.
Heyes and Curry were huddled down in a gap between two boulders.  Heyes glanced down at the Kid.  "You cold?  I could build us a small fire.  It's not as if they don't know we're here."
"I appreciate the thought, Heyes, but that'll compromise our night vision in case they try somethin', like gettin' the jump on us in the dark."
The older man moved a little closer to his wounded partner as both men settled down for a long night.
Heyes broke the resulting silence with a whisper, "You're shivering.  I'm gonna get the horses.  You need the bedroll and I need more bandages for your leg.
Curry raised up on his elbows and looked to the front and then to back of the canyon.  He lowered himself back down.  "No, the watch will hear the horses movin' while you're getting the stuff and they'll have a clear line of sight through the gap to where you'll be."
"Okay, wait, if I whistle maybe they'll come to us."
"They probably will, and then maybe they'll decide that there's more fodder though the gap and join the posse's horses."
"Jeez, I'm just trying to help."
"I know, sorry."
Heyes looked down at his partner who, even in the moonlight, looked paler than he did just a little while ago.  He noted the blood covered right hand that was still firmly holding the Colt .45.  He also noticed that his partner's right hand was about the only part of Curry that wasn't shaking.  The Kid had broken into a cold sweat and was shivering non-stop.
"Kid, you still with me?  Do you trust me?"
"Always, partner.  Always.  Why?  Have you got a plan?"  Curry words came out as a breathy pant.  He shook his head to clear it and grimaced in pain when his leg inadvertently moved.
"Sort of, not the kind you're gonna like, though."
"Go on."
"Kid, we haven't cleaned the wound.  The bullet is still in there and you're going to need a doctor.  Even if I could get the horses and get you on yours, you're not able to ride hard and fast and that's the facts, whether we like them or not.  The posse is camped right on the other side of this mound of dirt and rocks.  They're still gonna be there in the morning.  They have a fire.  I say we call out to them and surrender.  I'll give them the Smith and Jones routine and won't admit to being Heyes and Curry, but they know who we are.  So far, the sheriff leading them seems to be pretty competent, but not the big hero type that wants to bring us in dead as the warrant allows.  You listening to me?"
The Kid heaved a big sigh and shifted to look up at Heyes.  He couldn't suppress a quiet, agonized groan and his brows drew down into a deep frown as he noted the dark serious eyes, thin rueful lips, and his partner's restless hands adjusting the black hat and running though lank, dark hair.  "Yeah, I'm listen'."
"I'll get us out of this, I promise.  But our priority now has got to be getting you medical care as soon as we can."
"Heyes, I don't think…"
"I do the thinking.  We don't have a choice.  That's it.  Give me your gun and gun belt."  Heyes rose to his knees and gently took the gun from Curry's reluctant bloody grip.  He stripped the Kid of his gun belt and holstered the Colt.  Heyes then removed his own gun belt after securing his revolver in the holster.
"SHERIFF!" Heyes shouted out.  "SHERIFF!  This is Joshua Smith.  I'm tossing my and Thaddeus' guns out to you.  We'll surrender now if you agree to take care of Thaddeus by your fire and get him to a doctor as soon as it's light.  One of your men shot him in the leg and it's bleeding bad.  Do we have a deal, Sheriff?"
Sheriff Marty Rhitt left the fire and cautiously came forward.  "Yes, Heyes you have a deal.  Put your hands up.  Once we have you secured, I'll send men in to get your partner and your horses."  He watched Hannibal Heyes toss two gun belts with their revolvers in the holsters to the ground several feet in front of him."
Heyes steeled himself, glanced back at the Kid and held his eyes.  He reassured him quietly, "It'll be okay."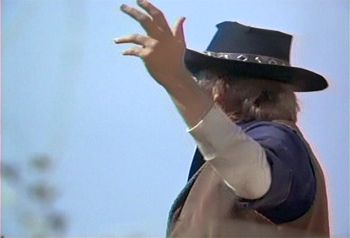 Hannibal Heyes raised both hands and walked towards the fire light.  He was met halfway there by the sheriff and five men, two with makeshift torches.  The two with deputy stars on their vests pulled his hands behind his back and tied them together securely, before patting him down for additional weapons.
"Hello, Heyes,"
"Joshua Smith."
"Nope, I don't think so.  I'm Sheriff Martin Rhitt and you're under arrest.  As you can see, I'm wearing a sheriff's star.  It would say sheriff across the middle if your partner hadn't shot a hole in it.  Clive, take Mr. Heyes over to the fire and get him settled.  The rest of you guys come with me to get Curry and their horses."
Heyes was sitting down by the fire, his ankles now tied as well as his wrists, warming up, and worriedly watching for his partner to appear.  The deputies arrived with the Kid between them, his arms draped across the deputies' shoulders as they more than half carried the wounded outlaw.  The sheriff followed closely behind with his gun drawn and pointed at the Kid.  The other two men led Heyes' and Curry's horses over to join the posse's on a line strung between the trees.
The sheriff called out, "bring their bedrolls and Curry's saddlebags, willya?"
"Which horse is his?  I can't remember," came an answering question from the posse member.
"The black belongs to Thaddeus.  The chestnut with the blaze is mine," a subdued Heyes answered.  He watched as his partner's bedroll was laid out close to the fire, but on the opposite side from him.  Kid Curry was laid down on his side with care taken not to jostle the wounded limb unnecessarily.  His wrists were tied in a similar fashion to Heyes, only in front of the body, not in the back.  Once Curry was secured with posse members holding his shoulders and ankles in position, the sheriff proceeded to wash and dress the wound, using a faded blue shirt from the outlaw's saddle bag as a makeshift dressing.  He didn't attempt to shift or remove the bullet.  The Kid tensed but managed to keep relatively still and only quietly cursed under his irregular breaths as he struggled to remain conscious during the process.
The deputies stood guard on each of the prisoners while the rest of the posse observed the outlaws with interest.  Both Heyes and Curry were given drinks from canteens.
"How's it look, Sheriff?" asked Heyes.
"Not great, but it could be worse.  It appears like the bullet only caught muscle and missed the bone.  We'll get moving as soon as it's light and get him to the doctor by late morning, I expect."
The sheriff looked down on his pale sweating prisoner. "If I didn't know better, Mr. Curry, I might believe you were Thaddeus Jones.  You look younger and a lot more innocent than I would have thought a gunman of your reputation would be.  We'll see how you're doing tomorrow, but I'm planning on putting you on your horse and tying your hands to the saddle horn.  Without being able to use your legs properly, I don't think you'll be able to stay on for long otherwise.  We may have to put a rope around your waist to the saddle horn, too.  We'll see."  He glanced over at Heyes.  "Don't either one of you try anything.  I'd hate to shoot more holes in you."
"Thanks for keeping your word, Sheriff.  We won't do anything.  Just want to clear our names, right Thaddeus?" Heyes assured the lawman.  "Thaddeus," he continued, his tone worried, "will you be okay tonight?"
"Don't have a choice, do I, Joshua?" Curry responded wearily.  "I'll be fine."  He rose shakily up on his elbow and looked around at the men sitting and standing around the campfire, who one by one averted their curious stares or looked elsewhere.  "By the way, Sheriff, who was the shooter?"
Marty Rhitt's face settled in a stern look with a straight mouth and narrowed eyes, he drew himself up and looked directly into the gunman's expressionless, cold, blue eyes.  "It doesn't matter who took the shot.  I was the one who gave the order.  I needed to end the standoff and I took the best way for the men under my command."
Deputy Dan spoke up, his voice hinting at a mixture of defiance and controlled fear.  "It's all right, Marty. I shot you, Curry."
The outlaw and the deputy exchanged a long measuring look.  Deputy Dan broke out in cold sweat under the penetrating gaze of the Fastest Gun in the West.  He averted his eyes, but maintained his defiant posture.
Curry softened his face into rueful, reluctant admiration.  "Congratulations, Deputy.  Nice shot."  The Kid's voice trailed off as he finally lost consciousness.
Deputy Dan brought his head up sharply.  With widened eyes, raised brows, and a tug on the mouth upwards into a slight grin, he commented to no one in particular, "Is he kidding?  Did Kid Curry just give me a compliment for shooting him?"
Heyes chuckled in spite of his predicament.  "Nope, Kid Curry did not just give you a compliment.  But Thaddeus Jones recognizes skill when he sees it."
~~~~~~~~~~*~~~~~~~~~~

_________________
Hannibal Heyes and Kid Curry, the two most successful outlaws in the history of the west. And in all the trains and banks they robbed, they never shot anyone.