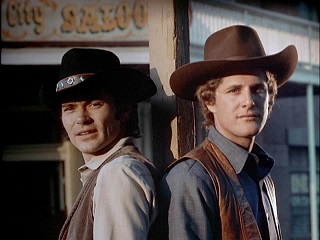 Starring Pete Duel and Ben Murphy

Signor Paulo Bianchi  Danny DiVito

Signora Beatrice Bianchi  Sophia Loren

Signor Guiseppe Miaggore  Robert DiNiro

Signora Rosa Miaggore  Dame Helen Mirren
Michael Miaggore  Leonardo DiCaprio
Juliet Bianchi  Clare Danes

Alice  Joan Hackett
The Sheriff  Ben Murphy

The Wine Judge  Oz Clarke
THE SONOMA VALLEY - A SPRING DAY
Kid Curry rode, at a leisurely pace, into Santa Rosa. Suitably quiet, with a suitably unfamiliar sheriff, it was where he was to meet up with Heyes. Last week the partners had been offered two – yes, two! – well paid jobs. One found by Lom, one by Colonel Harper. This exceeded their usual number of jobs by – well, by two. They swallowed any reservations about splitting up and concentrated resolutely, not to say – yearningly – on the money.
So far, mused the Kid, so good. His job had not only been delightfully trouble free, it had been…A grin creased the sun-kissed face. The jobs had been allocated by the traditional coin flip. Curry could not WAIT to tell his partner that, for once, HE – not the owner of that suspiciously predictable quarter – had been lucky! He would have to wait, though. Heyes was not expected until tomorrow at the earliest. Till then… Curry's gaze took in a clean looking hotel situated conveniently near an inviting saloon. The smile broadened. He planned, in no particular order, a cold beer, a hot bath, a soft bed, a substantial meal and a little friendly poker.
As Curry dismounted, his blue eyes rested, appreciatively, on two handsome brunettes seated in a smart carriage. The older lady climbed down and headed for a shop. Curry civilly touched his hat and received a polite smile in return. Then, a window in an upper room swung open, a potted Mariposa Lily rocked for a moment on its ledge, then—fell. Soil and shattered terracotta exploded in front of skittish highbred horses. Two feminine yelps of distress, as two nervous matched greys reared and then bolted, their young driver clinging to the reins. The Kid flung himself back into the saddle and set off in pursuit. Closer, closer, closer… Nearly, nearly… Leaning at a precarious angle… Yes! He had hold of the harness.a One jean-clad leg swung, one booted foot braced, and with an almost unbelievable, though not completely unprecedented, leap, Curry was astride a runaway horse. He brought the creature under control. The pair slowed to a canter, a trot, a halt. The blond ex-outlaw swung himself down and strode to check on the pretty young driver.
A charmingly flushed face greeted him. A pair of deliciously fringed deep brown eyes spoke their admiration. Kid Curry swept his hat from his head and gave his very best smile.
"Are you alright, ma'am?"
"That was SO brave!" breathed a pair of rose-petal lips.
"It was nothin'," deprecated the Kid, modestly, if not truthfully.
"It WASN'T!" argued the enchanting brunette. "It was just like something a hero in a book might do! Thank you, Mister…er…"
"Jones, ma'am. Thaddeus Jones."
"Thank you, Mister Jones." A daintily gloved hand was extended. Curry wiped his own battered leather article on the back of his jeans and took the offered clasp. "Juliet Bianchi," he was informed.
"It's a pleasure Miss Bianchi," said Curry, ever the gentleman. "Let's get you back to town. Your," his tone held a question, " mother?" A friendly confirmatory nod. Dusky curls bobbed. "She'll be worryin'."
Curry fastened his own horse to the back of the carriage. A shapely figure twisted round.
"Of course, although that WAS very brave, Mister Jones, it was completely unnecessary. I would've stopped them."
"Uh huh," grunted the Kid, noncommittally. He prepared to climb up.
"I would!" repeated Juliet, raising her chin defiantly. She shifted her skirts aside to make room.
"Uh huh."
"I WOULD!"
"Sure," soothed Kid Curry, gathering the reins in his capable fingers.
---oooOOOooo---
"And he LEAPT Papa, like a, like a…" Juliet searched, but failed to find any suitably brave and 'leapy' simile.
"I was SO frightened, Caro," Signora Bianchi admitted to her husband. "But Signor Jones, 'e t'rew 'imself onto 'is 'orse and 'e rode, rode lika the wind."
Signor Bianchi, one arm protectively around his young daughter, gratefully pumped the Kid's hand.
"Signor Jones, grazie tante, 'ow can I ever t'ank you?" Juliet's father had emerged from the town's telegraph office as the horses bolted, to hear his wife's panicked account of the runaway pair and the, oh so gallant, cowboy who had ridden after them.
"It was nothin'," said Curry. He had been pleased with the phrase before and saw no reason not to re-use it.
"You 'ave saved my mosta precious jewel, my treasure, mia carissima." Bianchi was still pumping the ex-outlaw's hand. He decided this was insufficient. He removed his left arm from Juliet and threw it, together with the right one, around the rescuer.
Even the Kid's reactions were not quick enough to prevent two distinctly Mediterranean kisses being planted on two distinctly ungrateful American cheeks.
"Hey," protested Curry, pulling back.
"You is an 'ero!" declared Signora Bianchi. She, in turn, flung her arms round him and kissed the flushed cheeks.
Since anyone looking at Signora Bianchi could see at a glance not only where Juliet got her good looks, but that she would still be utterly gorgeous in twenty years time, Kid Curry did not feel at all ungrateful for this second display of Italian appreciation. He decided not to pull back. No need to be rude, huh?
"Hey," he repeated, gruffly, color creeping into his face. "It was nothin'."
"You must come-a to dinner," went on Signora Bianchi.
"Do come, Mister Jones," supported Juliet.
"Well…" Curry hesitated, his eyes took in the air of prosperity emanating from the Bianchi family. This was likely to be a pretty good dinner. His gaze moved to the grateful, and enchanting, smiles of the two ladies. Okay – they were 'out of bounds', but still, no harm enjoying a little pleasant company.
"You come. I open the finest wine you 'ave ever tasted, from my owna vines," pressed Bianchi. The beginning of a hurt frown. "You eensult me, you eensulta my wine, if you refuse..."
The Kid had no wish to 'eensulta' Signor Bianchi – or his wine. No need to be rude, huh?
---oooOOOooo---
THE VILLA BIANCHI – THAT EVENING
"So you were escorting a safe to San Francisco?" Signora Bianchi smiled encouragingly at her guest.
Kid Curry swallowed a mouthful of delicious braised lamb and nodded. "Yes ma'am," he confirmed. "A Brooker 606 – the very latest model. It was empty, but the bank was kinda nervous in case …" The Kid suppressed a grin. "In case any outlaws with a taste for safe breakin' decided to steal it, to learn how to crack it."
"No danger of that! Not with our 'ero Signor Jones on guard," said his host. Beams from Juliet and her mother. "You is secur'ty expert, eh?" Bianchi enquired.
"I wouldn't say expert," the ex-outlaw demurred.
"You are too mucha modest," protested Signora Bianchi.
"Well, ma'am, I reckon that Brooker 606, " the actually not all that modest Kid Curry wore a boyish smug look, as he finished, "was pretty SAFE!"
Trills of feminine amusement. Genial laughter from Signor Bianchi. The Kid wrapped himself around another forkful of lamb and basked in the admiration.
"More wine, Signor Jones?" offered Bianchi. An eager nod. "Juliet, more wine for our 'onoured guest.Is good –no?"
"Is good, no, I mean – yes sir. It's real good," approved Kid Curry, taking an appreciative sip. Well, to be strictly accurate, it was more of an appreciative glug. His glass was immediately topped off. Ever polite, he lowered the level at once.
"Is good 'cause I worka WEETH the soil. I grow only Zinfandel grape." Juliet once more filled the Kid's glass. She received a dazzling smile of thanks and dimpled back, adorably. "The vines first broughta to California in the Golda Rush." With a kindly look, Signora Bianchi refilled her guest's plate. "An' thees grape, it makea not only fine red," Kid Curry made himself comfortable to fulfil a guest's primary duty of listening to his host's monologue. "but a sweet blush, a dry rosa sparklin', a late 'arvest dessert." The main course was removed. "'Ow any STUPIDITA can," The guest was served a tiramisu (with, of course, late harvest dessert wine) so delicious, his attention wandered completely from matters viticultural. "bringin' over Sangiovese vines! Tchah! Maggiore always was stupidita! Pah! 'E will finda out – at-a the barrel tastin'! Capische? I aska you Signor Jones is Sonama Valley Tuscany?"
Kid Curry, savoring a spoonful of liqueur soaked sponge cake smothered in ricotta and whipped cream, became aware his host was waiting for an answer.
"Look outta the window Signor Jones, is thata Tuscany?"
Curry blinked and obediently looked out of the window at the lush valley dappled by the evening sun. "Er - no, Sir."
"You see, Cara," Bianchi turned to his wife, "Signor Jones, 'e know more 'bouta wine than that …"
Curry did not recognize the next word. However as two exclamations, "Paulo!" "Papa!", burst from the ladies, he judged he had heard a fine old Italian insult.
Bianchi kissed his wife's hand and shot her a look of apology. "T'ousand apologies, Cara." He turned back to his guest. "You un'erstand, Signor Jones, this Maggiore, he makea me …"
Kid Curry realized he had lost the thread of the conversation. He shot a mute appeal at his hostess.
"Guiseppe Maggiore is our neighbour," she explained. "'E owna the vineyard south of 'ere. Paulo an' Signor Maggiore, they grew upa together, in Tuscany. They come-a to America together."
"There was a quarrel," Juliet interrupted, "YEARS ago. About NOTHING."
"NOT abouta not'ing!" exploded her father.
"PRACTICALLY nothing," argued Juliet. "All it was…"
Signora Bianchi cleared her throat warningly and looked with meaning first at her daughter, then her husband.
"Va bene, Cara!" accepted Bianchi, trying for a calmer tone. "We changa the subject. We talka of more cheerful t'ings."
A pause.
Still with the remains of a scowl, Juliet turned to the guest. "Mister Jones. Changing the subject completely, in America girls pick their own husbands, don't they? If a girl meets a man she likes, and falls in love, she marries him."
The Kid blinked in surprise. Not that he wasn't flattered – but, sheesh! He cast a wary glance at the listening devoted father. The paternal brow was already lowering into a glower.
"Well, ma'am," his tone was gentle. Juliet was so young and sweet; he didn't want her TOO disappointed. "I reckon it's best to get to know a man real well before makin' up your mind. And, as for choosin' a husband, it's kinda traditional for a lady to wait to be asked."
"No, no!" protested Juliet. "I know all THAT! What I mean is, an American girl doesn't sit around and wait for her family to arrange a match? Getting to know a young man, and marrying for love, is perfectly respectable?"
"You is to stay away froma Michael Maggiore!" exploded Bianchi. "I 'ave TOLD you…"
"I WON'T stay away! We love each other!" shrilled back a fuming Juliet.
Curry blinked again. Ah! He took another sip of wine and congratulated himself. No one had noticed his, perfectly understandable, mistake.
"We're going to be married!" went on Juliet, eyes sparkling magnificently.
"I forbid it!"
"You can't stop us!"
"'Oo is master 'ere?"
"Paulo! Mio Caro, whatever you t'ink of 'is papa, Michael is a nice-a boy…"
"Never! I 'ave spoken!"
"Michael and I don't care about some silly vendetta that started a hundred years ago, when we were still children!"
"Giva my precious jewel,mia bellisima, to the son of that …that…"
"Caro, don't getta so excited, t'ink of your 'eart!"
"Mama! Tell Papa…"
"Beatrice! Talka to your daughter!"
"I'll run away! Then you'll be sorry!!"
"Mia Bambina – do you wanna break your poor old papa's 'eart?"
The language switched from English to rapid Italian. Kid Curry wondered if anyone would consider it rude if he helped himself to another glass of wine. As the family argument swirled fast and furious, he decided – no, no one would.
"Dio mio!"
"Misericordia!"
"Impossibillissimo!"
Indeed, as the ex-outlaw pulled the bottle towards himself, he decided no one would even notice.
---oooOOOooo---
THE NEXT DAY
Kid Curry, cigar in mouth, hat pulled down, boots propped up on a rail, cool beer beside him, lounged outside the Santa Rosa saloon. Keen blue eyes watched a distant carriage, a rider trotting alongside, approach the town through a shimmering heat haze. The rider came into focus, and resolved into a slim upright figure, reins held between tapered fingers clad in battered leather gloves. Closer still. a self-satisfied dimpled smile beamed from beneath a jauntily tilted black hat with silver trimmings.
Deep brown eyes slid sideways. From under the floppy brown hat of the watching lounger, a bright blue gaze met them. The Kid pulled deeply on his cigar and let a smile crease his tanned cheeks. Clearly, Heyes' job had gone pretty well, too.
---oooOOOooo---
TEN MINUTES LATER
Two ex-outlaws, two cigars in two mouths, two hats pulled down, two sets of boots propped on a rail, two cool beers beside them, lounged outside the Santa Rosa bar .
"You'll never guess what I was guardin' Heyes…"
"You'll never guess what I was guarding Kid…"
Kid Curry frowned. However, talking over the silver tongued one was – well, just too much dang effort on a beautiful spring morning. He decided to wait.
"Plants! Who the Sam Hill would want to steal plants, anyhow!" Heyes blew the satisfied smoke ring of a man who has pocketed a substantial fee. "I've been playing nursemaid to a set of bud-wood cuttings, Kid. This guy who hired me owns a vineyard – y'know – wine. He's brought over some kinda special grape all the way from Tuscany."
"Tuscany!" echoed Curry. "Sangiovese grapes, huh?"
Heyes blinked. "Er, yeah."
Kid Curry repressed a smirk and appreciated his partner's surprise. "Makes a medium to full, firm, dry, slightly spicy red that ages…"
"Since when did you know anything 'bout wine except how to drink the dang stuff?"
"Can't a man appreciate a, a fine bouquet?" the Kid deadpanned.
Heyes did a double-take. WAS that Kid Curry? "Anyhow, " Heyes pressed on, "this fella, Maggiore, he's hired me for the rest of the week. Seems there's what they call a barrel tasting then. He's kinda concerned about tampering. Apparently there's this fella called Bianchi and…"
"Heyes…"
"...there's some kinda vendetta. Tell you what, Kid…"
"Heyes…"
"Strikes me he might hire you, too."
"Heyes I can't work for Maggiore. An', I don't think you should take the job."
"Why not? Good money, Kid. And he's a real affable fella,Kinda excitable, maybe."
"I can't take the job 'cos I'm hired by Bianchi to guard HIS barrels till the end o' the week!"
Heyes took a moment to process this. "Maggiore isn't planning to tamper with anything of Bianchi's. Told you, he's a real nice fella."
"Well, Bianchi isn't plannin' to tamper with anythin' of Maggiore's," interrupted his partner, defensively. Hey , he liked his new boss! Then, brow furrowing, "Maybe neither of us should take the jobs, Heyes." He met an enquiring, not to say incredulous, look from a pair of deep brown eyes. "If you're workin' for Maggiore, and I'm workin' for Bianchi." The Kid shifted in his seat, "we'd kinda be on opposite sides."
Heyes folded his arms. "So, let me get this straight. Maggiore wants to pay ME good money to guard his barrels?"
"Uh huh."
"Bianchi wants to pay YOU good money to guard HIS barrels?"
"Uh huh."
"Neither one is planning anything, so this'll be the easiest good money we've made since we quit busting banks? 'Cept, it's honest!" Heyes pushed his hat to the back of his tousled dark hair and stared at his partner. "And, you want to turn it down?"
The Kid frowned a little more. Then, his brow relaxed. Another long pull at his cigar. "Heyes…"
"Uh huh?"
"You persuaded me."
A grin dimpled Heyes' cheeks. "It's what I do, Kid."
A contented beat.
"You'll never guess what I was escortin', Heyes," began Curry, looking forward to his moment.
A smartly dressed couple exited the town's bank and began to walk towards the partners.
"Tell me later, Kid," interrupted Heyes. "And, we don't know each other! We just happen to be having a beer at the same time."
"Uh huh," grunted Curry.
The ex-leader of the notorious Devil's Hole Gang, rose to his feet and ran lightly down the steps to the street.
"Rosa, mia cara," smiled Signor Maggiore, This is Signor Smeeth, 'oo is gonna keep-a safe our …"
Heyes touched his hat to his new boss's wife and then, politely, returned his attention to what his employer was saying.
From under his hat brim, the watching Kid Curry became aware that Signora Maggiore's eyes never left his partner's face. At first she wore a, a slightly dazed expression. Then, as Heyes turned away, this was replaced by a delighted smile. A feminine gaze studied every detail of the dark-haired ex-outlaw from bright silver trimmings to dusty boot heels. The smile broadened. A silk parasol twirled, thoughtfully.
Kid Curry shifted uncomfortably. It was not that unusual for Heyes to get his fair share, a fair share being, oh, about 20% in the Kid's opinion, of female admiration. But – sheesh! This was his boss's wife. It could mean trouble! It could, nah! The Kid reassured himself. Heyes was too smart to walk into that kind of trouble, whatever the temptati… Er? Curry took another look at the temptation. Signora Maggiore sure was a handsome woman for her age. No,the Kid reconsidered, as a pair of lustrous blue eyes flashed HIM a glance from under honey colored lashes. He crossed his legs. Strike out 'handsome'. Make that, stunning. He hoped his smart partner was smart enough.
"Buon giorno, Signora Maggiore," said Heyes, fluently. Well, as fluently as four simple words can be.
"How do you do, Mister Smith? My husband informs me you come most highly recommended." A gracious hand was extended. Heyes blinked. "Is there something wrong, Mister Smith?"
"No – nothing, ma'am."
Kid Curry lowered his head to hide a smirk. Heyes, who must have learnt and practised the Italian greeting during the last few days with Maggiore, had clearly thrown it away on a lady clearly born, raised – and, from her accent, most expensively educated – back east.
Suddenly, both ex-outlaws' attention was diverted by the sound of an approaching carriage.
"Maggiore!" shouted the irate tones of Bianchi. "Maggiore! I wanna talka to you!" A fist waved in the air. The carriage veered. A fist stopped waving in the air and returned to where it belonged, on the reins.
With an expression of foreboding, Kid Curry pulled himself to his feet and stepped into the street.
Bianchi scrambled out – scowling. He momentarily switched off the scowl to throw a friendly smile at Curry, a gentlemanly inclination of the head to the watching Signora Maggiore and to help his wife step down. Duty done – he switched the scowl back on.
"I wanna talka to you, Maggiore!"
Two bristling middle-aged men squared up.
"So talk, Bianchi! I keepa the special pair of leetle ears for anyt'in you hava to say!"
"You tella that boy of yours, keep away from my daughter!"
"Isa NO problem! I tell 'im that already! I tell 'im, 'e marries your daughter over my deada body! You tell 'ER , keep away from 'IM!"
"Are you sayin' my daughter is notta GOOD enough for your son?" Bianchi began to strip off his beautifully tailored jacket.
A hesitation. Heyes looked, thoughtfully, at the man with whom he had spent much of the last week. Whatever this WAS about, the essentially good-natured man seemed to have no inclination to imply anything offensive about his neighbor's daughter.
Bianchi struggled with an inside-out sleeve. "You say my Juliet isn' good enough for your son, I, – I knocka your 'ead offa your shoulders!" The jacket was finally pulled off and flung into the arms of a reluctant Kid Curry.
"I did'n say SHE wasn' good enough!" said Maggiore.
"Y'know, he didn't say nothin' like that," put in Curry. His eyes flicked across the street. The door of the Sheriff's office had opened. A figure wearing a star-shaped badge watched the scene with mild, 'don't make me come over there', disapproval. Okay, the figure was pleasantly unfamiliar to the ex-outlaws, but – all the same!
"I DO say to my son," went on Maggiore, "I say, you don' marry any girl 'oo giva you a, a stupidita for a papa-in-law!"
"Pah!"
"Tchah!"
"Hah!"
"Pfffttt!"
"I wouldn' let mia bellissima Juliet marry your boy, not if he was the lasta man on earth!"
"Are you sayin' my boy isn' good enough for your family?" Maggiore's turn to strip off some of the most expensive tailoring available in San Francisco. Heyes' turn to be the reluctant holder of a discarded jacket. "You saya one bad word 'bout my boy, I– I …"
Bianchi's turn to hesitate. Kid Curry remembered, in all the swirling family argument last night, his new boss never denied his wife's repeated assertions that young Michael Maggiore was 'A gooda boy! A nice-a boy!'
"I don' say a bad word 'bout your boy, only 'bout his ____" A tut from Signora Bianchi. Curry gathered he had learned his second Italian cuss-word. "Of a papa!"
"Tchah!"
"Pah!"
"Pfffttt!"
"Hah!"
Two figures, elegantly embroidered waistcoats snugly fastened over portly bellies, circled in the dusty street. Four sleeves of snowy white finest linen fluttered gently, as two sets of plump fists were raised in classic 'sparring' pose.
"You waita, Maggiore. You finda out 'oo ees stupidita! The vino Bianchi, it take the golda medal ata the barrel tastin'!"
"Ina your dreams! Once the judges taste-a vino Maggiore …" rapid Italian. Circling.
"Pah!"
"Pfffttt!"
"Tchah!"
"Hah!"
The watching wives exchanged a glance. Feminine eyes rolled. The partners gathered, firstly, this display of what later generations of women might (rightly) dismiss as 'pointless willy-waving' was not new. Secondly, the ladies did not expect actual punches to be thrown.
"An' keep-a way from my barrels! I 'ave 'ired, " Maggiore lowered his fists and pulled forward an unwilling Hannibal Heyes. "I 'ave 'ired the best security expert in California. No! No! I 'ave 'ired the best security expert in the 'ole of the West!" An expressive Latin hand gestured. "Looka thosa eyes! Sharp as an eagle!" Heyes' arm was pulled. "Looka those arms! Muscles lika tiger! Looka thosa …"
"Hey!" remonstrated Heyes. Sheesh! He scowled at his grinning partner.
"See 'im frown!" triumphed his pleased boss. "Signor Smeeth, 'e is fierce as a…"
"Pah!" dismissed Bianchi. The grin was wiped off the Kid's face, as HIS boss turned. "It is I, Paulo Bianchi, 'oo 'as 'ired the best security expert in the west! No! No! I 'ave 'ired the best in the 'ole of America! Looka 'IS arms! 'E is MORE muscles than a tiger!" The Kid's arm was flexed by a proud employer.
"Hey!" he protested. He gave a clearly amused Heyes, 'the look'.
"Looka THAT scowl!" exulted Bianchi. "Signor Jones, 'e knowsa not the meanin' of fear!" A scornful look. "'E could take-a your man with one-a 'and tied be'ind 'is back!"
"Hah! Signor Smeeth, even with both 'ands be'ind 'is back, 'e flatten your man lika, lika, " Maggiore searched.
"Like a bug?" suggested Heyes.
"Grazie tante. Like-a BUG!" accepted his boss.
"Hey!" objected Curry.
"No offence, Mister Jones," smiled Heyes, touching his hat.
Maggiore dropped the belligerent posture. "No offence, Signor Jones?" he echoed. The kindly face looked anxious. As if concerned arguing with his boyhood rival had led him to be rude to an innocent stranger.
"None taken," responded the ex-outlaw, civilly.
"Va bene," smiled Maggiore. He returned to his aggressive stance. "Is not youra fault, Signor Jones, that you 'as been 'ired by that, that…" More rapid Italian. More circling.
"Signor Smeeth, 'e is recommended by the best Sheriff in the 'ole of Wyoming!"
"Is not'in! Signor Jones, 'e 'as been workin' for Wells Fargo! Recommended by a – a Colonel!"
"I was deliverin'…" Kid Curry tried to get his last job into the conversation.
"Pfffttt!"
"Hah!"
"Tchah!"
"Pah!"
Kid Curry failed. Utterly!
"You don' needa to be guardin' YOUR barrels any'ow! 'Oo wanna get ata YOUR barrels! Oak! Hah! Only a – a stupidita use-a the oak!"
"Why you guard-a YOUR barrels? Even woodworm have-a more sense than go near YOUR barrels!
Chestnut! Pah! Dio mio!"
"You don' say not'in 'bouta my barrels!"
"No! No! I feela SORRY for YOUR barrels!"
"Whata you tryin' to say?!"
"Bein' full of your stinkin' wine!"
"Leasta I makes wine! Not – not 'orse peeessss!"
"Paulo!" a sharp reprimand from Signora Bianchi.
"You don' even make-a wine THAT good! You make-a diseased mule peeessss!"
"Guiseppe! Language!" a second sharp reprimand from Signora Maggiore.
"You take-a that back!"
"YOU take-a it back!"
"The last time I drank-a wine from your grapes…!"
"You don' say not'in' 'bout-a my grapes!"
"It was, it was – STEWED!"
Gasps of horror from the two ladies. Silence. Change in mood. Bianchi wore the expression of a man who has let his mouth run away with him. Maggiore wore the expression of a man hearing the virtue of his mother insulted in language too coarse for a dockyard.
"You! You! Well, your wine, is – is STRINGY!"
More dismayed spousal gasps!
Bianchi swung a genuine punch.
With the reflexes of a tiger (possibly the same tiger from whom he had acquired his muscular arms) Heyes pulled his boss clear. He kept hold of one excitable – and incensed – Italian.
Bianchi, his fist, with his full (and not inconsiderable) weight behind it, connecting with nothing, toppled.
With the reflexes of something undefined, though MORE sinewy than a cougar, the Kid caught HIS boss before he landed in the dirt. He kept a firm hold of the second excitable, and completely furious, Italian.
Looking up, the partners saw one of their least favourite sights. The Sheriff, disgruntled at having the calm of his quiet, peaceable town disturbed, was coming over.
"I reep 'im leemb from leemb!" frothed Maggiore, struggling in Heyes' vice-like grip.
"Dignity, Sir!" counseled Heyes, one wary eye on the Sheriff. "Rise above it! Show him who's the gentleman here, huh?"
"I tear 'im to peeces!" foamed Bianchi, fighting to free himself from a pair of steel strong arms.
"Don't give him the satisfaction!" entreated Curry.
"Trouble?" grunted the Sheriff.
"No trouble, Sheriff," soothed Kid Curry, trying his best to manage a conciliatory smile over the head of a wriggling vineyard owner.
"Just a little friendly discussion, about the barrel tasting," smiled Heyes, his hands still full of straining winemaker.
"And, who would you be fella?" enquired an unconvinced lawman.
"This is Mister Smith," put in Signora Maggiore. "My husband hired him to make sure there IS no trouble before the barrel tasting." In a whisper, she added, "Guiseppe! Really!"
"An' thees, " Signora Bianchi stepped forward, "thees is Signor Jones! 'E also make-a sure, for mio spouso, there is-a no trouble!" Undertone. "Paulo! Be'ave!"
"Smith an' Jones, huh?" The Sheriff raised a disbelieving eyebrow.
The partners did not risk an exchanged glance.
"Uh huh," they chorused in unison.
A cynical eye examined the tied down guns and general air of danger.
"An' you two are here to STOP any trouble?" The lawman's tone was heavy with scepticism.
Another pair of "Uh huhs".
One by one, the now under control, though still quietly seething, vineyard owners were released by their new employees.
"Good!" approved the Sheriff, "'cos if there's one thing gets me all riled up, it's trouble in my town!" Sharp eyes were still examining Heyes and Curry.
The ex-outlaws plastered on their best 'innocent' expressions.
"Me too," nodded Heyes. "I can't bear trouble. I just want to do the legitimate, peaceable security job I was hired for. And, I guess Mister, er, Tomes, was it?"
"Signor Jones," supplied Signora Bianchi.
"I'm sure Mister Jones here feels the same!" Heyes tried a charming smile.
"Sure do!" nodded his partner, eagerly. "I like things real quiet an', an' law-abidin'! Always have! Can't abide trouble!"
"Good!" repeated the Sheriff, "'cos when I get all riled up, I get suspicious! I start to ask a lotta questions 'bout strangers." A beat. "But, if there AIN'T no trouble, I never feel the slightest bit curious!" A beat. The Sheriff touched his hat to both ladies, turned on his heel and strode away.
Heyes and Curry finally risked exchanging a glance. A mute conversation.
"I reckon we oughta go, Signor Bianchi," suggested the Kid.
"Leesten to Signor Jones!" supported Signora Bianchi.
"Va bene. Va bene," accepted Bianchi. "But, " a quick glance to check the Sheriff was out of earshot, "you 'aven't 'eard the lasta thees, Maggiore!"
"Any time-a you choose, Bianchi," hissed back Heyes' employer.
---oooOOOooo---
THE VILLA MAGGIORE - THE SAME DAY – CLOSE TO MIDNIGHT
Hannibal Heyes, boots off, Henley open at the neck, stretched out on the snowy-sheeted bed. One arm was tucked behind a head of tousled dark hair. The other held aloft a leather bound book. Tapered fingers turned a page. Fascinated deep brown eyes absorbed the text.
A sound. Whip-quick, Heyes retrieved his gun from where it hung over the polished mahogany bedpost. Silently, he padded across the room and positioned himself beside the window.
A scrape as the sash was raised. A dark figure swung a slim leg over the sill.
"Hold it right there," cautioned Heyes, pressing the muzzle of his gun into the intruder's back.
"For Pete's sake, Heyes! It's me!" hissed Kid Curry.
"I know," grinned Heyes. "I recognized your boot soon as it came through the curtain. Just can't have you thinking you've a talent for breaking and entering, Kid." He tucked his gun into his waistband.
"What are you doing here? We don't know one another – remember?"
"Sure we do," deadpanned the Kid. "I recall bein' introduced this afternoon. Thought I'd pay a call.
Sociable like." He pulled himself the rest of the way into the room. "Heyes, Maggiore is gonna fight Bianchi – tomorrow. Some kinda challenge arrived while we were at dinner…"
"An' Bianchi accepted," finished Heyes. "I know, Kid. So?"
"So, " his partner frowned, "I reckon we oughta leave."
Heyes dropped his hands to his hips. "Leave? Look around, Kid. Pretty fancy, huh?"
Kid Curry glanced round. The room was on the luxurious side. "Uh huh," he acknowledged.
"An', I'd be willing to wager you're sleeping somewhere just as good."
"Uh huh."
"An', dinner tonight. I ate like a king. An', drank wine good enough for an emperor."
Curry could not subdue a wistful smile. "Me too."
"And, I reckon you trust Bianchi to pay you fair and square at the end o' the week?"
"Uh huh, Heyes!" Trying to keep his voice down, an impatient Kid Curry interrupted. "I get the point! I STILL think we should leave. Bianchi asked me to be his, er…"
"Second?" supplied Heyes.
"Uh huh." Curry's brow lowered in a suspicious frown. "How'd'ya know?"
"They're having a proper duel. I'm Maggiore's second. Go on."
"I wanted to say 'No'. But, Signora Bianchi an' Juliet, they kinda looked at me an'…" Curry stopped. He saw his partner's grin as a dark head shook in mock-reproach. He started again. "The point is, I ain't sure this, duel, is even legal! An' if Bianchi shoots Maggiore, legal or not, I reckon that Sheriff is goin' to count it as trouble! An', you heard him! He don't like trouble!"
"Kid, you saw them today! These guys aren't killers! Do you REALLY think after they've had a whole night to cool down, either of them will even want to hurt the other?"
Kid Curry mulled. There was a lot of truth in there.
"Most duels, no one gets hurt bad," went on Heyes. He picked up the book he had left open on his pillow and showed the spine. "I've been reading up, Kid."
"The Code of Honor," read his partner. "A complete guide to the etiquette and practice of dueling for gentle…" Kid Curry closed his eyes in disbelief. When he opened them again, his tone was heavy with sarcasm. "Oh, well! If'n you've found a BOOK on it, I'll stop worryin'!" End of sarcastic tone.
"Heyes! Folk get hurt in fights! Even if'n they don't plan it that way!"
"Listen, Kid," Heyes flicked through pages. His finger found the passage he was looking for. "The first duty of a second is to use every effort to effect a, a reconciliation. Now, " persuasive brown eyes met proddy blue ones, "you like Bianchi, huh? You don't want him hurt? You don't want him doing anything foolish and hurting Maggiore?"
The Kid pursed his lips. Nodded. He had no problem with any of that.
"I feel the same about my guy," went on Heyes. "So, " he smiled, "we OUGHTA be seconds! We OUGHTA effect this – reconciliation! Keep 'em out of trouble." An admonitory look at his partner. "Wouldn't be right just to walk away, Kid!"
Once again his partner mulled. A reluctant nod. He guessed there was a lot of truth in there, too.
"Besides," soothed Heyes, "even if our guys DID want to hurt each other, which neither of us reckons they do, there'd still be no risk of anyone getting shot."
"How'd you figure that?" asked his partner.
"They're using swords, Kid," Heyes replied smugly.
He received the 'look'.
"So," summed up Heyes, "We stick around. We make sure no one gets hurt. We stay away from the Sheriff. We sleep on goose-down. We eat like kings. We go to this barrel tasting; maybe DO a little tasting! We get paid. We ride out. How's that sound?"
"That sounds pretty good," admitted the Kid. A beat. "Heyes, " the beginnings of a grin creased his cheeks "you'll never guess what I was guardin' last week…"
A sound in the corridor. Both ex-outlaws froze. Drawing his gun, the Kid moved to where the door would conceal him if anyone entered. A note appeared, pushed under the door. More sounds, unmistakably retreating footsteps. Curry pressed his ear to the crack, listened hard, gave his partner an 'all clear' nod.
Heyes unfolded the note. He blinked. A smug smile. A frown. Smug. Frown. Smug. Frown. Possibly the smug smile was winning. The note was tucked into Heyes' back pocket.
Heyes sat down on the edge of the bed. Kid Curry waited. And waited. Heyes pulled his boots towards himself.
"Heyes!" hissed his partner.
"Uh huh?"
"What WAS that?"
"That?" Heyes looked up, as he dragged on his first boot. "That was a note, Kid."
"Heyes!" Kid Curry breathed heavily through his nose. He controlled his temper. "WHO was it from an' WHAT did it say?"
"It said, 'Meet me in the secluded summerhouse in the scented garden in five minutes'."
"AND?"
Heyes did not look up. "It was from," he bent lower, tugged hard on the second boot, "Ro ser ma orey," he blurred.
"WHO?" Heyes reached for his shirt. The 'fastest hand in the west' whisked it away.
Heyes sighed. "Rosa Maggiore," he gave in.
Envy. Frown. Disapproval. Envy. Frown. The shirt was whipped back from the Kid's suddenly slack fingers.
"You're not GOIN'?" he protested.
"Gotta see what she wants," reasoned Heyes, buttoning.
"It's midnight. She's chosen a SECLUDED summerhouse in a SCENTED garden. What the Sam Hill do you THINK she wants?"
"Kid!" reproved Heyes. "You got a dirty mind! She's a married woman."
Heyes was by now straightening his hair in front of the looking glass. Kid Curry pulled him round by the shoulder. "I saw the way she was lookin' at you earlier! She couldn't keep her eyes off you!"
This time there was no doubt. The smug smile HAD won.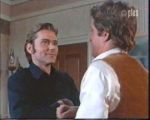 "Guess she's only human, Kid."
"Heyes! That 'married woman' is married to your boss! That means she's trouble. An' trouble is what WE don't like! Remember?"
"Have a little faith, Kid," A reproachful look from the dark brown eyes. "I'll tell her I can't let her do something she's bound to regret." Curry watched a dark blue shirt being tucked into tan pants, by an infuriatingly self-satisfied Heyes. "However great the attraction, she has to resist. I'll let her down nice an' gentle. Pretend I'M struggling against temptation too."
"HEYES!" This time the hiss from Kid Curry was explosive. "I've SEEN Rosa Maggiore. There isn't a man alive who'd hafta PRETEND to be tempted round her!"