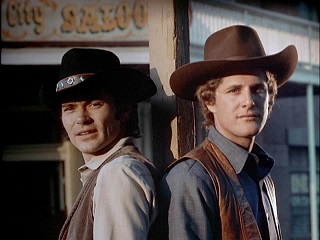 Starring Pete Duel and Ben Murphy

Louise     Catherine Bell

Mark Jensen     Charles Martin Smith
Sheriff John McKay     Peter Brown
Matt Jensen     Michael J. Pollard
Mr. Hitchcock     Robert Lansing

Mrs. Brown      Sheree J. Wilson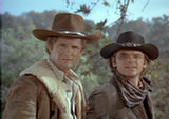 The heat from the midday sun beat down on the two tired horses. Seeing a pool of water up ahead, their riders didn't try to steer them away from it, rather they dismounted at the edge of the water to take a break themselves."Where do you reckon we are, Heyes?"
"Still in Colorado. I'm pretty sure we have another couple hours' ride before we get back to Wyoming. After that, probably about another two or three days ride to Porterville. We've got about four days before we planned to surprise Lom, so we can afford to take our time getting there."
Kid Curry bent down and soaked his red bandana in the water before pulling it out to wipe his brow. "Heyes," he said, "does this place look familiar to you at all? I get the feeling we've been here before."
Hannibal Heyes looked around the landscape, then at his partner. "Kid, we've been traveling so far and for so long, just about everywhere looks familiar." He paused, and then continued, "But you're right, this place does seem familiar."
"Should we make camp for lunch try to push on? We might be close enough to a town to have a real cooked supper and sleep in beds for a change? It'd be real nice, Heyes. Might even be able to get into a poker game and increase our stake."
Heyes looked at him, "You feeling alright, Kid?"
Curry, startled, looked back at him. "Fine. Why?"
"It ain't like you to miss a meal on purpose, even if it is to get to town for a better meal." The look Curry gave him was the very same one that made strong men cringe and slink away rather than even think about confronting him. Heyes just grinned at the look, put his hat back on his head and grabbed the reins to mount up again. "Come on, let's get moving, then."
The two munched on jerky and hardtack as they followed the road to the nearest town. Coming to the outskirts, they paused as they read the sign: "Columbine, 2 miles". When they got to that sign, they pulled up and stopped.
"Heyes, it hasn't been that long since we robbed that train going to Columbine. Do you think it's safe to go there?"
"Well, Kid," Heyes thought out loud, "there could be people in town who recognize us. Maybe if we lay low overnight and plan to leave tomorrow, we'll get lucky. Sure would be nice to have a hot meal, sleep in a hotel and sleep in a hotel with a real bed for the night. I'm sure the horses could use some grain and a bit of rest, too, don't you think?"
Curry nodded his agreement.
It was mid afternoon by the time they hit the city limits. Riding slowly, they cautiously sized up the town, noting the saloon, hotel, livery stable, doctor's office, general store, bank and finally the jail. The sign over the door said "Sheriff" and in smaller letters beneath that was the name.
"Do we know a Sheriff John McKay, Thaddeus?" Heyes asked as they got near the jail.
At that moment, the door opened and a tall, thin man in his thirties wearing a badge on his vest walked out the door. He stood in front of the door with a cup of coffee in his hand and watched the new arrivals, as well as appearing to look casually over the rest of the main street in the town.
Nonchalantly looking around, they met glances with the man wearing the badge. Curry pushed his hat up with one finger, smiling in greeting to the man who was now watching them. Turning to his partner, "No, I don't recognize him. Do you?"
"No. I think we're safe for now. Why don't you take the horses to the stable and I'll get us a room?"
"Well, since you have more money than me right now, that works out just fine with me." They pulled up in front of the hotel, where Curry handed his saddlebags and bedroll down to his partner in exchange for the reins of his horse. "Be back here shortly. Hope the beds are soft."
Checking in, Heyes looked around the lobby. "I notice you don't have a restaurant here; is there a good place to eat nearby?"
"Two doors down is the Café run by Mrs. Brown. Best food in town, less you like your own cooking. Anything else I can do for you, Mr.," he turned the register, "Smith?"
Heyes smiled at, "Well, my partner will be coming along after he boards our horses, if you can tell him what room we're in, I'd be grateful. And is it possible to get a bath sent up?" The answering nod was all he needed as he turned toward the stairs. Pausing at the bottom, he turned, "Thanks."
Just as he was about to leave the lobby, Curry came in. "Thaddeus, I've registered for both of us. They're going to send up a bath." Together, they walked up to the room at the front corner of the hotel, with a view of two streets out the window.
In the privacy of their room, Kid put his hat down and looked out the window to the street below. "Heard something interesting at the livery, Heyes." Heyes looked up at him. "Seems there's a treasure in the hills near here." in bed
Curry noticed that Heyes got that same look on his face when Blake told him about the bust of Caesar being kept in a safe. "Treasure?"
"Yeah, Heyes, a treasure." He stopped, "Seems there's rumor about a safe buried in the hills nearby that was stolen off a train by Heyes and Curry. Seems the rumor says they never opened the safe so the money is still there. There's a finder's fee on the money."
"Finder's fee? You mean for the money inside that Brooker 202? Kid there was fifty-thousand dollars inside that safe!"
"I remember, Heyes. You remember, right before we decided to go for our amnesty? Remember how we dropped that safe off the mountain? Twice? Remember how it never busted open, either time?"
Heyes was pacing the room, a faraway look on his face. Curry could see he was hatching another plan, a Hannibal Heyes plan, one he wasn't sure he wanted to know about. "Doesn't this remind you of something?"
"What should it remind me of, Heyes?"
"Not exactly what, Kid, more like 'who'." At his partner's puzzled look, he said one thing: "Leslie O'Hara."
Curry looked at him, the memory dawning on him. "Leslie and her 'map to get to the fortune in buried currency'? That Leslie?"
Heyes smiled at him.
"Let me remind you, partner, we've gone straight. Doesn't that mean anything to you at all? It was going after that safe and that fifty-thousand that got us started toward our amnesty in the first place. Are you telling me you want to toss all that away and go back after that money, now?"
There was a look of longing on Heyes's face that Curry could read easily. He could see the desire in his eyes; the desire to beat the Brooker 202, more than to get the money inside it. If they could get the safe out of the water, he knew Heyes would just love to have a crack at breaking it open.
"Put it out of your mind, Heyes," Curry said sternly. "We went straight. You keep telling me we're straight now. We can't have anything to do with that safe without people finding out who we really are."
Disheartened, Heyes agreed with him. "You're right, Kid."
Their discussion was cut short by the knocking on the door announcing the arrival of the bath Heyes had ordered.
A while later, two cleaner cowboys walked into the café recommended to them by the desk clerk and then sat at the nearest empty table. Mrs. Brown was a slender woman who loved cooking and used her skills to support herself. Being a widow and still in her prime, she was always on the lookout for eligible prospects and kept abreast of the goings on in town; all in the name of being able to make polite conversation, you understand.
The two strange cowboys sat at a table near the back wall, but adjacent to the window, to be able to watch the goings on out on the street. Not unusual, Mrs. Brown decided, and she noticed the guns tied down to their legs as well as the casual, self-confident manner with which the two moved. Not suspicious, mind you, just nice-looking, confident young men. Drifters, no doubt. Well, she'd find out what their story was; she was an expert at drawing people out.
Approaching them with a coffee pot and two cups, she gave a friendly greeting. "Afternoon, boys. We have a special today, fried chicken with mashed potatoes, string beans and tomatoes, and blueberry pie for dessert."
Heyes looked across the table, "Ma'am, that sounds real good to me." Thaddeus nodded, "And I think my partner will have that, too."
"Coming right up. Coffee while you wait?"
Curry answered, "Yes, ma'am. Thank you, ma'am."
Pouring the coffee, she looked them over. "You two new around here?"
Heyes nodded, "Yes, ma'am. Just finished a job for a friend of ours down in Texas, we're looking for work."
Excusing herself, she walked back to the kitchen, only to emerge very shortly with two steaming plates and returned to the table. She put the plates on the table and wiped her hands on her apron. "What kind of work you boys looking for?"
"Well, ma'am," Curry said, "we do a lot of things, long as it ain't too hard on the back. Know of anything available?"
She smiled at them, "I've lived her in this town for a long time. If you're going to be around for a couple days or so, I'll ask around; there's usually someone who can use an extra hand or two this time of year. What are your names?"
The dark one smiled at her and spoke, "I'm Joshua Smith and my partner here is Thaddeus Jones. We're at the hotel. Appreciate your help, ma'am."
She blushed slightly, "I'm Rachel Brown. I run this place. Nice to meet you both." Noting others entering the café, she excused herself and left them with their food.
"Seems like a nice enough town, don't it, Kid?" Heyes asked.
Curry looked at him, sideways. "You do remember the last time we were around here, don't you?"
Heyes nodded. "Yeah, Kid, that last train robbery just before we went to see Lom."
They ate quietly, memories of that failed robbery in mind, evidenced by the few quiet comments that were made. After eating, they decided to check out the saloon. Walking across the street, they took a closer look at the town, familiarizing themselves with the layout. They'd picked up this habit when they took up their outlaw careers and they clung to it for their own safety.
They hadn't been in the saloon long before an opening at a poker game gave Heyes the opportunity he'd been waiting for to increase their stake. Heyes started slowly, not winning big right off, but waiting until he'd had a chance to size up the players.
Curry, meanwhile, got beer and occupied looking over the room. Since it was still fairly early in the day, there were few women in the room, so no distractions there. A couple copies of the local newspaper were on the bar, so to keep pass the time until a seat at another card game opened up, he took one to a table with a view of both the door and his partner and sat to look it over.
The beer was set before him as he read the top of the page; its delivery startled him out of his thoughts.
Raising his eyes from the cards he held, Heyes, who sensed something was up, looked at him. Curry shook the paper slightly as Heyes raised his eyebrows in question.
After joining the game, Heyes had been dealt a winning hand, and, as the other players were pretty flush, he didn't want to leave the table without transferring their money to him. The subtle shake of Curry's head indicated that whatever it was wasn't urgent, so he played out the hand and raked in the pot.
Curry folded the paper and sat watching the activities around him. A few saloon girls were starting to trickle in, wearing low cut dresses and in a short while, a pianist started playing a lively tune. It wasn't too long before a shapely brunette in a sky blue satin dress stood before him.
"Like some company, cowboy?"
He stood and pulled out the chair next to him. "Ma'am. I'm Thaddeus Jones. Can I buy you a drink?"
"Well, hello, Mr. Jones, my name is Louise. I think a drink would be real nice, thank you," she smiled as she sat next to him. He signaled the bartender and pointed to Louise. In a short time, her drink was delivered.
"You're new around here, Mr. Jones. Passing through or are you planning on staying," she asked.
Curry took his hat off and laid it down on the table, on top of the newspaper, a reminder to take it with him later. "Well, Louise, my partner and I just got into town today. Call me Thaddeus. Might be we're going to be around for a bit, depending on if we can find some work available."
She leaned in toward him, keeping her voice low and giving him a glimpse of her assets. "What is it you and your partner do, Thaddeus? I've been here for a while, maybe I can steer you in a direction to help you out." She smiled coyly and sat back, waiting to see if the attraction was mutual.
He smiled back at her. "We've done a lot of different things. Depends on what kind of work is available. How about you Louise, have you lived in town long?"
They talked for a about an hour while Heyes accumulated with an ever-increasing pile of winnings. Louise told him about some of the larger ranches nearby that might have jobs available, as well as openings for a guard at the bank and a temporary deputy, needed until Deputy Leroy would be able to come back to work. Seems the deputy was trying to help one of the locals when he was tripped up in the rigging for a wagon and broke his leg. He'd be off work for about another two weeks or so, and while he was out, Sheriff McKay was doing double duty around town. Not that this was a problem, Louise told him, because nothing exciting seemed to happen in Columbine. Well, of course, except for that train robbery by Heyes and Curry a couple years ago. Seems they blew up a train car trying to get to the money in the safe. Then, when the safe still didn't open, the gang took it with them. "Rumor has it," she finished, "That safe is still out there somewhere, and hasn't ever been opened. So the money is still in there!" She laughed while telling the story, not noticing the discomfort Mr. Jones seemed to be experiencing suddenly.
Taking a sip of his beer, Curry steeled his expression before speaking again. "That a fact?" He asked. "Is that what this story in your paper here's about?"
"Oh," she said, "You saw that? Yeah, well, the mining company that was expecting the money got the insurance on it, so now the insurance company is offering a finder's fee for anyone who can get the money back to them." She looked at her companion, holding up her glass for another drink. Curry signaled the bartender and ordered another round. Louise smiled and went on, "Now it seems that about half the strangers coming through town these days are looking for that money."
Louise took her drink from the bartender, and then leaned closer to Curry. "But here I've been just gabbing away at you, Thaddeus. Why don't you tell me about you?"
"Why, Louise," he smiled at her, "I've been enjoying hearing that story. It's nice of you to fill in some of the details that the paper didn't print. How do they know where to look? I mean, that Devil's Hole Gang is supposed to be pretty smart."
Realizing that she had an interested audience, she went back to the story. "There's a story that the posse was telling when they got back to town, that the gang dragged that safe away. Made it real easy to follow them," she laughed again. "Can you imagine?"
"Dragged it away?" He asked, his discomfort growing.
"Sure did. And they took it up into the hills to some place with a lot of rocks. That was where the posse lost the trail on the safe. Funny thing is, they said it looked like they may have done it one other time, cause they said it looked like there was two sets of marks."
Stoically, Curry took another sip of beer, not commenting, and then smiled at her.
"So, Louise, what do you say we get a little better acquainted?"
"Why Thaddeus, I thought you'd never ask."
Heyes had been increasing his winnings steadily, but like his partner, was also very aware of the activity in the room around him. He'd been keeping an eye on Kid since they'd exchanged looks earlier and watched him talking to the pretty girl. Heyes wasn't surprised when he got a glance from Curry, before he stood to follow the girl upstairs. The nod Kid gave him let him know that everything was fine before he left the room, but Heyes couldn't help but notice that Curry folded up the newspaper he was reading and stuck it in his pocket to take with him.
Sensing no immediate danger, he continued playing.
Conversations around the card game were sparse, but Heyes usually found them informative. Whatever town they were in, he could always count on getting some news of local events from the people whose money he took. The players in this game, however, were mostly cowhands who didn't spend much time in town. Heyes found he wasn't able to get much in the way of useful information from them, aside from local gossip.
The game was just beginning to break up when Kid came back downstairs. Heyes got up and wandered to the bar where his partner joined him and they ordered two last drinks. "How'd you do," Curry asked.
"Not bad. Made enough to cover us for a while, if we're careful. If we can stay for a couple days, we may be able to add to it." Looking at his partner he allowed his curiosity to get to him. "What about you? What did you find out in that paper?"
Curry finished his drink and stepped back from the bar. "Why don't we go back to the hotel and I'll fill you in?" Heyes nodded and they walked across the street.
Back in the hotel room, Heyes lit the lamp while the Kid pulled the newspaper from his pocket. "Heyes, we may have a problem here," He said, handing Heyes the newspaper, and waiting while hey scanned the article.
Heyes looked up from the paper after reading it. "Yeah, we may have a problem, that is if someone recognizes us. If we're lucky, we may have an opportunity, instead."
"An opportunity? To do what?"
"Kid," Heyes started, "Think about this for a bit." He paced around the room, gesticulating in an animated manner as he moved. "This could be a good way for us to show the governor we're really serious about that amnesty."
Curry sat in the chair in the room, watching Heyes pace and the idea hatch right before his eyes. As he kept one eye on Heyes, he pulled his colt from its holster and laid it on the table next to him. Then he retrieved his saddlebags and started the familiar daily task of cleaning his gun.
"What do you mean, Heyes," he asked. "Are you sure that we should go anywhere near where that safe is buried?"
"Well, think about it, Kid. We know about where it dropped into that stream so we have a good place to start looking. If we can get it out…"
Curry interrupted him, "If we can get it out of the water, you want another chance to crack it open. I know that look."
Heyes looked down, grinning, he knew that he couldn't deny it and wasn't even going to try. Pacing again, he looked at Curry. "Yeah, Kid, I would like another chance to crack it open. I ain't denying that. But we could really use this to get closer on our amnesty. If I can open that 202, we could take the money to Lom and have him turn it over to the insurance company for us."
Curry looked over his newly cleaned gun, putting it back into the holster with a spin, and then put away the cleaning supplies. "What about the five-percent finder's fee? I don't know as we'd be able to claim that if we gave the money to Lom to return and we could really use the money. That's twenty-five hundred dollars, Heyes."
"I'm going to need to think on this a while, Kid," he said as he sat on the bed and started to pull off his boots.
Realizing that Heyes probably wouldn't get much sleep that night while he was working out a plan, Curry got ready for bed and finally turned off the light. As he did so, he took one last look at Heyes, fully dressed, laying on top of the quilt with his hands behind his head, staring sightlessly at the ceiling.
When a stream of light slipped through a crack in the curtains and hit his face, Curry rolled over and woke up. Looking over, he noticed that Heyes had managed to get into the bed at some point during the night. Hopeful that this bit of progress would be a sign that he'd thought things through enough to actually have a plan, the Kid rose and started his morning ablutions. Quietly, he dressed, not sure how long Heyes had laid awake thinking. As he was just reaching for his gun belt to buckle it on, Heyes rolled over.
"'Bout time you woke up," Curry greeted him.
"And morning to you, too," Heyes responded. "Been up long?" He sat up in the bed, looking around the room, noticing its details he'd missed when they checked in late in the day before.
"Not too long," he answered as he walked over to look out the window. He noticed the signs of the town slowly coming to life outside, and paused to take it all in. Without turning around, he asked, "Did you come up with any ideas on recovering that money from the Brooker 202?"
Heyes who was now shaving, paused to answer him. "I'm still working on that. I think we need to go take a look in the area where we dropped the safe. Wheat and the boys looked in that water and didn't find it. I'd rather not have to spend a lot of time swimming or looking around for it either." He went back to shaving, continuing, "Then again, I think those boys I played poker with last night mentioned that they'd had a couple dry seasons since that robbery. Could be the water level has gone down some. That might help us find out where it landed."
Curry watched him, thoughtfully. "I guess this means we're going to be staying in town for a couple days or so, that right? Cause if we are, Heyes, I think we need to be real cautious about looking around out there. If we come up with it right away after just riding into town yesterday and hearing about this last night…"
Heyes finished for him, "I know, Kid, it's gonna look real suspicious if we do that. No, what we need is a cover story; some reason to be in town and looking for it. Until then, we just keep doing what we normally do in town to earn money – play poker."
"Well, I hope you got an idea planned for us, because the idea of having to come up with one is making me hungry. You ready for breakfast yet?"
Heyes had finished dressing and was just putting on his gun belt as he turned to answer. "Yeah, I'm ready." Grabbing his hat and handing Curry his, they walked out the door.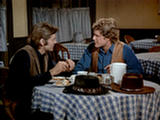 Back in Mrs. Brown's restaurant for breakfast, Heyes took advantage of her personable and garrulous nature. He asked about that local legend of the safe buried by the Devil's Hole Gang. Encouraged by her audience, and the restaurant not being particularly busy that morning, she spent a little extra time with the handsome new strangers. She told them what the town learned from the posse that chased after the robbery. It didn't surprise her much when they started asking questions, she told them, that newspaper article had stirred everything all up again.
"Mrs. Brown, we surely do appreciate you taking time from your busy schedule to talk to us. There doesn't seem to be much in the way of details in the newspaper about that safe," Mr. Smith told her.
"Yes, ma'am," Mr. Jones added, "and there don't seem to be many jobs around here."
"Well, boys," she responded, "that safe is famous around these parts. So is the robbery for that matter. Why, it seems that right after that robbery, Heyes and Curry just seemed to disappear. Nobody's heard much about them since."
Smith and Jones glanced at each other, carefully, maintaining their best poker faces. "Is that a fact, Mrs. Brown?" asked Smith. "Well, that's real surprising then."
"Yeah, Joshua," Jones replied, "It must've been one really strong safe if even Hannibal Heyes couldn't break into it."
"That's what we heard when the posse got back here," Mrs. Brown added with a nod.
Heyes quickly passed a harsh look to Curry, then turned his attention to Mrs. Brown again. "So, Mrs. Brown, does anyone know whereabouts that safe might be? There was some mention in the paper, but not enough to send a person off to look for it, if they were a mind to be looking that is."
"Well, there are a few stories about that." The boys nodded and she continued. "The posse was able to follow the tracks from when the gang dragged the safe, at least partway up the side of the mountain a few miles north of here. For some reason, though, the posse said it looked like there were two sets of tracks going up that mountain. They figured part of the gang had something else they were dragging to make a diversion. The marshal never did figure out what that was, he just kept talking about how clever that gang was."
Mrs. Brown didn't quite get the reason for the small chuckle her two customers shared; and missed the look of relief that passed between them.
Finally, having finished their meals, Mrs. Brown shooed them from the restaurant, so she could close up and start preparing for the mid-day crowd. They wandered back toward the hotel, planning to sit on a couple chairs on the porch, so they could talk about what they'd learned. It was too early yet to go to the saloon; that would come later. For now, Heyes sat watching the town going about its business.
Curry, meanwhile, had detoured to the general store a few doors down from the restaurant and was on his way back with a pair of cigars for them. They would help to pass the time and he knew from experience, would help Heyes plan whatever it was they were going to do.
They relaxed into the chairs on the porch; it wasn't long before Sheriff McKay wandered toward them. Heyes reached over and nudged Curry when he saw the man with the badge approaching them. Silently, they agreed that the plan was to be calm and not look suspicious at all.
McKay came up on the porch and leaned back on the railing next to where the two were relaxing. He didn't notice any change in demeanor of the two strangers, but being the lawman in town, his duty was to check them out. He pushed his hat back over dark hair and looked at them, suddenly all business.
"Howdy, boys," He greeted them. "I'm Sheriff McKay. I saw you ride into town yesterday. What's your business here?"
Curry pushed his hat up slightly, much like he did when they rode in, while Heyes spoke. "Nice to meet you, Sheriff. I'm Joshua Smith and this is my partner, Thaddeus Jones. We figured to be relaxing here a few days after a job we just finished. Thought Columbine seemed like a nice little town; a good place to rest up. Then we thought we'd look into getting a couple of jobs."
"And what kind of work is it you boys do," McKay asked.
"We just finished a job for a lawyer, delivering some documents for him. Said they were important and he needed to make sure they got there safe, so he hired us."
"What else is it you boys do?" He asked.
"Well, Sheriff," Curry started.
Heyes interrupted him. "We've done a lot of things, Sheriff. We've done trail drives, been cow hands, a while back we helped a rancher rid his place of mountain lions." He paused, smiling that million-dollar smile that had kept them out of trouble countless times.
McKay, looking interested, paused, then spoke, "I notice you boys wear your guns tied down. Does that mean you're any good with them?"
Suspicious now, Curry leaned forward, "We know enough about using them to know how to keep them in the holsters, most of the time, Sheriff."
"We don't hold with gunplay, Sheriff," Heyes continued, "But since we travel a lot, it makes sense for us to know how to use them."
McKay nodded. "Yeah, it does make sense at that." Looking around briefly, he continued. "I noticed you and your guns on your way into town yesterday; figured you knew what to do with them. Since I'm the sheriff here, it's my job to check you out."
He paused while Heyes and Curry now gave him their full attention. They were on alert now, wondering if they would have to make a sudden exit from town; hoping not to have the conversation come to that.
"Sheriff, it sounds like you've got something on your mind," Heyes said.
McKay crossed his arms in front of him and leaned back against the railing, trying to be casual and relaxed. He'd briefly noticed the tension that seemed to take hold of these two strangers. "I do have something in mind, fellas. My deputy is down with a broken leg for a few more weeks and, well, it's that time of year when we may get a cattle drive or two coming through town. I would be hard placed to keep things running on my own here with drovers coming in; hell-raising on their minds."
Heyes relaxed some, sensing what was coming.
"Boys, I'd like to offer you temporary jobs as deputies."
Curry suddenly sat forward, both legs of his chair hitting the porch. "Deputies? Joshua, did you hear that, he wants us to be deputies?"
McKay leaned forward, towards them and spoke quietly, "Now, I can offer you two-dollars a day and the city will pick up your hotel and meals, if you're interested. I'll only need you for a couple weeks, though. Doc MacIntyre says that Hutch, that's my deputy, Dave Hutchinson, will be able to come back to work in about two weeks or so." He looked them over, waiting for an answer. "What do you say, fellas? You interested?"
They looked at each other, not saying a word. Finally, Heyes spoke up. "Sheriff McKay, that's really nice of you to offer the jobs to us. Mind if we talk about it a bit before we give you an answer?"
At McKay's puzzled look, Heyes continued, "We were thinking about heading up to Porterville, to visit a friend of ours up there."
"Oh? Who would that be?" he asked, raising an eyebrow.
Heyes swallowed; he was committed now, and had to keep going. "Sheriff Lom Trevors."
"You boys know this Sheriff Trevors pretty well?"
Curry sat up and fumbled a little before speaking, "We've known Lom, uh, Sheriff Trevors for a while now. He's helped us get some of the jobs we've done recently."
"And we were heading to Porterville to thank him," Heyes continued. "Haven't seen him in a while and wanted to let him know in person, how much we appreciate all the help he's given us with work and all."
"Well," McKay said, "Lom Trevors has a good, solid reputation as an honest lawman. If you're friends of his, I suppose I could use that as a recommendation for you. I don't suppose I need to send him a telegraph to check on you…"
Heyes interrupted him, "We wouldn't mind sending him a telegraph. We were going to let him know that we're on our way to see him anyway. But we could get back to you if he doesn't have a job lined up for us, Sheriff."
McKay considered this briefly before agreeing. "That sounds to me like you're seriously considering my offer, boys."
Curry looked at his partner, silently wondering what Heyes had on his mind. Thoughtfully, he continued to smoke the cigar he'd started and kept his own counsel, letting the two of them work out the details.
Heyes looked at Curry, reading the questions in his eyes, then back to the sheriff. "Well, to be honest, we've been deputies before and gave it up for reasons of health, so we would want to discuss it. How soon do you need an answer, Sheriff?"
"Well," McKay answered, "The first of the cattle drives coming around here usually don't come through here for about another week or so, but I would like to have time to get you used to the town, introduce you around and let folks know you're working for me. That is, if you decide to take the jobs."
"Yeah, we'll get back to you on that," Curry said and Heyes nodded in agreement.
As McKay walked away, the Kid turned to Heyes. "What do you have in mind, partner?"
Heyes was sitting back, considering the conversation. "I would like to find that safe, Kid," he said, "and I'm not sure how we can duck the sheriff if we're in town and don't appear to be working while we're looking for it."
Curry waited for him to continue, almost able to see the wheels turning behind the dark eyes. After a few moments of watching Heyes thinking, he said, "Well, while you're trying to figure it all out, why don't we take the horses out for some exercise? We can at least ride on out there and take a better look around, right?"
Heyes came out of his thoughts and looked at his partner, then smiled.
"What?" Curry asked him.
"I think taking the horses out is a good idea. And since we don't have a posse on our tails, we can spend a little bit of time looking over that spot out there."
"We didn't have a lot of time there before."
"Yeah, Kid, I know. This time we can take a good look; I bet we can find that 202." Heyes had an almost hungry look in his eyes, and Curry could tell he was just chomping at the bit to get at that safe – the one that got away.
Riding slowly out of town the way they came in, both noticed Sheriff McKay watching them. Noticing that they had no saddlebags, he decided they probably weren't leaving town and turned to go back into his office, closing the door behind him.
After a few miles and a comfortable silence, which Curry figured would allow Heyes to do some additional planning, they started getting close to where they had been the day before, watering their horses. The horses reacted to the smell of the nearby water and pushed to get there. Finding a spot under a tree and near the water, they tied the mounts to allow them to drink and graze in the grass nearby.
Heyes started walking around the area, carefully considering what had happened the day they lost that safe. He looked around at the water, and then looked up to the rocks above them. Walking a bit, he divided his gaze between ground level and above him.
The Kid, meanwhile, was remembering also. He recognized the area where they'd stood to throw the Brooker down and after a short bit of wandering called out, "Heyes! Over here!"
Heyes perked up and hastily moved to where Curry was standing. When he got to his side, he noticed nothing there. "What did you find, Kid?"
"Well, look," he said, pointing to the ground.

_________________
Hannibal Heyes and Kid Curry, the two most successful outlaws in the history of the west. And in all the trains and banks they robbed, they never shot anyone.