Starring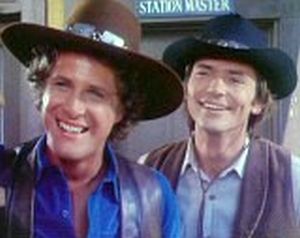 Ben Murphy as Kid Curry and
Pete Duel as Hannibal Heyes


Guest Starring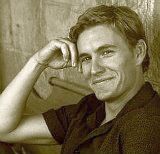 Brett Tucker as Nathan Tremayne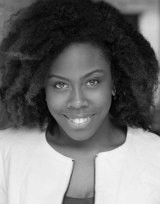 Amber Chardae Robinson as Stagecoach Mary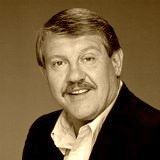 Alex Karras as Shorty
Katherine MacGregor as Prudence
Barry Fitzgerald as Henry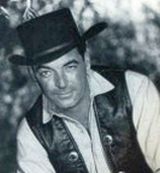 Rory Calhoun as Will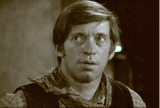 Monty Laird as Joe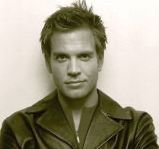 Michael Weatherly as Cedar Falls Sheriff—Robert Crandall
Tom Payne as Deputy Mike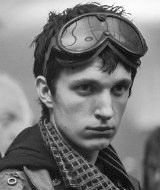 Nat Zang as Deputy Jesse
TBA (in episode) as Chance Cooper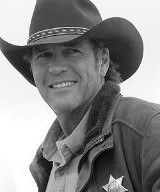 Robert Taylor as Timber Ridge Sheriff—John Larsen
Fred Gwynne as Circuit Judge Micah Johnston
Rex Lease as Prosecuting Attorney Andrew Baker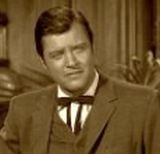 Richard Long as Defense Attorney Samuel Westmore
Wally Cox as Mr. Marlowe Brandon Smith
Trouble in Cedar Falls - Part 2
by moonshadow
Stagecoach Mary continued to watch covertly from the stage depot as first the blonde stranger went down the street and turned into the alley and then, a moment later Thaddeus followed behind.  She busied herself with pretending to re-check the reins, straps and lead lines, all the while keeping an eye out for Thaddeus to reappear.  When the man walked out alone and crossed to go inside the mercantile, Mary frowned.  Her eagle eyes followed him as he exited the store a while later and walked to the livery.  She glanced back at the alleyway.  Still no sign of Thaddeus.
Her frown deepened when the stranger drove the team out of the livery onto the road behind the buildings.  Not long after that, the wagon continued down a road that led towards the hills.  She glanced back toward the alleyway, but all was quiet.  Warning bells went off in her head when enough time had passed and nobody else came out of the alley.
"Where are you, Thaddeus?" she whispered.  "This stage is due to leave at two an' these passengers ain't gonna wait 'round for me to play detective."  As her eyes scanned the streets, they lit upon the telegraph office and a grin lifted the corners of her mouth.  "I might not be able to, but I know someone who can."  She stepped around the coach, smiled and addressed the waiting passengers.  "Won't be but a few minutes, folks, then we'll be loadin' up."
*~*~*~*~*
Heyes had just finished visiting with Nathan and was buckling his holster when a young boy came running up to him.
"Are you Joshua Smith?" he panted as he tried to catch his breath.
Heyes smiled at the boy.  "I am."
"Whew!"  The boy heaved a deep sigh of relief.  "I'm a pretty good tracker, but daggone it, mister, you sure are a hard fella to track down!  First, I went to the hotel, an' Mr. Johnson said you'd gone to have breakfast, so I ran to the diner.  But Miz Maisie said you'd left an' gone to the sheriff's office, so I ran there an' Sheriff Crandall said you'd already left an' he didn't have no clue where ya was goin' next..."  He stopped to catch his breath again and bent down to rest his hands on his knees.
"Well, you finally found me.  Why were you looking for me?"
The boy straightened up and fished around in his pockets.  With a gap-toothed grin he held up a piece of paper and waved it triumphantly in the air.  "Here it is!  I'm s'posed to give ya this.  Mr. Parsons at the telegraph office said it was ur..."  The boy's brow puckered with the effort to remember.  "Emergeen?  Urget?  No, that's not it either!" he cried in frustration.  "I'm sorry, it was so long ago, I done forgot what it was!"
"I think maybe you mean urgent?" Heyes suggested.
"Yeah, that's it—urgent—whatever that means."
Heyes pulled a coin from his vest pocket.  "Here's something for all the trouble you went through to find me."  He smiled as the boy handed him the telegraph and grabbed the coin from his hand at the same time.
"Thanks, mister!" the boy called out as he turned and ran off towards the mercantile.
Heyes unfolded the telegraph and read the words aloud,
Joshua Smith, Cedar Falls <stop> T.J. in trouble <stop> See sheriff Timber Ridge <stop> Mary
"The sheriff?" Heyes groaned as he shoved the paper into his pocket.  "Kid, what kinda trouble have you gotten yourself into this time?!"  He went to their room and tossed a few things into his saddlebag.  Just as he reached the train station, he heard his name being called out.
"Mr. Smith!"
Heyes turned to find Sheriff Crandall striding towards him at a fast clip.
Panting from his exertions, the lawman took a moment to catch his breath.  "Sure glad I caught up with you before you got on that train.  I've got some very important news to tell you."
"What is it, Sheriff?"
"I just got a telegram saying that Circuit Judge Micah Johnston will be here sooner than expected."
Heyes frowned.  "How soon?"
"Three days from today.  I'm getting a jury together tomorrow and the trial will begin on Wednesday morning, ten o'clock sharp."
"I thought the judge couldn't be here until next Monday."
"Once he got wind of what had happened, he cleared the time.  Just re-arranged his schedule so that he could get here as soon as possible.  Since we have a suspect in custody who has been identified by an eye witness, that's good enough reason for him."
"But that doesn't give us much time to clear Nathan's name!" Heyes protested.
"Mr. Smith, it's nice that you and your friend want to help Tremayne, but even you must see that the cards are stacked against him; he doesn't have a snowball's chance in hell.  Nothing short of a miracle will save him from the hangman's noose."
"I've had some personal experience with miracles, Sheriff; they show up just when you need them most.  So, you go ahead and get that jury together; I'm not ready to give up on Nathan just yet!" Heyes snapped, then pivoted about on his heel and strode towards the ticket office.
"How much for one ticket to Timber Ridge and how soon does the train leave?"
"Timber Ridge?  You're in luck, mister.  It's just about ready to pull out of the station right now.  That'll be five dollars, but you'd better hurry if you want to be on board."
Heyes shoved the money through the window, grabbed his ticket and sprinted towards the train.  Finding a seat, he sat back and watched the scenery pass by in a blur as the train gathered steam.  "Don't worry, Kid," he whispered.  "I'm coming."
*~*~*~*~*
Heyes barely noticed the sign that flashed by welcoming him to Timber Ridge.  Finding the sheriff's office was easy; forcing himself to walk inside was the hard part.  He glanced up at the name above the door and relaxed a bit.  "Sheriff John Larsen.  Good; nobody I know."  He stepped up onto the boardwalk.  Taking a deep breath, he turned the knob on the door.
The first thing Heyes saw when he stepped into the room was the Kid's familiar tan hat sitting on the corner of the sheriff's desk; he swallowed hard.  "Uh, excuse me, Sheriff; I got a message that I should come to see you about my friend.  His name's Thaddeus Jones."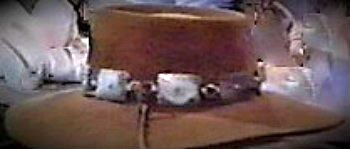 "You must be Joshua Smith, then?" the sheriff inquired as he looked up from a paper in his hand.
"Yes," Heyes nodded.  "All the message said was trouble—but not what kind."
"Well, that's what I'm trying to get to the bottom of," the lawman answered, giving Heyes a thorough looking over.  He picked up the Kid's hat.  "This hat belong to your friend?"
Heyes stepped forward and took the hat from the sheriff's outstretched hand.  "Yes, this is Thaddeus' hat; I'm sure of it."  He found it hard to swallow when he noticed the blood stain on the side of it.  "Is he... here?"  Heyes glanced back at the cells behind him, but both were empty.
"No, just his hat."  The lawman stood up and placed his own hat on his head.  "Follow me."
Heyes set Curry's hat back on the desk and followed the sheriff.
Larsen pointed across the street.  "We're heading for that alley over yonder."  
His brow furrowed, Heyes strode side-by-side with the lawman until they reached the alley.  He looked around.
The sheriff pointed to a dark spot in the dirt.  "That's where I found the hat."
Heyes squatted down and touched the spot.  When he pulled his fingers back, he found them stained red.  "Blood," he murmured.
"Yeah," the lawman nodded.  "It doesn't look good for your friend, especially if you factor in the condition of his hat."
"This might not be Thaddeus' blood," Heyes countered.  "Maybe it was the other fella's."  There was a slight pause before he continued.  "Nobody saw or heard anything?"
"The stagecoach driver saw some of it.  Mary had to leave with her passengers but she said to let you know she'll be coming back right after she gets them to their destination.  Mary also asked me to tell you something that, according to her, is very important.  I have to say," the lawman scratched his head, "it sounds kinda strange to me."
Heyes stood up.  "Strange or not, if it helps me find my missing partner, then go ahead and tell me."
"Mary says that even though she knows Nathan's in jail, she swears she saw your friend follow him into this alley."
Heyes' brows shot up into his hairline.  "You're sure she said Nathan?"
The sheriff nodded.  "Positive; even made me repeat the name.  I have to ask, what did she mean by that?"
"Well, Nathan is in jail; I just left him there."  Heyes drew a deep breath and decided to lay his cards on the table.  "Sheriff, I'm sure you know about that bank robbery that happened in Jackrabbit Junction?"
"Doesn't everybody?  Heck, it's the next town over.  It sure is a shame 'bout that bank manager, too.  Why do you ask?"
"The Sheriff in Cedar Falls has a man in custody that an eye witness identified as the killer."
"There was an eye witness?  First I've heard of that," the lawman frowned.  "There hasn't been any mention of it in the newspapers.  Why aren't they announcing that he's been caught?  You'd think it would help put folks' minds at ease."
"I believe they're intentionally keeping both the eye witness, and the fact that a suspect is in custody, out of the news since they're still gathering more evidence.  So far, all they've got to go on is that someone who claims to be an eye witness has positively identified a man as the robber; that man's name is Nathan.  Sheriff, Thaddeus and me met Nathan on the stagecoach into Cedar Falls.  We spent quite a bit of time with him.  During the trip we had the chance to get to know him pretty well.  When we arrived in Cedar Falls it wasn't long before the sheriff and six deputies approached him, accusing him of the bank robbery and murder.  Nathan denied it, but the sheriff had an ace up his sleeve: that eye witness."
"What makes you so sure that a man, who you yourself admits he just met, isn't guilty?"
"Sheriff, Nathan doesn't even wear a gun.  He's mild-mannered, soft-spoken and very friendly.  In fact, I'd even go so far as to call him timid.  He backed down when he was confronted and right now he's sitting alone in a jail cell scared to death that he's going to hang for something he didn't do.  Like I said, Thaddeus and me spent quite some time with him and he doesn't strike me as the kind of person that would shoot and kill a man over money."
"Sounds like this Nathan is pretty lucky to have you and Thaddeus on his side."
"If you met him, you'd probably feel the same as we do.  Sheriff Crandall didn't have much choice but to lock him up once that eye-witness identified him.  The thing is, Thaddeus and me believe he's innocent, but we lack the proof.  Without it, we can't do him any good; we can't prove we're right.  If Mary says she saw Nathan here today, there's something very wrong; there's no way he can be in two places at the same time."
"Coincidence maybe?" the lawman suggested.  "Someone who looks like this Nathan; resembles him enough that she thinks she saw him?"
"No, sheriff," Heyes shook his head.  "I think there's another possibility; one that never crossed my mind until now.  If I'm right, then the real Nathan is telling the truth and should never have been put in jail.  An innocent man is behind bars for crimes he didn't commit.  I thought we'd have plenty of time to get things figured out, but just before I left Cedar Falls, Sheriff Crandall told me Nathan's trial is going to be held three days from now.  Add that to the fact that Thaddeus is missing and we don't stand a ghost of a chance to help Nathan."  He stared down at the ground thoughtfully; his eyes narrowed as his glance traveled to the end of the alley.  "That door back there, where's it lead to?"
The lawman turned to look over his shoulder.  "Should lead to another alley that goes around the back part of the town.  Why?"
Heyes pointed.  "See these grooves here in the ground?  They look like drag marks, as if someone had something too heavy to carry so they had to drag it all the way back to that door.  Thaddeus isn't a lightweight; boot heels could make marks like those."  Heyes dug his heel into the ground and walked backwards a few steps.  "See?"
Larsen studied Heyes' example as well as the trail and nodded.  "You make an excellent point; let's follow the trail and see where it leads us."
The two men walked to the door and the lawman pushed it open.  He stepped through the doorway with Heyes close behind.  Both men scanned the area.
Heyes pointed to the ground.  "These look like wagon wheel tracks."  He swallowed before adding, "And there's more blood drops, too."
"You're right, Mr. Smith," Larsen answered and pointed to the left.  "And they're heading out of town that way."
"What's in that direction?"
The sheriff scratched his head thoughtfully.  "Nothing really.  The road ends at the base of those mountains, about twenty miles out.  There's a few abandoned mines out there; not much else of interest except for a couple working mines.  Can you think of any reason this man would want to hurt your friend, or drag him through an alley and cart him away in a wagon?"
His brow furrowed in thought, Heyes shook his head.  "No, as far as I know, the two of them would have been total strangers to each other.  Something made Thaddeus follow the other man into this alley, though.  From the looks of it, there was some kind of scuffle..."  The ex-outlaw paused as he tried to put puzzle pieces in the right places.
"The man must've needed my partner out of the way.  Maybe he didn't want him to talk to anyone.  Could be Thaddeus saw something he wasn't supposed to see or heard something he shouldn't have."  He looked into the lawman's face.  "I don't know, Sheriff; there's a lot of questions that we don't have any of the answers to."
"That reminds me, I have another question for you.  Why was your partner here in the first place?"
"He was supposed to find someone who might be able to help Nathan.  A rather big man named Shorty; do you know him?"
"There's not a soul in this town who doesn't know Shorty," Larsen grinned.  "He's the kind of man that tends to stand out in a crowd.  We've nicknamed him 'the Gentle Giant.'"  He pulled out his pocket watch and glanced at it.  "It's almost six o'clock; Shorty's probably at the saloon.  Why don't we start there while we're waiting for the stagecoach driver to get back?  I can have some supper sent down from the cafe for us while we're waiting."
"Sounds like a plan, sheriff, but I don't think I can eat right now.  I'm too concerned about my partner.  Mary left here around two," he mused aloud.  "And Thaddeus has been missing for at least three hours already.  Maybe this Shorty can shed a little light on what might have happened to him?"
"You should have something to eat," Larson admonished, "even if it's only a few bites to help keep your strength up.  You're going to need that strength to help you find Thaddeus."
Heyes shrugged, his brow still furrowed trying to sort things out.  "Maybe," he answered absently.  "Right now all I can think about is that Thaddeus might be at the mercy of a man who murdered an innocent banker just to cover his tracks; who knows what he's capable of if he feels cornered?  Then there's Nathan, who is depending on us to save him from the hangman's noose.  Neither of those thoughts help my appetite at all."
"I'll order you something just the same," Larsen insisted as the two men left the alley.  The lawman led the way to the café, where he ordered food to be sent over to the saloon.  Next, the pair headed towards the saloon.
As they walked, Heyes glanced up at the rapidly setting sun.  "Sheriff, if we do find out that Thaddeus might be in one of those abandoned mine shacks, any chance that we can ride out tonight and check it out?"
The lawman shook his head.  "That road's treacherous enough in daylight; it'd be dang near impossible to navigate by horseback in the dark.  It's ten miles of groove-rutted road that folks around here call The Devil's Shortcut to Hell.  We wouldn't even have the help of a full moon; it was only a sliver last night.  I'm real sorry, Mr. Smith, I truly am.  I know you want to find your missing friend as soon as possible, but it won't help anyone if a horse breaks a leg or it stumbles and throws one of us.  Waiting is the hardest part."
"I understand, but I don't have to like it.  Sitting around and waiting's not one of my stronger points.  I tend to chomp at the bit when I'm forced to wait things out, especially when it comes to my partner and whatever trouble he might be in."
"Well, Mr. Smith, we'll just have to keep you busy so you don't notice the time passing slowly.  I've got one thing guaranteed to take your mind off things, at least for a little bit.  I can't wait to see your face when you first meet Shorty," Sheriff Larsen grinned as they pushed their way through the batwings.  "And you might as well call me John since we're going to be spending some time together," he added as he led the way to a table off to the side of the saloon.  "Hey, Shorty!" the lawman called out as they neared the table.  "I've got someone here I want you to meet."
Walking behind the sheriff, still preoccupied with thinking about the Kid, Heyes reciprocated with, "You're right; Mr. Smith is too formal, you can call me Joshua."  As the sheriff stepped out of his way, Heyes stuck his hand out in greeting.  "I'm glad to me—" he lifted his head to look at Shorty and his voice died off as he realized he was poking the man in his belly.  He tilted his head back and looked up to find the owner of the stomach grinning down at him.  Heyes pulled his hand back hastily.  "Pardon me, I didn't mean—"
"Aw shucks, it ain't nothing new to me," Shorty chuckled and bent down to engulf the ex-outlaw in a bear hug.  "Any friend of the sheriff's a friend of mine, too; we're real friendly 'round here."
"Yes, you are!" Heyes managed.
An ear-to-ear splitting grin on his face, the lawman performed the introductions.  "Shorty, this here's Joshua Smith.  He's a friend of that other fella you met earlier today, Thaddeus Jones.  Joshua wants to sit down and talk with you a bit about something important that you might be able to help him with.  That is, he will if you turn him loose before he passes out," Larsen chuckled.
"He's still breathin' Sheriff."  Shorty looked down in amusement at the dark-haired man and released him.  "Ain't ya mister Smith?"
Heyes stepped back and looked up in awe, rubbing his ribcage.  "Yes, there's still a few breaths left in me, Shorty.  Please, call me Joshua," he continued.  "As the sheriff explained, I really need your help.  I sure hope you can help me find Thaddeus."
"Why?" Shorty frowned, his expression troubled.  "Did ya lose him?"
"He's missing," Heyes nodded.  "We think you were the last person he talked to before he disappeared.  I'd be willing to buy you a beer for your trouble if you'll help sort things out."
"Ya don't need to buy me no drink, Joshua.  I'll help ya all I can for free; I like Thaddeus.  He was real nice to me today; didn't poke fun at me the way some people do."
The sheriff signaled to the barkeep to bring a round of beers and the men seated themselves at the table.  While they waited for the drinks to arrive, Heyes turned to Shorty and asked his first question.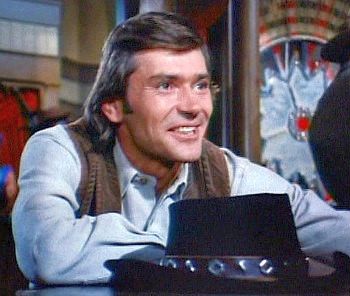 "What can you tell us about your meeting with Thaddeus, Shorty?  What did the two of you talk about?"
"Well, not much really," Shorty shrugged.  "He asked me 'bout a friend of ours, a man named Coop."
Heyes nodded.  "I'm familiar with that name, too.  Can you tell me what this Coop's whole name is?"
"Well, mostly he goes by Coop."  Shorty scrunched his face up, thinking.  "But sometimes he uses another name—Chance, Chance Cooper."
Heyes glanced at Larsen, but the lawman just shrugged and shook his head.
"And what did you tell Thaddeus about Coop?" Heyes queried.
Drinks and food arrived and, once everyone had a mug and a plate in front of them, Shorty answered Heyes' question.
"Told him that I'd run into Coop a while back but he sure wasn't the same ol' Coop I used to know," the giant sighed deeply into his drink.  "Nope, he sure ain't the same no more."
"What do mean by not the same?" the sheriff asked.
"He was all slicked up in fancy duds like some city fella.  Had a brand-new fancy hat an' boots, too.  Talked kinda funny.  Well, leastways the few words he said didn't sound like him at all to me.  He went an' hurt my feelin's real bad; said he didn't have no time to have a drink with me."  Shorty took a swig of his beer before he added, "Coop an' I used to spend a lotta time together, back in the good ol' days.  Guess those days are gone forever," he heaved a morose sigh, took another drink and fell silent.
When the silence continued, Heyes pressed Shorty for more information.  "Can you remember anything else that happened after that?  Maybe something that might explain why Thaddeus can't be found?  Maybe he said something to you before he left?"
Shorty's brow furrowed.  "Well, I told him that I'd seen Coop go into the mercantile just before I came into the saloon.  Thaddeus seemed pretty interested in that bit of news, an' when he left I saw him go over to the mercantile.  I left to take care of a few things, an' I never saw him after that," he said sadly.  "Maybe Coop an' Thaddeus are together somewhere?  Guess Thaddeus couldn't talk Coop into comin' back here to have a drink with me neither.  He said he was gonna try."
Sheriff Larsen shot an inquiring look at Heyes.
"Thanks, Shorty," Heyes smiled at the gentle giant.  "You've given us a couple pieces of the puzzle we didn't have before; you've been a big help."
"Wish I knew more.  Sure hope ya find Thaddeus real soon an' that he's alright.  Like I said before, I like him."  He polished off his drink and rose to his feet.  "It was sure nice meetin' ya, Joshua."  He nodded at Larsen.  "Let me know how this all turns out, sheriff," his words ended on a yawn.  "Sorry fellas, but I've gotta head on home, gotta work tomorrow an' I get up at the crack o' dawn.  Enjoy your evenin'."  With a wave in their direction Shorty moseyed his way towards the door.
Heyes watched him go and shook his head.  "That's one big man!"
Larsen grinned.  "Now you understand why I told you I wanted to see your face when you first laid eyes on him."
"You were right," the dark-haired man agreed.  His expression turned serious.  "He gave us a few more things to go on.  At least we know that Thaddeus might've found this Coop over in the mercantile and then followed him."
"And Coop was acting strange, according to what Shorty saw.  That's another real odd piece of this puzzle."
"It's not enough to prove that Coop had anything to do with Thaddeus' disappearance though; just that my partner went over to check him out."
"True," the lawman agreed.  "But it doesn't clear him of it either.  Now that we've talked with Shorty, this Coop might well be the last person to see or speak to Thaddeus.  That alone makes him at least a person of interest, if not a suspect.  We might get more pieces of that puzzle after that stagecoach driver gets here," he added.
Heyes nodded in agreement.  "Maybe Mary can fill in some of the missing gaps."
The two men sat in companionable silence, lost in their thoughts.  Neither noticed the silence that fell on the saloon, each intent on trying to piece things together.
"I wish Mary was here now," Heyes mused aloud.
"Guess wishes do come true after all," a familiar voice teased.
Heyes looked around and grinned as he got to his feet.  "Mary!" he exclaimed and pulled her over to the table.  "Sit down and start talking!"
"You're sure gettin' awfully bossy, mister Smith!"  Mary gave him an eye roll and directed her next remarks to the lawman.  "Ain't that a fine howdy-do?  Not so much as a how are ya?  Or it's good to see ya."  She turned back to Heyes.  "An' here I thought ya had manners..."
"You know me better'n that, Mary!" Heyes retorted.  "I do have manners and to prove it, I'll even get you a drink without you having to flatten some poor soul."
"That'd be a start, Joshua."  Mary flashed him a grin.
Once that was taken care of and the three of them sat with mugs of beer in front of them, Heyes once again took charge of the conversation.
"I got your telegraph, Mary.  Sheriff Larsen and me have been working on trying to make sense out of everything.  We don't have much to go on, just some guesses, but we're hoping you know more of what went on with Thaddeus before he disappeared."
"Wish I didn't," Mary's grin disappeared as she set her mug down and looked into his face.  "I know enough to get that Nathan look-alike into trouble, an' iffen he's done any harm to Thaddeus then he's gonna have his hands full dealin' with me!"
"That's the one piece of the puzzle that's making things complicated," Heyes nodded.  "What did you mean by that part about the look-alike?"
"Jus' what I said, it's as plain as the nose on yer face, Joshua.  The man was a dead ringer for Nathan, 'cept for his clothin' an' the way he talked an' acted.  He was a mean one too, nothin' like the man I met before—the real Nathan."
"You mean he looked enough like Nathan that he could fool most people?" the sheriff asked, a troubled expression on his face.
Mary nodded and took a drink of her beer.  "His looks had me fooled 'til he opened up his mouth when he tried to get on my stage."
"Tell us what happened, Mary," Heyes prompted.
"It was almost like the day I first met Nathan an' you two," Mary began.  "He walked up to me with a big ol' bag an' started to get in the coach so I stopped him an' reminded him that he knew how things were an' he'd havta pay if he wanted to keep his bag.  I was teasin' him since I thought he was Nathan, but 'stead of goin' along with the rules, he got up in my face an' tole me that no one, 'specially the likes o' me, was gonna tell him what he could, or couldn't, do.
"He started to get in again, so I told him I was jus' gonna get the sheriff an' let him take care of it.  Boy, did that ever get him all riled up!"  Mary chuckled at the memory.  "He gave me a look that coulda killed.  I told him there was other ways to get where he was goin' an' he gave me 'nother ugly look an' high-tailed it outta there.  I was pretty confused by this time, wonderin' how Nathan had got outta jail an' why he was actin' an' talkin' so strange-like..."  Mary looked at each of the two men in turn.  "It wasn't Nathan, was it?"
"No, it wasn't." Heyes shook his head.  "We're pretty sure it's a man named Chance Cooper.  Did anything else happen after that?  Did you see Thaddeus with him?"
Mary nodded.  "Sure did.  Well, at least I saw Thaddeus follow him into the alley.  I had to leave with my passengers right after that, but I never saw Thaddeus or Cooper come back out 'fore I left.  That's why I sent ya that telegraph.  Whaddya think happened, Joshua?  Do ya think he hurt Thaddeus?"
"We can't be sure, but whatever happened, this Coop fella has something to do with it—I'm positive!" Heyes snapped.
"It's sure beginning to look that way," Larsen agreed and pulled out his pocket watch.  "It's getting late, folks, and if we want to get an early start in the morning, we'd all better hit the sack."  Returning the watch to his pocket he added, "There's one more person I want to talk with in the morning before we leave, Joshua."
"The liveryman?" Heyes quirked his brow.
"Correct," the lawman confirmed.  "Cooper would have needed to rent a wagon and Tucker's Barn is the only place in town to do that.  It's closed for the night, so we'll have to wait until morning."
Heyes rose to his feet.  "Mind if I go along with you to talk to him?"
The sheriff nodded.  "Meet me at my office around eight; that's when Tucker starts his day."
"I'll be there, John, but there's something I've got to do tomorrow before we leave town, too."
"Oh?" the lawman quirked a questioning brow.
"Remember when we were talking with Shorty and I said there was a possibility that we hadn't thought of?"
Larsen's brow furrowed.  "Yes?"
"I'm going to send a telegram to Sheriff Crandall and ask him to check with Nathan about my hunch.  He can work on it while we're tracking down Thaddeus.  If I'm right, it will go a long way to help Nathan in court.  On the other hand, if I'm wrong, there's no harm done."
"Grady has the morning shift and should be in the telegraph office around seven o'clock.  Tell him you're sending it for me and he won't charge you."
Heyes grinned.  "I'll be sure to tell him."  He turned to Mary, who had just stood up.  "You have an early morning, too?"
"Sure do.  I'll be headin' out at daybreak; I need to get back to my startin' point so I can do my run an' get back here to see how things turn out.  Ya be sure an' let me know if there's anything else I can do to help ya find Thaddeus, ya hear?"
"Don't worry, Mary, we'll be sure to leave you a message so you know what's happening.  Thanks for all you've done so far.  You take care out there and we'll see you soon."
The trio parted ways after they exited through the batwings.
*~*~*~*~*
INTERIOR OF AN ABANDONED MINE SHACK; NIGHTTIME
Puffing on a cigar, Chance Cooper stood just outside the doorway looking out into the darkness that surrounded the one room shack.  A muffled groan from behind him made him turn to look over his shoulder.  "'Bout time you woke up."  He took one last drag on the cigar, dropped the stub and ground it into the dirt with the toe of his boot before he entered the shack and shut the door behind him.  Crossing the room to stand before his prisoner, he removed the blindfold that had covered the Kid's eyes, but left the gag in place.  Grabbing a handful of hair, he jerked Curry's head back and leaned in close to examine his face.
Despite one eye that was swollen shut, Curry managed to glare back at the other man.
"You'll live... for now."  Coop released the hair and took a few steps back.  "Bet that eye hurts something fierce, don't it?  Powerful headache?  I did hit you pretty hard.  Bet you wish you could hold your head in your hands right now an' rub it, dontcha?" he taunted his prisoner.  Silence filled the room as he studied Curry.  "Wait, I know whatcha really want; you wish you weren't all tied up so you could flatten me, dontcha?"
The Kid's muffled answer was unintelligible; the look in his good eye spoke volumes.  He strained against the bonds that held him tight to the chair.
"Tsk, tsk, tsk," Coop shook his head.  "Go ahead an' struggle all you want; waste your strength an' the time.  You can try, but you'll never get outta those knots."  Walking over to the table, he picked up a canteen.  Turning sideways so he was in full view of Curry, he took a long, leisurely drink from it, wiped his mouth with his sleeve and turned to face his prisoner.  "Ahhh... cold water sure hits the spot when you've got a powerful thirst, don't it?  I'd offer you a drink, but I only brought enough for myself; you see how it is dontcha?  No need for both of us to suffer now, is there?"
Curry didn't attempt to answer; he just favored Coop with a cold, hard one-eyed glare.
"Have it your way, what's-your-name.  We have the next few days to get acquainted.  On the other hand," he mused, "maybe I should make up a name for ya?  Let's see..."  His gaze traveled from Curry's head to his boots and back up again.  "Not much to work with," he snorted with derision.  His eyes narrowed as he pondered his choices, then all of a sudden he snapped his fingers and grinned.  "Got it—I'm gonna call ya 'One Eye' since that's all ya got!"
The Kid did his best imitation of an eye roll under the circumstances, then let his gaze drop to the ground, his shoulders sagging in defeat.
"You're not givin' up already, are ya?  Whatsa matter, One Eye?  Dontcha like your new name?" Coop guffawed.  "Well, too bad, you're stuck with it.  Guess it's time for me to bring my supper in from the fire."  He favored Curry with a stern look and wagged an admonishing finger at him.  "Now dontcha even think 'bout tryin' to escape.  Even if ya did, there wouldn't be any place for ya to run to; we're 'bout twenty miles away from anything or anybody.  There's nobody to hear ya if ya hollar an' there's nobody ya can count on to help ya neither."
Coop left the room and a few moments later came back inside carrying a sizzling skillet.  The tantalizing smell of fried steak filled the room as he set it on the table next to another pan filled with beans.  From a third pan he cut a huge slab of cornbread and seated himself at the table in a chair that faced Curry.  "Um, um, um... sure looks good," he announced cheerfully and dug into the slab of meat on his plate with gusto.  "Boy howdy" he added, smacking his lips, "it tastes even better'n it looks!"
Still chewing the piece of steak, he glanced at the Kid.  "Sorry," he said, not sounding in the least bit remorseful.  "Same thing as the water; I wasn't 'spectin' company so I only brought enough for me."  Scooping up some beans he shoved them in his mouth and took a big bite of the cornbread.  Washing it all down with water, he addressed his prisoner again.  "Hey One Eye, ya don't blame me for not sharing, do ya?"
The Kid turned away and closed his good eye, wishing his nose was closed as well to the smells that were making his stomach rumble and growl in protest.
"Ohhh... ya do blame me, dontcha?"  Coop chuckled as he put another piece of meat into his mouth then pointed the fork at Curry.  "Well, soon as supper's finished, you an' me, we're gonna have us a nice little talk.  Got some stuff we need to discuss; set things straight, if ya get my drift."  Taking a bite of cornbread, he added, "If you're smart, you'll tell me the truth.  Otherwise, I jus' might havta get rough with ya."
Lifting his head, the Kid directed a baleful look in Coop's direction as he continued to work at the ropes tied around his hands and wrists.  He'd already made some progress; the ropes were slick with blood from where they'd rubbed his skin raw and were sliding more than they had before.  Not that it helped much, but he turned to look out the window at the inky darkness so he didn't have to watch his captor shove any more food into his mouth.
*~*~*~*~*

_________________
Hannibal Heyes and Kid Curry, the two most successful outlaws in the history of the west. And in all the trains and banks they robbed, they never shot anyone.