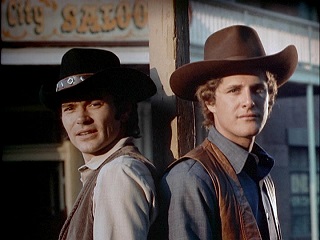 Starring Pete Duel and Ben Murphy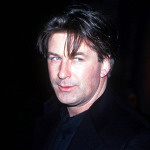 Alec Baldwin as Cody Cole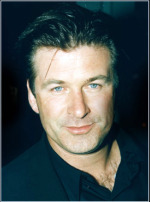 Stephen Baldwin as Travis Cole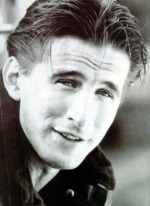 William Baldwin as Eugene Cole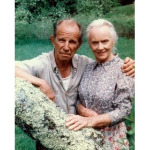 Jessica Tandy and Hume Cronyn
as the elderly couple on the train
Hannibal Heyes and Kid Curry walked from the hotel to the train station in Prescott, Arizona, with Heyes in the lead and the Kid reluctantly following behind him. The train was already at the station and being loaded with supplies. On the platform, people were saying their goodbyes as Heyes walked up to the ticket booth.
"You two young fellas goin' to Rock Springs?" asked the man at the ticket counter.
"No!" replied the Kid as he leaned against the building and folded his arms across his chest.
Heyes rolled his eyes and gave a friendly smile to the ticket agent. "Yes, please; two tickets for Rock Springs." Heyes took some money out of his pocket and handed it to the gentleman behind the counter.
"Better hurry and board; train's about to leave." Heyes nodded in acknowledgement and turned towards his partner.
"Here's yours, Thaddeus," Heyes said as he handed the ticket to the Kid and gently pushed him towards the train.
"Joshua, I have a bad feeling about…" The Kid sighed and started walking to the train. "Don't know why I bother arguin' with you; you always win."
Heyes grinned at his best friend and hurried him onto the train just as the whistle blew and it started inching out of the station.
Just before entering the railcar, the Kid turned towards Heyes and whispered, "Didn't we rob…?"
Heyes nodded and pushed his partner into the car. "Twice," he whispered back.
The Kid sighed as he made his way through the car looking for vacant seats. "Bad feeling…" he repeated as he shook his head.
They found four vacant seats away from other passengers and, throwing their gear onto a couple of them, they settled into the two near the window. The Kid stretched, lowered his hat, and rested while Heyes stared out of the window, watching the scenery as they left Arizona and entered Utah.
Hours later, when they were halfway through Utah, the train came to an abrupt stop, throwing passengers onto the floor. The Kid, thrown from his seat, landed on Heyes.
The Kid groaned, "Oww…let me guess--not a water stop." He raised himself from Heyes' lap and plopped into his own seat.
"Nope," was all Heyes was able to say when an outlaw, brandishing a gun, entered the car and yelled, "Pick up your luggage and git outside!"
"Do we know them?" the Kid whispered as he picked up his saddlebag and followed Heyes out of the door.
"Not sure…" Heyes whispered back as he made his way outside, but then stopped and sighed. "Damn; it's the Cole Brothers gang." Heyes jumped downed from the train onto the ground.
"Cole Brothers!" the Kid quietly exclaimed for only Heyes to hear as he jumped from the train. "I told you I had…"
Heyes' look stopped the Kid from finishing the sentence and both pulled their hats down, hoping to obscure their faces.
"Line up! C'mon, move it!" The outlaws herded the passengers. "Put your guns on the ground," ordered one outlaw. "Don't forgit to open your bags," added another. "We want to take a look inside. Mebbe you folks got something we want." He laughed loudly.
Heyes and the Kid threw their guns on the ground and unfastened their saddlebags with the rest of the passengers, hoping to blend in with the crowd.
The Cole Brothers gang consisted of three brothers--Cody, Travis and Eugene--and an assortment of other outlaws.
The outlaw gang went down the line of passengers, taking valuables from their person and luggage. Eugene asked a female passenger, who was clutching a handkerchief to her chest, "Whatcha hidin' there, ma'am?"
"Me? I'm hiding nothing," replied the elderly lady, visibly shaken.
"So ya don't mind lowering your hankie." Eugene menacingly grinned.
The female passenger hesitantly lowered her hankie, revealing a diamond and ruby brooch. Eugene's eyes got big as he reached up for the jewelry. "No, please don't take my brooch; it was my dear grandmother's—a family heirloom. I'm on my way to my granddaughter's wedding in Rock Springs and want to give it to her as a gift."
The mature gentleman next to her fumed, "I told you not to wear the brooch while traveling—to hide it in our luggage, but no, you had to wear it. Serves you right if you lose it."
"You can hand it over or I'll be happy to remove it," Eugene said as he leered at her.
The Kid started to move slightly as the outlaw reached up to remove the brooch. Heyes imperceptibly kicked the Kid, getting his attention, and barely shook his head. The Kid, sighing, stayed where he was in line. The movements caught Cody's eye and he started walking towards them.
The elderly lady wept as she removed the brooch and handed it to Eugene. "Thank ya fer your contribution, ma'am," Eugene replied as he took the brooch.
Cody stopped in front of Heyes and Curry as they shifted their eyes and looked down. Cody reached up and knocked their hats off onto the ground.
"Well, I'll be…lookey here…it's Hannibal Heyes and Kid Curry!"
"Cody, can we talk in private?" Heyes hissed and then quickly said loud enough for other passengers to hear, "We've been confused with those notorious outlaws before…I'm Joshua Smith and this is my friend Thaddeus Jones."
"Why you deny…" Cody paused as Heyes mouthed the word 'private' to him. "Over here, you two." Cody motioned with his gun that Heyes and the Kid should follow him.
Heyes and the Kid hesitated following and Cody angrily turned around. "What? I said over here."
Curry pointed to his hat on the ground. "Our hats?"
"Go ahead, but leave the guns and no sudden moves," Cody replied.
Heyes and the Kid slowly bent down, retrieved their hats and put them on as they followed Cody away from the other passengers.
"So what's this all about, Heyes? What's this callin' yourselves Smith and Jones?" Cody glared at Heyes.
"Don't want the other passengers to know us as Heyes and Curry and recognize us some day. We still have a price on our heads," Heyes answered as he met Cody's glare.
"Haven't heard much about you two. Rumor has it that Wheat's runnin' the gang outta Devil's Hole. Is that right?"
"The Kid and I left Devil's Hole and have been leading a quiet life."
"You two were purty darn successful. Why'd you walk away?" Cody wanted to know.
"Posse's were getting bigger and smarter so the Kid and I decided to get outta the business before we got caught or worse yet, killed."
"Travis…Eugene, come here!" Cody yelled for his brothers, who came over as the rest of the gang watched the passengers.
"What's going on, Cody?" asked Travis. "We're ready to go here and the train's due into Ferron soon."
Eugene stared at Heyes and the Kid as recognition dawned in his eyes. "Hey, it's Hannibal Heyes and Kid Curry!"
"Sheesh…they're wanted dead or alive; reward is $10,000 each. I saw it on their wanted posters last time I sat in jail," Travis informed his brothers.
"Heyes and Curry, you stay put while we talk. There's a gun on you, so don't do anything dumb. Eugene and Travis, follow me…we gotta talk," Cody said as he led his brothers several yards away.
"Whaddaya think we should do with Heyes and Curry, boys?" asked Cody.
"I say we turn 'em in fer $20,000," stated Eugene, excited about the large reward.
"How we gonna do that, seein' we're wanted, too?" Travis asked. "'Sides, just don't seem right ta turn a fellow outlaw in."
"Well, we gotta get goin'. How about we take 'em with us and decide later?" Cody suggested.
"Sure." Eugene nodded his head.
"Sounds good to me," Travis agreed.
The Cole Brothers walked back to Heyes and the Kid.
"Heyes, what d'ya think they're gonna do with us?" the Kid asked as he watched them agree to something.
"Don't know, Kid. Hopefully forget we were on that train."
Heyes' optimistic thought soon vanished. "Boys," Cody informed them, "you're gonna go fer a ride with us."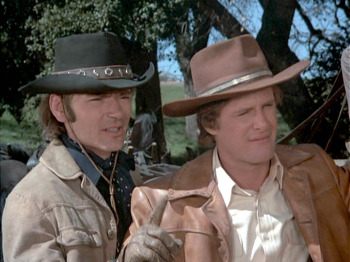 "With you…what about the posse that should be coming soon? You can't go far or very fast if we're doubled up on horses." Heyes tried to reason with them. "Just let us get back on the train. We can continue on to our destination and we'll forget about this little meeting."
"Travis, tie them to your horse and ride double with Eugene for the time being." Cody walked away, heading back to the train, assuming his orders would be followed.
"Cody…" Heyes yelled in frustration.
"I said you're comin' with us," Cody said with an air of finality.
"Let's go, boys." Travis led them at gunpoint to the waiting horses. Heyes mounted first and Travis had Curry bind Heyes' hands to the saddle horn. The Kid climbed behind his partner and Travis tied Curry's hands around Heyes. He secured their saddlebags onto another horse.
"Okay, everyone back onto the train and sit down," Cody gave orders to the line of passengers. They quickly hastened to obey and Cody told the rest of the gang, "Let's go." They walked back to their horses, mounted and rode towards the hills.
Cody led the horse Heyes and Curry were tied on towards a wooded area out of sight from the train with the rest of the gang following. "Heyes is right that we ain't gonna get far doublin' up like this so…" Heyes smugly smiled at Cody's affirmation. "We's gonna leave Heyes and Curry here and come back for them in a day or two when the posse's given up on us." Heyes smile quickly turned into a frown at this newest development.
"Travis and Eugene, get 'em off the horse and tie 'em nice and tight to different trees so they'll be waitin' for us when we come back," Cody said as he gave further instructions.
"Cody, you can't leave us tied to a tree for a few days! How are we gonna be able to eat or get a drink of water? What if the posse finds us? You'll be out the reward money." Heyes tried to persuade him to abandon this idea.
Cody thought for a few moments. "Just tie their chests to the trees leavin' their arms free; tie the knots on the other side of the tree trunk where they can't reach them. Leave 'em each a canteen with water. Hope you boys have food in your saddlebags. I'll send someone by as soon as possible to get you. Figure you'll stay quiet when the posse is in the area; might be someone who recognizes you."
Eugene whispered to Cody. "What if we take their boots so if'n they escape they can't go as far barefoot?"
"Great idea, Eugene." Cody proudly patted his little brother's back. "Remove their boots and let's take them with us. Check their saddlebags for anything that might help them escape and remove it. They can have their bags in reachin' distance for supplies."
"Cody, be reasonable an' leave our boots; a man needs his boots." This time Curry tried to talk some sense into Cody.
Eugene looked to his big brother for guidance. "Take the boots, Eugene," Cody decided.
Eugene grinned as he and another outlaw removed their boots while Travis checked their saddlebags and dropped them and canteens on the ground by each man. The Cole Brothers gang hurriedly rode off with their boots, leaving Heyes and the Kid each tied to a tree.
"I told you I had a bad feeling about getting on that train, Heyes, but you didn't listen to me. You never listen to me. And now look at the mess we're in. How are we gonna get outta this?"
"Why do I always have to figure out how we're gonna get outta a mess? And if you hadn't tried to interfere with Eugene taking the brooch, Cody might never have noticed us."
"Oh, so it's my fault now."
"Yeah—it's your fault we got noticed. When are you gonna learn to not help every lady who needs help? It's gotten us in more trouble…"
"Well, I can't just stand around and watch a man bully a woman, Heyes. My pa taught me to protect women, them bein' weaker and all."
There were quite a few minutes of silence as both men stewed.
Finally, Heyes broke the silence. "Kid, we ain't doing any good arguing like this. I should have listened to you—your feelings are usually right. But you shouldn't have reacted to Eugene taking the brooch. He wasn't hurting her."
"Sorry I got us spotted, Heyes."
"Sorry I didn't listen to you back in Prescott."
"So how are we goin' get outta this mess?"
"Well, I figure we should be able to get outta these ropes by morning and we'll just have to walk to Ferron."
Heyes and the Kid worked hard on getting free from their bindings, but couldn't reach the knots of the ropes holding them to the trees.
"Heyes…what about your knife?"
"The one I keep in my boot?"
"Oh yeah…I forgot."
"Did you check your saddlebag to see if they missed anything that'd help us outta these ropes?"
"Yup—nothing in there but my clothes, stuff to clean my gun, and some food supplies. Travis took my shavin' kit out so no razor."
"Same here—was hoping he might have forgotten something." Heyes sighed. "We've gotten outta tighter spots; we'll get outta this one, too."
Towards dusk, the Kid stopped trying to get loose and listened. "We got company comin' this way."
"Posse?"
"That's what I'm thinkin'. Sounds like about six riders comin' fast."
"They won't be able to see us in the trees."
"If we yell, maybe they'll hear us and let us go."
"Or maybe one of them will recognize us like Cody said, decide we're a better catch. I'm thinking we should just be quiet and get outta this one ourselves."
"Got a good point there," the Kid said as he quietly continued to work the rope loose.
Heyes and the Kid struggled with the knots all evening and managed to get a fitful night's sleep sitting up, still bound to the trees. By morning, they felt as if they had made some progress.
Heyes gradually made his way around the tree trunk where he could just reach the knots holding his bindings. With his dexterous fingers, he was able to loosen them enough so that the rope began to slacken. "Got it!" he exclaimed as he twisted free.
"Finally!" the Kid sighed with relief as Heyes came over and loosened the knots in his ropes that were holding him up.
Heyes and the Kid stood and stretched the aches out of their bodies. They drank from the canteens and chewed on the jerky in their saddlebags.
"I sure feel better. So what direction we gonna go?" The Kid looked around them as he got his bearings from the sun. "They went west from the looks of these tracks."
"If we went back to the train tracks, we could make our way into Ferron, but that'll be the first place the Coles will look for us when they find us gone."
"How about we head north to Ferron, but stay away from the tracks? Last town we passed was Muddy Creek, and it ain't exactly close."
They walked a few hours carrying their saddlebags and canteens on a warm day with little shade available. The wooded areas were becoming few and sparse. When possible, the Kid brushed their prints away with a branch and they walked on rocks, leaving no tracks.
"Heyes, my feet are killing me! Whose idea was this anyway?"
"My feet aren't exactly enjoying this either, Kid, and it's your idea."
"My idea?!"
"Sure it is. You were the one who suggested walking to Ferron."
The Kid opened his mouth to protest but was interrupted by Heyes. "Hey…do you hear running water?"
The Kid stopped and listened intently. "Sure do; it's coming from over there!"
Heyes and the Kid headed towards the sound and soon rolled up their pants legs and put their aching feet in the soothing cool water.
"Ahh…that feels so much better," Heyes sighed.
"It sure does." The Kid sat down on a rock with his feet in the water.
"Unfortunately, we gotta keep moving and get some distance between us and the Cole brothers."
"So let's follow the creek for awhile. It'll help hide our tracks if the Coles are lookin' for us and the cool water feels good."
Heyes patted his partner on the back. "Sounds like a plan."
The partners cautiously made their way upstream. The going was slower with the slippery rocks, but there was no trail to cover. They walked several more miles until the sun began to set.
"It'll get dark soon and I'm tired. Let's find a place to camp; I didn't sleep well sitting up last night," Heyes commented.
"I was hopin' you were ready to bed down for the night; I could use some sleep, too," the Kid agreed.
They walked a little further along the creek when they came to a wooded area offering protection. "There's a good place, Heyes."
Heyes looked up to the place the Kid pointed out and nodded. "Finally! I don't think my feet will carry me anymore."
The two former outlaws scrambled up the creek bank and into the wooded area. They dropped their saddlebags and canteens before easing themselves down. Within minutes, they were both asleep.
~ ~ ~ ~ ~ ~
Early the next morning, before the sun peered over the horizon, Heyes and the Kid were walking again in the cool of the day. They stayed in or near the creek as they continued to Ferron.
Midmorning, the Cole Brothers arrived at the grove of trees to retrieve their prize catch from the train—Hannibal Heyes and Kid Curry. As they dismounted and walked to where they left their captives, Eugene piped up. "I dunno why we're headin' back to 'em, Cody. We still don't have a plan on how to turn 'em in."
"Looky, Eugene, we'll get 'em and then I'll think of a plan."
Travis added, "Hannibal Heyes is a tricky one and they may figure out how to get away. It ain't safe to leave 'em alone very long."
"So we'll take 'em back to the hideout 'til we figure out how to turn 'em in for the reward." Cody paused as Eugene gave him a funny look. "You understand that, don't you Eugene?"
"Uh, yeah, Cody, but…"
"But what?!"
"I think we already left 'em alone too long." Eugene ran on ahead, followed by the others, and all they found in the wooded area were the ropes that were supposed to be holding Heyes and the Kid.
"Dang!" Eugene exclaimed. "There went our $20,000."
"Don't forget they're barefoot; can't go too far or too fast. That was smart thinkin', little brother," Cody reminded him.
Travis was on the ground looking for footprints to follow. "Looks like they're headed to the train tracks. Wouldn't doubt if they'd follow the rail to Ferron."
"Nah, Heyes's too smart to be walkin' where he can be spotted. He and Curry will be hidin' from us and that posse," Cody informed his brothers. "Well, they ain't here so let's go find 'em. Shouldn't be too hard with them barefoot."
The three brothers picked up the ropes, rode out of the trees and followed the two sets of footprints towards the tracks. The trail went over the tracks and headed towards another grove of trees when it disappeared.
Cody frowned. "Told you that Heyes was smart. They done wiped their prints away with somethin'. Spread out and keep an eye out for where they start up again."
The brothers got off their horses and walked around the area in a large circle looking for any signs of what direction Heyes and Curry went.
"Anything?" Cody asked making another round.
"Nothin' over here," Travis stated.
"Nothin' here but some dumb old rocks," Eugene told his brothers dishearteningly.
Travis looked up. "Rocks? Cody, are you thinkin' what I'm thinkin'?"
"Yep."
"What you two thinkin'?" Eugene asked, looking perplexed.
Cody and Travis walked over by Eugene to check out the rocks. Cody smacked his youngest brother on the head in exasperation. "Eugene, you can be so dim-witted sometimes! These dumb old rocks make great steppin' stones and leave no tracks. They hafta have gone this way."
"How's I supposed ta know that?" Eugene sulked.
The Cole brothers led their horses as they walked through the rocky area. The footprints started up again after the rocks, so the brothers mounted their horses and continued to track Heyes and Curry when they came to a creek and lost the prints.
"Now which way?" Eugene asked.
Cody and Travis thought for a few minutes. Cody guessed, "I'm thinkin' thataway since it's headin' more north to the nearest town."
"That's what I'd do," Travis agreed. The three brother outlaws followed the creek north.
By mid afternoon, Heyes and the Kid were tired and getting irritable.
"How much farther do you reckon we hafta walk?" Heyes wondered out loud.
"Sheesh…how should I know?" the Kid snapped back as he sat down on a boulder and rubbed his toes. "My feet are killing me!"
Heyes joined him and rubbed his soles. "You don't hafta get proddy…I was just wonderin' out loud." He continued to rub his feet for a few minutes and then looked at the Kid. "How far away do you think Ferron was when we got stopped?"
The Kid thought for a moment. "Hmm…I'm guessin' thirty to forty miles away."
"Don't you think we've walked close to that already? My feet are thinking so."
"Probably pretty darn close. I'll go walk up there and take a look," the Kid said as he stood, walked up the creek bank and climbed a rock cropping. "Heyes…guess what I can see?" the Kid asked as he grinned at his partner.
Heyes jumped up and quickly followed the path the Kid had just taken. "Ferron!" Heyes exclaimed as he put his hands on his hips and gave his partner a dimpled smile.
"Another hour or two and we can have a bath and real food and crawl in a bed!" The Kid patted Heyes on the back.
"And be away from the Cole brothers. Let's get going, Kid—I can already feel the whiskey sliding down my throat."
With renewed energy, Heyes and Curry walked towards the town of Ferron. They were just coming out of a wooded area when they heard the horses behind them.
"Howdy, boys. Goin' fer a walk?" Cody sneered as he pointed his Colt towards them.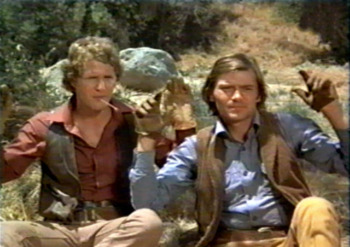 Curry and Heyes sighed as they slowly turned around with resignation on their faces. "Cody," Heyes acknowledged in frustration. "I have to say, I'm surprised you boys found us. I guess you're a little smarter than the Kid and I thought."
Curry rolled his eyes at Heyes' last words and mumbled, "Sometimes you just don't know when to quit, Heyes."
"Smart enough to find you, and that's all that matters," responded Cody.
"Sheesh…them boys made it purty far, Cody—almost to Ferron." Travis turned to Heyes and Curry and smirked. "Too bad fer you that ya didn't make it all the way."
Eugene spit a wad of tobacco onto the ground. "Boys shoulda stayed put. Wasted our day lookin' fer ya. Can't be doin' ya no favors now that you done that."
"You'd have done the same if you were in our place, Eugene," Curry stated.
"Well, there ain't no question about you comin' with us. I think the question now is how—should we let 'em ride or, since they like walkin', make 'em walk some more. Whaddaya think, brothers?" Cody grinned. "Should we double up on the horses fer that long way back? Seems awful mean to do that to the horses."
Eugene glared at Curry. "I say make 'em walk."
"I second that." Travis chuckled.
"Now boys, we wouldn't make you walk if'n you were in our place." Curry forced a smile on his face.
"You boys aren't thinking," added Heyes. "It's going to take twice as long if you make us walk back. If you're planning on turning us in, why don't you just turn us in at Ferron?"
"Now you know we can't just walk into the sheriff's office and turn you two in without riskin' gettin' us arrested, too—who ain't thinkin' now, Heyes?" Cody sighed. "I reckon we got the time to go back with you walkin'."
Heyes and Curry glanced at each other and shrugged. "Well, if you can't turn us in, why do we hafta go back with you? Why'd you come after us?" Curry asked. "I think me and Heyes can manage to get to Ferron on our own."
"Didn't say we weren't turnin' you in for the reward. Just gotta figure out how we can do it without gettin' us arrested, too. You'll be 'guests' of ours 'til we come up with a plan," Cody informed Curry. "So you be wantin' your boots?" he asked sarcastically with a chuckle, "or are ya partial to walkin' barefoot?"
Curry and Heyes glared at the brothers. "Looks like we're gonna have some at-ti-tude, brothers," Eugene said. "I say no boots if they're gonna have at-ti-tude."
"Just give us our boots," Heyes snapped.
"Maybe if you asked nice we can give you your boots." Travis smiled.
"Can we have our boots back…" Heyes started to say.
"Please." Curry completed the sentence evenly, staring at the brothers.
Cody smiled and said in a taunting voice, "Throw 'em their boots, brothers."
Travis and Eugene threw the boots over to Heyes and Curry who sat down, put socks on, and then put their boots on over sore, blistered feet.
"That doesn't feel much better, Heyes," the Kid quietly said as he stood up. "My feet sure are complainin'."
"Mine too, Kid, but it'll be better if we have to walk over that rough terrain again," Heyes answered back.
"Shut up; quit talkin' among yourselves!" Eugene demanded.
With his gun still aimed at Curry and Heyes, Cody gave more instructions. "Travis and Eugene, tie their hands in front of 'em with this." Cody threw two strips of leather thongs at his brothers. "Use that rope we still have and tie one end of the rope 'round their waist and the other end of the rope 'round your saddle horns. That'll keep 'em from laggin' too far behind and from escapin'."
Travis and Eugene got off their horses and did as they were told. They tied Heyes' and Curry's saddlebags and canteens onto the horses. When they finished, they mounted up and waited further orders.
"Ready to go, boys?" Cody asked with a smirk.
"I don't suppose we have a choice, Cody," said Heyes.
"Nope. Let's go!" Cody ordered and the three horses with the two walking prisoners started back to where they came from.
For the first few miles, Heyes and Curry were able to keep up with the horses, but soon sore feet and plain tiredness had them being pulled more times than not. They struggled not to fall, but the inevitable finally happened. Heyes stumbled on a rock, fell to the ground and the horse dragged him.
"Stop…STOP…Dang it, Travis and Eugene, stop your horses for a minute!" Curry shouted as he tried to make his way to Heyes. "Back them horses up a little—need some slack in this rope. Heyes, you okay?" Curry glanced over at his partner for any injuries when the horses finally stopped and backed up.
"Yeah…ouch…no, that hurts!" Heyes winced in pain as he rubbed his knee.
"Can you get up?" Curry asked as he offered his bound hands to help Heyes rise.
"Yeah…" Heyes grimaced as he grasped the Kid's arm and tried to stand up, but groaned when he put weight on his right leg.
"What's the delay? Get up and let's get goin'. Now!" Cody demanded.
"Cody, if you haven't noticed, my leg is hurt. I can't walk, even if I wanted to," Heyes said in an irritated tone of voice.
Heyes gingerly put weight back on his right leg and flinched in pain. "You'll have to let me ride or drag me. It'd take a lot longer if you dragged me, and frankly, I'd prefer to ride."
"You know what I think, Heyes? I think you're just fakin' it so's you can get a horse. Let's go," Cody said and they started forward again. When the slack in the rope tightened, Heyes stumbled, fell to the ground, and was dragged again.
"Damn it, Cody, Heyes ain't fakin' it!" Curry yelled as he wrestled with his rope and tried to help his partner.
"Hold up, boys, looks like we ain't gonna get very far no how, not if we've gotta drag Heyes," Cody said as he stopped his horse. "It's gettin' late so why don't we make camp for the night so our friends here can rest up some."
"How 'bout over in them trees, Cody?" Travis pointed to an area a few hundred feet away.
"Sounds good. Let go of the ropes and let them make their way into camp. They ain't goin' far if they're hurtin'," Cody stated as he reined his horse towards the grove of trees. Travis and Eugene untied the ropes from their saddle horns and followed their big brother.
Curry sighed with relief as he knelt by Heyes still lying on the ground. "You're gonna have to go a few more feet, Heyes. I'll help you."
"Uh huh. Give me a moment, Kid; I need to catch my breath."
They sat quietly for a few minutes, giving Heyes a chance to recover.
"Okay, let's get this over with," Heyes mumbled as he held out his bound hands for the Kid to help him up. With the Kid to lean on, and taking it slowly, Heyes and Curry inched their way into camp and eased themselves down on the ground.
"Nice you could join us," Cody mocked as he handed them their saddlebags and canteens. "I'll untie you if you promise to stay put and not go walkin' off again."
"We ain't walkin' off," Kid morosely said as he held up his hands to be loosened.
The Kid rubbed his wrists when Cody took the binding off his hands and then knelt by Heyes. He untied his hands and offered him a canteen. Heyes leaned against a tree and took a long drink of water. The Kid rummaged through the saddlebags and handed Heyes some jerky that he readily took.
"Thanks, Kid."
"How's the knee? It looks swollen."
"It is and it hurts. I'm not walkin' very far 'til it heals up some. And my feet are killing me."
"Mine too, Heyes."
"Can you help take off my boots? Seein' as I'm injured and all."
"Heyes, your leg is hurt, not your arms."
"I thought you would want to be helpful, partner," Heyes grinned as he removed his left boot. The grin was replaced with a scowl as he tried to bend his right knee to remove that boot. The Kid watched the failed attempt.
"Kid, you're gonna hafta take off the right boot; I can't reach it."
"Sure? It's gonna hurt."
"I know," Heyes growled. "Just do it—on the count of three." Heyes grasped his knee to give it support.
"Okay, here it goes. One…two…" The Kid tugged at the boot and removed it.
"Dang it, Kid…what happened to three? That hurt!"
The Kid couldn't help a small grin. "Woulda hurt a lot more if I'da waited 'til the count of three. You were tightenin' up that leg and I woulda had to pull a lot harder to get it off." The Kid gave Heyes a minute and then handled him a canteen. "Want some water?"
Heyes sat back and took a long drink. "Thanks," he groaned with relief.
The Kid removed his boots, rubbed his feet and sighed. After a little dinner of water and jerky, they lay down on their bedrolls to rest.
A few yards away by the fire, the Cole brothers were discussing several possible means to turn Heyes and the Kid in for the reward money.
Travis thought for a moment. "We could have Ma…"
"Ma couldn't handle them outlaws!" Cody interrupted him.
Eugene disagreed. "She sure could…dang, she boxed my ears last time I saw her."
Travis pondered some more. "Or we could kill 'em and tie 'em to a horse. They're wanted dead or alive."
"Nah...don't wanna kill 'em. Haven't done nothin' to us," Cody said, staring into the fire and thinking.
Travis thought some more and then grinned. "Hey, what about that guy we met in jail…Jim Stuckey. He ain't wanted no more and bet he would do it for part of the reward. Hell, give him $10,000 and we'll split the rest."
"Now that's a thought. Know where to find him?" Cody asked, considering the possibility.
"Last I heard he was in Arizona, not too far away. I could take off first thing in the mornin' and see if he'll come back with me."
"Sounds like our best choice. Agreed?" Cody asked his brothers.
"Yep, us splittin' $10,000 is better than nothin'," Eugene agreed.
"I'll leave tomorrow then," Travis said with a yawn.
"Okay, we need to keep an eye on our guests over there. Travis, you take first watch, then wake up Eugene in a few hours. Eugene, you can get me up around three. If those two move, I want your gun on 'em. Hear me?"
Travis and Eugene answered together, "Yeah, we hear ya."
The Kid rolled over away from the fire and towards his partner. "Heyes…Heyes, you hear that?" Kid whispered.
"Uh huh."
"That Jim Stuckey from Arizona…you don't think…"
"Nah, can't be. Night, Kid." Heyes murmured as he fell asleep.
"Night, Heyes." The Kid rolled over again and stared at the stars until he fell asleep.
Continued in Part two...

_________________
Hannibal Heyes and Kid Curry, the two most successful outlaws in the history of the west. And in all the trains and banks they robbed, they never shot anyone.