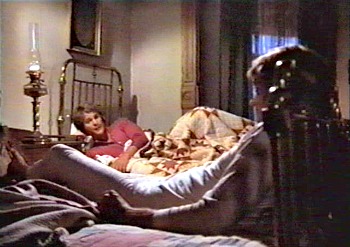 A case of mistaken identity becomes even more complicated when Heyes disappears suddenly without a trace and Kid Curry is blackmailed and coerced into a murderous plot.
Pete Duel as Joe Garby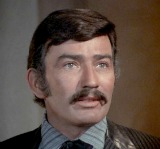 James Drury as Lom Trevors
Governor William Hale as Himself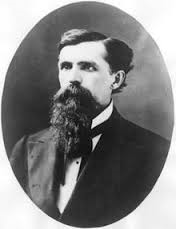 Elliot Morgan as Himself
Thomas Durant as Himself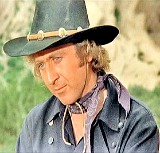 Gene Wilder as the Sheriff
Mistaken Identity
by Penski
The night was dark with just a quarter moon hanging in the sky.  A carriage came down the lane and stopped on a bridge.
"Psst, hey - are you here?" the driver called out in a loud voice.
A man dressed in dark clothes walked up from the creek.  "I'm here."
"Is the job done?"
"Yep."  The second man pulled a newspaper from a coat pocket and handed it to the driver.  "Made front page."
The man in the carriage struck a match and read the headline "James Parker Murdered".  He blew out the flame and pulled out a bundle of money.  "Here's what I owe you."
The man in dark clothing took the money and pocketed it.  "Nice doin' business with you."  He removed a cigar, lit the end and, as he puffed on it, a smile of satisfaction appeared on his face.  As the cigar ash flared in the darkness, a familiar dimpled face with dark hair was revealed.
~ * ~ * ~ * ~
Kid Curry, covered in trail dust and sweat, yawned as he slowly rode into a bustling town. As he glanced around cautiously, he saw a merchant sweeping the boardwalk, another one was washing windows, and other folks were hanging red, white and blue banners in front of buildings.  Two men raised a large banner across the street reading 'Welcome to Pine City' and began tying it into place.
"Huh, it ain't the 4th of July.  Wonder what they're celebratin'?" Curry mumbled to no one in particular.
He rode past the jail and noticed the sheriff outside watching the decorating of the town.  The Kid nodded when the lawman looked his way.  "Phew, he doesn't look familiar and doesn't seem to know me."
Curry reined his horse to the right, in front of the Silver Dollar Saloon.  An out of tune piano could be heard inside with equally tone-deaf men singing a round of Home on the Range.  He slowly dismounted and stretched before taking off his hat to slap the dirt from it and his clothes.
The Kid led his gelding to a trough and allowed him to drink.  He loosened his bandana from his neck and dipped it into the water.  Using the wet piece of cloth, he wiped his face and hands, then ran his fingers through his matted hair.
Once the horse drank its fill of water, Curry tied it to the hitching post.  "I'll take you to the stable once I get my thirst quenched," he promised.  "Heyes shouldn't be here for another day so we can rest up some."
The Kid yawned as he walked into the saloon.  He waited a moment as his eyes adjusted to the darker room.  Taking a quick look in the room, he raised a brow when he saw a familiar person at the bar with his back to him.  He motioned to the bartender for a beer as he sidled next to his partner.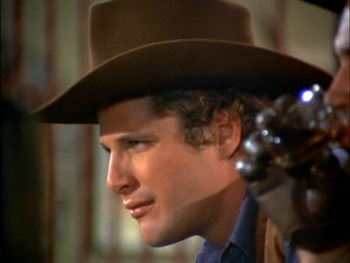 "Heyes, how'd you make it here before me?  Rock Springs is further than Red…"
The man turned to face the Kid.  He looked like Heyes – dark straight hair, dark blue shirt, same weight and height, black hat, a slight dimple – but it wasn't his partner.
"Sorry, I thought you were someone I knew."
The bartender brought over a beer so the Kid pulled a coin out of his pocket and set it on the counter.  He took a quick swallow of beer before heading to a back corner table.
The man at the bar watched Curry walk away and noticed the tied-down Colt and the confident swagger.  He grabbed his beer and followed him.
"Mind if I sit down?" asked the stranger, who also wore his gun tied down.
"Yep."  The Kid took a deep drink of beer.
The man pulled out a chair and sat down while Curry glared at him.  "They say everyone has a twin out there.  Who do you think I look like?"
"A friend."
"You called me Heyes."
The Kid shook his head.  "No.  I said, 'Hey, how'd you get here faster than me.'"
The man furrowed his brow.  "You're a gunslinger."
Curry sipped his beer.
"I can tell by the tied-down gun, the walk and your glare.  Which one are you?"
Silence answered the man.
"Tom Horn?  Billie Bassett?"
Curry turned slightly away, as if bored with the conversation, and watched a nearby poker game.
"What's the matter, am I gettin' too close?  Makin' you uncomfortable?"  He eyed the Kid thoughtfully as he picked up his drink and took a swallow.  "Not talkin', huh?  The thing is, I just haven't decided if you're a lawman or an outlaw."
Curry finished his beer.  "Neither.  Just someone who knows how to protect himself."  He got up and walked out of the saloon.
The man followed him out the door towards the hitching post.  "Nope, I've decided. You're an outlaw… or were an outlaw."  Garby stepped closer and lowered his voice.  "Since we both know I DID hear you call me Heyes, I'd stake money on it that you're Kid Curry.  Why, I bet if I went into that sheriff's office, I'd find that your description matches the one on Curry's wanted poster."
The Kid's expression never altered as he turned to face Garby.  "We're done here."
"No."  Garby shook his head and grinned.  "No, we're not.  My name's Garby.  Joe Garby."  He extended his hand.  "I'm sure you've heard of me."
Curry ignored the hand and the question as he untied the reins from the hitching post.  Before he climbed up in the saddle he fixed Garby with a glare, his eyes glacial blue.  "Yeah, I've heard of you.  Wanted for murder.  You'd be savin' the sheriff a heap o' trouble jus' by walkin' into his office."
The grin never left Garby's face as he nodded.  "Guess it takes one to know one."  He cocked his head to the side.  "You interested in a job?"
"Nope."
"It's a good payin' job.  Will just take an afternoon."
"I don't hire out my gun."  Kid Curry mounted his gelding.
"Not even for $1,000?"
"Not even for $10,000."  Curry kicked his horse and headed out of town at a lope.
~ * ~ * ~ * ~
Kid Curry slowed the horse down when he saw the sign reading 'Pine City – 2 miles.'  He turned around in the saddle and saw no one following him.  A short distance ahead was a copse of trees.  He encouraged his gelding into the tree line and hopped off, letting the reins hang down.  Throwing down his hat, Curry began to pace.
"Joe Garby!  What's he doin' in town?  And what job does he want me to do?  Good payin'… I bet!  Of all the towns to wait for Heyes.  Dang, Garby looks a lot like Heyes!  If I didn't know better, I'd say they were brothers.  He even had a black hat.  I should've noticed it didn't have a band like Heyes'.  Now what?  Try to connect with Heyes in another town?"  The Kid looked at his horse.  "You're about spent and need a rest.  If I go back, I can stay away from Garby and watch for Heyes.  We can leave as soon as he gets here.  I can have another horse and supplies ready to go.  Heyes won't be happy about not restin' up, but he'll really hate bein' in the same town as Joe Garby.  Garby's up to something and whatever it is, it's a sure bet it ain't good."
~ * ~ * ~ * ~
A clean Kid Curry sat by the window watching the town prepare for a celebration as he waited for his partner.  Several plates and glasses littered his hotel room.
"Come on, Heyes.  You should've been here by now.  I'm gonna go crazy if I have to spend another day…"
A familiar looking man rode up to the livery.
"Heyes?  Or is that Garby?"  Curry squinted.  The sun reflected off metal on the brim of a black hat and the man rode a chestnut mare.  "About time!"
The Kid hurriedly packed a few things lying around in his saddle bags.  He checked his gun and twirled it before holstering it.  "Just gotta pay for the room and get to Heyes before he leaves the livery."
Curry shoved his hat on his head and slammed the door shut behind him as he dashed/hurried down the hall.
~ * ~ * ~ * ~
Kid Curry looked both ways as he exited the hotel's back door.  Staying off the main street, he hurried into the livery's side door.  He glanced around, but saw no one inside.  He went out to the corral where a teen was tending to horses.
"Hey, did you see a dark-haired fella with a black hat ridin' a chestnut mare?" the Kid asked.
The young man shook his head.  "Nope."
"Are you sure?  About my height wearing a gray jacket?"
"There was a dark-haired fella with a black hat this morning, but he was riding a gray gelding."
"Must be Garby.  So where did Heyes go?" Curry muttered under his breath.  Louder, he asked, "If you see someone with that description riding a chestnut, will you tell him I'm waitin' for him in the saloon?"
"Sure, mister."
"Mind if I leave my gear here?  We'll be ridin' out when I find him."
"Nope.  You can leave it by the back stall your gelding's in."
"Thanks."  Curry started to walk away, but turned back.  "Did you see anyone checkin' out my horse the last few days?"
"Not that I noticed.  It's pretty much outta sight in that stall, but I've been keepin' a good eye on him like you paid me to."
"Appreciate it."  The Kid walked into the livery and left his gear.  As he walked through, he checked out the other horses.  No chestnut mare or gray gelding.
~ * ~ * ~ * ~
Frustrated, the Kid went back to the hotel desk and threw down some money.  "Can I have my room back?  Guess I'm not leavin' like I thought."
"Of course."  The clerk smiled and handed the key to him.  "Hope you enjoy your stay," he stated as he watched the gentleman head up the stairs.
His arms full, Curry aimed a backwards kick at the door of his hotel room.  As it slammed shut, he threw his gear down on the bed.  Turning around, he went back to the door and used his key to lock it before he crossed the room to stare out the window.  Moving the curtains to the side, he looked out at the main street, the same view he had been watching for several days.  "Where'd you go, Heyes?" he whispered.  "I know I saw you."
As he watched, the dark-haired man with the black hat came out of the livery.  He squinted, studying the man carefully and noticed no hat band.  "Garby," he muttered.  "You're up to somethin'."  
The killer looked up at the hotel windows and nodded his head.  Curry quickly released the curtain and took a step back.
~ * ~ * ~ * ~
Kid Curry went down the back stairs of the hotel leading into the alley.  He made his way into the café and sat down at a back table.
"Good morning, Mr. Jones!"  The corners of the girl's mouth curved up into a grin and her eyes lit up with pleasure.  "It's sure nice to see you're still in town.  Did you finish all of that paperwork that's been keeping you a prisoner up there in your room these past few days?"
Curry gave her an answering grin.  "Yeah, at least enough for a quick trip down here for breakfast.  Those four walls were closin' in on me!"
"What will it be this morning?" asked Sarah as she poured some coffee.
"Scrambled eggs, toast, and bacon," Curry ordered.
"Coming right up!"  Sarah turned and went back into the kitchen.
The Kid opened a newspaper and began to read as he sipped his coffee.  "No headlines about a famous outlaw being captured or killed.  That's good."
The door opened and Garby walked in.  "I've been lookin' all over for you."  He sat at the back table opposite Curry.  "Coffee, pancakes, and sausage," he told Sarah when she poked her head out of the kitchen door.
"What do you want, Garby?" Kid Curry hissed.
Garby smiled as he waited for his coffee to be delivered.  "Thought you left town.  There must be a reason that you stayed around but hid away up in your hotel room."
"I told you I wasn't interested in no job."
"Missin' a partner, Kid Curry?" Garby smirked.
The Kid's eyes turned glacial.  "The name's Thaddeus Jones."
Sarah brought in two plates of food and poured more coffee before going back into the kitchen.
"Hmm…"  Garby cocked his head to the side and shrugged.  "Jones, huh?  Nice name.  Too bad, though.  See, I have Hannibal Heyes."  Garby took a bite and chewed thoughtfully.  "I thought his partner was Kid Curry."
The Kid laid down his fork with slow deliberation and raised his eyes to stare into Garby's.  "What do you want?"
"I need some help – insurance, you might say – that a job gets done.  Havin' Kid Curry workin' with me would be that insurance."
"What about Heyes?"
"Heyes may not be bad with a gun, but he's no killer, from what I heard."
"Where is he?" Curry demanded, his tone even.
"He'll be okay as long as my job goes well.  You can have your partner back once you help me."
The Kid glared at the man sitting across from him.  "Who's the target?"
"The one the town has been gettin' ready for – Wyoming's Territorial Governor, William Hale."
"The governor?!  Why him?"
Garby shrugged his shoulders.  "Don't know.  I don't ask why when someone offers me a lot of money to be in a town for a week and then kill someone."
"Who's payin' you?"
"That's none of your business.  You help me kill Hale and you get your partner back alive.  A life for a life, you might say."
"How do I know Heyes ain't already dead?"
"You have my word on it."
"That ain't good enough."
"Well, it's gonna have to be good enough."  Garby finished his meal and threw some money down.  "I can see why you thought I was Heyes – we do kinda look the same."
~ * ~ * ~ * ~
Heyes woke with a groan.  He opened one eye and then the other to darkness.  A thin stream of light came in from above him.  He winced as he touched the back of his head.  Glancing around, he saw dirt and rocks.  "What the…"  He cautiously stood up.  "I'm in a well?"  His foot touched something.  Squinting in the dim interior, he saw it was a canteen.  Bending down, he shook it as he lifted it, relieved when he heard a sloshing sound.  "At least I have water."  He walked around the small perimeter of his confines and kicked another object.  Heyes sat on his haunches as he opened a small package.  "And some jerky, too."  He looked up.  "Too high to get out and it appears there's a lid on the top.  Now why would someone put me in a dry well with food and water?"
"Hello!" he yelled as loud as he could.  "Anybody up there?"
The echoes of his own voice was the only answer Heyes received.
~ * ~ * ~ * ~
"Hey, Jones – you in there?  Let me in!" Garby shouted as he pounded on the hotel door.
Kid Curry, gun drawn, opened the door a crack and then all the way.  "Do you have to be so loud?"
Garby shoved saddlebags at Curry.  "Proof I have Heyes – here's his bags.  His horse is in the livery."
The Kid took them to the bed and opened one side.  Seeing Heyes' clothes, he sighed in resignation.
Garby went to the window, pushed the curtain away and whistled.  "You have a great view of the main street where the parade will be."  He drew his gun and aimed it down to the street.  "Bang!"  He smiled.  "Yep, you'll have a great shot at the governor."
Kid Curry leaned against a wall with his arms folded.  "Didn't say I would help you with this job."
"Oh, you will if you want to see your partner alive."
"Why do you need my help?  I'm sure you can do this by yourself."
Garby turned from the window, releasing the curtain so it closed.  "I can, but someone is payin' me a lotta money to make sure he's dead.  The Secretary of the Territory, Elliot Morgan, will be with the governor. Have to kill him, too, since he has same political views as Hale and is next in line to succeed him if somethin' happens to the governor.  Figure security will be too heavy to kill both of them.  Need you to shoot one while I shoot the other."
"Who wants them dead?" the Kid asked.
"Told you that was none of your business."
"Why would someone want them both dead?"
Garby shrugged.  "Don't know and I don't care."
"So say I agree to kill one of them…"
"You will if you wanna see Heyes alive."
Curry glared.  "So say I agree to kill one of them," he repeated.  "Then what?"
"Well, you figure out the fastest and best way to get outta town with no one seein' you."
"And Heyes?"
"I'll let you know where you can rescue him."
"Rescue him?"
Garby smirked.  "Yep, rescue him.  He has enough food and water for a few days.  If he dies, let's just say you don't have to worry none about his body."
"So help me, if anything happens to Heyes, I'll come after you!"
Garby snorted.  "Don't threaten me, Curry.  Not if you want to see Heyes again."
The Kid took a deep breath.  "When's the governor comin'?"
"Three more days – on Saturday."
"And Heyes will be alright until then?"
"He should be."  Garby headed to the door.  "I'll be in touch, but there's a lovely señorita in the saloon this evening I wanna spend some time with."
~ * ~ * ~ * ~
Hannibal Heyes looked up to the top of the well.  "There has to be a way out."  He reached up for a rock, which was part of the wall, and took hold of it.  He pulled down on it and added weight to see if it would hold.  It did.  Heyes smiled and scanned the wall for more rocks.  "This just might work.  With any luck at all, I'll get myself outta here before dark."  He carefully maneuvered his way up the wall of the well using several of the rocks as wedges.  He was about half way up when one of the stones gave way and he fell back to the bottom of the pit.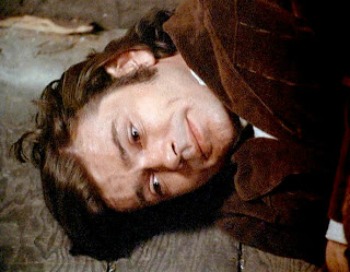 "Umph!"  He groaned.  "Maybe another night…"
~ * ~ * ~ * ~
The Kid went to the livery and fed his horse a half of an apple.  Seeing Heyes' mare, he went inside the stall, gave him the other half while he petted the animal's neck.  "Where'd you leave Heyes, huh?" he whispered.  He bent down and lifted a hoof.  "Nothin' here to say where you were."  He lifted another and stared at the horseshoe.  "That's it!  That right front shoe has a notch in it!  Remember Heyes bein' real upset about it at the time, but not bein' able to complain without makin' it known why we can't have distinct shoes.  He'll be glad for it now since I'll have better luck trackin' that notched one easier than all those other regular hoof prints."
Kid Curry grabbed his tack and began saddling his bay.
"Can I help you, mister?" a voice inquired.
"Nope."  Curry turned to see the boy who helped before with the horses.  "Thought I'd take my horse out to exercise.  I'll bring him back in a few hours."
~ * ~ * ~ * ~
Kid Curry slowly walked his gelding around the edge of town looking for a certain hoof print with a notch leading out of town, starting near the livery.  
"Too many dang horse prints around here!"
He ventured towards the east and scanned the dust road.  Continuing to his left, he occasionally knelt to take in the various prints.  Facing the west, he sat on his haunches and stared at a set of prints.  Looking up at the way they led, he saw rolling dry hills.
"I sure hope this is the way he took Heyes."
~ * ~ * ~ * ~
The Kid rode on the main path keeping an eye out for the notched shoe pattern.  Every time a small path went off in another direction, he dismounted and carefully walked the path for a few feet looking for prints in the dirt.  He noted a narrow winding path the grasses were overtaking.  He got down and kneeled in the dirt.  He smiled when he saw one of the horse's notched hoof prints.  "This has to be the way he took Heyes!"
The path meandered for a distance to a copse of oaks.  In the midst of the oaks was a barn leaning towards the west and a house with broken windows.
Curry dismounted his horse near the barn.  He peeked inside and saw nothing in the structure that was about to fall down.  He walked his horse to the house and loosely tied the reins around a porch beam.  After knocking on the door, he cautiously opened it with his left hand while his right hovered over his gun.  He entered the one-room cabin and noted the disarray of broken furniture and evidence of rodents, but no partner.
The Kid went outside and looked around.  A trail led away from the house up into the hills.  He untied the reins and swung onto his horse.
"He must've taken you up further."  He reined his horse towards the path.
Curry stopped as he neared the well.  "He can't be…"
~ * ~ * ~ * ~
Heyes sat at the bottom of the well, his head leaning back against the wall and his eyes closed.  At the sound of a horse, Heyes' eyes flew open.  He scrambled to stand.  "Hello!  Anybody out there?  Hey!  Help!" he shouted as loud as he could.
The lid lifted, and light flooded the well.  Heyes squinted his eyes against the brightness.  "Help!" he said in a raspy voice.
"Heyes, is that you?"
"Kid?"
Curry grabbed a rope from his saddle and threw one end down the well.  He tied the other end to his saddle horn.  "Heyes, loop the rope around yourself and hang on."
Heyes tied the rope around his chest and held the rope.  "Okay."  He slowly walked up the wall as the Kid and his horse pulled the rope up.  A minute later, Heyes' hands grasped the wood sides of the well and Curry helped pull him up and over.
"About time you found me," stated a dirt-streaked Heyes in a disgruntled tone.  He pulled his hat down to shade his eyes from the sun.  His face had the beginning of a beard covering it.
The Kid handed him a canteen and his partner drank greedily from it.  "You okay?  Hurt anywhere?"  He glanced his partner up and down.
"Yeah, I'm fine; just have a headache and a dry throat."
Curry frowned.  "Garby told me he left you water and food for a few days."
"He did – there's half a canteen down there and some jerky.  I didn't know how long I'd be down there so I was rationing it out."  Then it hit him what his partner had just said. Heyes furrowed his brow as he leaned back against the side of the well.  "Garby.  Joe Garby?"
"Yep, the one and only."  Curry sat down near Heyes.
"He threw me in the well?"
"Yep.  You don't remember?"
"No."  Heyes shook his head and winced.  He gently rubbed the back of his head.  "I remember coming into town, going into the livery, and… nothing.  Woke up in the well.  Why'd he do that?"
Curry bristled.  "Because he wants me to help him with a job."  
"What kind of job?"
"What do you think?  Heyes, you're not gonna believe who he wants help killin' – Governor Hale and Morgan, the Territory's Secretary!
"What!?  Why?"
"Someone's payin' him good money to do it, that's why."
"But who?"
"He won't say."
"We gotta stop him, Kid!"
"I know!  But Garby had my partner and it was your life or the governor's life.  Now that I have you…"
"We have to figure out who hired him.  If Garby doesn't succeed, he'll just hire someone else and then…"
"Our amnesty is gone!"
"We have to come up with a plan."  Heyes stood and began to pace.  "How did he know you're Kid Curry?  Did he recognize you?"
"Not at first."  Curry hesitated.  "He looks a lot like you.  In fact, I thought he was you."
"You didn't?"
Head down, the Kid admitted, "I did."  He looked up.  "But I was dead tired and had just come into town.  My eyes were still adjustin' to the saloon bein' darker than outside.  I thought I covered myself but he guessed I was a gunman and wanted to hire me for a job."
Heyes sighed.  "I've seen Garby from afar and he doesn't look like me.  Don't know what you were thinking."  He shook his head.
"Maybe you should start thinkin' of a plan to save Hale and Morgan?"
"I am!  Give me a few minutes."  Heyes continued to walk back and forth.  "First we have to find out who hired Garby."
~ * ~ * ~ * ~
Kid Curry rode back into town alone in time to see Garby walking out of the Western Union with a paper he was reading.
Looking up, Garby spotted the Kid, put the note in his pocket, and walked over to the livery.  "Where've you been?"
"Exercisin' my horse."  Curry dismounted.
"More like lookin' for a partner?"  Garby stood in the way and sneered.  "Didn't find him, did you?"
"No."  Curry walked around him into the stable leading his gelding.
~ * ~ * ~ * ~
Three spaced knocks on the hotel door had Kid Curry up and letting his partner into the room.  "I thought you were supposed to stay outta sight while I pretend to go along with Garby's plan."
Heyes went to the window and moved the curtain to look out on the street below.  "I am staying out of sight.  Garby's playing poker so I thought I'd come up for a minute."
"He got a telegram this afternoon."
Heyes perked up.  "He did?  Think I'll visit the telegraph office next."
"Need someone watchin' your back?"
"Nah, it's an office, not a bank."  Heyes walked back to the door.  "Better leave."
"Where are you stayin'?"
"There's a boarding house at the other end of town."
Curry let him out.  "Be careful."
"You, too."  Heyes disappeared down the hall.
~ * ~ * ~ * ~
The streets were dark and quiet in the wee hours of the morning.  Heyes glanced in the sheriff's office window and saw the deputy sleeping with his legs up on the desk.  Smiling, he walked over to the Western Union telegraph office and looked around.  Taking a lock pick out of his boot, he quickly opened the door and slid inside.  Heyes locked the door behind him, and grinned when he saw the blinds already down.  He lit a candle and began looking through the stacks of papers.
He was scanning the third pile of papers when he found a telegram to Garby in the middle of the stack.
To Joe Garby
Pine City

Meet me in Cheyenne once job is complete.

Durant

"Durant!  He's behind all of this?"  Heyes slipped the paper in his pocket, blew out the candle and left.
~ * ~ * ~ * ~

_________________
Hannibal Heyes and Kid Curry, the two most successful outlaws in the history of the west. And in all the trains and banks they robbed, they never shot anyone.